Movie Review – Last Duel, The (2021)

Principal Cast : Matt Damon, Adam Driver, Jodie Comer, Ben Affleck, Harriet Walter, Alex Lawther, Serena Kennedy, Marton Csokas, Zelijko Ivanek, Tallulah Haddon, Bryony Hannah, Michael McElhaton, Oliver Cotton, Clive Russell.
Synopsis: King Charles VI declares that Knight Jean de Carrouges settle his dispute with his squire by challenging him to a duel.
********
Ridley Scott's rape-revenge drama leeches realism and is a gut-punch tragedy but it ultimately underwhelms. Led by arguably a career-making turn from Jodie Cormer (also seen in Free Guy opposite Ryan Reynolds) as the focus of the story's tragic outcome, filmed with style by cinematographer Dariusz Wolski and boasting Ridley Scott's penchant for quickfire period brutality, The Last Duel is cumbersomely paced and well produced but I found it weighed down by the heavy-handed patriarchal condescension. There's a mournful tone to the film that grinds along in similarly dour flavours as Gladiator's frugal promise of hope, contrasted by the whimpering impotence of Matt Damon's soldier-type Sir Jean de Carrouges and the brooding wiliness of Adam Driver's Jacques Le Gris, crested with fog and damp against the sniping and political intrigue of the French court. It makes The Last Duel an infinitely beautiful trek through Scott's take on this largely true story despite the desaturated colour palette mirroring the destitute characters and plot, a muddy slog for the audience who might well reminisce for the beauty of Scott's best movies.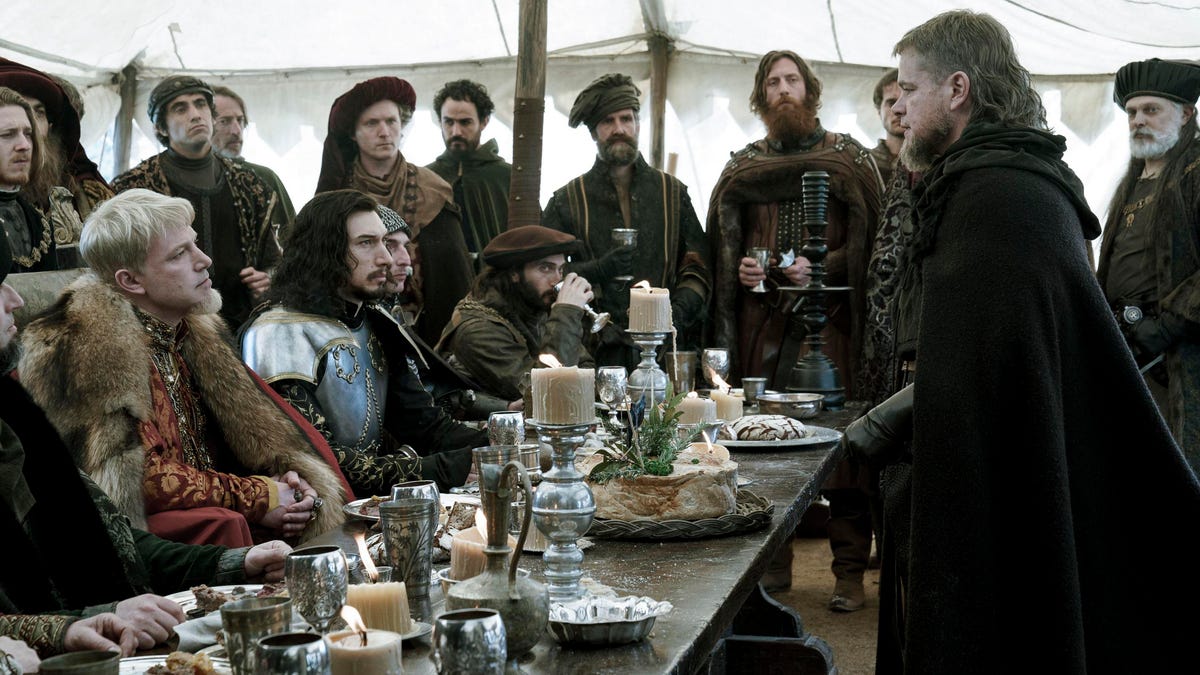 Based on Eric Jager's 2004 book "The Last Duel: A True Story Of Trial By Combat in Medieval France", the story tells of the 29 December 1386 duel – a trial by combat – in which the Norman knight Jean de Carrouges (Matt Damon) duelled squire Jacques Le Gris (Adam Driver). Carrouges had accused Le Gris of raping his wife, Marguerite de Carrouges (Jodie Comer), some months before. He had gone to King Charles VI (Alex Lawther), seeking an appeal to the decision handed down by Count Pierre d'Alençon (Ben Affleck), who Carrouges believed favoured Le Gris. Whichever combatant was still alive at the end of the duel would be declared the winner, as a sign of God's will. If Jean de Carrouges lost the duel, his wife would be burned at the stake, as punishment for her false accusation.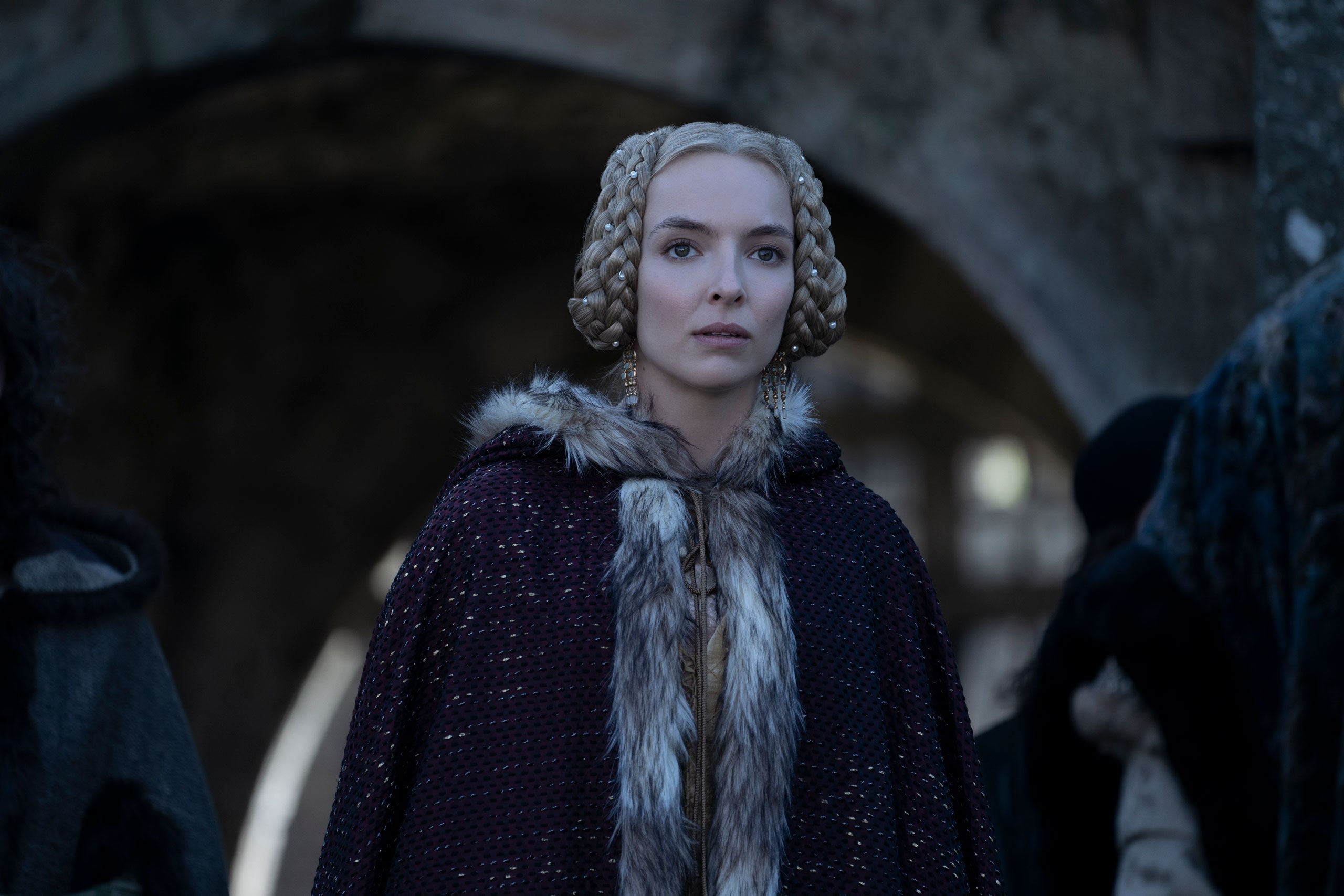 I was really hoping to love The Last Duel: period fiction cinema is a particular weakness of mine (I rest this totally at the feet of Plunkett & Macleane back in the day) and whenever Ridley Scott has turned his hands to this kind of historical replication, I've usually enjoyed it. Even Robin Hood, his take on the classic English myth from 2010, I had a good time with in spite of myself. Gladiator remains rightfully an enduring classic and arguably his most precise film, if you discount the iconic status of both Blade Runner and the original Alien, and remains arguably the best of the various sword-and-sandal film outings in the last three decades. When he casts his unflinching gaze upon the brutality of the world's pre-industrial civilisations there's few who could suggest Ridley Scott isn't an absolute master of the artform. True to his nature, Scott's The Last Duel is yet another mud-stained examination of history's sheer brutality and discrimination, in both social, political and religious aspects, bookended by chaos of battle and bloodthirsty gore within a diatribe on the patriarchy that hits home during the film's final third.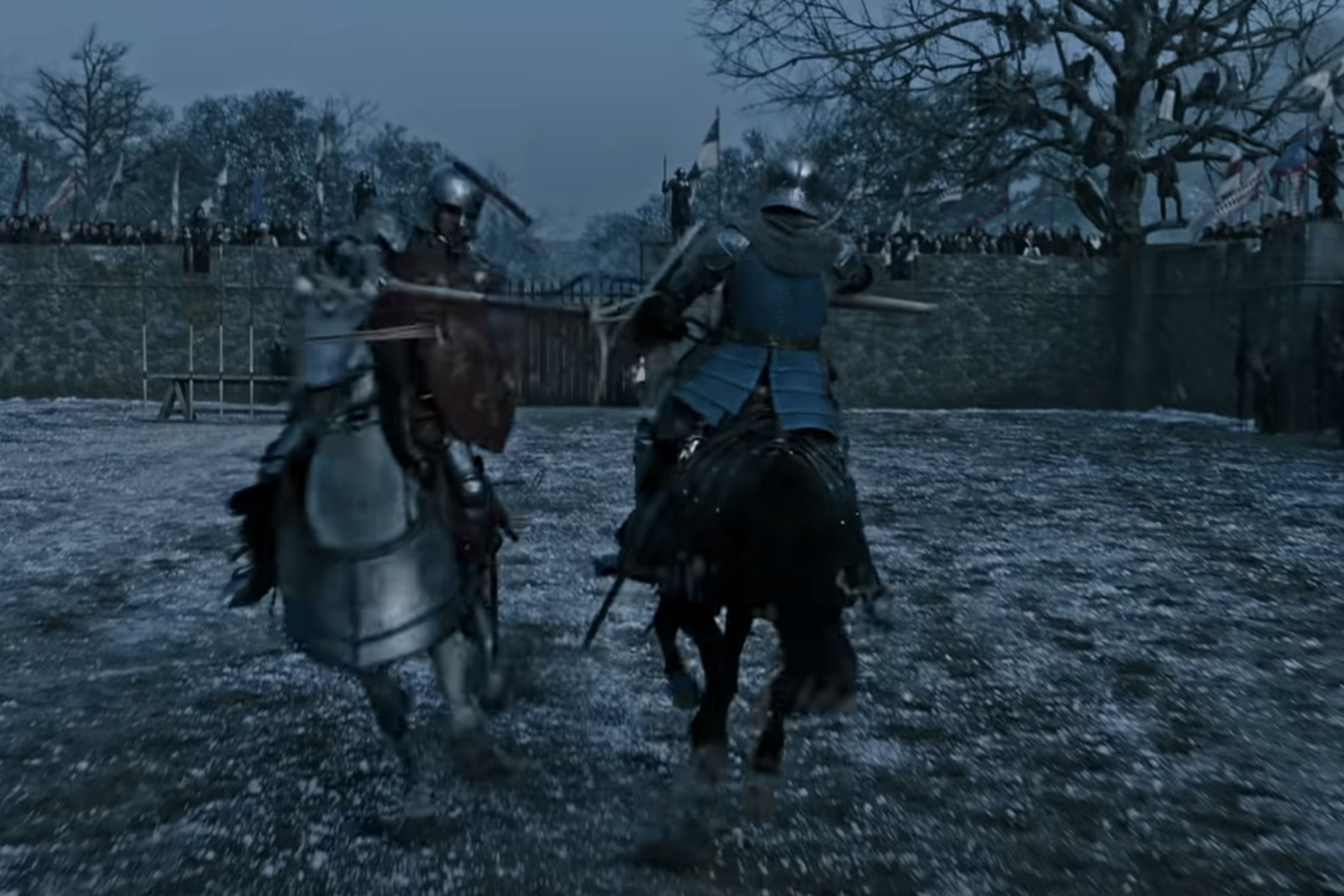 Written for the screen by Oscar-winners Ben Affleck and Matt Damon, together with Oscar-nominated Nicole Holofcener (Can You Ever Forgive Me), The Last Duel takes historical facts and transitions them into a fanciful, somewhat sexy but altogether heart-breaking tale of one of history's last judiciary duel – the fact that a person's guilt or innocence depended solely on their fighting prowess might seem positively archaic and unnecessarily cruel but modern medicine at the time placed the entirety of fertility and reproduction on the shoulders of women – the crux of which is one of the most angering and frustrating aspects of The Last Duel's raison d'etre. It's a wholeheartedly tragic story all-round, from Damon's hard-fought Carrouges' continual belittling at the hands of his comrades and the nobility, to Le Gris' slide into bootlicking, ingratiating antagonism, and the film takes pains to try and represent the trio of viewpoint narratives – the first from the crusty and hard-bitten Carrouges, the second from the debonair womanised Le Gris, and the third and concluding act from Marguerite herself, in which the "truth" is portrayed through oft-salacious and hand-wringing feminist bulldozer fire – and, while competently presented, undercuts the dramatic urgency of all three with a pervading sense of whiplash.
Did we need to see the story told from different vantage points? In the original literary text this might have worked (I haven't read Jager's book, so I can't comment) but in a feature film these kinds of storytelling tricks often wade into redundancy, unless the character or the story are of a kind the audience will attach to eagerly. Unfortunately, neither the characters nor the story within lend themselves to this mechanism of narrative complexity, and the repeated takes of many of the same incidents, told with slanted bias obviously tilted toward the teller, wears out its welcome. It's a shame, really, because I think had the story been told in a more straightforward manner the dramatic weight of the film's finale (which, I must admit, is truly compelling) would have sat better within the larger context. There will be some who would question the decision to (yet again) depict a woman's sexual assault at the hands of a man as the inciting incident to a major feature film, and while I think this trope (it feels awful suggesting rape is a cliché, but maybe it's become so ubiquitous in pop-culture storytelling that it is a cliché?) is earned thanks to historical accuracy, the fact that we're treated to the spectacle of differing views of rape as a by-product of glossy entertainment does embitter one's outlook. The "was she, or wasn't she?" question looming over The Last Duel isn't answered as satisfactorily as Scott apologists would have liked, I think; again, Jager's original text (about a genuine historical case) asks much the same question, which in the era of #MeToo is arguably more a justification for the discussion than ever before, I just think as presented here it's a little too eager.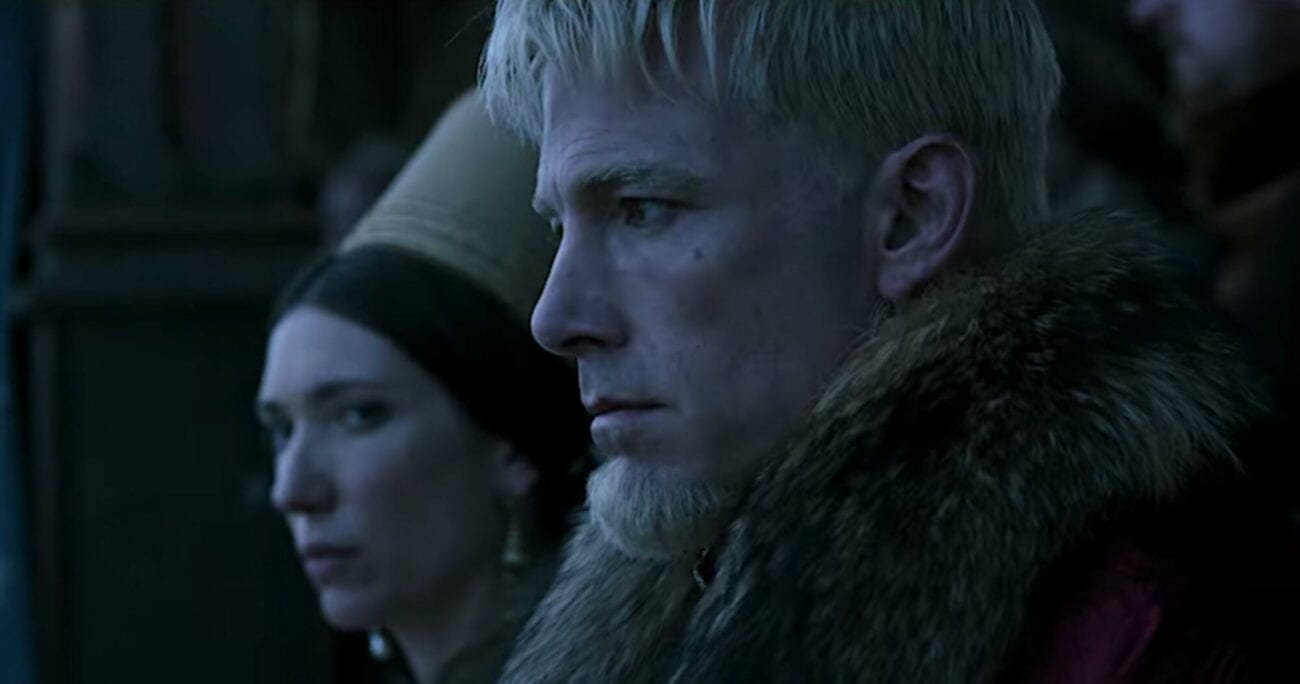 In terms of performance the film hangs largely on the duo of Matt Damon and Jodie Comer. Damon is great as the taut, angry Carrouges, who is portrayed as a frosty, measured yet righteously ambitious man, proud of his service in the King's army but embittered over what he sees as Le Gris' rise in the graces of the orgiastic and lavish Count Pierre, played by a blonde Ben Affleck in fine Ameri-French form. For his part, Adam Driver personifies the quiet solemnity and obsequiousness of Jacques Le Gris, himself an imposing individual and renowned lothario, with a sense of measured tactics, and where the film fails the viewer is in making Le Gris a well-rounded, less douchey character. Compared to Damon and Comer, Driver's character arc could be described as nondescript, having little emotional impact in the film other than to be "the villain" almost by default. Was Le Gris really that big an asshole, or was his opportunism derived from something else? The Last Duel doesn't offer much scope for him – or succour for us – in this regard.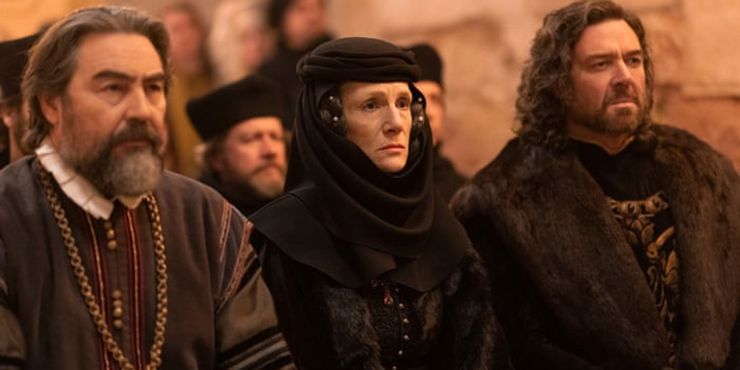 The unsung hero of The Last Duel is undeniably Jodie Comer, who turns Marguerite from an eyelash-batting ingenue cliché into a powerful, thrusting, jagged historical heroine; the kind of strong female roles Ridley Scott has given us over the decades are personified by women at odds with their male counterparts, or having to endure a world dominated by patriarchal control, and this film's overwhelming star is Comer's heart-breaking work as the put-upon woman who never once asked to be in this position. Comer's delivery, her screen presence, her ability to channel the rage and torment of the character's personal fragility and impotence in the face of almost certain persecution and death, is remarkable, and I would suggest that the Academy Awards grace her with some kind of reward for the part.
The Last Duel's sumptuous production design, along with a wonderful musical score from Harry Gregson-Williams and terrific editing by Claire Simpson (Platoon, The Constant Gardener), make for fascinating if curiously dour viewing. It's a film with much potential but Scott makes the grave mistake of threading his narrative through three distinct takes that don't mesh together as well as I'd have liked. Having each arc conclude before we reset back to the start again is a tremulously fraught way of telling a story and it only works in very unique circumstances; The Last Duel doesn't demand such a stylish approach, and in the end the lack of emotional cohesion between the three angles nixes a lot of the movie's momentum. It's held together by Damon and Comer doing some solid work, Ben Affleck's laughably blonde hairstyle and the film's brooding, melancholy (and almost fateful) violence, so for that I applaud it, but I felt it was hindered by a weird fetishization of sexual assault as a mechanism for a masculine storyline to evolve; The Last Duel won't be for everyone, and it won't have a particularly high re-watch factor, but it's solid enough to make it into the top half of Ridley Scott's filmography.
Who wrote this?