Movie Review – Can You Ever Forgive Me?

Principal Cast : Melissa McCarthy, Richard E Grant, Dolly Wells, Jane Curtin, Ben Falcone, Stephen Spinella, Anna Deavere Smith, Christian Navarro, Erik LaRay Harvey, Brandon Scott Jones, Shaw D'Lyn, Marc Evan Jackson, Gregory Korostishevsky, Kevin Carolan, Michael Cyril Creighton.
Synopsis: When New York biographer Lee Israel falls out of step with current tastes, she turns her art form to deception, fraudulently selling old correspondence of famous authors.
********
It quickly becomes apparent that Can You Ever Forgive Me? is a film designed purely to win awards. A nominally excellent British actor, a usually awful American comedic actress throwing her hat into the Robin Williams ring and taking on a serious role, and a plot torn right out of "you won't believe this is a true story" headlines: the recipe for kudos and critical acclaim is tailor made for all involved, and is delivered with low-fi intensity. Melissa McCarthy, an actress I normally have zero time for, performs an admirable "ugly" role as American biographer Lee Israel, a woman for whom financial freedom meant turning to criminal activity to succeed (albeit briefly), and it's easy to understand why American critics fell head-over for the woman's delivery here. Ably backed up by the always delightful Richard E Grant, McCarthy's star wattage and reserved portrayal of the woman who hoodwinked and entire community of literary lovers is central and occasionally tear-jerking for its honesty and rawness.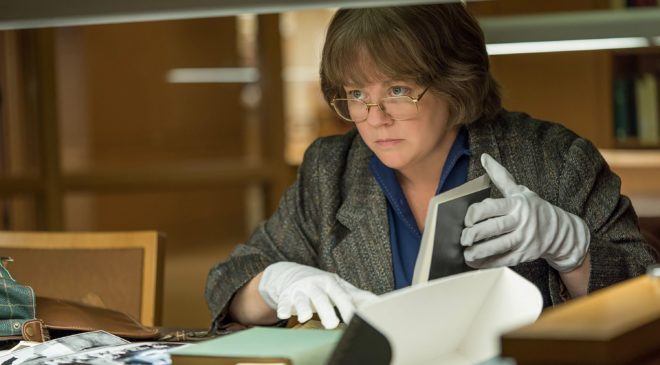 Lee Israel (McCarthy) is a failing New York biographer, whose recent tome about Estee Lauder failed critically and commercially. Struggling to stay afloat financially, and suffering both writer's block and severe alcoholism, Lee turns to forging literary letters from prominent authors after selling one of her prized possessions to local bookseller Anna (Dolly Wells). Lee, aided by her drug-dealing friend Jack Hock (Richard E Grant), soon makes a nice living devising phoney letters of note, until her subterfuge is uncovered and her name is blacklisted. From there, desperation forces her to rely on the flamboyant Jack, until her world comes crashing down around her when her activities are investigate by the FBI.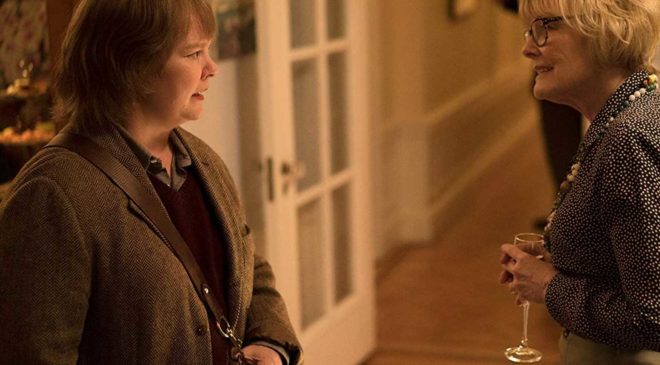 Hauntingly melancholy, Can You Ever Forgive Me? started life as a vehicle for Julianne Moore and Sam Rockwell in the Hock and Israel leads respectively. Director Nicole Holofcener was tapped to helm off the back of her own screenplay (with Jeff Whitty, and based on Lee Israel's 2008 autobiography) before pulling out of the project, and soon the film found it's new central performer in Melissa McCarthy, and actress not particularly known for her dramatic serious roles, and incoming director Marielle Heller (The Diary of A Teenage Girl). Myself, I'm not a fan of McCarthy's particular form of vulgarity and sass, and find her to be an obnoxious actress at best, an absolute horror at worst. However, when I began to hear exceptionally positive word of mouth about McCarthy coming out of competent critical reviews of the film, and her eventual Academy Award nomination for the role earlier this year, I swallowed by bitter distaste and opted to give the film a shot. That, and Richard E Grant's stratospheric social media rise over the last few months also played a big part.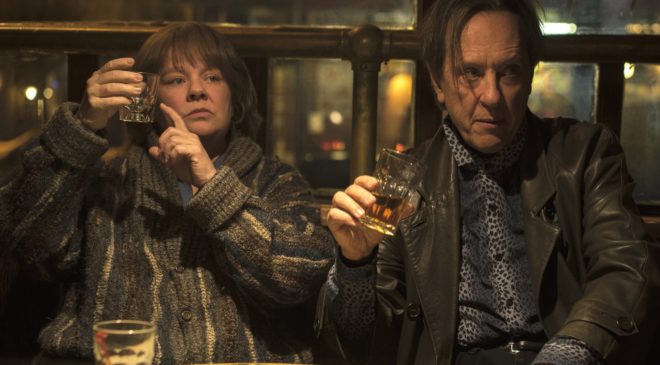 In truth, both McCarthy and Grant are excellent. The film itself is a dreary, saddening, exceptionally moving work of art, so in combination one has to admit that, despite not being "entertaining" in the general sense of the word, Can You Ever Forgive Me? is a hugely recommended character study and a well acted masterclass in two performers inhabiting completely the roles they're playing. Gone is the crass McCarthy of Identity Thief, The Boss and The Happytime Murders infamy, replaced for this film by an actress of subtlety and nuance and a credibility I'd long considered absent the woman. Grant, for his part, can play over-the-top campy flamboyancy without batting an eye, and he once again delivers the goods in a turn that delicately straddles wounded pride and diffident indifference. Together on screen, the pair make a captivating coupling, with McCarthy more than holding her own against a far more ebullient thespian in Grant. Brief supporting roles, such as Dolly Wells' unfortunately smitten Anna, Jane Curtin as Israel's irascible and flummoxed publisher, and McCarthy's real-life husband Ben Falcone as one of the many people stung by Israel's subterfuge, all provide quality depth to relatively minor parts, while it was fun to see Isn't It Romantic's Brandon Scott Jones pop up briefly as a snobbish bookshop owner, parlaying his breakout year into something larger.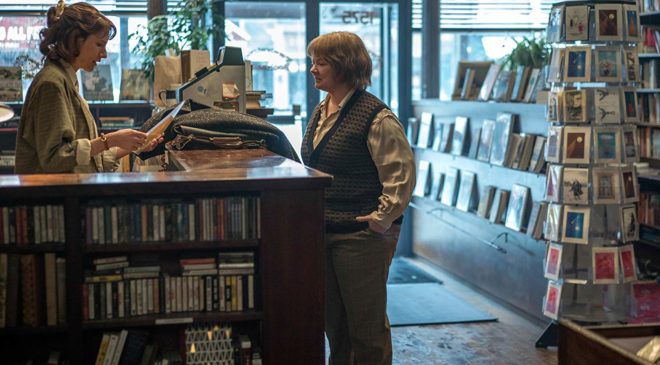 Interestingly, apropos of nothing but allegorically to the lustre given to New York City in Isn't it Romantic, in this film the great city is actually pretty cankerous, a depiction of a dank, sewer-like landscape against Lee Israel's personal descent into despair; the pavement and catacomb-like streets of New York feel actively depressing, as if the denizens of the city are ointment flies or flailing rodents within its omnipresent drabness. Kudos to Brandon Trost's atmospheric and at-times claustrophobic cinematography for delivering a film that feels squalid, representing the state of mind Israel's ruinous personality and life-choices have committed her to. Perhaps the film's moody aesthetic is entirely unsubtle to the viewer, but to my mind it's a delicate balance and one both Trost and Marielle Heller deliver with appreciable skill.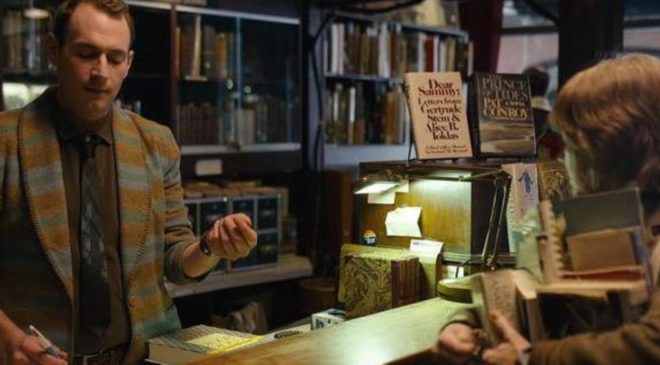 Can You Ever Forgive Me? is a one-and-done film. It's not a film that bears repeat viewing, but it is one that bears your attention for the hour and a half it work with. McCarthy is excellent, Grant is her equal and easily the film's MVP, while a solid supporting cast and sizzling "this could be you, really" headline-styled plot makes for heartbreaking and affirmatively empathetic viewing. Designed as an actor's movie, Can You Ever Forgive Me? is both jet-black hilarious and almost always driven by despair and regret, but is always worthwhile in every frame.
Who wrote this?