Movie Review – There's Someone Inside Your House

Principal Cast : Sydney Park, Theodore Pellerin, Asjha Cooper, Jesse LaTourette, Diego Josef, Dale Whibley, Burkely Duffield, Sarah Dugdale, Markian Tarasuik, Zane Clifford, William Edward, Emilija Baranac, Ivy Matheson, Kayla Heller, Andrew Dunbar, Tedra Rogers, William MacDonald, Tally Rodin, Anthony Timpano, Brittany Hobson, Jade Falcon, David Lewis.
Synopsis: Makani Young has moved from Hawaii to quiet, small-town Nebraska to live with her grandmother and finish high school, but as the countdown to graduation begins, her classmates are stalked by a killer intent on exposing their darkest secrets to the entire town, terrorizing victims while wearing a life-like mask of their own face. With a mysterious past of her own, Makani and her friends must discover the killer's identity before they become victims themselves.
********
Netflix has been quietly putting out some pretty decent horror films of late, and I'm pleased to say that Patrick Brice's adaptation of the 2017 slasher novel "There's Someone Inside Your House" continues that streak. While it's no instant classic in the vein of Friday the 13th or 1996's Scream, There's Someone Inside Your House is a pleasantly diverting thriller with just enough to say about coming-of-age society and how we present to the rest of the world to make it heartfelt – or at least as heartfelt as a blood-soaked slasher film can get, that is. It pays homage to the gory films of bygone eras, personifies the jittery subgenre aesthetic of modern cinematic mandate, and delivers several satisfying kills, leaving the viewer pleased if not entertained by the smattering of red herring's thrown into the mix.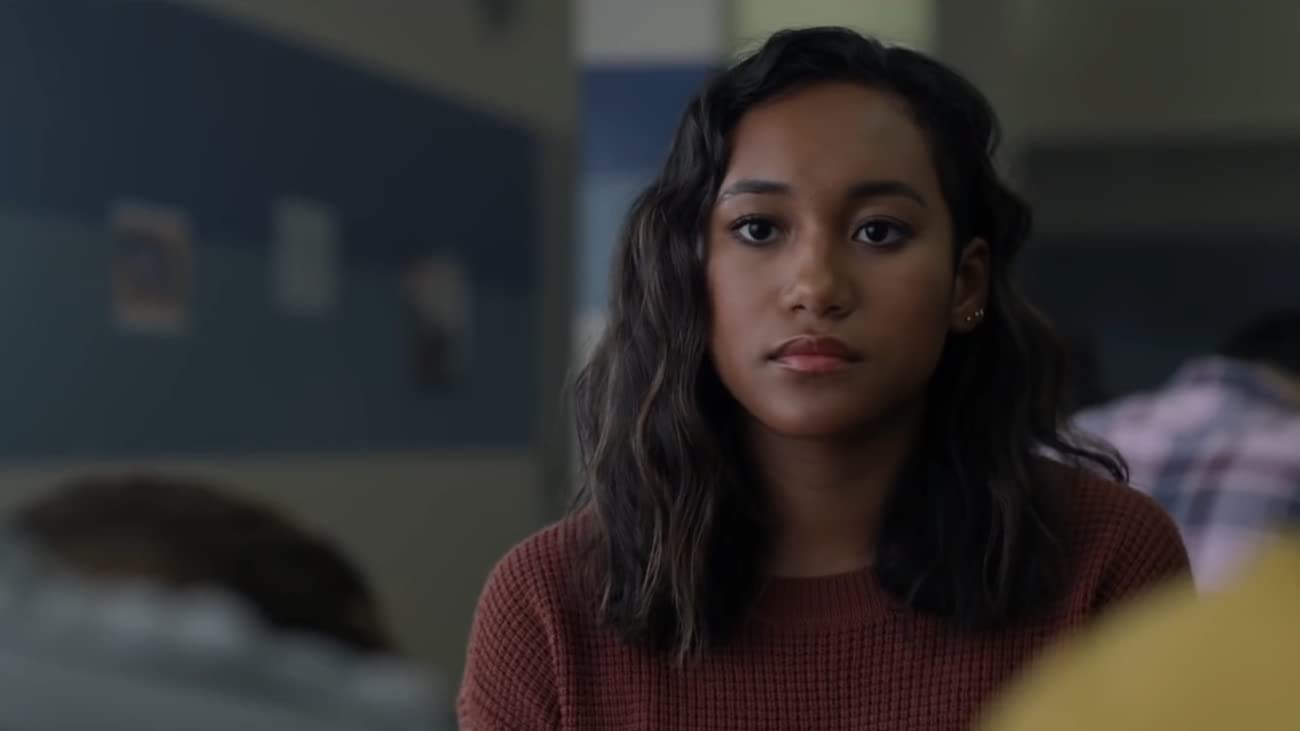 Makani Young (Sydney Park – Wish Upon, Pretty Little Liars: The Perfectionists) has moved from Hawaii to a small Nebraskan town to escape a past filled with a reputation-destroying crime. She is befriended by the local high school outcasts, including the gender neutral Darby (Jesse LaTourette – Boy Erased), the loudmouth Alex (Asjha Cooper – Hysteria, Black As Night), and the resentful son of local businessman, Zach (Dale Whibley – October Faction), while secretly keeping a relationship with withdrawn yet rebellious Ollie (Theodore Pellerin – Boy Erased, Underground). When several of the school's students are brutally murdered after having devastating secrets revealed about them, Mikani realises that her own dark secret could be revealed, and that Ollie looks increasingly like the prime suspect.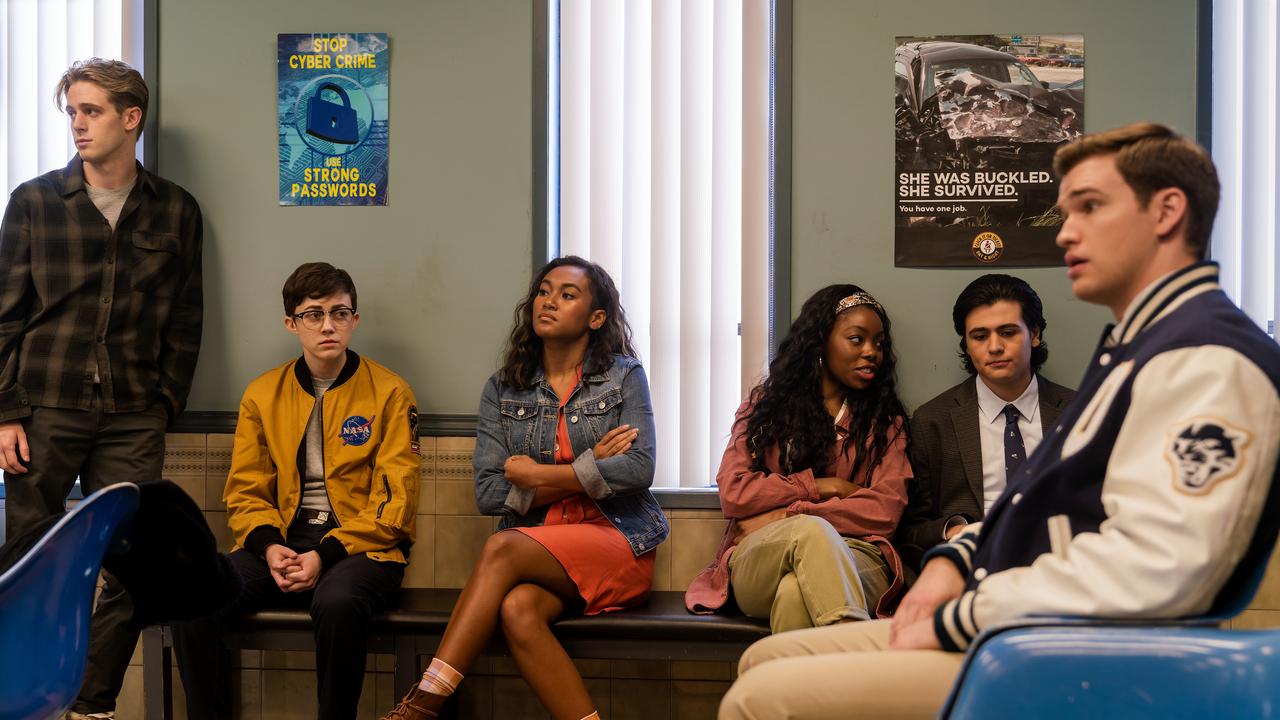 Although I've not read the book upon which There's Someone Inside Your House is based, a quick Wiki research trip led me to discover that the filmmakers have not only combined and/or modified several of the main characters, but they've also changed up the killer's identity, which will no doubt please book readers heading into this thinking they know what's what. Similarly to Happy Death Day, the recent Fear Street trilogy, Gerald's Game and even the little-seen Hush (criminally… you should all be checking that one out), Patrick Brice's entry into the Netflix horror canon is a delightful little romp that's as superficial as it is bloody, and despite an ending that vastly overreaches the more sombre and touching moments earlier in the movie, There's Someone Inside Your House will no doubt become something of a minor classic for teenage horror fans and school-aged slumber-party parties.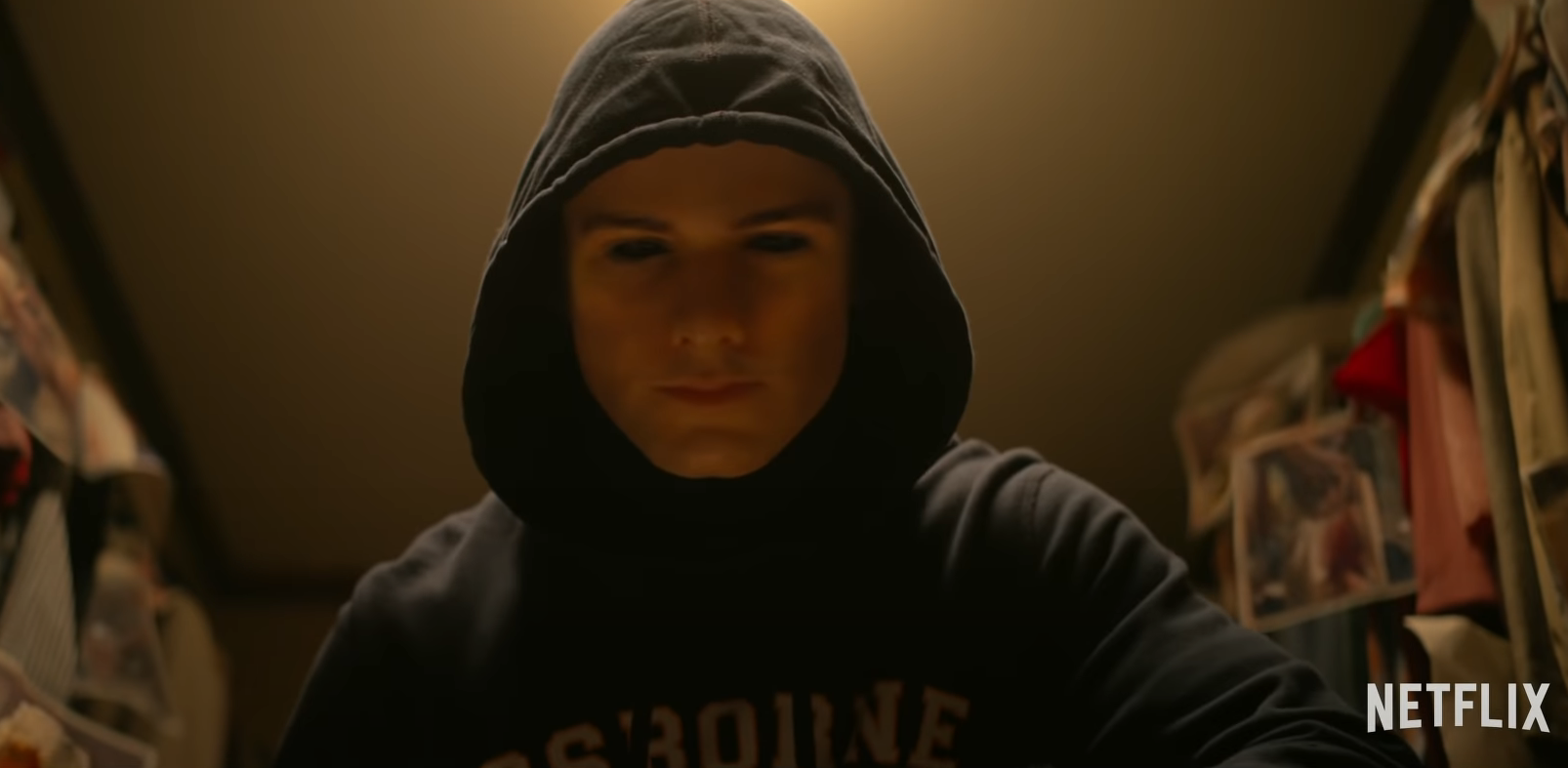 The characters within the film are stock-standard generic tropes – the school jocks, the bratty Mean Girls, the resident school-shooter types and withdrawn loners boasting pasty complexions and punk rocker costuming. The story focuses on a small group of what John Hughes (RIP) would consider "outsiders", those of a particular disposition that sees them not quite fit into a specific clique making their angst and internal drama all that much more acute. Makani Young is a beautiful yet troubled teenager, hoping to escape a tragic past by seeking out a new life with her sleepwalking grandmother (a terrific but underutilised BJ Harrison), and she is struggling to find a place within Osborne, Nebraska, before all hell breaks loose and a masker serial killer starts to strike.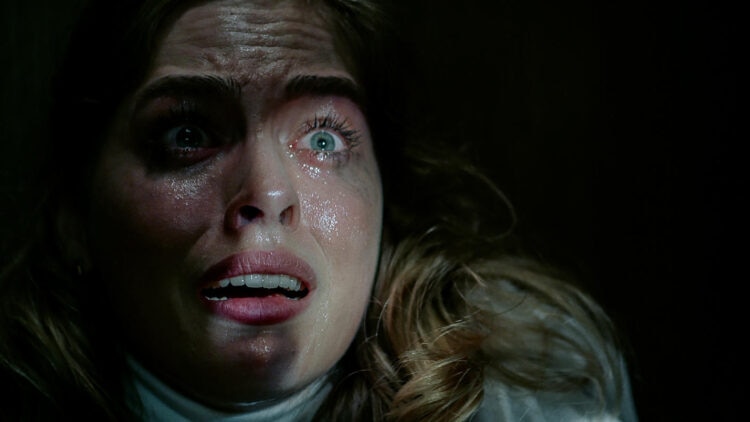 The murders all follow a pattern of uncovering somebody's deepest, darkest secrets, secrets nobody wants revealed to the world, and in some respects the film works overtime trying to make the various victims all seem like worthy recipients of the killers' blade. Scripted by Henry Gayden, a co-writer on DC's recent Shazam! as well as credits on Earth To Echo and the upcoming Shazam! sequel, There's Someone Inside Your House spends a fair bit of time sinking into Makani's personal life and internalised drama, her relationship with Ollie, and her loving bond with her grandmother. At times the film feels like a warm-spirited 80's teen dramady, laced with snark and bitterness at the unceasing cruelty of American High School life. At others, the knife-wielding killing-spree tropes feel almost secondary to the main story; Gayden's script balances the character development with the bloody carnage quite well, the overriding mystery of the killer's identity bubbling along nicely throughout most of the movie. That is, until the very end, when the filmmakers trip over themselves trying to make the Big Reveal a jaw-drop, mic-drop moment and it's honestly laughable. Hamstringing the film with such a preposterous reveal and motive the way this film does it almost undoes all the good work director Brice does in building up to it.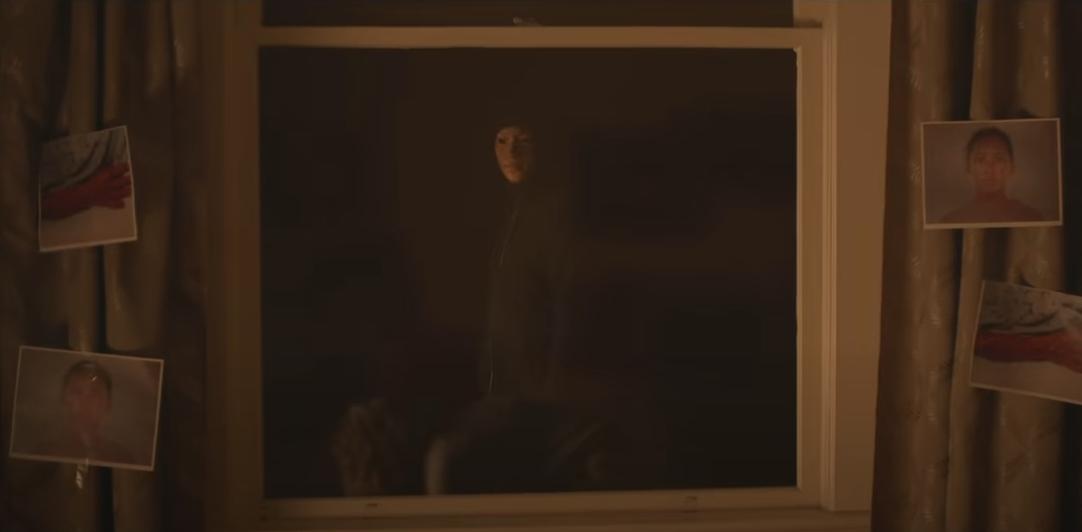 Thankfully, with such lived-in characters and a genuine feel of rapport between the cast, There's Someone Inside Your House has far more working for it than against. Brice's ability to generate tension is amenable to the genre without shattering expectations – there's a few decent jump scares here, as well as several predictable genre tropes that kinda feel clunky and unfulfilling – even if some of the crucial early kills are executed (if you'll pardon the pun) with a kind of perfunctory blandness that's difficult to parse. There's blood, for sure, and a few moments of watching-from-between-the-fingers moments of body-horror that will make you wince (Achilles tendons, man, they're one of the worst things in horror films….), but you find yourself half thinking the movie's aiming for younger teens whilst wanting desperately to enter Saw or Ichi the Killer levels of depravity, without the authority to do so. In the end, There's Someone Inside Your House settles for a more laconic bloodthirsty aesthetic without the gore or pornographic shock tactics some modern horror films employ – it's on par with Wes Craven's Scream in terms of bloodletting and the dissemblage of human bodies, if you will, although most of the kills lack pure sadism or any kind of profundity.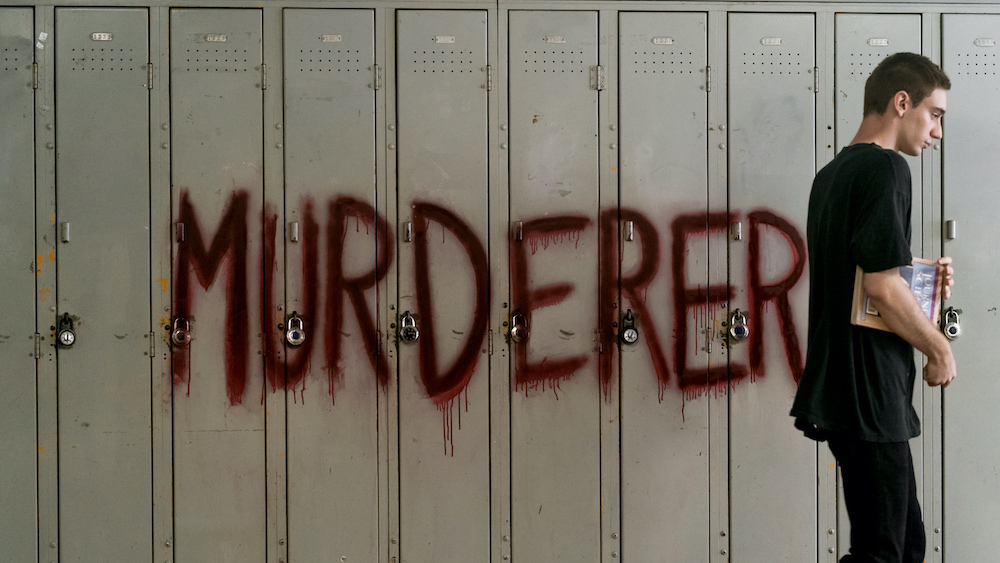 There's Someone Inside Your House is a fun little horror film that works as both a tale of teen angst and an at-times shocking slasher film. The film isn't perfect – the third act reveal is, frankly, woeful – but the cast are all excellent, the production design and direction are sharp, and you come away having had a good time with it in spite of its deficiencies. And that, given it's a slasher film, is high praise considering the low-rent schlock the subgenre has had to contend with being known for all these years. Rewarding for those who venture into its charms, There's Someone Inside Your House should be seen by people inside your house as soon as you have the opportunity.
Who wrote this?