Movie Review – That Thing You Do!

Principal Cast : Tom Everett Scott, Liv Tyler, Johnathon Schaech, Steve Zahn, Ethan Embry, Tom Hanks, Charlize Theron, Bill Cobbs, Giovanni Ribisi, Obba Babtunde, Alex Rocco, Chris Isaak, Larry Antonino, Holmes Osborne.
Synopsis: A local Pennsylvania band scores a one-hit wonder in 1964 and rides the star-making machinery as long as they can, with lots of help from their manager.
********
Tom Hanks' ode to pop bands of the 1960's is a pastel-fresh, toe-tapping great time, replete with an all-star before-they-were-famous cast and a cavalcade of celebrity cameos; revisiting the theatrical version of the film today one might expect it to feel a touch on-the-nose for today's cynical audiences, but the fact is that That Thing You Do is just a delightful time-capsule of energy, dreams and love, wrapped up in that earworm-catchy title track. Hanks parlayed his Hollywood clout to enable a gig both behind and in front of the camera, directing his debut feature whilst also being credited for writing and co-starring alongside a hot young cast and an aching, nostalgic musical soundtrack. You can tell this was a passion project for him, with the film's gentle heart and soul as honest and endearing as can be, and you'd have to be a cold, frigid asshole if you didn't at least smile along to the antics of the Wonders and Hanks' pleasant direction.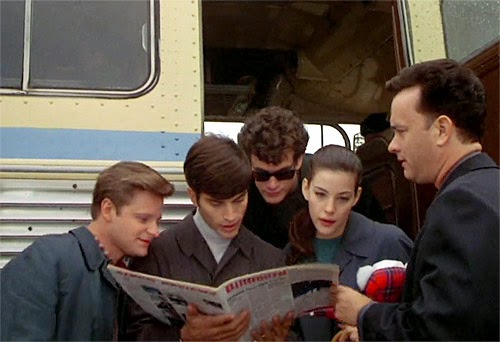 It's the 60's, Eyrie Pennsylvania, and a group of small-town friends, including aspiring jazz musician and drummer Guy Patterson (Tom Everett Scott) find popularity at a talent contest when their band, the One-ders (pronounced "wonders" but often mispronounced "oh-nee-ders") performs a song, "That Thing You Do" to a raucous crowd of admirers. Songwriter Jimmy (Johnathon Schaech), his girlfriend Faye (Liv Tyler), their bass player (Ethan Embry) and guitarist Lenny (Steve Zahn) are swept up in a surge of fame as the song becomes a one-hit wonder, led by recording manager Amos White (Tom Hanks), much to the chagrin of Guy's father (Holmes Osborne). Naturally, conflict arises with the direction the band is headed, leading to a falling-out that threatens to end their journey prematurely.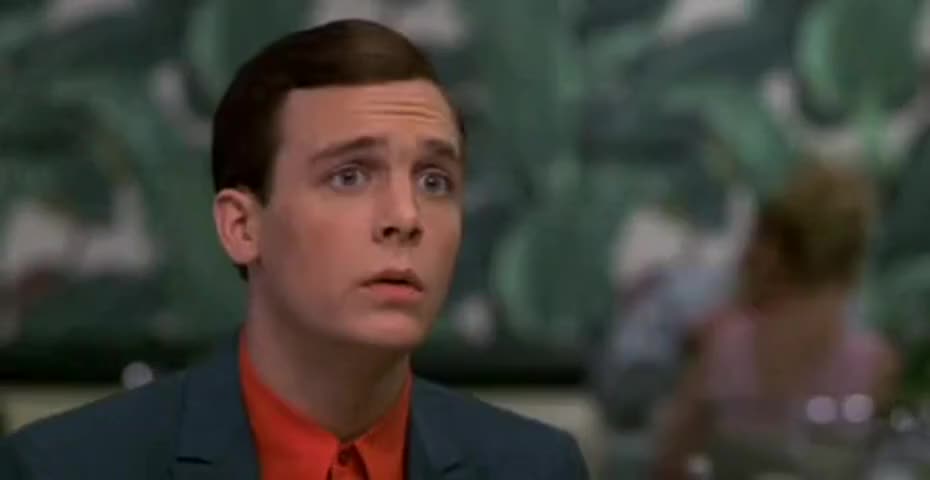 I've yet to encounter a single living being who actively disregards this movie. It's almost impossible to dislike That Thing You Do, although some might argue that the catchy title track will linger in your brain a lot longer and with far more repetition than is healthy. In truth, "That Thing You Do" is repeated ad nauseum within the context of the film, its upbeat hook and dynamic 60's pop sound transporting you back to a time when life and music were simpler despite the song actually being produced and recorded specifically for the movie. Had the song not been so good, so damn catchy, it's entirely likely the film wouldn't have worked as well as it does because it trades off that mystery magic a lot. Coupled with fun characters, great moments of comedy, a few moments of genuinely emotional drama, and Tom Hanks in full-bore patriarchal zen-master mode, and you have a film that fulfils its ambitions easily and even sprinkles some Hollywood magic throughout to boot.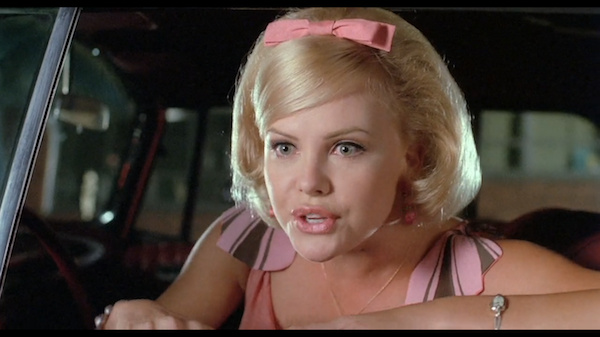 The core cast are the heart-and-soul of the film. Tom Everett Scott provides the central lead role of Guy, a kid whose future is always going to be musical, who loves dissecting his favourite influences (mostly jazz inspired, something Tom Hanks was known for and what is obviously an aspirational narrative for him) while dreaming of playing with the greats of his time. Johnathon Schaech, the man with four H's in his name, is the prodigious songwriter whose ego and desire to use their fame to further his creative drive, and who serves as the film's antagonist in many way, has the devil's work making his character both empathetic and prideful, without being overtly sinister or diminishing his on-screen castmates, and although I could see this as a role people love to hate, he personifies the reality of the pop-music industry of the day (and the present, maybe?). Ethan Embry and Steve Zahn offer a double-fisted complement of comedic sidebars, with each of their roles topping the headier drama with a sprinkling of wit and charm, and as a quartet you do get the sense that each member of the Wonders really does feel friendship or kinship with the others, despite their abject differences. Liv Tyler is gorgeous as the sturdy and loyal Faye, providing a romantic entanglement element to the narrative that works beautifully.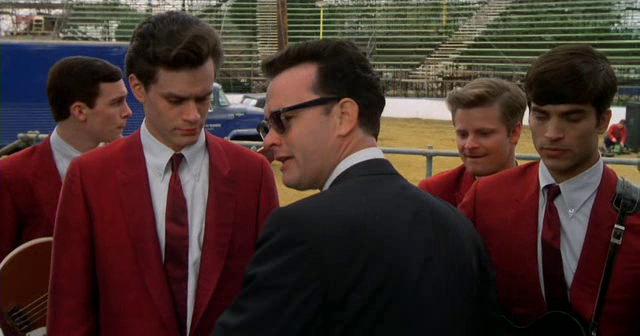 Where I think That Thing You Do succeeds impeccably is in both its period detail and its honest, albeit somewhat saccharine, depiction of 60's-era American pop music industry foibles, with a rock solid Tom Hanks as the eponymous record label handler sent in to ensure our quartet of music stars maximise their profits. As Amos White, Hanks has the double-duty of directing himself and his young stars but also performing a role that's honest without tripping too heavily into industry negativity: studio producers had to keep their charges on the straight and narrow, ensure romantic entanglements didn't ensnare them to the detriment of the band, and do as much as possible to keep their signings as happy as possible. Hanks comes across as entirely affable and slickly confident, yet still ready to drop our guys as soon as they no longer serve his purpose. It's an unscrupulous business, the music industry – then again, it's not "showfriends", it's "showbusiness" – and Hanks personifies the shark-like mentality of those who preyed upon the creative for their own benefit with suave sophistication and elegance.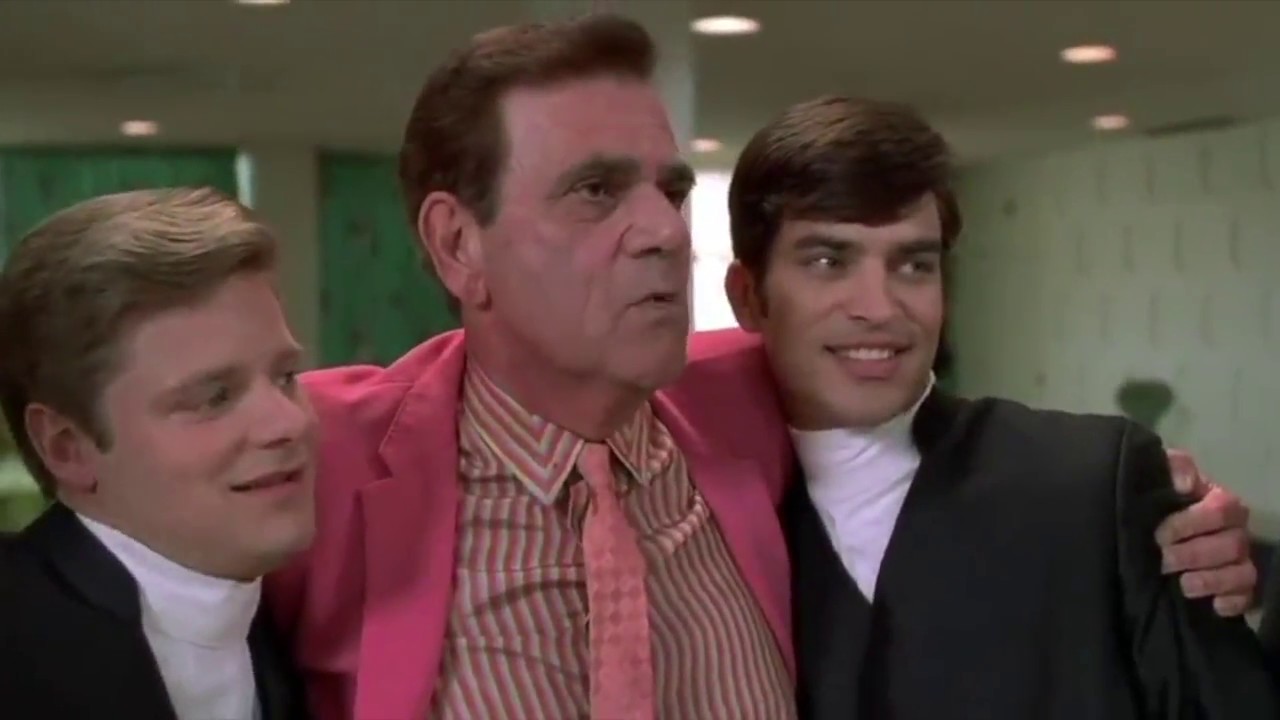 Bulking up the cache of the film's stellar cast are a roster of cameo guest roles that will make your head spin. The likes of Charlize Theron, Bryan Cranston, Rita Wilson, Paul Feig and Chris Isaak make appearances in minor and semi-minor roles forming the backdrop of the film's pleasing 60's heyday aesthetic, while Giovanni Ribisi and Holmes Osborne have significant, if entirely opposite, trajectories throughout the story. The soundtrack features a plethora of period-adjacent musical numbers, including the bouncing roster of Wonders' staples, some doo-wop, some crooner-ballad and some ancillary bubblepop, created by musical identities such as Fountains of Wayne's Adam Sleschinger, Gary Goetzman and Lord of The Rings' Howard Shore, not to mention Hanks himself. Fans of music from the 1960's will be amazed at just how authentic it sounds, when in fact almost all of it was created especially for the movie.
As a coming-of-age story and a minor entry into the Hollywood love-affair with showbiz narratives subgenre, That Thing You Do has oodles of heart, plenty of soul and a sweet-yet-ambivalent romantic core to its thumbing musical soundtrack. The film rests solely on the toe-tapping repetition of the title song – a song you will be humming for days afterwards – and the charisma of its leading men, specifically Tom Everett Scott, who is delightful as the young jazz aficionado with dreams of fame and fortune. Tom Hanks' directorial debut is one to savour. Warm, charming, effortlessly enthusiastic and entirely entertaining, That Thing You Do! is a fantastic homage to a bygone era and a period of musical creativity that generated some of music's greatest artists.
Who wrote this?