Movie Review – Scarlet Pimpernel, The (1934)

Principal Cast : Leslie Howard, Merle Oberon, Raymond Massey, Nigel Bruce, Bramwell Fletcher, Anthony Bushell, Joan Gardner, Walter Rilla, Mabel Terry-Lewis, OB Clarence, Ernest Milton, Edmund Breon, Melville Cooper, Gibb mcLaughlin, Morland Graham, John Turnbull, Allan Jeayes, Philip Strange, A Bromley Davenport, Hindle Edgar.
Synopsis: A noblewoman discovers her husband is The Scarlet Pimpernel, a vigilante who rescues aristocrats from the blade of the guillotine.
********
They seek him here, they seek him there….
A delightful mix of Batman, Robin Hood, the Phantom and whatever it was Alan Cumming was doing in Plunkett & Macleane, this devilishly cool mix of adventure, intrigue and political catastrophe is an absolute joy from start to finish. Like many my age, The Scarlet Pimpernel was one of those characters I was first exposed to in my early childhood thanks to Daffy Duck's parody take on the story in the 1950 short "The Scarlet Pumpernickel", for Looney Tunes. The original text, by Baroness Emma Orczy (1865-1947), was the first in a series of novels based on her original stage play in 1903, and prior to its popular 1934 feature film version had been produced as the subject of a number of silent films, as well as ongoing stage productions across Britain in the early part of the 20th Century. The now-familiar trope of an aristocratic member of society masquerading as a hero to the underclass was incredibly popular with the masses of the day, and variations of this type of derring-do action creation proliferated in the decades to come. Complete with a rhyming couplet to form as his tag-line – a little like Zorro's "Z" carvings or the Phantom's skull ring – the Scarlet Pimpernel became the instigator of the "hero with a secret identity" archetype so prevalent today.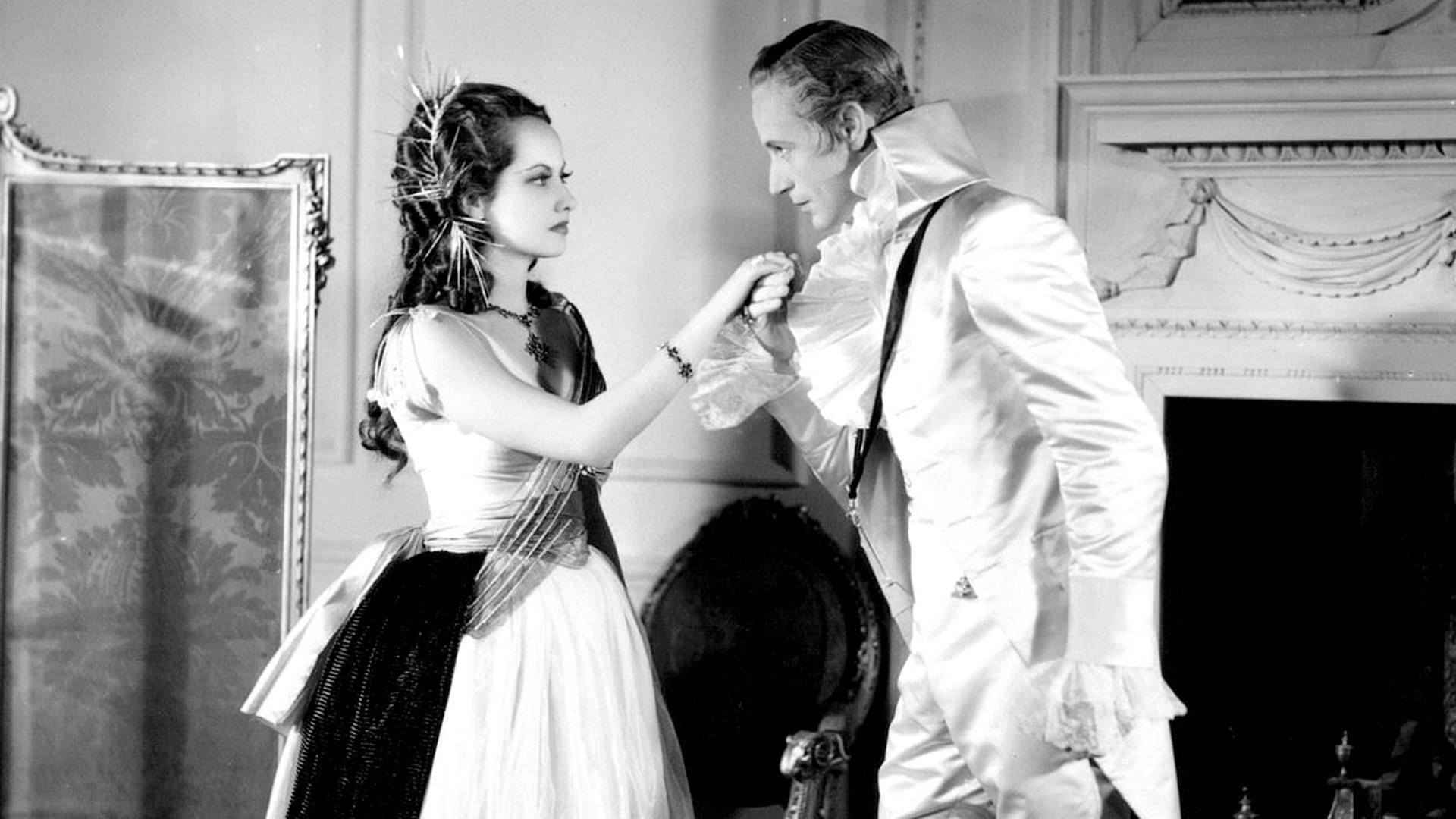 France, during the Reign of Terror, in which members of the French aristocracy were sent to death at the blade of Madame Guillotine by revolutionary figure Maximilien Robespierre (Ernest Milton), hunted here and there by members of unforgiving soldiers at the command of Citizen Chauvelin (Raymond Massey – Abe Lincoln In Illinois, East of Eden). A British nobleman living in France, Sir Percy Blakeney (Leslie Howard – The Animal Kingdom, Pygmalion), secretly organises to rescue and safe passage to England as many of the French nobility as he can under the pseudonym The Scarlet Pimpernel, a master of disguise and intelligent espionage who continually slips through the fingers of Chauvelin's men. Blakeney's wife, Marguerite (Merle Oberon – The Private Life of Henry VIII, The Dark Angel), who hangs on the guilt of having sent a family of French nobles to the guillotine herself, is unaware that her husband is helping the French, since he passes himself off as a disinterested and shallow foppish clothing aficionado with little time for adventure. Once Chauvelin starts to figure out who the Pimpernel is, however, she both she and her husband must put aside old alliances and work together for the common good.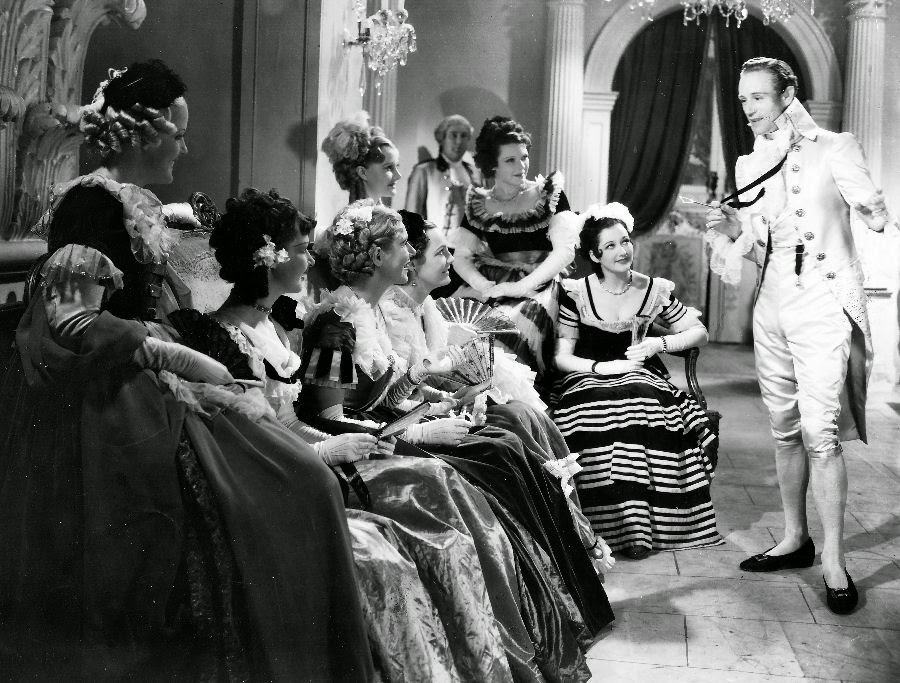 With his nineteen member League Of The Scarlet Pimpernel helping him, Orczy's famous literary hero arrives in all his splendour thanks to an absolutely gutbusting turn from leading man Leslie Howard, who gives the character of Sir Blakeney the requisite dilettante ineffectualness hiding a strong ethical streak as the mysterious Pimpernel. Howard is superb as the Bruce Wayne-esque Blakeney, his vaguely nasal "meek-and-mild" persona akin to a more subtle Kenneth Williams effete foppishness, while his "heroic" turn is by turn dashing, sweepingly romantic and cannily clever. Predicated on only a select few knowing his true identity, the film also trades in the ubiquitous "close call" identity revelations for much of the story, until the climax in which Blakeney's hitherto guilt-ridden wife discovers his secret and has to decide whether she loves her country, or her husband. Co-star Merle Oberon is luminous and haunting as Blakeney's somewhat estranged wife, and as an on-screen pairing their chemistry is.. well, remarkable.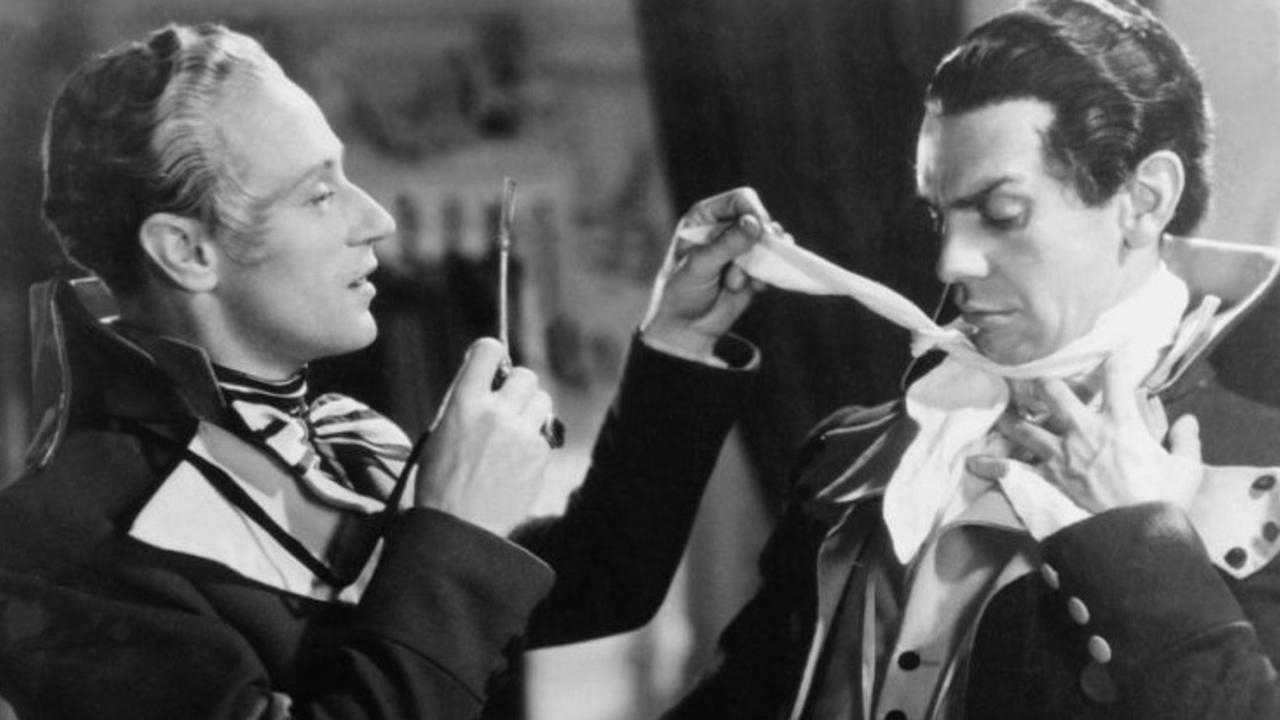 Written by Lajos Biro, SN Behrman, Arthur Whimperis and Robert E Sherwood (uncredited work from both Orczy and Alexander Korda are noted in contemporary information), The Scarlet Pimpernel is brilliantly depicted. Condensing the story down into a ninety minute film, compressing a lot of the subtleties and nuance of the characters into fairly brief interludes of dialogue, one might think the end result feels rushed or constricted by narrative brevity; not so, for Harold Young's film is brilliantly executed both in pace and care of character. The dialogue itself is razor sharp with menace, subtext and some delightful humour, the threadbare depth absorbed by the cast's all-round terrific performances. From its opening horror as countless people fall victim to the guillotine and the roaring, baying crowds of enthusiastic lower classes, to the tension of a well-planned escape of nobles thanks to the Pimpernel's fine disguise work (although really, how stupid are you if you can't recognise a man dressed in women's clothing driving a rickety old carriage on the fast track out of town… heh), to the film's climactic fog-bound Parisian cornered rat in a trap sequence, few films of this vintage I've seen have managed to enthral me quite like this one.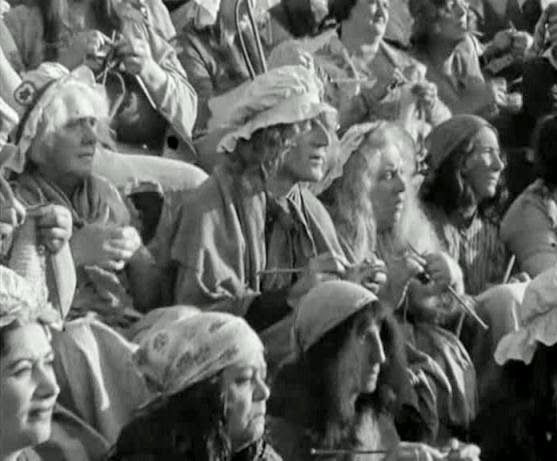 Howard and Oberon aside, the film is truly only as strong as its villain, and in Raymond Massey's Chauvelin this film has found a beauty. Massey plays the duplicitous Chauvelin with a glint in the eye and a knowing smile caressing his lips, chasing down the Pimpernel despite some of the worst henchmen at his disposal continuing to let the hero through their fingers. He contrasts wonderfully with Leslie Howard's debonair, sarcastic Blakeney, a sublime omnipresent darkness slithering through the movie analogous to the Terror's presence in France. Smaller roles to Nigel Bruce (Rebecca, Suspicion) as the sympathetic Prince Of Wales (no, not that one!), the incomparable Edmund Breon (Gaslight) as Colonel Winterbottom (not Ramsbottom, as Blakeney insists on catcalling him!) and Ernest Milton, as Robespierre, provide nice little character interludes between Blakeney's more effusive discussions on exactly who is the Pimpernel: Howard has more than a few occasions to offer the Pimpernel's famous poem to those willing to listen:
"They seek him here, they seek him there

Those Frenchies seek him everywhere.

Is he in Heaven, is he in Hell

That damned, elusive Pimpernel"
With a cast of sublime performances to hand, a screenplay that sizzles with wit, meaning and subtext almost continually, director Harold Young would have had a prick of a time trying to muck this one up. For the record, his work here is simply excellent; evoking historical horror at the Terror, beguiling enthusiasm for the titular hero's skin-of-his-teeth antics, and building tension for the fist-pumping climax, there's very little Young does wrong. His sense of scale and place are impeccable, too. Utilising some wonderful sets and period production, as well as super-cool costume design – is it just me, or does that doffed top-hat and coat combo from the late 1700's look ice-cold fantastic? – The Scarlet Pimpernel is hella stylish to boot. The way Young frames the action sequence that kicks off the film's primary narrative, or the way he builds the tension as Marguerite surreptitiously endeavours to read a secret message whilst attending a ball, or the moment Blakeney's wife realises that her husband is the Pimpernel himself (a moment of Hitchcockian rack-zoom beauty…), the director elicits all the emotions demanded of a story as audacious and captivating as that shown here. Harold Rosson's cinematography, although blighted by nearly a century of decay in the print I watched, sparkles with inventiveness, a heady mix of light and shadow, soft-focus and crisp angular horror (the opening ten minutes in particular set the scene impeccably), and the camera's love of Oberon's angular features, highlighted by her makeup and costumes, is obvious.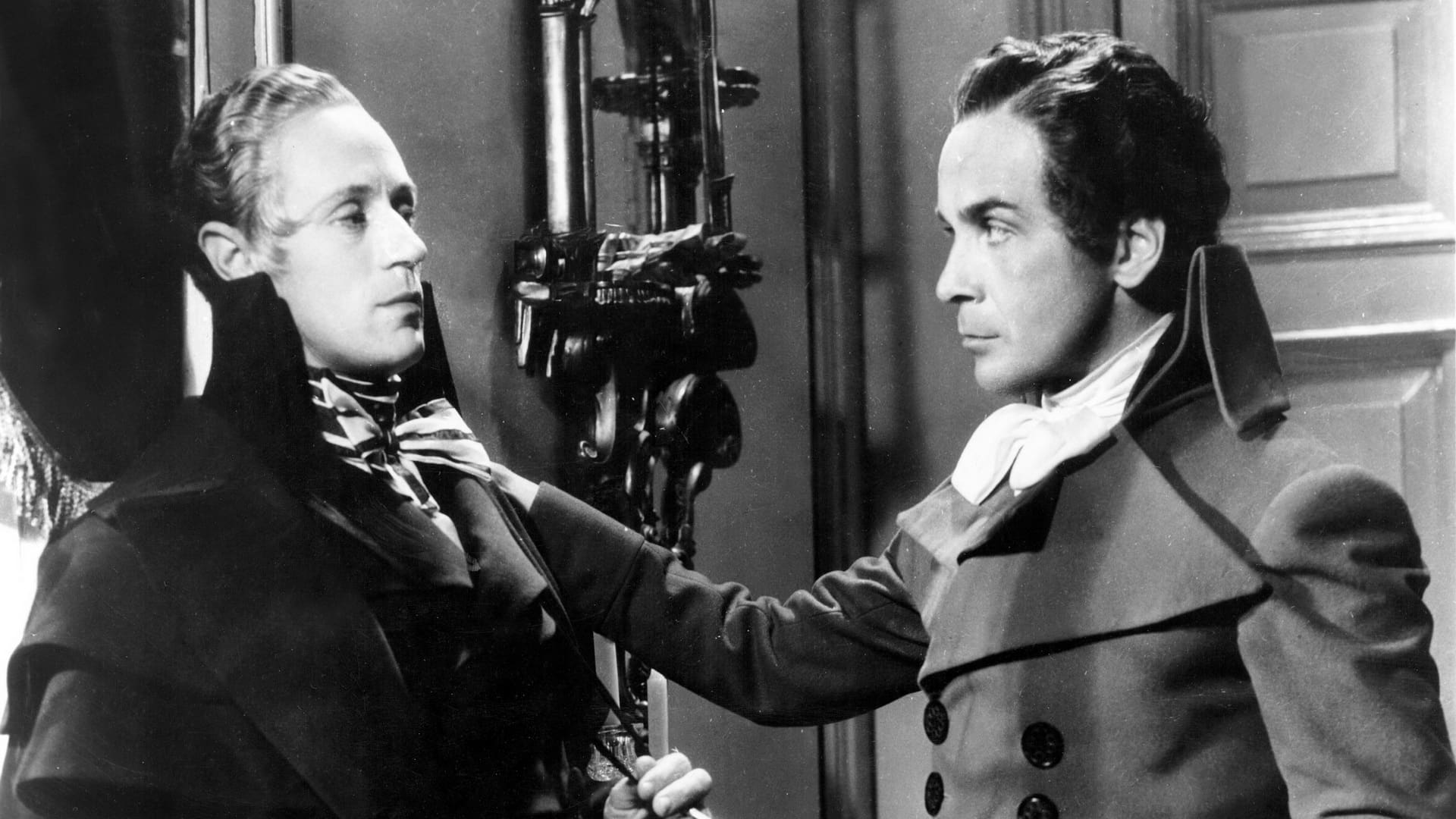 Led by a superb Leslie Howard, a hypnotic Merle Oberon and a dastardly, almost Machiavellian Raymond Massey, and abetted by a cast of equally solid performances in even the most minor of roles, Harold Young's The Scarlet Pimpernel is cinematic dynamite, a charming, witty, dangerous action film in which there is quite bizarrely very little action. A lot of the film focuses on Howard's transition between both his intellectually insipid Blakeney and his straight-backed Pimpernel roles – you know that scene in Superman where Christopher Reeve nearly blows his cover on purpose to Lois Lane, but then reverts back to his Clark Kent persona? Imagine that for an entire film, done just as well – and when both Howard and Oberon share the screen the movie positively sparkles. Sublime 1930's production design, fantastic dialogue and Young's always-inventive direction make this a standout film from the period, a highly amusing entry into the early "secret hero" subgenre and worth every penny to track down.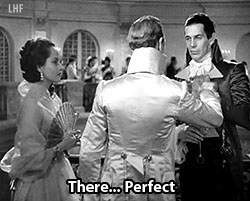 Who wrote this?