Movie Review – Angry Birds Movie 2, The

Principal Cast : Jason Sudeikis, Rachel Bloom, Leslie Jones, Josh Gad, Bill Hader, Danny McBride, Awkwafina, Sterling K Brown, Euginio Derbez, Peter Dinklage, Beck Bennett, Zach Woods, Pete Davidson, Lil Rel Howery, Dove Cameron, Nicki Minaj, Brooklyn Prince, Maya Rudolph, Tiffany Haddish, Colleen Ballinger, Tony Hale, Alex Hirsch.
Synopsis: The flightless birds and scheming green pigs take their feud to the next level, when a third island is discovered hosting a weapon that could destroy their relatively peaceful existence.
********
In what must surely count as some kind of oversight, I never got around to reviewing the original Angry Birds movie, mainly because of personal bias against turning yet another phone game into a full-fledged feature film. So when the opportunity to watch the sequel, the uniquely titled Angry Birds Movie 2, came along, you bet your ass I tried my damndest to avoid it. Although it may seem obvious now that I failed, the below review should serve as a mild mea culpa: I actually had a good time with this little thing, from its pop-culture-heavy soundtrack and utter refusal to engage in subtlety or nuance, Birds 2 is a really fun time-waster that will appeal enormously to children and placate frazzled adults looking for something to keep the kids busy. This, I did not expect.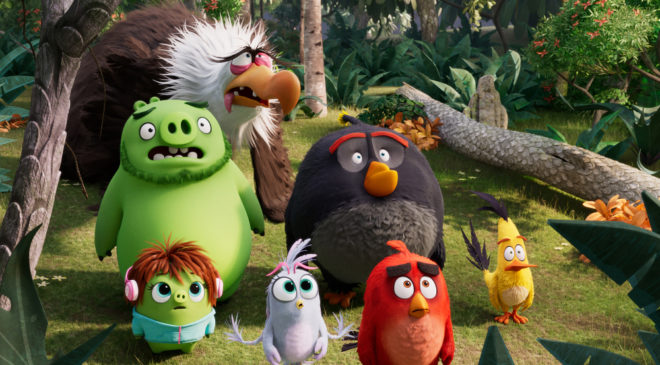 Following the events of a film I haven't seen, angry red bird Red (Jason Sudeikis) and his friends Chuck (Josh Gad) and Bomb (Danny McBride) spend their days protecting Bird Island from prank attacks from nearby Piggy Island, run by King Leonard (Bill Hader). When a massive ice metor is launched from the hitherto unheard of Eagle Island, Red and his friends, as well as Chuck's intellectual sister Silver (Rachel Bloom), King Leonard and Leonard's daughter Courtney (Awkwafina) craft a dangerous plan to infiltrate the island and stop the annihilation of their way of life. There they encounter Zeta (Leslie Jones), a strong-willed female eagle who has a mysterious history with one of Red's friends, Mighty Eagle (Peter Dinklage), who wants to destroy Piggy and Bird Islands' for her own nefarious purposes.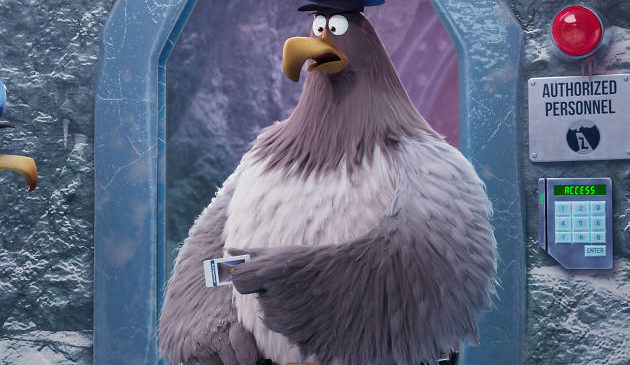 Look: Angry Birds 2 isn't a film of any Pixar level quality, especially not with regards to its story, which ranges fitfully between comedic setpieces and character-driven meltdowns, most of which play off vividly written personality traits between the disparate roster of names on display here. It's a franchise built on a singularly silly premise, a conceit the film actually takes on wholeheartedly, delivering a fair spray of juvenile humour across the board, and as often as possible so as to diffuse the thin characterisation and readily transparent narrative thrust the film engages in. It's not a particularly clever story, nor are the characters in Angry Birds 2 unique or even memorable much beyond a single viewing, but the fun and gleeful gags thrown at a willing audience will ensure you'll have a nice time with it while it lasts.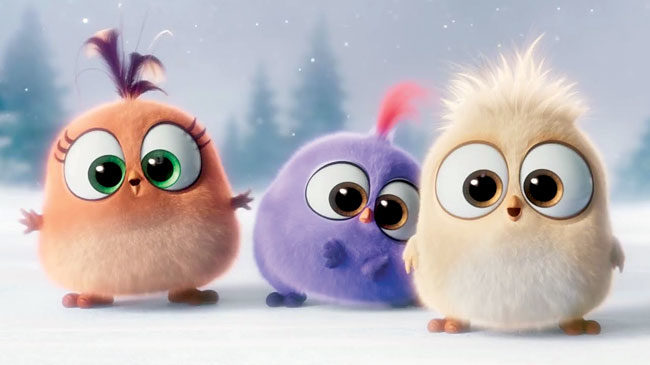 Red, the "angry" angry bird, continues to parlay his sense of grudging acceptance with PTSD surrounding isolation with a tepid sense of fatalism, whilst Josh Gad's rapid-fire Chuck and Danny McBride's less articulate Bomb swing for the fences with alternately nerdy and jockish repartee. Incoming castmate Rachel Bloom, as Red's love interest Silver, reminded me a lot of Joan Cusack's Abby Mallard from Chicken Little, albeit far more comely and a lot less abrasive. Additional work from Bill Hader, Peter Dinklage and Sterling K Brown make for some fun jokes, while Leslie Jones' female-empowered Zeta the eagle is a memorable almost-villain: the film tasks its vocal talent with delivering a throughline of post-modern delivery and occasionally ribald entendres (a sequence in a male eagle toilet later in the film will have parents in absolute hysterics) that works more often than not, even if the film's cornball antics and subversive anarchistic nature seem counter-intuitive with more commercial "children's entertainment".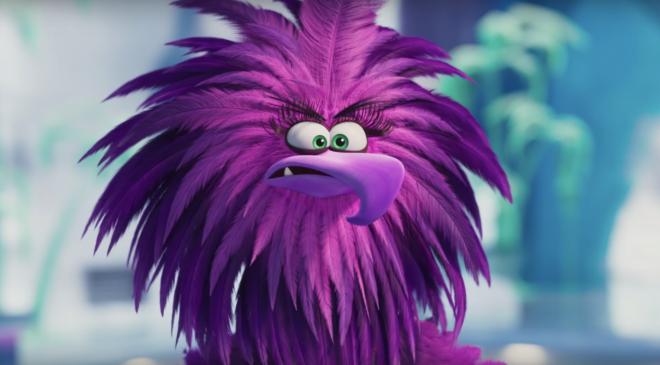 Aiding a lot of the zany energy of Angry Birds 2 is an iTunes-busting soundtrack selection of popular music across multiple decades and genres, all purposely installed within the film's jokey nature as an immediate entry point into its particular brand of silly humour. Standards such as Bonnie Tyler's "Holding Out For A Hero", Europe's "The Final Countdown" and even fcuking "Baby Shark" all appear at overly appropriately amusing moments – some works, some will make you roll your eyes hard – and plays well for the cheap seats; although the lack of wit in song selection is probably indicative of the quality of the overall film, there's a junk-food element to this kind of simplistic humour that works with the story and characters, much to my chagrin. A cheap gag derived from Bowie's "Space Oddity" actually angered me, that's how predictable this film's soundtrack turns out to be.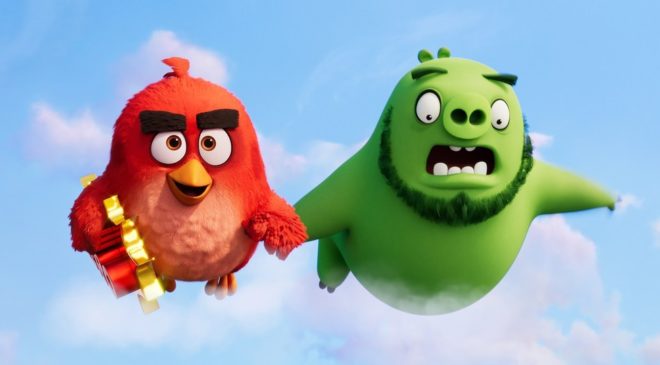 In spite of everything, I did find some decent chuckles with The Angry Birds Movie 2, mainly because of just how silly it all was and how well that silliness captured the attention of my children. Forgettable characters trip over the homogeneous dialogue and rapid-fire delivery with some bizarre-but-engaging animation and internal logic, a colourful modern Looney Toon that engages ever so briefly before it all comes to a predictably rousing, obnoxiously loud climax. It's pretty silly and, frankly, a blight on the cinematic landscape for the crass commercial representation is exhibits, but I'll be darned if I didn't have a fairly good time with it.
Who wrote this?