Principal Cast : Nicholas Hoult, Lily Collins, Com Meany, Derek Jacobi, Anthony Boyle, Patrick Gibson, Tom Glynn-Carney, Craig Roberts, Pam Ferris, James MacCallim, Laura Donnelly, Genevieve O'Reilly, Owen Teale.
Synopsis: The formative years of the orphaned author J.R.R. Tolkien as he finds friendship, love and artistic inspiration among a group of fellow outcasts at school.
********
As arguably the greatest fictional writer of the 20th Century, few literary figures have become the focus of such unwavering public interest as professor John Ronald Reuel Tolkien. The acclaimed fantasy author, best known for giving us The Hobbit and it's sequel, the monolithic work of fantasy known as The Lord of The Rings, has found significant re-appraisal in recent times, due in no small part to filmmaker Peter Jackson's enormously successful twin trilogies based on his most popular books. Of course Professor Tolkien wrote innumerable works throughout his lifetime, including an array of non-fictional thesis and essays, and copious works of both fiction and non-fiction have been published by his estate posthumously – Tolkien passed away in 1973 – and so our fascination with this bookish English professor and his fascination with language and the formation of his own myths remains undiminished even now, nearly a half-century since he left us. Dome Kurukoski's beautifully photographed and generally amenable biopic on the professor's early life, which dwells significantly on his experience in World War I and his relationship with his eventual wife, Edith, musters some eager visual touchstones and a slew of fan-service for those deep-dive stalwarts, but will offer little genuine depth to such a titan of 20th Century popular culture to those unfamiliar with the backstory that is sure to disappoint.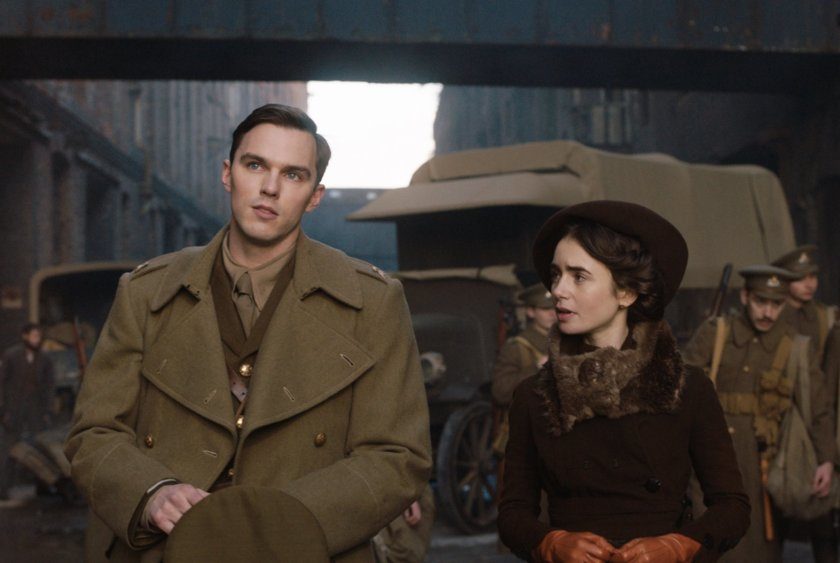 John Ronald Reuel Tolkien (played by both Harry Gilby and Nicholas Hoult) has a tragic youth: his father and mother both pass away suddenly, and he and his brother (James MacCallum) are left in the care of Catholic priest Father Francis Morgan (Colm Meany), who, as their guardian, places them in the foster home of wealthy Mrs Faulkner (Pam Ferris), who also has a live-in companion in young Edith Bratt (Lily Collins), a girl Tolkien is instantly smitten by. Attending Oxford University, Tolkien also befriends a trio of fellow intellectuals, poet Geoffrey Bache Smith (Anthony Boyle), whose mother cannot fathom his interest in such a listless career, Robert Q Gilson (Patrick Gibson) and wisecracking bon vivant Christopher Wiseman (Tom Glynn-Carney); as a quartet, they form a literary society formed over their mutual love of wordcraft and imagination. The doom of the Great War, however, threatens to break apart their unique fellowship: and a weary Tolkien searches for his friends across the Western Front, he is confronted with the spectre of death and evil that would go on to crystallise with his later works of fiction.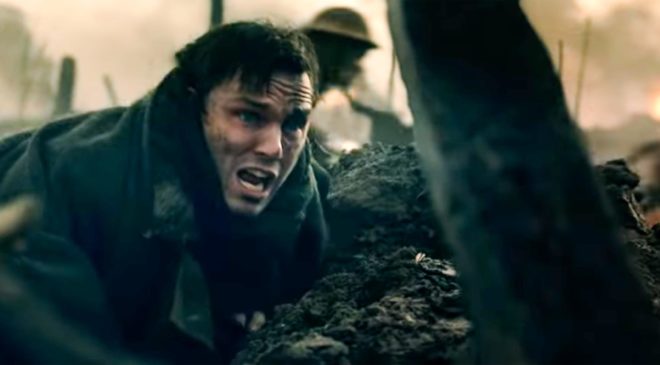 Boasting a wonderful cast, some marvellous production design and – in keeping with the author's own works of fiction – a sense that it will never end, Tolkien is at the very least a beautiful film to watch. Nicholas Hoult (About A Boy) and Lily Collins (Mirror Mirror) provide a wonderful on-screen chemistry together as the future Mr & Mrs Tolkien, despite the screenplay failing them almost utterly with regards to interpersonal development, whilst the Tea Club, Barrovian Society (or TCBS for short) forms the more broader palette of the Professor's formative literary leanings. Whilst it's all given such earnest intent, the shallow script and superficiality to the pleasantries, despite brief interludes of actual dramatic weight, fail to elicit more than tingles of interest; it's one of those biopics that tries to encompass too much in too little time, and doesn't get the balance right in terms of making us care for the central protagonist. Hoult, as Tolkien, is game enough and delivers a performance in keeping with the director's wishes, but saddled with such an indifferent and stop-start script he's unable to really draw us into what makes the writer tick.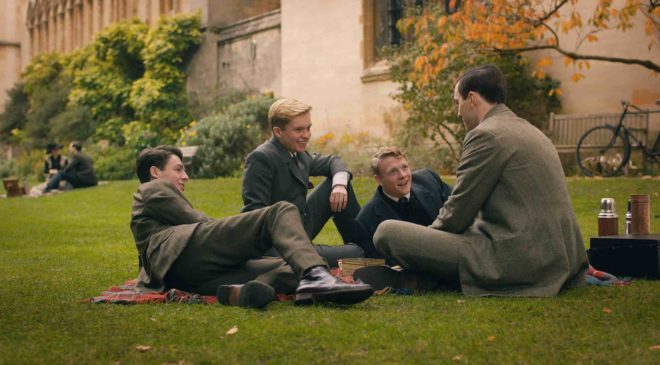 Instead, the film gives us a fair degree of gimmicky visual motifs that we are meant to associate with his later works: there are plenty of war sequences in the film in which spectres of evil and death evoke imagery from his writing in Lord Of The Rings, from Sauron to the Nazgul and everything in between, which works as a shorthand for Tolkien enthusiasts but is ultimately an empty vessel of emotive manipulation by Finnish director Dome Karukoski. Fan service in evoking Tolkien's future only works for so long (although the inclusion of Tolkien's batman on the battlefield with the name Sam, implying a future for hobbit Samwise Gamgee, works well enough) before the film has to rely on whatever its core focus is, and for Tolkien, that's unclear. Lightweight sentimentality isn't a trait you'd associate with such an intellectual titan and stalwart Oxford don, but that's what the film espouses. In trying to bring together the future Professor's interest in language and mythology – a subplot involving Derek Jacobi as legendary Oxford linguist Professor Joseph Wright has a sparkling Dead Poets Society feel to it – with his sense of deep personal loss and the lament of relative poverty to those around him, the film never quite fits it all together in a way that's memorable, despite everyone's best efforts. If you want to see a prettily painted evocation of Tolkien's formative years with a reverence of his work that permeates every aspect of this solid production, you'll do no worse than Tolkien.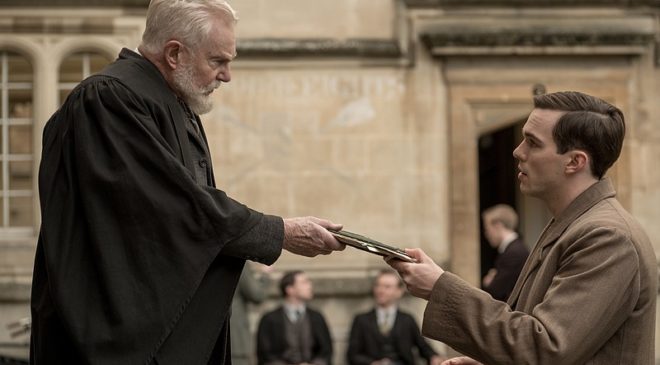 For those unfamiliar with the writer, Tolkien will fail to shed genuine light upon his stories and, while pleasant enough, feel too slight to remain indelible. More like a Hallmark drama-romance than a worthy-of-the-title adjudication of Tolkien's life (of which this only touches on in the briefest, least offensive manner possible), it's also worth noting that, despite one of the cast having the surname of the subject, the Tolkien family have distanced themselves from this film with specificity. I'm not suggesting Tolkien is a bad film (at least in terms of what it's attempting to do) and I cannot speak for its accuracy (I'd wager a fair bit of it is heavily fictionalised, if not entirely speculative) but it's the cinematic equivalent of a shoulder shrug to a man who single-handedly introduced the world to serious fantasy fiction and revolutionised an entire industry. Enjoyable lightweight, with a good cast doing some fine work in spite of a screenplay overwrought with heavy-handed tips of the hat to Tolkien's writings, Tolkien is perfectly fine.
Who wrote this?