Road To The Oscars – Our Predictions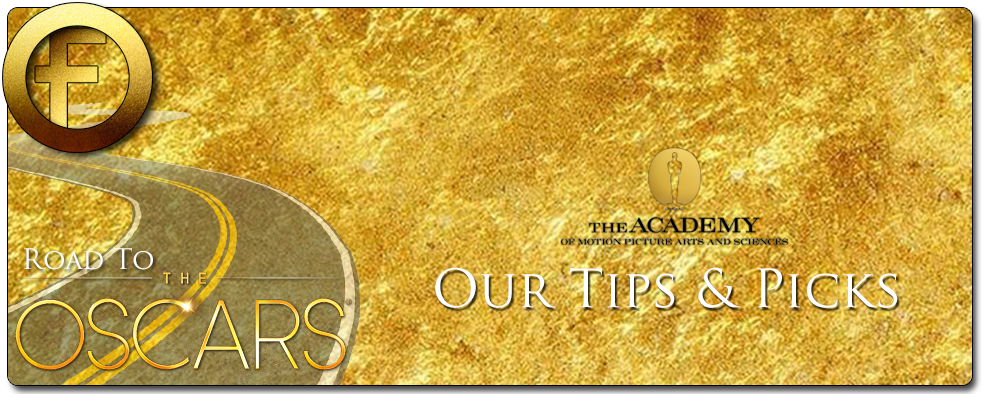 Every year, countless articles arrive online about this time of year giving you predictions as to which films will take home Oscar glory; we here at Fernby Films are no different, nor are we immune to the tide of enthusiasm the climax of Hollywood's awards season brings with it. So, again, we proudly present our own selections as to which film's we think will collect on the big stage this weekend.
Best Picture
Who Will Win: A Star Is Born
Who We Want To Win: A Star Is Born
Dark Horse: Bohemian Rhapsody.
Having won a load of awards already this year, there is genuine terror in the film community that Bohemian Rhapsody will take home Best Picture for 2018. I did enjoy the film myself, but I cannot see it as an exponent of the "best" picture in that category, and with the taint of director Byran Singer's sexual accusations clouding the promotion of the film, one suspects that having the Queen biopic actually take home the top gong will make an awkward and controversy-plagued Academy Awards show even more problematic. My big hope is that sense will prevail and the actual best film of last year, A Star Is Born, will win. Roma, whilst commendable, won't win Best Picture, but it is a dead cert for Best Foreign Language Film.
Best Actress
Who Will Win: Olivia Colman
Who We Want To Win: Lady Gaga
Dark Horse: Melissa McCarthy
For me, this is a three horse race. Olivia Colman was terrific in The Favourite, Lady Gaga blisteringly great in A Star Is Born, and I'm hearing great things about Melissa McCarthy in Can You Ever Forgive Me. My heart goes Gaga but if Colman won I wouldn't mind at all. If McCarthy wins then I'll be at a loss for words.
Best Actor:
Who Will Win: Rami Malek
Who We Want To Win: Bradley Cooper
Dark Horse: Christian Bale
All the leading actors here have done solid work, none moreso than Rami Malek in Bohemian Rhapsody, delivering a pitch-perfect delivery of Freddie Mercury in a film littered with inaccuracies. Bradley Cooper should win for his comparable performance alongside Lady Gaga in A Star Is Born – truly, a heartbreaking performance from the man – but my smokey selection would be for Oscar-favourite Christian Bale, whose work in Vice is indeed stellar as the inhospitable Dick Cheney.
Supporting Actress
Who Will Win: Amy Adams
Who We Want To Win: Emma Stone
Dark Horse: Marina de Tavira
Okay, hear me out. With all three leading actresses from The Favourite split between two categories, the voting for this film will divide the Academy completely. Both Rachel Weisz and Emma Stone are worthy of the Award, which means they'll both snag votes. Sadly, the other actresses will gather more votes, and ruin both Stone's and Weisz' chances. Instead, critical darling Amy Adams will win simply by being there: her turn as Lynne Chaney was good but hardly exceptional. Emma Stone's work in The Favourite was exceptional, her first truly inhabited performance (something I mentioned on Twitter and in my review). The love for Cuaron's Roma could see Marina de Tavira get over the line but I doubt it.
Best Director
Who Will Win: Alfonso Cuaron
Who We Want To Win: Yorgos Lanthimos
Dark Horse: Spike Lee
Another closely contested race here, with few easy pickings. Cuaron has picked up Oscars before so is probably the favourite, given his work on Roma seems to have hit a nerve within the industry. Yorgos Lanthimos' incredibly artistic venture into Queen Anne's life should see him heavily in the voting, but don't be surprised if the Academy gives Spike Lee a career Oscar for his delightful work on Blackkklansman. Either Cuaron or Lanthimos, for me.
Adapted Screenplay
Who Will Win: Blackkklansman
Who We Want To Win: Blackkklansman
Dark Horse: A Star Is Born
I'm loathe to pick films I've yet to see, so I have to discount three of the five chosen movies for this category. Blackkklansman is easily the cleverest and funniest dramatic satire film I've seen in a while and it should claim a writing Oscar over the others, although one suspects the love for A Star Is Born might sway voting for the Gaga musical. Hoping Lee gets an Oscar for this at least.
Original Screenplay
Who Will Win: The Favourite
Who We Want To Win: The Favourite
Dark Horse: Vice
Yorgos Lanthimos' film is easily the best written film of 2018, that I've seen. It's funny, dark, dangerous and suffocatingly intense. Delivered by three fine thespian leads, how can it fail? Vice may snag this because it's a "pertinent political movie of the times" given the state of America right now, but I cross my fingers for The Favourite grabbing this one.
Best Animated Feature
Who Will Win: Spider-Man: Into The Spider-Verse
Who We Want To Win: Spider-Man: Into The Spider-Verse
Dark Horse: Ralph Breaks The Internet
The talk of film discourse this year has been the surprising popularity and quality of Sony's animated Spider-Man film, Into The Spider-verse. Such is the goodwill before it that I doubt it will lose, and if it does it'll be to Disney for either Ralph or Incredibles 2.
Original Song
C'mon, you expect Gaga not to be there?
Visual Effects
Who Will Win: Infinity War
Who Should Win: Ready Player One
Dark Horse: First Man
Avengers Infinity War still holds up as a visual effects triumph, specifically the inclusion of Thanos and the quality of the work around him. Ready Player One, however, was the year's big triumph of effects – seriously, re-watch the Overlook Hotel sequence and explain again how this film shouldn't win all the awards in technical categories – but the indie darling love for First Man cannot be underestimated, with Damien Chazelle's astronaut drama being a solid piece of CG entertainment.
Best Sound Mixing/Editing
While Black Panther is nominated in both categories, it's hard to see how Infinity War was excluded at all, considering the level of sound design in that film. I'm thinking, however, that First Man will take out both Mixing and Editing, with one of the most incredible sonic mixes of the last 12 months as Ryan Gosling takes off into space. Just incredible.
There you have it, our selections on a few of the categories up for Oscars this year. What do you think? Agree, or heartily disagree? Let us know in the comments below!
Who wrote this?