Movie Review – Bookshop, The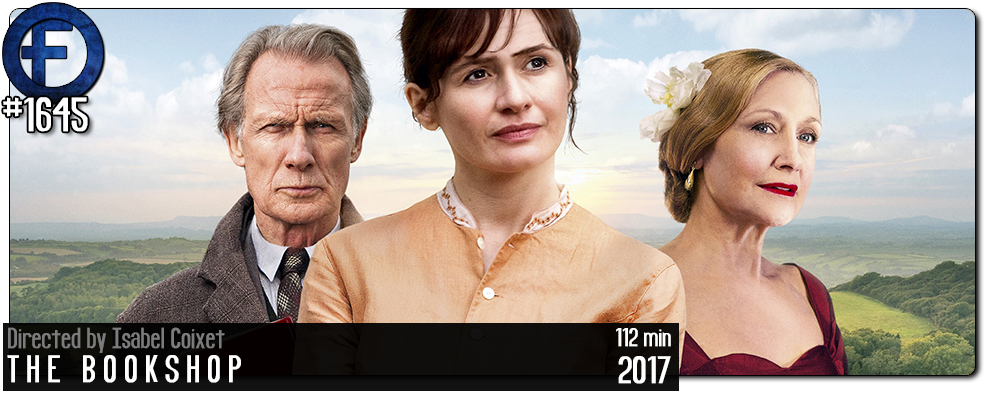 Principal Cast : Emily Mortimer, Bill Nighy, Patricia Clarkson, Honor Kneafsey, James Lance, Harvey Bennett, Michael Fitzgerald, Conor Smith, Jorge Suquet, Hunter Tremayne, Frances Barber, Gary Piquer, Lucy Tillett.
Synopsis:  England 1959. In a small East Anglian town, Florence Green decides, against polite but ruthless local opposition, to open a bookshop.
********
Period literary drama is flavour of the month at our house these days, what with The Bookshop owning some degree of tonal influence over 2018's Guernsey Literary & Potato Peel Pie Society, what with its impish leading female character and the smattering of persnickety supporting roles, set within a bucolic English village and draped in intrigue and community politics. Spanish director Isabel Coixet, who has worked with star Patricia Clarkson prior in 2008's Elegy, takes the Penelope Fitzgerald novel of the same name and turns out a fairly leisurely-paced feature film that can't seem to find its core message, despite well-intentioned direction and flailing central performances.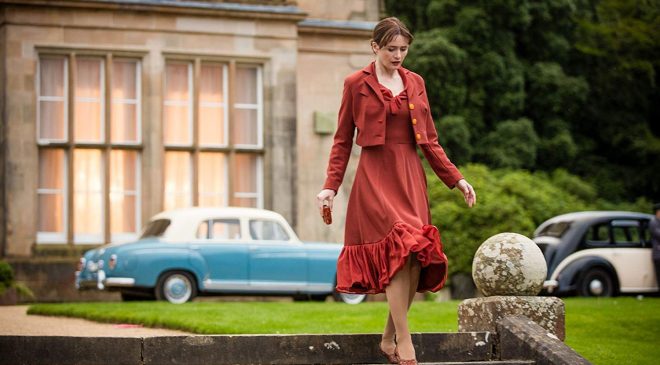 The late-50's, rural England, and in the sleepy fishing village of Hardborough, war-widow Florence Green (Emily Mortimer) purchases the abandoned and run-down Old House in the High Street, intent on turning it into a bookshop. In doing so, she runs afoul of local social matriarch Violet Gamart (Patricia Clarkson), who wants the building ostensibly to turn it into an "arts centre", although it would seem merely to be a power play for the conniving woman. Florence forms a relationship of sorts with the town's recluse, Edmund Brundish (Bill Nighy), who likes to read and wants Florence's business to succeed despite his reservations about "people". Florence takes on a local urchin, Christine (Honor Kneafsey) to work in the shop, and has an unusual friendship with resident BBC employee, the dilettante Milo North (James Lance), whose motives may not be as pure as he pretends.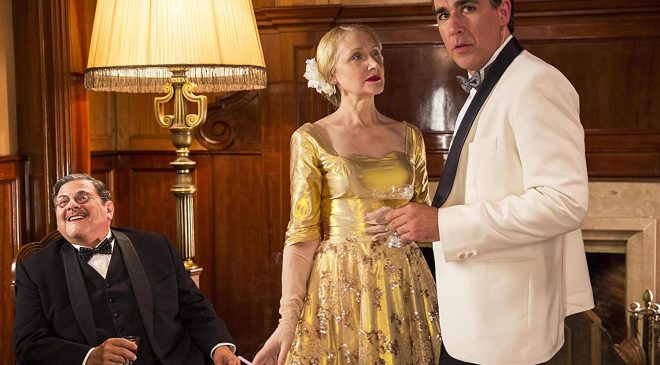 Oh, how this film infuriated me. Visually, it's a glorious thing, given its setting and the superb production design to make all that fabulous 50's shtick pop off the screen. Narratively, however, The Bookshop is a flaccid thing, bereft of conflict between heroine and villainess and content instead to meander through very iffy character development and, at the end, offer a resolution so disastrously laughable it ruins the whole movie. Apparently the screenplay (written by Coixet herself) adheres fairly closely to the source material, which I guess in this day and age is commendable given the commercial demands of cinema to sex-things-up, but the life of the story is removed utterly by a dearth of compelling interest in whatever, and whoever, is going on here. Why should we care about Florence? Nothing about her story presented here offers a tangible reason to give a crap other than she's grieving, determined, and generally resilient. Cool, but what else? What's the hook?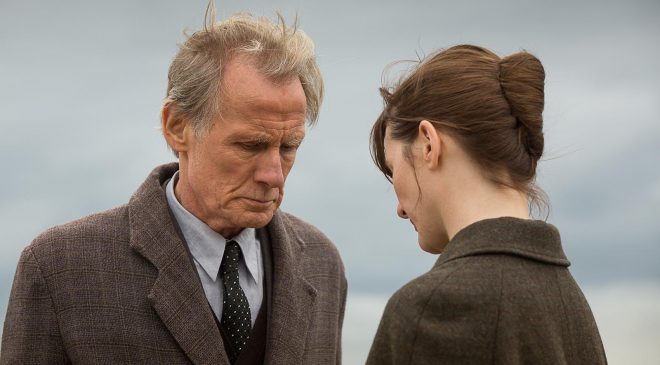 Emily Mortimer's Florence is the heroine of the piece, but she's given little backstory other than simply being a war widow (which isn't enough, in my opinion) and her motives for the bookshop aren't specified or clear. Who is she? What is she doing this all for? It helps not that she only encounters the film's villain once on-screen, at the very start, before they never interact directly again. What? Patricia Clarkson's deliciously evil Violet Gamart is as purely sly a screen villain as you could ask for (although even by her standards she's grossly underused and iniquitously ineffectual) and aside from one brief scene of interaction she never once actually faces off against Florence? So unsatisfying. Oh, both Mortimer and Clarkson make the best of their roles, with Clarkson coming off the better for overall impact, but the way Coixet uses them within the film's structure made me sad they couldn't find a way of giving the audience some kind of payoff with their conflict.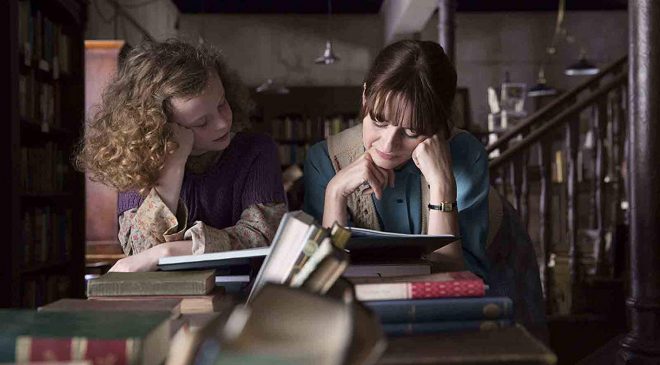 Bill Nighy does his best Bill Nighy impression again, the wonderful actor stuck in the role of a doddering recluse who attempts to White Knight himself by the end of the film, but ends up stuck in the same meaningless absence of backstory and structural foundation as everyone else. The film struggles to give us flesh on the characters' bones, to make them relatable and not just blank creations going through some pointless routine for our enjoyment. James Lance seems to be having fun as the debonair ladies-man in Milo North, although he's given far too little to do and the film's sense of his persona seems ill-fitting and uneven. Honor Kneafsey lights up the screen as Christine, and her scenes with Mortimer are among the film's most enjoyable.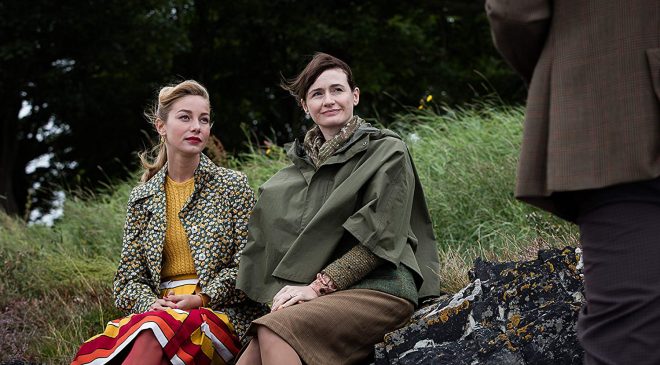 I think the problem with The Bookshop stems from Coixet's inability to make us care for Florence's plight, and for a weird dearth of world-building and character development. The film just sits there, lacking cohesive marrow, offering characters that ought be literary icons but are, instead, simplistic and shallow. I'm not quite sure where it all went wrong for Coixet and the film but the screenplay and the way the film's slow pacing ultimately fails to breathe life into things is key to understanding it. And I oh so wanted to love it! These kinds of films are the things British cinema does so very well, and has done for years, so to see Mortimer and Clarkson and Nighy swallowed up in this empty effort is heartbreakingly wasteful. The premise is excellent, make no mistake, and in another universe I could see Clarkson's Violet Gamart being a legitimate screen villain, but under Coixet's direction The Bookshop is one film that frustrates more than it entertains.
Who wrote this?