Movie Review – Mary Poppins Returns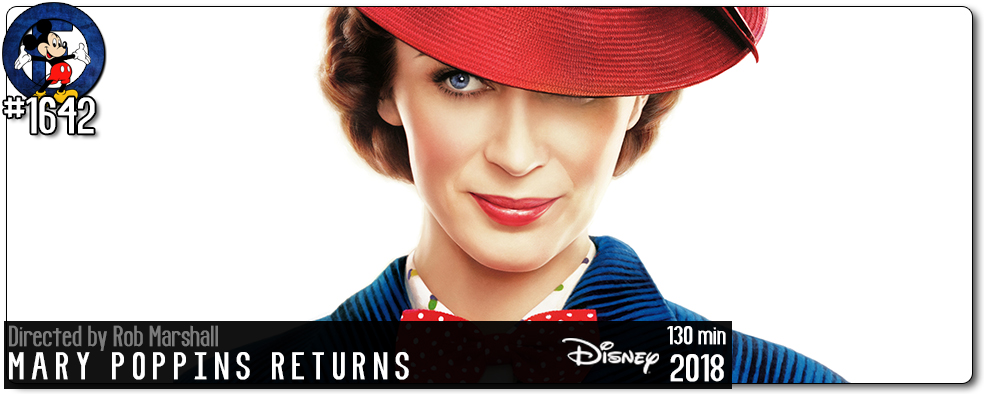 Principal Cast : Emily Blunt, Lin-Manual Miranda, Ben Wishaw, Emily Mortimer, Pixie Davis, Nathaniel Saleh, Joel Dawson, Julie Walters, Dick Van Dyke, Angela Lansbury, Colin Firth, Meryl Streep, David Warner, Jim Norton, Jeremy Swift, Kobna Holbrook-Smith, Noma Dumezweni, Edward Hibbert, Chris O'Dowd, Mark Addy.
Synopsis:  Decades after her original visit, the magical nanny returns to help the Banks siblings and Michael's children through a difficult time in their lives.
******
Of all the films personally supervised by Walt Disney during his time alive on this planet, the 1964 classic Mary Poppins remains the gold standard of all the studio's live-action adaptations. That it took so long to get around to making a sequel stands not as a testament to author PL Travers' fractious relationship with the filmmaker and studio but also the passage of time and the nostalgic memory the original story holds within popular culture. If you were to have another crack at Poppins, would it be a sequel, a remake, or something else entirely? Thankfully for us all, Mary Poppins Returns is a little bit of everything, and it works superbly well.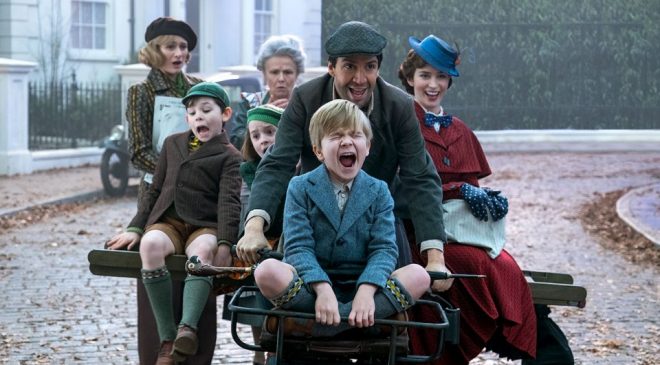 Several decades have passed since the events of Mary Poppins, and the young Banks children, Michael (Ben Wishaw – Paddington) and Jane (Emily Mortimer – Spectral) have grown into adults themselves, the former now a widower attempting to save the family Cherry Tree Lane home from foreclosure as the "great slump" takes hold of financial markets. The arrival of Mary Poppins (Emily Blunt – A Quiet Place) to look after Michael's three young children relieves some of the pressure on the poor fellow, and the nanny attempt to assist with the help of local chimney-sweep Jack (Lin-Manuel Miranda – star of Broadway's Hamilton) as dastardly banking chief William Wilkins (Colin Firth – Kingsman) tries to leverage the short time-frame of refinancing to his own advantage. Along the way, Poppins, Jack, and the three children – Annabel (Pixie Davis), John (Nathaniel Saleh) and young Georgie (Joel Dawson) – go on grand adventures into the bath, into a china bowl, and into the dark and oppressive streets of London with the lamplighters.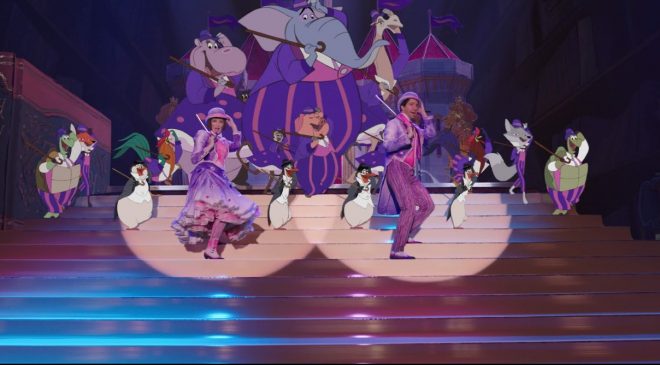 Mary Poppins Returns could be criticised for not doing enough of its own new stuff to warrant much praise. The film certainly repeats that broad Sherman Bros' thematic material, throwing up a clutch of new songs and barely hinting at earlier tunes, which is both frustrating and delightful for those hoping a reprise of the classic songs; Returns follows the original's narrative arc pretty closely, offers hat-tips to Disney's work in the 1960's, plugs some meta-references inside its closing act (a duo of nice cameos will surprise and delight audiences) and has enough energy and sugary-candy enthusiasm to send willing viewers into a diabetic coma. But there are arguments that the film follows the formula too closely, too obviously trying to imitate the previous work in a manner congruent with fan-fiction.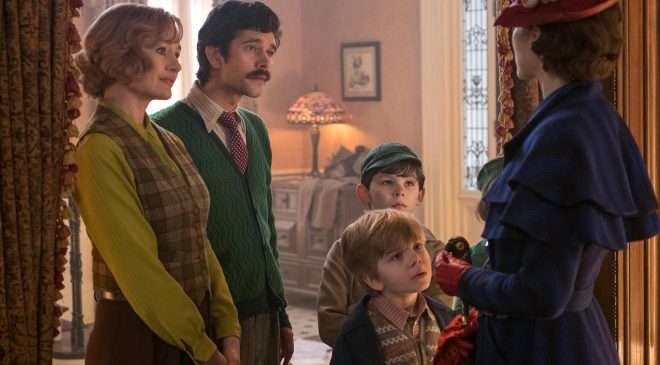 The film's strength lies primarily on the performances of Emily Blunt and co-star Lin-Manuel Miranda (the latter making his big-screen lead performance debut), and both of them acquit themselves wonderfully. Blunt in particular is exquisite as Poppins, lacking the eye-twinkle of Julie Andrews but offering a far more precise essaying of Travers' prickly nanny. Her line delivery and sublime expressions were the highlight, for me. Miranda falls into that cockney trap of mangling some of his accent but as a character I felt he was far more nuanced than Dick Van Dyke's similarly dusty Bert from the original. As a lamplighter he musters the same working class ethos as Bert, although his relationship with Mary seems more borne of memory than actuality, and his work on some of the film's musical numbers exemplifies the skill which made him a Broadway superstar.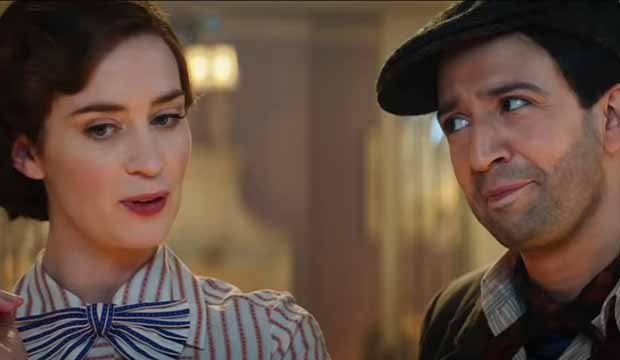 Supporting work from the likes of Ben Wishaw and Emily Mortimer, as the now-adult Banks children (previously played by Matthew Garber and Karen Dotrice respectively) offer us pleasant enough reward for our fond recollections of the characters past, but don't really bring the same feeling of wholesomeness to the film as I'd have liked, while Julie Walters (playing almost the exact same character she did in the Paddington movies) as their harrumphing housekeeper is yet another example of Acclaimed British Thespian Casting in action to fill out the bit-parts. Colin Firth's role as the film's arch-villain is only missing a moustache to twirl he's so radiantly campy, and the smattering of extended cameos from the likes of Meryl Streep (as Mary Poppins' distant cousin, a weird repair-woman who won't repair things on the second Wednesday… yeah), Angela Lansbury (as an elderly woman handing out magic balloons at the film's end) and David Warner (as Admiral Boom, last seen as Reginald Owen in the original movie) will delight older viewers of this souffle of a family feature. Everybody sings, nobody puts a foot, note or delightful wink wrong, and in the hands of Oscar-winning musical film director Rob Marshall (Chicago, Into The Woods) the energy and modern craftsmanship on display is as crisp as the best Disney money can buy.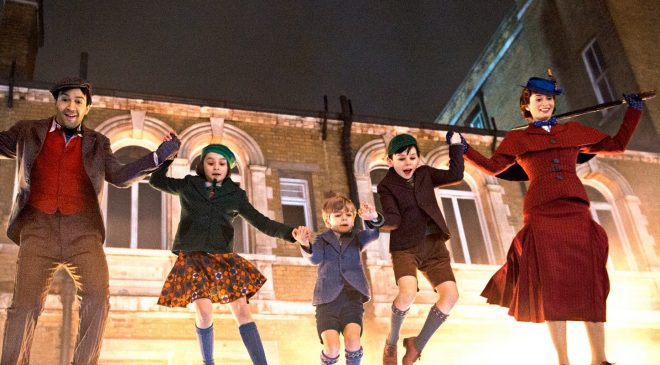 As alluded to, the film's musical numbers feel like Poppins songs but aren't the classics we're used to, so if you're going in hoping to hear "Chim-Chimminee" or "Spoonful Of Sugar" or "Let's Go Fly A Kite" you'll be enormously disappointed. The songs the film does have are well mounted (by incoming composer Marc Shaiman and lyricist Scott Whittman) but they lack that memorable-ness we associate with Julie Andrews' glorious soprano voice. A raucous china-bowl fantasy number involving those cheeky Disney penguins, "A Cover Is Not The Book" is an attempt to one-up the original's chalk-painting "Supercalifragilisticexpialidocious" only with Miranda's slam-poetry skills in full-throated roar, a bathtub-turned-aquarium scene replaces the tidying-the-room subtext of "making things fun for the kids", and one suspects Meryl Streep's bizarrely Eastern European-sounding gypsy repair woman is intended to supplant the "laughing on the ceiling" moment with Ed Wynn, and while it is spectacularly mounted I do think the juxtaposition of these themes of the earlier film being shoehorned into the updated sequel is a touch too-clever-by-half. You don't have to reinvent the wheel, guys. It doesn't get more obvious that you're trying to imitate perfection when you swap out chimney sweeps dancing on rooftops with gas lamplighters dancing in a similarly atmospheric city park.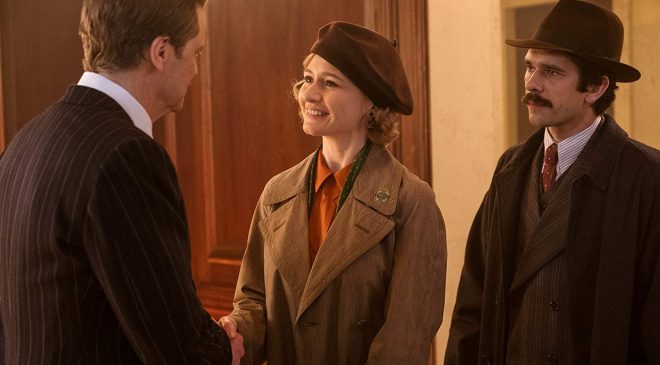 But look, it's an endeavour in fruitless trifles trying to condemn the studio for wanting to mine this classic property once again; after all, nostalgia is the flavour of the day right now and Disney's Mary Poppins Returns masterfully remixes our memories of the earlier film with the showmanship of Hollywood's big-budget re-imagining, some state-of-the-art effects, and spot-on casting. This film is pure sugar-coated adoration of the source material and despite a feeling of inadequacy regarding the musical numbers (which, I reiterate, are entertaining in their own right but lack the staying power of a Julie Andrews belter) the film is a delight from opening to close. It's emotional, engaging, cleverly done and brilliantly put together, and I think diehard fans of Poppins will pore over every frame in years to come looking for all the clues and tidbits the filmmakers put into each shot. Is it an instant classic? Not quite, but I suspect the eventual double-bill with this film and its predecessor will become the must-grab ticket event at catalogue cinemas in years to come. Mary Poppins Returns is a welcome return for one of cinema's iconic characters, brought to pitch-perfect life by Emily Blunt, and she remains as mystifying and aloof as ever, making her the perfect heroine for our unedifying age.
Who wrote this?