Principal Cast : John Cho, Michelle La, Debra Messing, Sara Sohn, Joseph Lee, Steven Michael Eich, Ric Sarabia, Sean O'Bryan, Kya Dawn Lu, Megan Liu, Alex Jayne.
Synopsis: After his 16-year-old daughter goes missing, a desperate father breaks into her laptop to look for clues to find her.
*****
Searching is a film for the digital age. It's both a stark warning and a warm affirmation regarding the presence of technology in our lives. Echoing similarly produced features such as Open Windows and Unfriended, Aneesh Chagantry's Searching is told through the computer screen, a subgenre of the "found footage" trope so prevalent today. A heartbreaking account of one man's search for his missing teenage daughter through her social media accounts, his own detective work, and his relationship with the detective on the case, Searching's parental terror is a torn-from-the-headlines drama held together by John Cho's terrific performance and the film's staggering plethora of information provided through technology.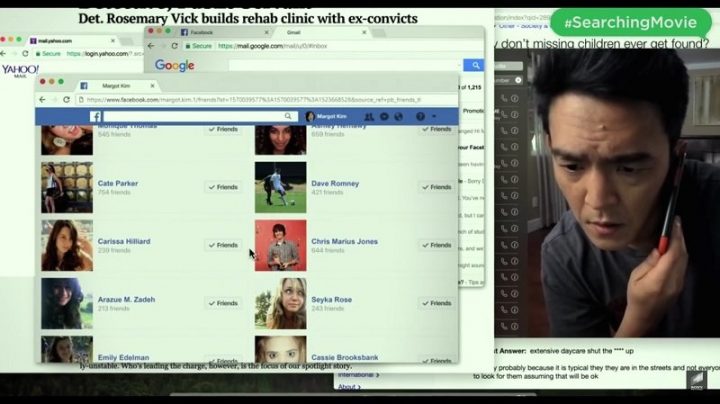 David Kim (Cho) lives with his teenage daughter Margot (Michelle La) as a single parent following the tragic passing of his wife Pam (Sarah Sohn) following a battle with cancer. David and Margot are no longer that close, and as much as David seems to think he knows his daughter her life beyond their home is something of a mystery. After a study group one evening, Margot goes missing, and an increasingly panicked David contacts all the people he can think of – including his brother Peter (Joseph Lee) – to locate her. Unable to find her, he reports her missing. Detective Vick (Debra Messing) leads the case, overturning all manner of clues as to Margot's movements on the night she disappeared, until she comes to the conclusion that Margot has run away. David suspects something far more sinister, and continues the search, eventually uncovering a significant piece of information that will bring Margot's true fate into the open.
Every parent's worst nightmare is something untoward happening to their kids. I know I've lain awake at night fearing for the future of my children in this hideous, evil world. If they ever went missing, like Margot does in this film, I swear I'd have a nervous breakdown with worry. And I know I'm not the only one. Which makes Searching such a terrifying proposition; what would you do if your child did go missing? In the case of David Kim, he starts to break down his daughters life and movements, starting with her online world – some of which he's utterly ignorant of, but in desperation hacks into her social media accounts to discover a secret world that's as terrifying as it is familiar to us – and through the screens on the various computers in the household, we gradually get a picture of the relationship between David and Margot, and Margot and her online presence.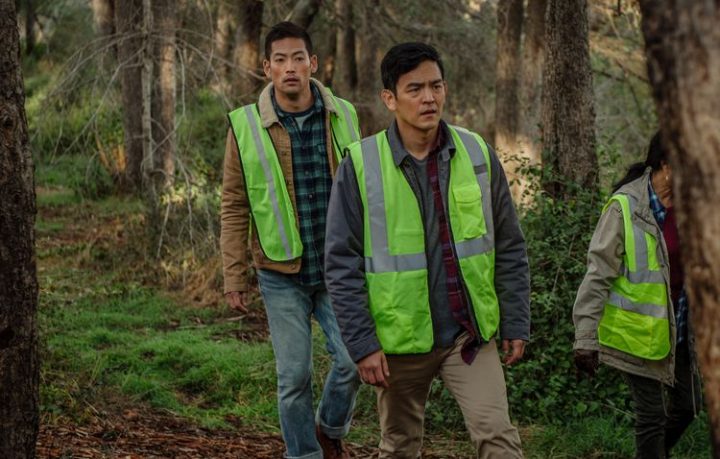 It's a cleverly plotted, well written film too, something these genre types often disappoint in, and it's held together by subtle direction and generally excellent performances, particularly John Cho as as David, whose mental state throughout transitions from casual concern to outright panic and despair. Given the propensity for technology and its use in our daily lives, a lot of the film is centred around Facetime, instant messaging, all manner of broadcasting platforms such as YouTube and YouCast – vloggers unite! – as well as the traditional ones like Instagram, Facebook and even Tumblr. The information on display at any point in the film is enormous, the way David uses the internet to search for information is conveniently smoothed out for expediency, and most of the "clues" uncovered by Margot's father come with a typically pronounced "bwaahhh" in the score (you know, the Hans Zimmer Inception blast one?), but overall Searching is a timely and compelling example of modernity in criminality and the ubiquity of technology to allow our lives to be unpacked. I guess the main takeaway from Searching is that nothing is secret on the internet, and nobody is ever truly anonymous.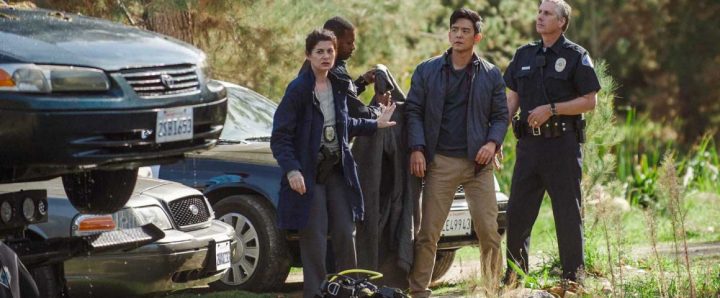 Cho, who is solid in this, is backed up by a terrific Michelle La as Margot, who's never really seen in the film in anything other than archival footage for the most part, and the wonderful Debra Messing, who look like she's been up crying half the night. Messing's work as Vick is the other half to Searching's wonderful frisson of realism, and she complements Cho brilliantly. The rest of the film's cast include a gaggle of voice talent as Margot's school friends, her piano teacher and various other newscasters, as well as Joseph Lee's jittery work as David's brother Peter. Lee and Cho have a dynamic scene together in which David suspects Peter of having an inappropriate relationship with his daughter and it's one of those sequences that had me clenching my fist with rage, it affected me so much. Of course, not everything in Searching is as it seems (when is it ever?) and the film's twists and turns will have you second-guessing yourself and what you've seen.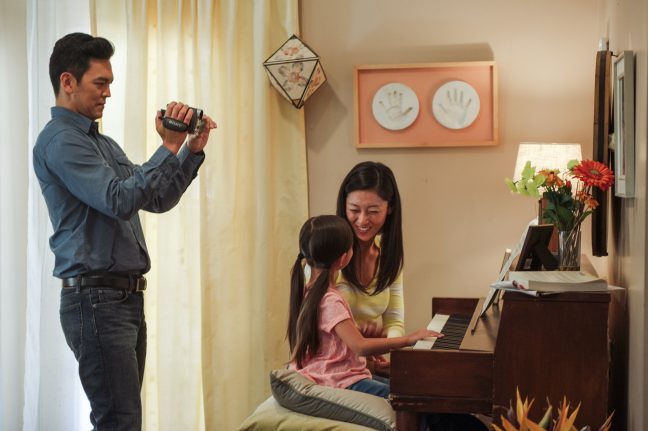 Truly, it's a well made film that's highly intelligent, doesn't take the audience for fools, and maximises its one-trick note to the fullest extent possible, without becoming hackneyed. The mystery is compelling, the performances excellent, the direction great, and the overall feel authentic, as if this could actually happen. Searching may terrify folks who can't handle technology or have children of a similar age to Michelle Lee (or younger), but it's a genuinely great film that does what it does, doesn't hang about, and delivers rock solid entertainment.
Who wrote this?