Movie Review – Crazy Rich Asians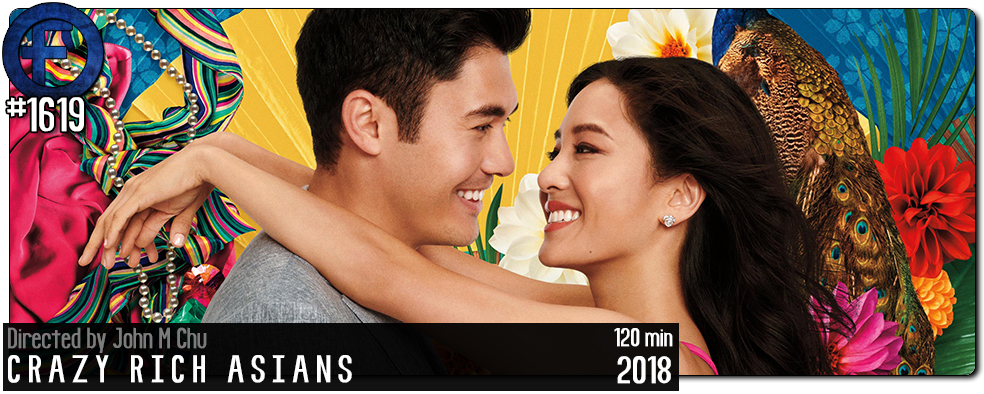 Principal Cast : Constance Wu, Henry Golding, Michelle Yeoh, Gemma Chan, Lisa Lu, Awkwafina, Ken Jeong, Sonoya Mizuno, Chris Pang, Jimmy O Yan, Ronny Chieng, Remy Hii, Nico Santos, Pierre Png, Jing Lusi, Tan Kheng Hua.
Synopsis:  New York native Rachel Chu travels to Singapore to meet the family of her boyfriend, Nick Young, only to discover their impossible wealth and social standing makes her inclusion into their family an almost impossible reality.
*****
What a gloriously fun movie this is! Crazy Rich Asians is a warm-spirited, energetic and always funny romantic-comedy (rare these days) boasting an entirely Asian-American cast (even rarer) about a story of wealth and social class (don't let that stop you!) and a supposedly forbidden love. It's gloriously sentimental, dazzling in colour and vibrancy and Singaporian opulence, and led by a capable cast of actors (especially Constance Wu) who will have you gobbling this down like a good fish-head curry.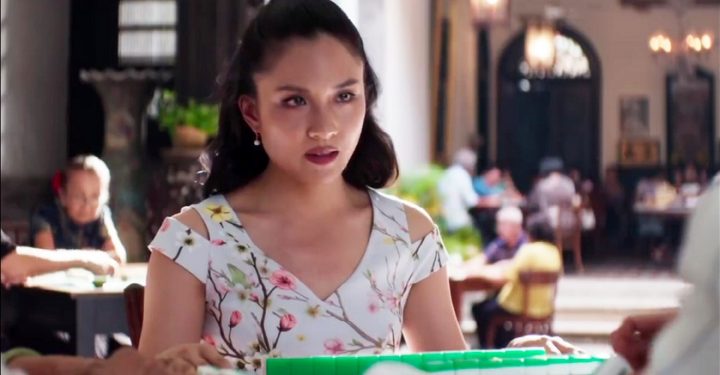 American economics professor Rachel Chu (Constance Wu) is happily in love with the impossibly handsome Nick Young (Henry Golding), and is excited to be traveling to meet Nick's family at their home in Singapore, as well as attending the wedding of one of Nick's best friends. Knowing almost nothing about his family, Rachel is shocked to learn that Nick comes from one of the wealthiest families in the Republic, and is thrust into the opulent lifestyle of the island's social elite. Nick's mother, Eleanor (Michelle Yeoh) is disapproving of Nick's choice in woman, and sets about seeking to undermine Rachel's confidence. Rachel, meeting a college friend (Awkwafina), learns more about Nick's family's incredible wealth, and his maladjusted family members including cousin Astrid (Gemma Chan), elderly grandmother Shang Su Yi (Lisa Lu), and a former girlfriend in Amanda Ling (Jing Lusi). But as she soon discovers, amidst the opulent bling and shallow social climbing, remaining in Nick's life may just be the hardest thing she's ever had to do.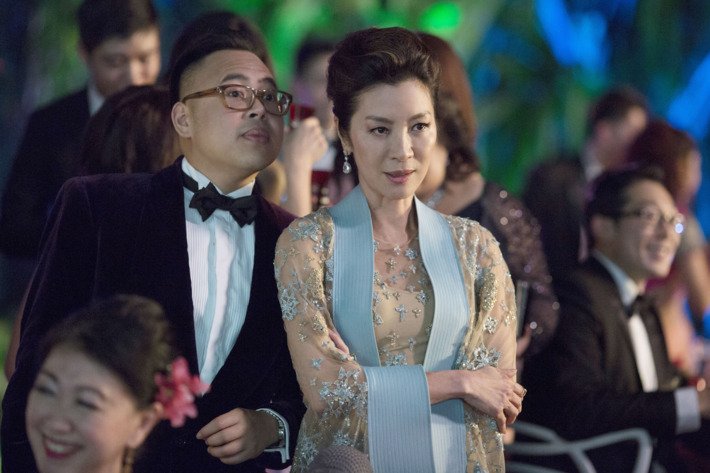 Crazy Rich Asians is, on a genetic level, a virtual play-by-play of every romantic comedy trope cinema has ever invented. From the bright and bubbly lead female role, intelligent and ubiquitously pure of heart, her handsome beau, the condescending and ice-cold potential mother-in-law, the laugh-riot crazy best friend (Awkwafina, easily the best part of the whole movie), and the token gay fashionista cliche (Nico Santos, who gets the best lines of all), not to mention the gaggle of archetypal disapproving and totally nutty supporting roles, and the film's playbook isn't so far removed from the generic white Hollywood template. What the film does do in thrusting the Asian culture at the story is show us that, regardless of race, we really all do (and are) the same: based on Kevin Kwan's book of the same name, the film's screenplay is a fairly brisk, delightful affair by Adele Lim and Peter Chiarelli, plastering bright colours and broad, easy to understand brushstrokes in what turns out to be a fairly cutesy, aww-shucks story of love and fantasy.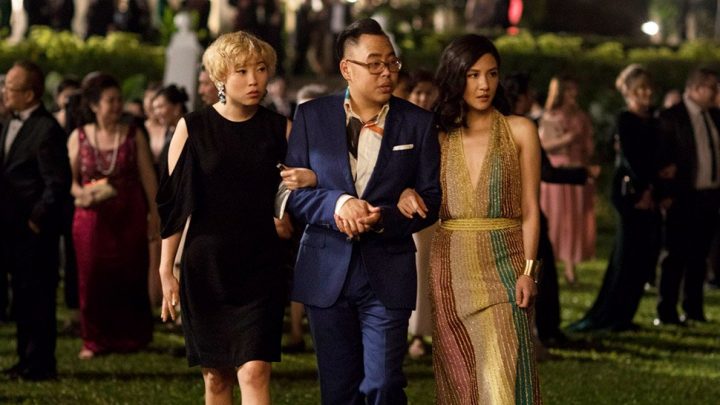 I say fantasy because Crazy Rich Asians speaks to the very notion of feminine romanticism cinema. The debonair, handsome, intelligent and impossibly wealthy boyfriend-slash-lover, the domineering mother, the tragic personal backstory and the lavish, lush lifestyle of Singapore's rich-and-powerful could just as easily transfer to a clutch of New York or London-set stories of similar persuasion: this isn't a criticism as much as a single note on the film's shallow depth of field, and Crazy Rich Asians taps than vein of gold and absolutely pillages it to the end. However, and here's the crux of the critique, the film doesn't ever feel predictable or interminable like so many of its ilk do, due entirely to the charisma and utter charm of its astonishingly beautiful cast.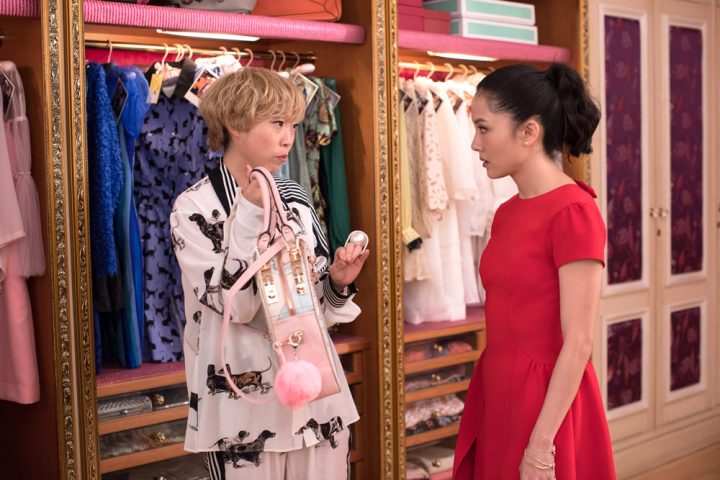 Constance Wu's "plain Jane" Rachel has the kind of arc every woman dreams of, to be swept of her feet by a handsome heir to a property fortune. Wu's accessibility in the role, her innocence and eventual transition to strong-willed female lead opposite Henry Golding's mannered leading man, avoids cloying wilting-flower tropes and paints the woman as a success in her own right. She doesn't need Nick Young to complete her, but their love is a heady mix of realism and practicality. Golding, for his part, plays Nick young with a warmth and charm that should see him become a legitimate film star in Hollywood, and the chemistry between the pair is palpable. The third wheel in this troublesome tiff is Michelle Yeoh's Eleanor, the matriarch of the Young family and mother to Nick, who doesn't approve of Rachel and her relatively lower social class. Yeoh does excellent work giving Eleanor a real sense of depth, rather than simply being a caricature of every woman's hated in-law, and provides the role with motivation and believable maternal instincts, whether we agree with them or not. That's a difficult task, and I think Yeoh succeeds admirably.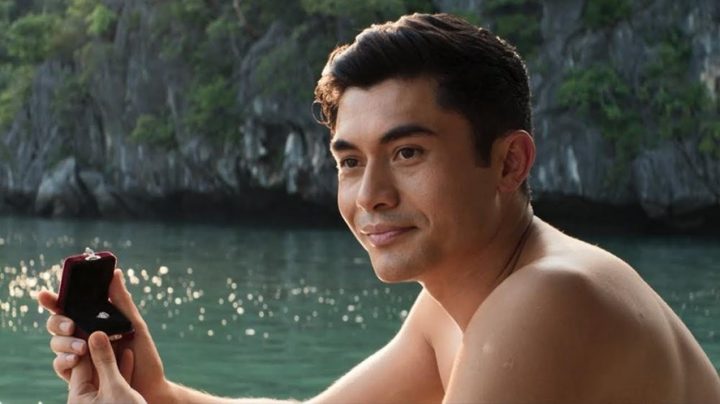 The rest of the supporting cast are both known and unknown, and all really good. Ken Jeong (whom I normally despise) pitches his mad-crazy friend father role with perfection, the affably offensive stand-up comedian Ronny Chieng is a riot, Genna Chan brings weight to her own subplot involving the breakdown of her marriage to a similarly low-status man, and Jimmy O. Yang as Nicks' utterly reprehensible former arch-nemesis and now fellow groomsman does his best to offend literally everyone with his clothing and manner: the entire cast have a moment to shine in Jon M Chu's film, each given several laughs and all of them immediately accessible via archetypal, easy-to-spot character beats. As I said, the film doesn't reinvent the wheel, it just gives it a flashy paint-job and throws some serious bling at it.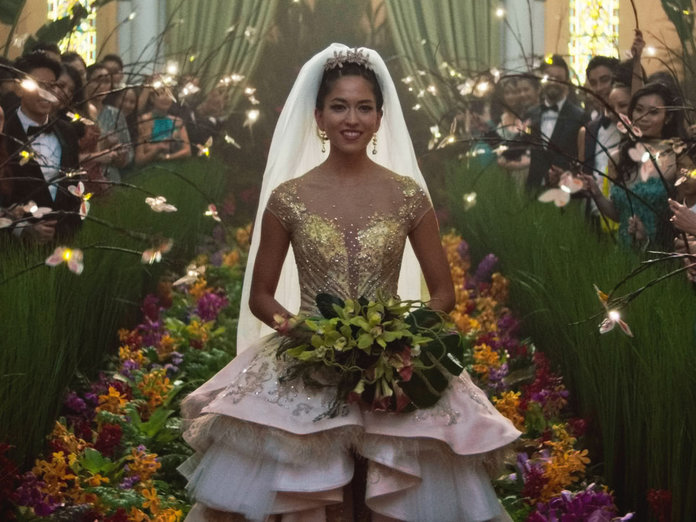 The film also stands as a showcase of Singapore's luxurious standing in world trade and beauty. The city looks a treat on the big screen, the opulent skyscrapers mixed with the traditional Asian streetlife, and the barrage of wealth on display would make a Fast & Furious film blush. From cars, clothes, houses and palatial hotels, not to mention a bachelor party taking place offshore on a working container ship, Crazy Rich Asians has the aesthetic of extreme wealth pulsating through its brightly lit sequences, a frantic modernity of technical precision and the best Hollywood can buy giving the film an electrified freshness that's hard to deny. I didn't: I really enjoyed the hell out of this movie, and if I'm honest I wasn't expecting to. I normally baulk at romantic comedies, but Crazy Rich Asians worked its oriental magic on me and I was swept away with its broad characters, lavish setting and pop-culture-ready soundtrack. Production design and cinematography play a huge part in making the film feel larger than it really is, and it feels like a film made for $100m instead of $30m.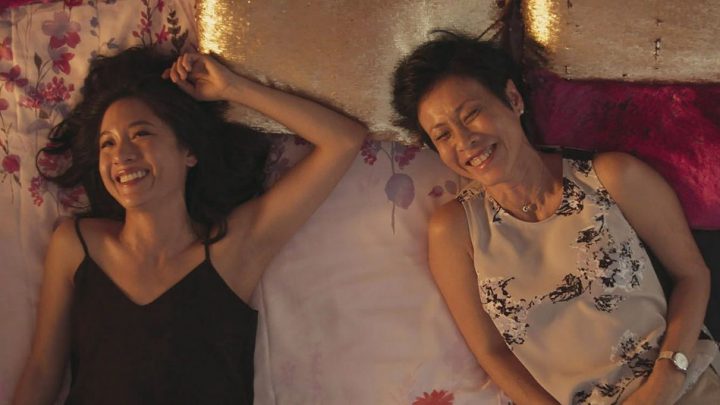 For a fun, energetic, often hilariously over-the-top Asian-flavoured romantic comedy I cannot recommend this film highly enough. A beguiling cast, sumptuous location filming and extravagant superficiality contrasted against a rapidly disappearing sense of familial respect and honour, and a tried-and-true fantasy narrative that'll keep the romantics among us sated, Crazy Rich Asians is an absolute blast and comes thoroughly endorsed by this self-proclaimed non-romantic. For what it's worth, I had a great time.
Who wrote this?