Movie Review – Sister Act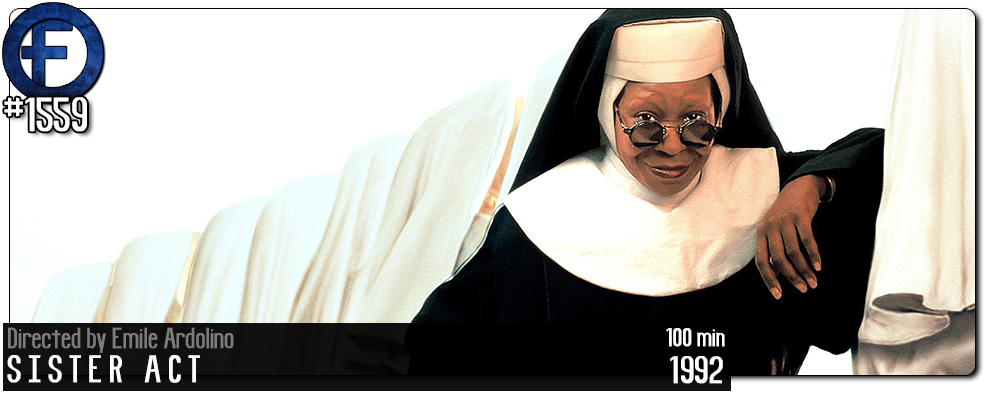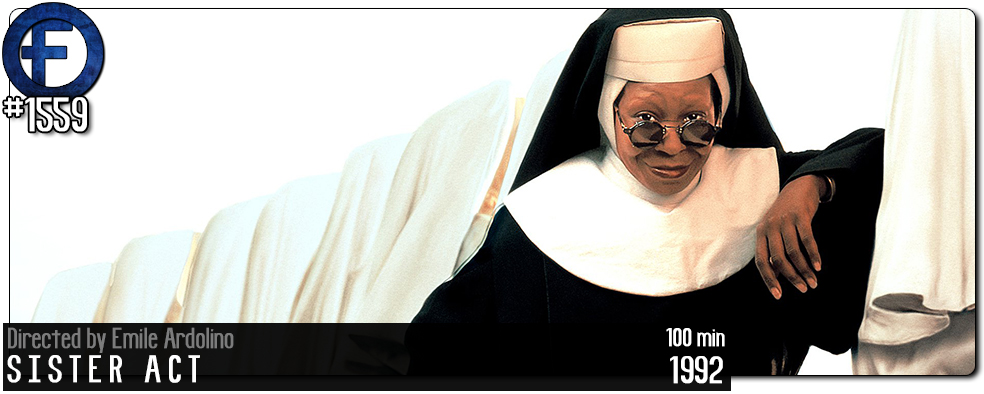 Principal Cast : Whoopi Goldberg, Maggie Smith, Kathy Najimy, Wendy Makkena, Mary Wikes, Bill Nunn, Harvey Keitel, Robert Miranda, Richard Portnow, Rose Parenti, Joseph Maher, Jim Beaver, Jenifer Lewis, Charlotte Crossley.
Synopsis:  A Vegas lounge singer goes into hiding as a nun to escape death at the hands of her criminal boyfriend. While inside the convent, she transforms the nuns' rag-tag choir into a musical phenomenon.
****
Movies about nuns tend to drift towards edgy dramatic heights (Black Narcissus) or skylarking farcical comedy (Nuns On The Run); very few of them, however, could be classified as crowd pleasing musical hits. Sister Act, the early-90's Whoopi Goldberg vehicle set primarily inside a San Francisco convent, is the definitive crowd pleasing comedy musical, showcasing Goldberg's enthusiastic screen presence alongside some toe-tapping choral covers of popular and liturgical music. Boasting supporting roles from acting legend Maggie Smith, perennial screen bad boy Harvey Keitel, and the likes of Richard Portnow, Mary Wilkes and Bill Nunn, Sister Act is ubiquitously trope-filled and entirely predictable, yet remains enjoyable thanks to spot-on casting and the freewheeling laughs engendered by this classic fish-out-of-water narrative.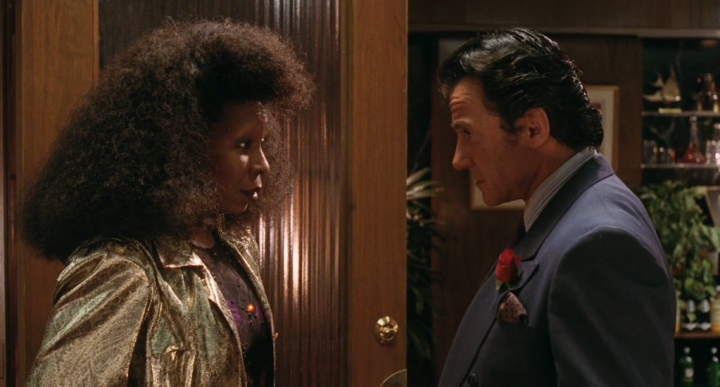 Vegas lounge singer Deloris Van Cartier (Goldberg) accidentally witnesses her mobster boyfriend, Vince (Harvey Keitel) execute an associate who he accuses of ratting him out. Escaping almost certain death, Deloris approaches the police (Bill Nunn) who sends her into witness protection at a local San Francisco convent, St Katherine's Parish, under the name of Sister Mary Clarence; this fact is known only to the detective, as he perceives Deloris to be in imminent danger. Deloris' bawdy manner puts her at odds with the convent's crusty Mother Superior (Maggie Smith), although she forms a bond with jolly Sister Mary Patrick (Kathy Najimy) and meek Sister Mary Robert (Wendy Makkena); the singer sets about trying to save the run-down convent through the sisters' choir, whom she transforms from a discordant, dis-unified mess into a showstopping, crowd-pulling entertainment juggernaut. Eventually, however, Deloris' real identity is revealed to the sisters of the convent, and the guilt of her fakery threatens to send Deloris back into the crosshairs of her one-time boyfriend.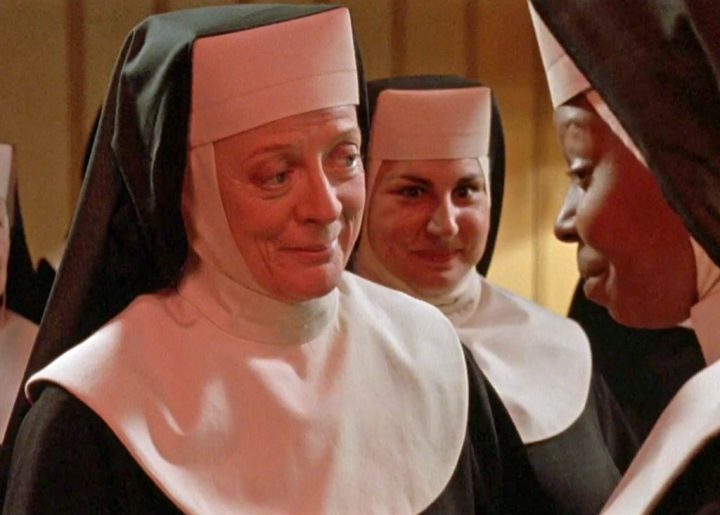 At first blush, Sister Act honours its time-worn tropes and embraces its familiar story with sheer force of goodwill. The film's core premise, that of a worldly-wise woman thrust into a world so antithetical to her sensibility and forced to bend to convention, hits all the beats and points of interest along the way to its inevitable "we'll save the day through singing" conclusion. Barriers to Deloris' success as a nun, from the overbearing Mother Superior to the constant threat of Keitel's growling villainy, as well as the infectiously performed musical numbers, thread through this genteel character-driven comedy that's lite on emotional weight and coasts on the breezy chemistry between Goldberg and her co-stars.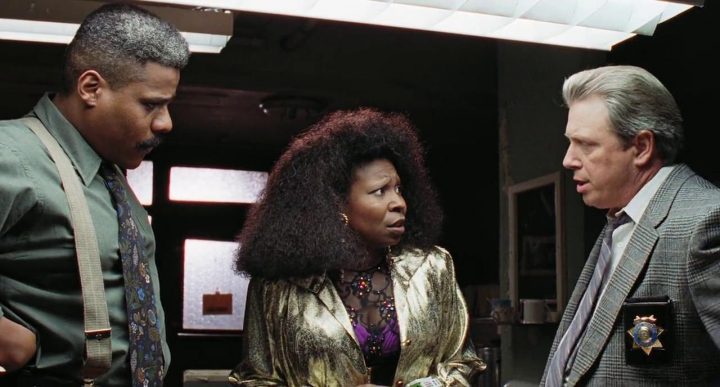 The film's screenplay was famously touched by numerous notable hands; the original script by Paul Rudnick was changed so much that he requested credit under the pseudonym Joseph Howard, with the material altered by people including Carrie Fisher and Nancy Meyers along the journey to the screen. The director, Emile Ardolino, had had multiple box-office hits with musical drama Dirty Dancing and tear-jerking big-eyes comedy Three Men And A Little Lady (sadly, Ardolino would pass away a year after Sister Act hit cinemas), and his ability to maximise the melodic impact and often kitschy twee-ness of the story is a testament to the skill of a man steeped in stage productions. The film contrasts Deloris' Vegas brilliance with the drab, often melancholy convent to terrific effect, notably through Goldberg's wry asides and huh?-huh? comedic style. It's an easygoing romp, this film, never daring to thrill or dig deep into murkier waters than its simplistic nature ever implies.
Alongside the always affable Goldberg is a terrific Kathy Najimy, as the electrified nun with the enormous voice and a proclivity for enthusiasm, and mousy Wendy Makkena as Sister Mary Robert, the shy, insecure novitiate who ends up with one of the choir's most mesmerising moments (Makkena's voice was swapped out for the singing ability of voice artist Andrea Robinson), while Bill Nunn's 'Frisco cop offers a tether to the grimy, real-world goings on outside of the nunnery. Harvey Keitel chews the scenery as Vince, Maggie Smith once more out-acts everyone as the Mother Superior, while Joseph Maher does commendable work as the somewhat blithering Bishop O'Hara. Everybody appears to be having a good old time here, with even Smith's snarky character having more than a glint in the eye as she causes friction with Deloris.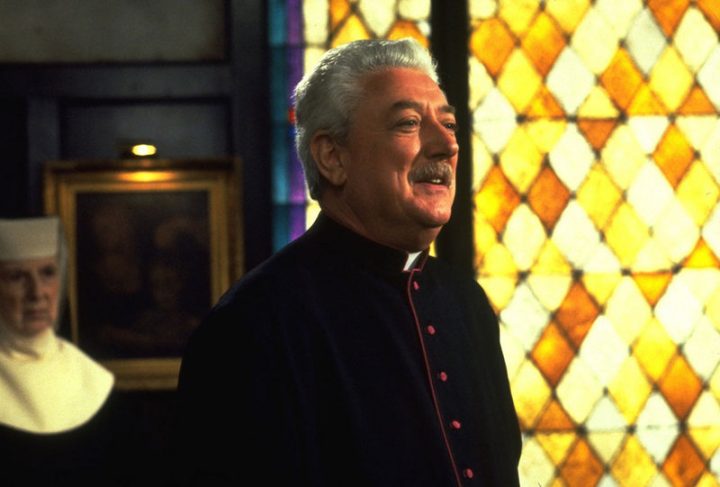 With its upbeat and hugely memorable soundtrack, pleasant comedic overtones and enthusiastic direction, Sister Act is crowd-pleasing in every sense of the phrase. Although the film's most memorable moments come in the second half, once Deloris takes charge of the choir and turns it into a music powerhouse, there's a lot of general feel-good gold to be mined throughout, largely derived from Goldberg's subtle playing against type as a sexually charged woman having to fit into a nun's habit. While the trajectory of the story is never in question as to the expected resolution (there's some nonsense about getting to perform for the pope, because that's gonna happen) and the characters aren't especially well developed beyond hitting established archetypes, Sister Act remains one of those lazy Sunday films you'll enjoy time and again each time you see it. Fabulous fun, Goldberg's sisterly act is a melodious musical delight.
Who wrote this?