Movie Review – Peter Rabbit

Principal Cast : Rose Byrne, Domhnall Gleeson, Sam Neill, Marianne Jean-Baptiste, Felix Williamson, Voices of James Corden, Daisy Ridley, Margot Robbie, Elizabeth Debicki, Colin Moody, Sia, Fayssal Bazzi, Ewen Leslie.
Synopsis: Beatrix Potter's classic tale of a rebellious rabbit trying to sneak into a farmer's vegetable garden.
****
Beatrix Potter's famous rabbit creation comes to the big screen in his first full length live-action feature, boasting the vocal talents of an all-star cast and the whelming appearance of Star Wars villain Domhnall Gleeson as the film's primary antagonist, Mr McGregor. Defiantly aimed squarely at children, Potter's creations are virtually unrecognisable as whip-smart, smart-alec jokesters, this slapstick farce layered with laughs for the youngsters and a smattering of chuckles for the adults. What the film lacks, however, is charm. It's all zing and vivacious performances, lacking moments of introspection or nuance as the film throws literally everything at the screen in a quest for gags and one-liners. It succeeds, it truly does, and for the brisk 90-odd minutes it runs there's eyeball-scorching fun to be found, but I believe the circumspect Beatrix Potter might be aghast at what Hollywood has turned her creations into.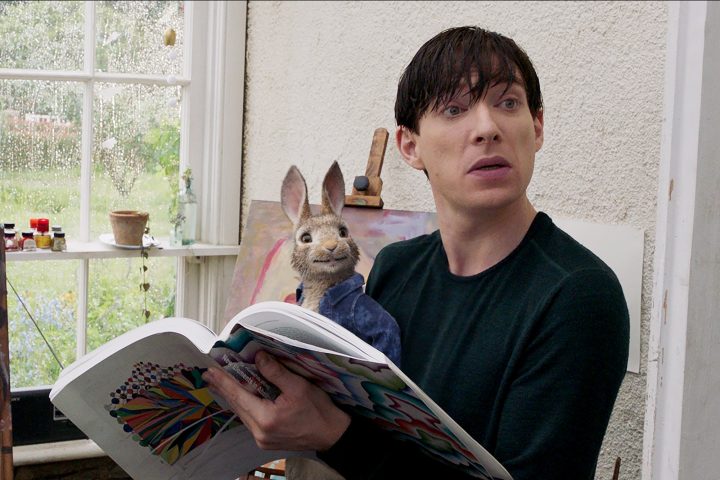 In the quaint English countryside lives a surly old farmer, Mr McGregor (Sam Neill), neighbour to the beautiful artist Bea (Rose Byrne). Mr McGregor enjoys catching the various rabbits who try and steal vegetables from his walled garden, particularly Peter (voice of James Corden) and his sister siblings, Flopsy (Margot Robbie), Mopsy (Elizabeth Debicki) and Cottontail (Daisy Ridley), and cousin Benjamin (Colin Moody). When old McGregor suddenly dies of a heart attack, his nephew Thomas (Domhnall Gleeson), a cold and heartless opportunist arrives at the property and proceeds to try and set the old house up for sale. However, when Thomas meets Bea, sparks fly, and soon the young man is battling Peter Rabbit for not only the vegetables in his garden but the heart of his lovely neighbour.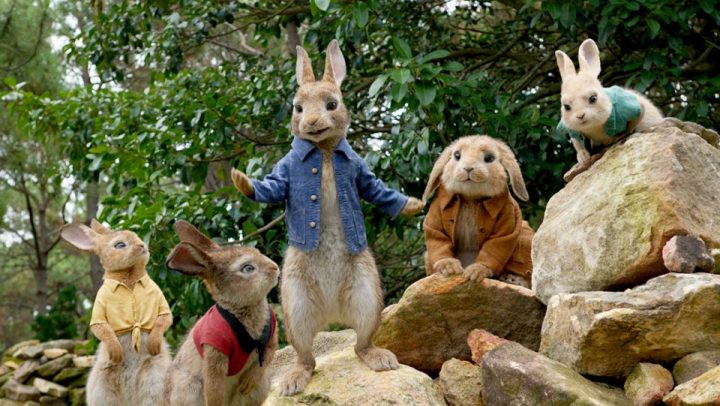 Peter Rabbit lands on the screen with the obnoxious wit of a Looney Toons short and the beatific cinematography of Babe, wrapped in a faux romance and indifferent familial subplot. Directed by Will Gluck (Easy A, Annie) from a script written by himself an Rob Leiber, Peter Rabbit throws subtlety to the wind in this cartwheeling adventure story that showcases the very best CG animation you can stick into a live-action film and some committed, if confusing performances by stars Gleeson and Byrne. Peter comes off more as a Bugs Bunny archetype, all about himself and casual violence to the humans around him (although, pleasingly, he never deigns to attire himself in clothing of the opposite sex), as if the whole thing is some grand shebang from which no morals are sacrosanct. The story careens from one set-piece to the next, failing to quieten itself for too long in fear of losing the attention of its target audience: anyone under the age of 10. Admittedly, the family audience I saw this film with consisted primarily of that age bracket, and the film had them roaring at the slapstick and antics of the game human cast and the anthropomorphic rabbits.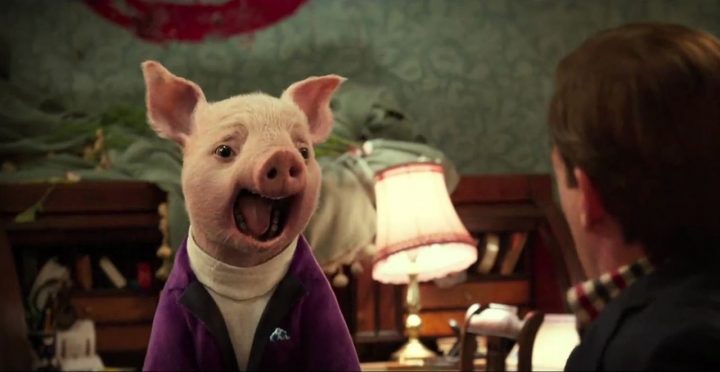 Charisma vacuum James Corden is actually decent as the voice of Peter Rabbit, which surprised me no end, and his rapport with on-screen digital bunnies Margot Robbie, Elizabeth Debicki and Colin Moody, together with actual humans Domhnall Gleeson and Rose Byrne, is effective. Byrne and Gleeson have that marvellous glint in their eyes that suggests they're totally in this for the gags, and play up the absurdity of it all with well timed comedic skills and precise physical humour. Gleeson, who endures all manner of cartoonish violence (including electrocution, a lengthy rake-to-the-face sequence and general gravity defying farce) to keep the momentum going, is the standout, with the film cleverly turning the arch-villain of the Peter Rabbit franchise into something of a sympathetic (and expansive) character. The voice cast are all excellent, it must be said, and I will name-check Will Reichelt especially for his work as one of the funniest roosters I've ever seen depicted on screen.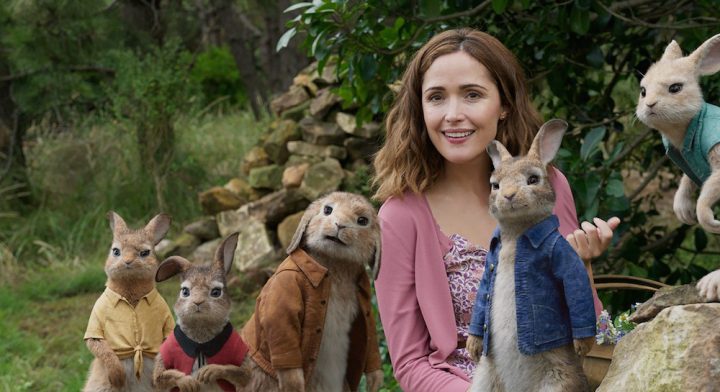 Whether you agree with this vivacious, energetic update the Potters' work or not, there's something to be said for simply enjoying the garish characters and patently ridiculous tone the film enjoys. Talking rabbits – as well as cameos from Potter staples like Mr Tod, Pigling Bland and Mr Jeremy Fisher – run the hutch of Peter Rabbit's high octane antics, while the film's human characters aside from Bea and Thomas are caricatures there to provide narrative ballast. Gluck's camerawork simply never stops moving, which will probably induce headaches in discerning adults while it keeps tiny viewers attention diverted with how "fast paced" it all is. Sadly, the story is shallow, devoid of careful character work and instead hammering home some skewed idea of Peter's grief at his parent's death; any shades of grey are glossed over and pushed aside by more and more "look at how clever we are" film-making, frantic pacing and farcical physical comedy creating a maelstrom of laughs without heart behind it. That's what Peter Rabbit lacked, heart. It's like a Paddington movie with too much sugar and no genuine love behind it.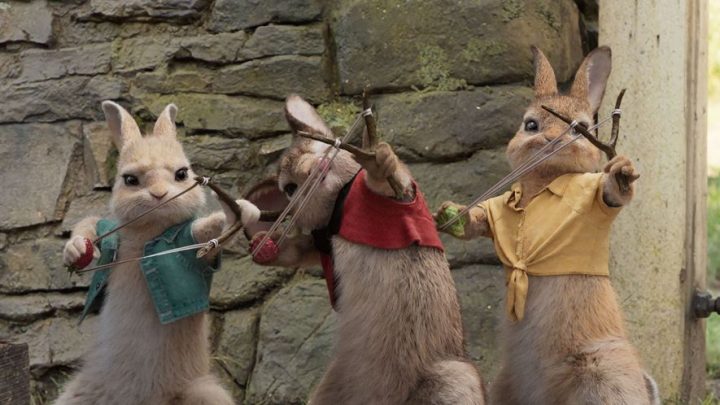 Fun and a foot-tapping soundtrack keep Peter Rabbit from running totally off the rails, although those seeking a definitive take on Beatrix Potter's iconic literary works will be horrendously disappointed. Peter Rabbit is a template product of Hollywood's adrenalised mandate to keep the kids watching at all costs, without positing quieter moments of introspection. It's as if Gluck and his team were worried people might start checking their Facebook status midway through, and had to keep the comedy coming without a single pause. For the most part, Peter Rabbit is entertaining, and I did have more laughs at this than I expected. Kids will more than likely adore it – I know mine did – but purists of Potters work, and adults seeking engaging fare that challenges the mind will be appalled at how obnoxious the film becomes. As a kids film, it's magnificent. As a film generally… well, there's problems that can't be papered over with clever sight-gags and witty pop-culture asides.
Who wrote this?