Principal Cast : John Cena, Kate McKinnon, Anthony Anderson, Bobby Cannavale, Peyton Manning, Gina Rodriguez, Miguel Angel Silvestre, David Tennant, Tim Nordquist, Daveed Diggs, Gabriel Iglesias, Flula Borg, Boris Kodjoe, Sally Phillips, Juanes, Jerrod Carmichael, Lily Day, Colin H Murphy, Nile Diaz, Jack Gore, Jet Jurgensmeyer, Julia Sarpa Saldanha, Jeremy Sisto.
Synopsis: After Ferdinand, a bull with a big heart, is mistaken for a dangerous beast, he is captured and torn from his home. Determined to return to his family, he rallies a misfit team on the ultimate adventure.
******
When I first heard they were making an full length feature about Ferdinand the bull, based on the book written in 1936 by Munro Leaf, I was hesitant about its success. The book itself is quite scant in detail, with its simplistic dreamer narrative woven into the fabric of Spain's bullfighting culture and I doubted such a small, intimate story could be fleshed out to a 90 minute movie. Plus, the story had been tackled before, with Disney's iconic 1939 animated short film among the most memorable the medium had conjured up. Blue Sky's Ferdinand, directed by Rio and Ice Age alum Carlos Saldanha, widens the scope of the original story by injecting new characters, some sweet themes and dynamic animation to provide a well meaning, altogether entertaining animated romp that won't subvert Disney's short or the original book, but reside comfortably alongside them as a companion piece offering a bit more juice.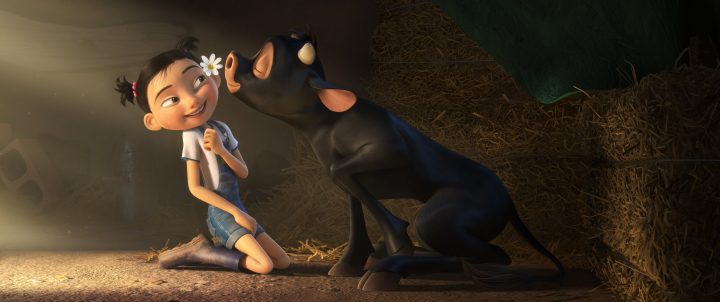 Ferdinand (voice of John Cena) grows up on a small Spanish farm with owner Nina (Lily Day and Julia Scarpa) after escaping almost certain doom at a famous bullfighting ranch as a calf. His father never returned from his own bullfighting experience, and Ferdinand is resolutely pacifist when it comes to violence. When he accidentally stampedes through town, Ferdinand is carted away back to the ranch to be selected by retiring matador legend El Primero (Miguel Angel Silvestre) for his final battle. Whilst training, Ferdinand reacquaints himself with the inhabitants of the ranch, his "calming goat" Lupe (Kate McKinnon), undersized bull Bones (Anthony Anderson), bully-bull Valiente (Bobby Cannavale), always nauseated bull Guapo (Peyton Manning), and Scottish Highland bull Angus (David Tennant). Before they are either sent to the bullfighting ring or sent to the abattoir, the bulls hatch an escape plan to return to Nina's farm where they can be safe. They utilise the skills of a trio of hedgehogs, Una (Gina Rodriguez), Dos (Daveed Diggs) and Cuatro (Gabriel Iglesias) to achieve their goals.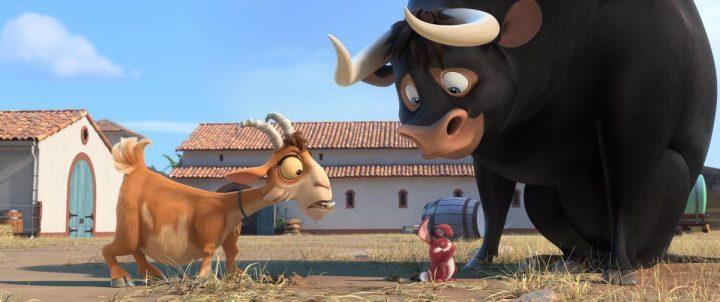 Let's face it: Spain's bullfighting culture is a ghastly cruel affair involving animals subjected to torture before they are eventually slain, all for the entertainment of the masses. I'm not a fan. The premise of Ferdinand doesn't shy away from this sense of lopsided gladiatorial combat, in the fact that it's (typically) a losing battle for the animal, while the matador goes on to fame and fortune. The screenplay is handled in such a way that the film touches only barely the true darkness that awaits the bulls in the ring – a little like Babe's mother heading off to the slaughterhouse – but it's juuuuust enough to make its point without being preachy. The story also slathers in an arc about bullying, a sentimentalist dream of freedom, and a sense of duty and honour that weave throughout the admirable animation to provide a cheeky, often moving, sometimes beguiling fable about the world's most lovable bull.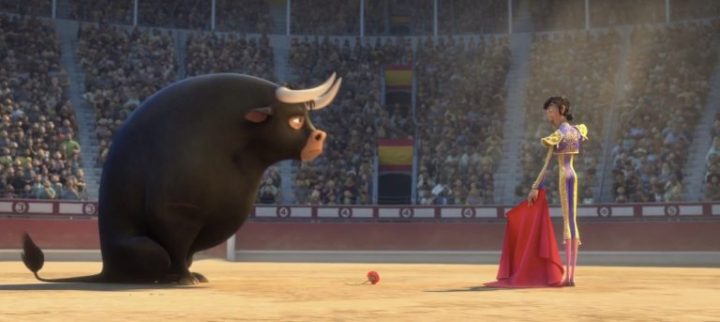 The film is shouldered (pun ironically intended) by beefy wrestling star turned actor John Cena (12 Rounds) as Ferdinand, and his charm and enthusiasm for the part show through with some delightful dialogue delivery and a sense of comedic timing honed by years in the wresting ring. Cena always struck me as a poor man's Dwayne Johnson, the guy you could get if The Rock was busy. Here Cena shines, imbuing the bull with eloquence and a confused placated fear. The majority of the film's laugh come from Kate McKinnon's crazy Robin Williams-esque performance as Lupe, the insane goat the ranch uses to placate Ferdinand upon his arrival. McKinnon sinks her teeth into this one, delivering plenty of wit and a dash of exuberance to make Lupe the funniest part of the film. Sidebar voice work by the talented supporting roster, including Bobby Cannavale as the angry, arrogant Valiente, NFL star Peyton Manning as the chunderously charming Guapo, and former Doctor Who star David Tennant as a blind hairy highland bull, are all excellent and fit well within the movie's kiddie-friendly charms.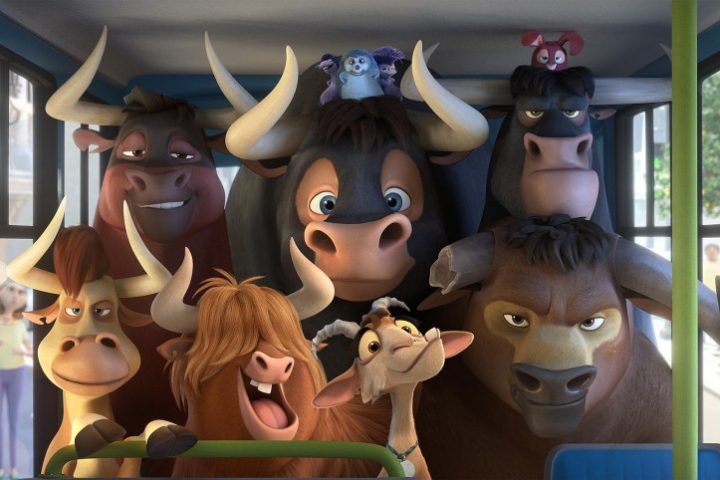 Blue Sky's work on their Ice Age films may have slowed, but they're shown no sign of slowing down the quality of their other projects, as Ferdinand's glossy, slick, often excellent animation style indicates. The film never reaches Pixar-levels of quality, and the character designs are less realistic than they are overly cartoonish, but there's a warm glow of nostalgia for the story here that sublimates many of the mature themes bubbling under the surface. Throw in a nonsensical animal dance-off, some delightful action sequences that will keep the kids glued to the screen, a mid-film lurch to the left with its themes of animal rights, a trio of hilarious Lipizzaner horses with attitude up the wazoo, and Ferdinand is easy, breezy, lemon-squeezy entertainment that's undemanding and pleasant. With its catchy dialogue and easy-to-access characters, a skippy-trippy soundtrack and happy meal character templates, Ferdinand is eminently enjoyable and effortlessly engaging in almost every aspect.
Who wrote this?