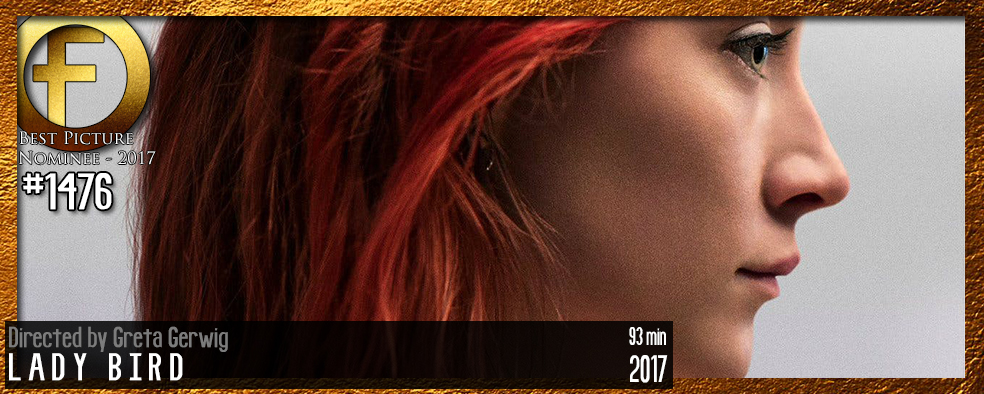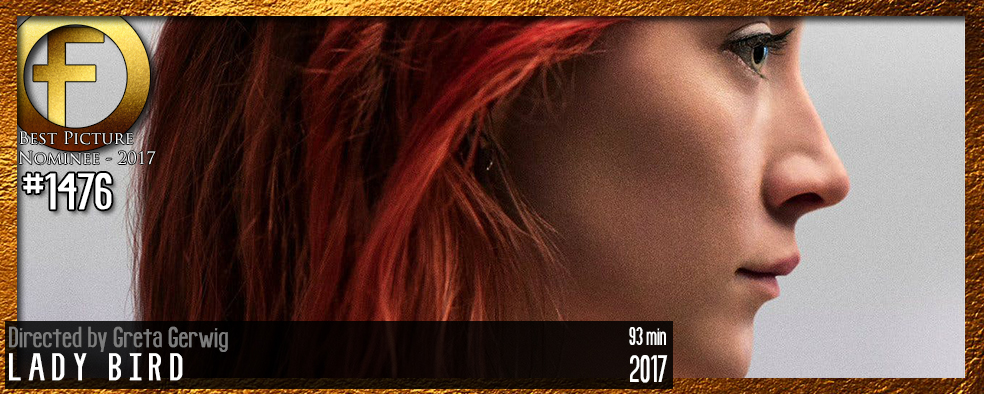 Principal Cast : Saoirse Ronan, Laurie Metcalf, Tracy Letts, Lucas Hedges, Timothee Chalamet, Beanie Feldstein, Stephen McKinley Henderson, Lois Smith, Jordan Rodriguez, Odeya Rush.
Synopsis:  In 2002, an artistically inclined seventeen-year-old girl comes of age in Sacramento, California.
********
Classic coming-of-age films typically take their central character on a journey of self-discovery, and the good ones do so with a sense of poetic specificity captured by the most astute of eyes. Lady Bird contains a multiplicity of this poetry, with indie-actress Greta Gerwig (To Rome With Love, 20th Century Women) directing Irish actress Saoirse Ronan (Hanna, Brooklyn) to a career best performance as the titular character. The film is beautiful, often raw and always grounded with a sense of realism in early Y2K struggles with identity. Identity forms a lot of Lady Bird's core emotional heft, Ronan's character trying to work out who she is, how she fits into the world, and how it all balances out with her relationships – primarily the one with her mother – and Gerwig captures the aching longing and hormonal confusion with precision and a tone befitting beautiful modern cinema.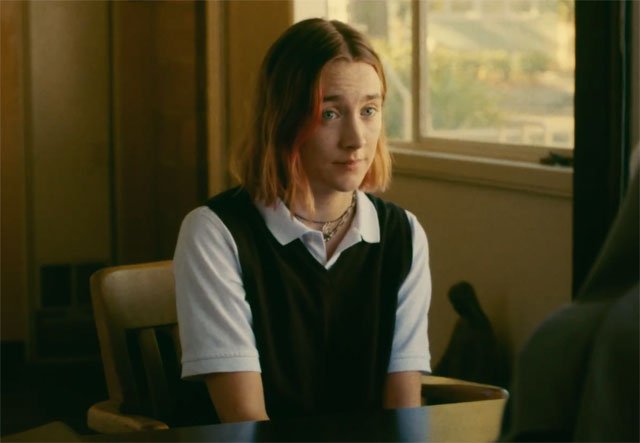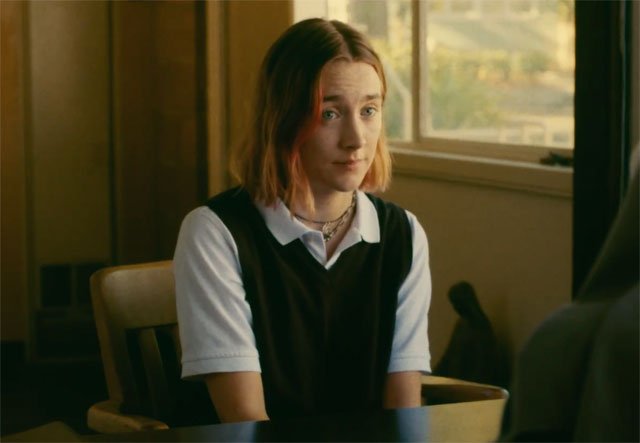 It's 2002, Sacramento California, and young teen Christine Lady Bird McPherson (Ronan) is finishing high school and hoping to get into a prestigious college on the East Coast. She is friends with Julie (Beane Feldstein), and attracted to wannabe actor Danny O'Neill (Lucas Hedges – Manchester By The Sea), trying to please her uptight mother Marion (Laurie Metcalf in superb form) and depressed father Larry (Tracy Letts), both of whom struggle to raise their daughter and adopted son Miguel (Aussie actor Jordan Rodriguez). Through the ups and downs of teenage life, including losing her virginity to edgy musician Kyle (Timothee Chalamet – Call Me By Your Name), tormenting her teachers, and trying to hold down a job, Lady Bird tackles the challenges she faces head on, head-strong.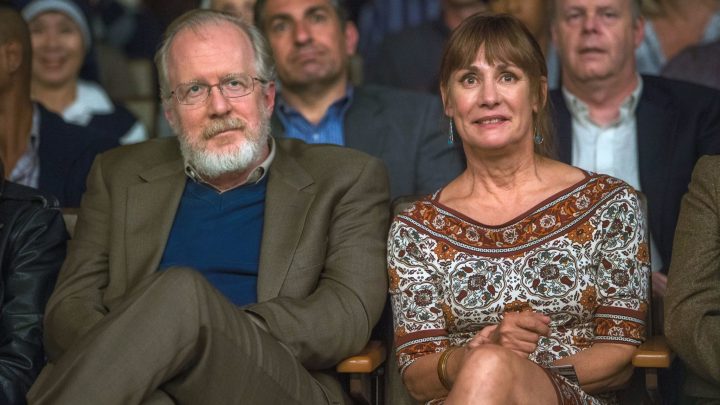 It goes without saying that our teenage years are among the most confusing months and weeks of our lives. We've all been there, there's no escaping the fumbling embarrassment of puberty and adolescence and all that rubbery, sweaty sexual tension and confusion, and Gerwig's film captures a glimpse of that with perceptive grace. Lady Bird isn't a particularly new story, and Ronan's character travels a well-worn path to claim her maturation into adulthood, but there's a fascination to the film that means we cannot look away. The journey of a young woman in finding herself, discovering her sense of identity amid the social anxiety everyone of that age has ever felt, contains echoes of John Hughes' 80's films, or recent movies like Boyhood or The Perks Of Being A Wallflower, but it strikes out on its own through Gerwig's bright direction and acute sense of character.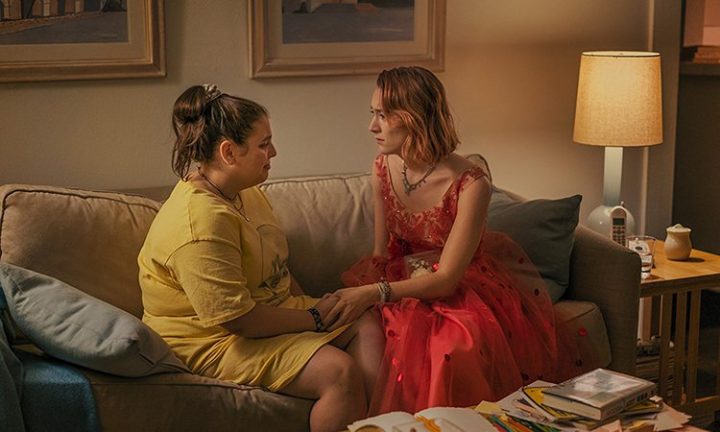 Written by the director, the film's screenplay examines Lady Bird's fractious relationship with her mother, with both Ronan and Metcalf delivering hugely memorable performances in their roles of daughter and mother. Perhaps autobiographical in tone, Gerwig gives Lady Bird a real sense of frustrated rebelliousness and the film's delightful sadness is indicative of this crossroads-avoiding motif. Metcalf's proud matriarch is melancholy, resigned to her life of disappointment and firing off passive-aggressive snipes at her family when she's upset. Ronan's verbal sparring with Metcalf is the highlight of the film. The triptych of the film, in which Lady Bird's father provides a softer, more conciliatory nature to his wife's headstrong bullheadedness, is balanced perfectly with Tracy Letts' terrifically understated work here.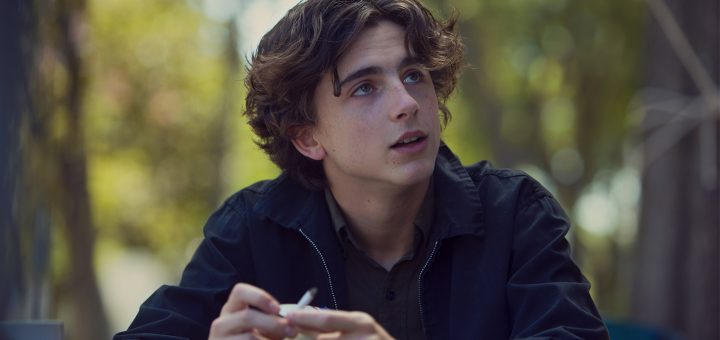 Ancillary characters such as Beane Feldstien's best friend character Julie, the salaciously mature Jenna (Odeya Rush – Goosebumps) and the two men in Lady Bird's life, in-the-closet Danny and angsty, narcissistic "bad boy" Kyle, provide a rich tapestry of failure and fruitful development for Gerwig's story of a girl searching for something to spurn excitement in her life. I've often said the trouble with being a kid is that you don't know how good you've got it until you're not a kid any more, and by then it's too late. Lady Bird personifies this with the teenage characters wishin' and hopin' to escape their dreary, humdrum lives for something more exciting, only to discover that all the stuff they've wished for ain't really all that great. Ronan's sex scene with Chalamet is awkward and hilarious for how the act is built up as this amazing, life changing thing, only for her to discover that typically it's really rather disappointing most of the time.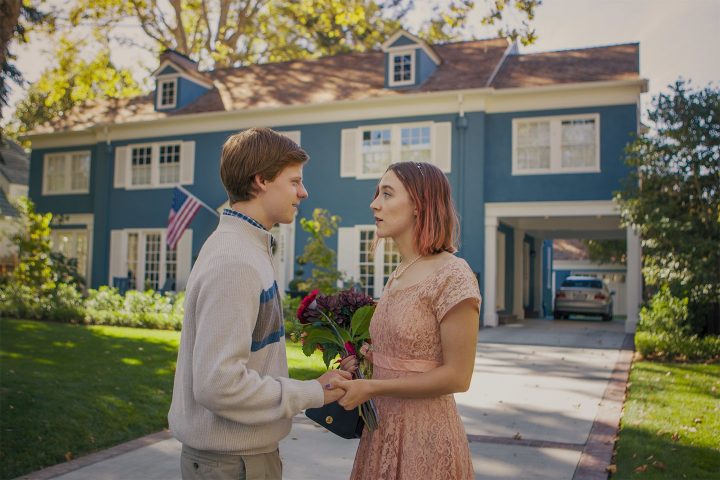 Observational drama, thy name is Lady Bird. The film's lyrical nature and meandering, vignette-driven narrative offer glimpses into a story we're familiar with, with a sense of nostalgic loss and whimsy thrown in. Visually, it's a beautiful film, with Sam Levy's luscious cinematography providing a gloriously creamy palette for Gerwig's characters to mix with. It tapped into that reservoir of remembrance I have for my own experiences at that age, the conflicts I had with my parents and siblings and the feelings of constriction we all face when we're trying to explore both our sexuality and personality, to discover what makes us us. Anyone who's ever experienced being a teenager will find something in Lady Bird to empathise with, and that's all this film really can ask of us. There's a lot to unpack if you delve deeper, and future rewatches will no doubt reveal more introspective elements I missed at first blush, but I can recommend the excellent Lady Bird with all the tingly excitement of teenage lovers fumbling in the dark for their first experience at adulthood.
Related articles
Who wrote this?