Movie Review – Three Billboards Outside Ebbing, Missouri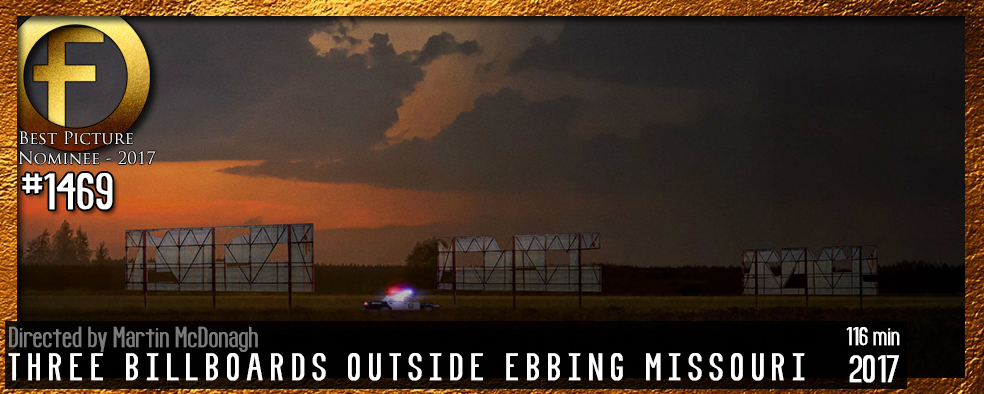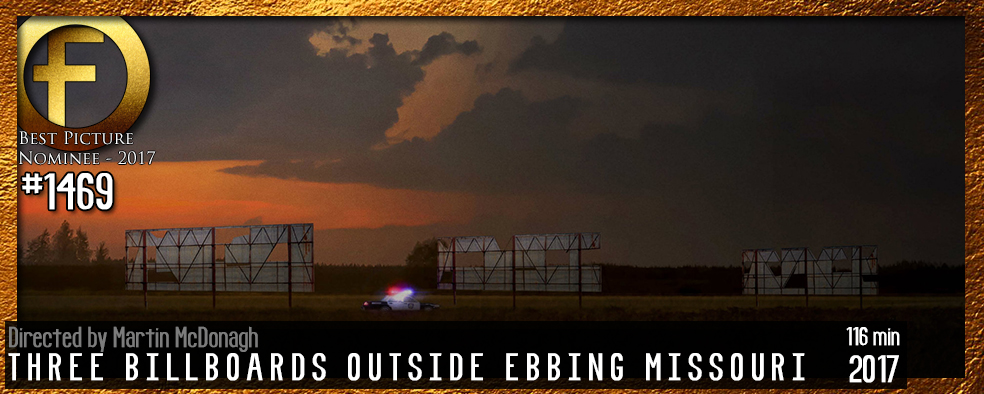 Principal Cast : Frances McDormand, Woody Harrelson, Sam Rockwell, John Hawkes, Peter Dinklage, Lucas Hedges, Abbie Cornish, Samara Weaving, Caleb Landry Jones, Clarke Peters, Kerry Condon.
Synopsis: A mother personally challenges the local authorities to solve her daughter's murder when they fail to catch the culprit.
******
This jet-black dramatic comedy sears itself into 2017's cinematic greatness with superb performances, a matchless screenplay and withering direction from Martin McDonaugh. With its white-hot social subtext and the blistering prominence of dramatic fortitude alongside it, Three Billboards Outside Ebbing Missouri counts among the very best the year has to offer and stands atop a very tall pile of terrific ensemble character pieces. There are remarkably few films to have ever made me sob like a little baby, and am astonished to report that this film is one of those rarefied number; Frances McDorman's tortured grieving mother, Woody Harrelson's dying Ebbing Sheriff, and Sam Rockwell's unhinged Officer Dixon provide three of the best acting offerings in a single film in ages, and you'd go a long way to find better in any film this year.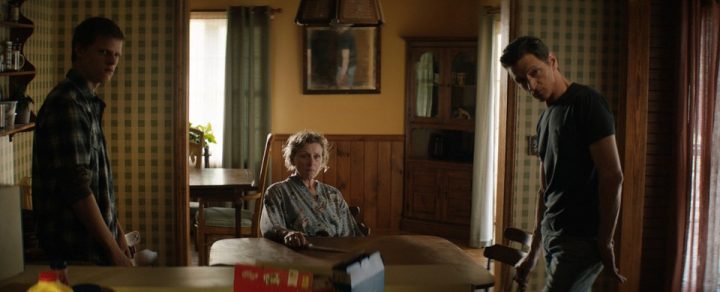 Ebbing, Mussouri: grieving mother Mildred Hayes (McDormand) can't get past the rape and murder of her daughter Angela (Katheryn Newton) several months earlier, frustrated that the local police force haven't been able to draw a lead or a conclusion to the case. She decides to post a message to Police Chief Sheriff Willougby (Harrelson) on three billboards just outside town, which say "raped while dying", "and still no arrests" and "how come, Chief Willougby". Initially spurred into reprisal, Willoughby and belligerent fellow officer Jason Dixon (Rockwell) start to investigate the case, while Mildred's son Robbie (Lucas Hayes – Manchester By The Sea) and estranged husband Charlie (John Hawkes) rail against her choice to do this. Mildred's implacable nature are at odds with the torment her life has become, and through the twists and turns of her quest to find her daughter's killer, she will come to understand not only herself but the impact her decisions have on those around her.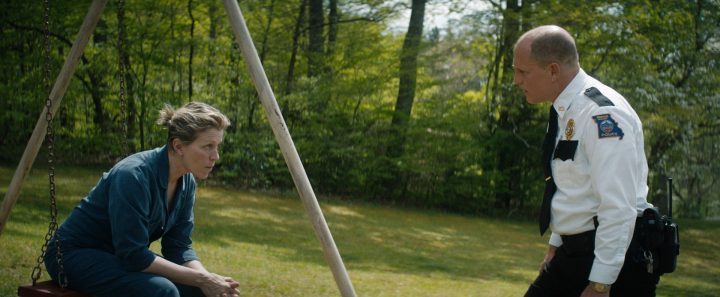 Encumbered with a lengthy title, Three Billboards Outside Ebbing Missouri is a palpable fireball of hot-button social issues mixed with great humour. Racial undertones and righteous fury, well honed wit and one of the saddest premise's a parent could watch, this heartbreaking story of vengeance and retribution is exceptionally moving as much as it is genuinely raw and revealing. McDonagh's screenplay is a perfect character piece, moodily angry at injustice and ripe with bittersweet regret. His characters exist in realism, in a world of sublime beauty and aching sorrow, of kook and clatter and dreams and hopes, and the breathtakingly beautiful words the characters deliver strike me as among the most poetic among the violence. Three Billboards is violent in parts, but it isn't specifically so. It's a film that deals with violence yet abhors it, using it as a tool for motivation and character development.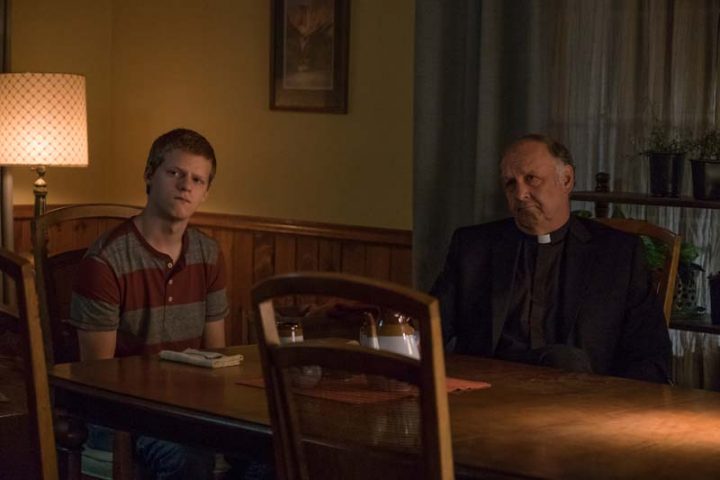 The attachment of Frances McDormand to this project isn't without purpose, either. McDormand's husband is Joel Coen, one half of the Coen Brothers directorial duo, and it struck me as I watched that not only was McDormand's character vastly within her Coen-skewed wheelhouse but the entire film felt like a Coen-produced effort, which is entirely complementary and no statement on how I found McDonagh's direction. There's a subtle texturing to the film's nuanced and delicate script, offering moments of great pathos and black humour within its dark, dreadfully incomprehensible themes of loss. Quite simply, Three Billboards boasts one of the most electrifying, moving and emotional screenplays I've experienced in many, many years. It's a testament to McDonagh's strength as a filmmaker that he can command a story with the purpose elicited here, with characters you feel easily inhabit the world we're experiencing through his lens. Supporting characters may not have much screen time, but almost to the last have lasting impact.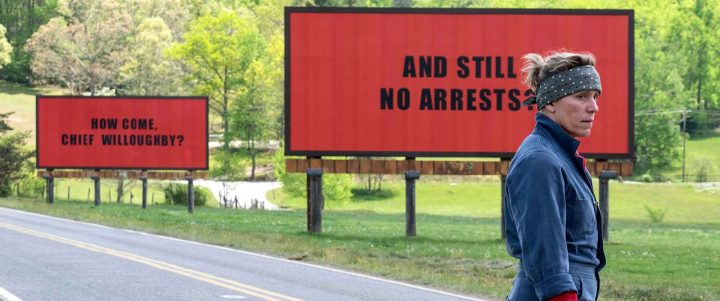 Quite appropriately, there are three elements to Three Billboards Outside Ebbing Missouri worthy of all the praise here. The first is Frances McDormand, in what can only be described as a career-best performance as Mildred Hayes, possibly her greatest role to-date. McDormand is simply sensational, offering taut rage and searing sadness for the loss of her daughter, a loss she is unable – maybe unwilling – to move past and it's taking a terrible toll on her family. Her relationship with her son Robbie is peppered with profanity, but rooted in love, while Mildred's antagonism of fellow townsfolk – from local car salesman and resident midget James (Game Of Thrones' Peter Dinklage in fine non-dragoning form) to advertising salesman Red Welby (Caleb Landry Jones – The Florida Project) and even her local dentist (poor Jerry Winsett will be looking at his fingernails forever) – remains a divisive issue. Sympathy is elicited, yet retribution is expected. McDormand's portrayal of a mother driven to an extreme act is riveting and sublime, an essay in grief and anger merged into a fusion point of captivation.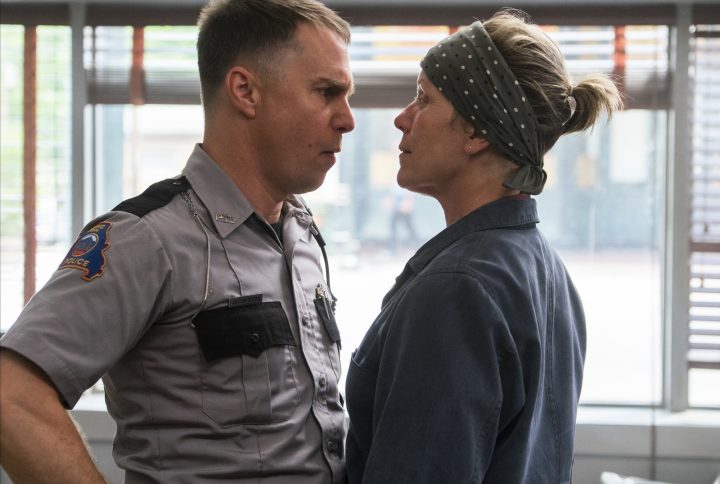 Aiding her is the wonderful Sam Rockwell. Rockwell's an actor best known for being "oh, it's that guy" a lot of the time and to be honest that's incredibly unfair. He first came to my attention (and most other people's too, I suspect) in Frank Darabont's The Green Mile, playing a hillbilly yokel criminal on death row, a role so effective it practically typecast him forever. Rockwell's role as the town's local racist cop (but in a good way) is endearing and effortless. I say endearing largely because the character is something of a simpleton. He's also the focus of a lot of the film's subtle humour, as Dixon's epithet-hurling good-for-nothing lawman runs afoul of not only Mildred but the Sheriff and then the Sheriff's replacement, Abercrombie (an excellent Clarke Peters). Of the characters in the film, Dixon is the one I found most disarming and engaging, and his character arc is perhaps the most satisfying overall. Rockwell deserves huge recognition for his work here, and if he walk away with all the awards after this I'll hardly be surprised.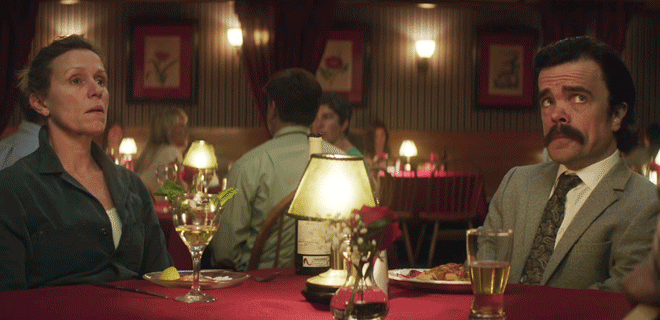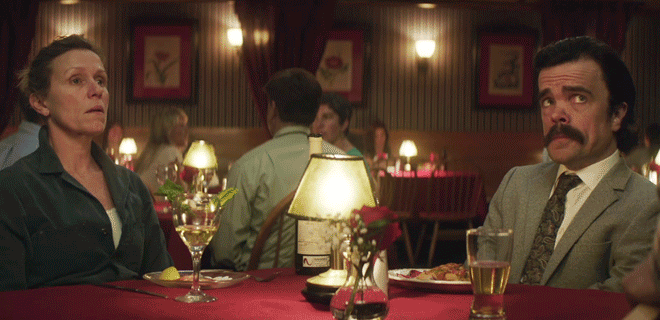 The third wheel in this collective of acting titans is Woody Harrelson, who once more shows the calibre of performer he is with a solid, uplifting, truly moving role as Willoughby. Harrelson's square-jawed Sheriff isn't the most memorable of all the actor's career, but it's easily one of the most honest. Willoughby, who reveals early on that he's dying of (pancreatic) cancer, is the ruinous element of the film for me, as his arc transitions from a man resigned to death, to one wanting restitution, to eventual resignation of the limited life he has left. Harrelson's half-serious, half-joking performance style and subtle wit – again, thanks to McDonagh's writing in the first place – fits his character like a glove, and Harrelson delivers big time. A voice-over mid-film he delivers had me sobbing like an infant – few actors have achieved this, and of the few Tom Hanks has done so twice (Forrest Gump and Saving Private Ryan) – so he joins a hallowed ranking indeed. Honesty, strength and more honesty: that's what Harrelson essays here.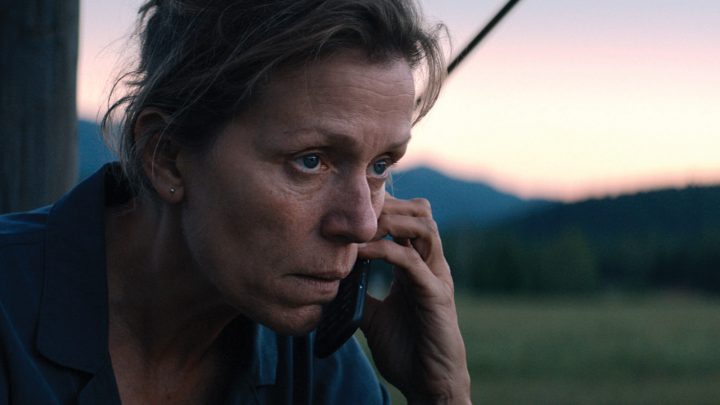 Coupled with the three leading roles, and equally solid supporting ones, is Martin McDonagh's direction. It's a directorial style that fits the calm desolation of the story's premise, never showy or exuberant, capturing the energy and simmering tension the story deserves to personify. Using a cool colour palette for the majority, and an unwavering camera to catch the subtleties his cast deliver, the film's layered character beats and immense emotional weight are borne with relative ease. Cinematographer Ben Davis (Kick-Ass, Guardians Of the Galaxy, Doctor Strange) gives the film a feeling of glowing, a sense of rural inwardness and small-town picturesque romanticism. It's a look at odds with the story, but both elements coalesce in perfect harmony. Three Billboards might not be the showiest of films you'll see, but what it lacks in physical explosions it makes up for in concussive emotional ones.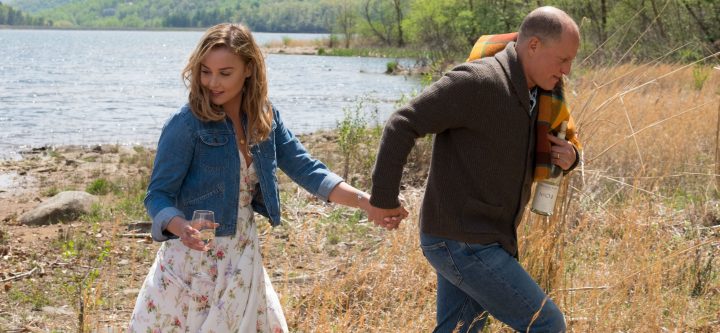 Complex, remarkable and an uncompromising story of bitter loss and pent-up frustration, Three Billboards Outside Ebbing Missouri might just be the best film of 2017. At the time of writing I'm doubtful I've have a more engaging, powerful cinematic experience in recent memory, with such a visceral reaction from me that stirred up a lot of emotional baggage. It's the kind of film that will trigger some folks, and it tackles some hard issues with both straight-faced power and an absurdist ironic wit (atypically, it's the younger women in the film, notably Aussie actresses Samara Weaving as Penelope and Abbie Cornish as Willoughby's devastated wife, who tote the bag for the supporting cast here) without dismissing valid arguments both for or against its central conceit: an impeccably made, deliciously acted, superbly written film that deserves your attention and your respect. A near masterpiece.
Related articles
Who wrote this?