Movie Review – Paddington 2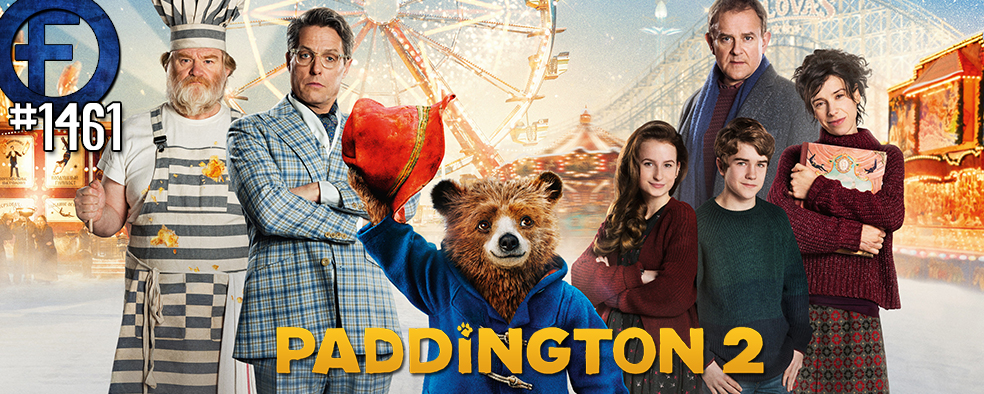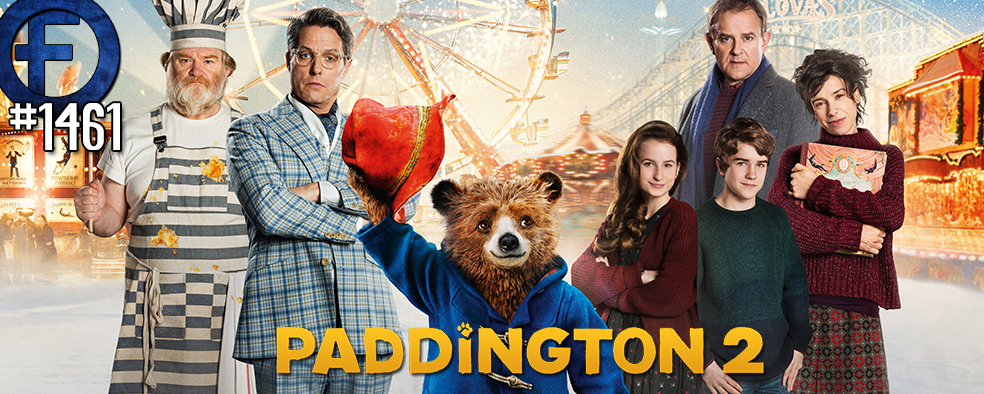 Director :   Paul King
Year Of Release :  2017
Principal Cast :  Hugh Bonneville, Sally Hawkins, Brendan Gleeson, Julie Walters, Jim Broadbent, Peter Capaldi, Hugh Grant, Madeline Harris, Samuel Joslin, Noah Taylor, Tom Conti, Ben Miller, Richard Ayoade, Voices of Ben Wishaw, Imelda Staunton, Michael Gambon
Approx Running Time :  103 Minutes
Synopsis: Paddington, now happily settled with the Brown family and a popular member of the local community, picks up a series of odd jobs to buy the perfect present for his Aunt Lucy's 100th birthday, only for the gift to be stolen.
******
At the end of review of Paul King's 2014 kids flick, Paddington, I requested a sequel. It appears the producers were listening, because they've given us one and, by golly, it's just as good as the original. Paddington 2 returns most of the original cast (including Ben Wishaw's delightful voice for the titular bear) and director Paul King to the helm of this wonderfully silly, fanciful soufle of cinematic charm. Paddington 2 doesn't just tap into the warm fuzzy embrace of the original film's soft-focused magic, it practically drowns itself in it, and where kitsch and nostalgic childish humour reside, Paddington 2 firmly plants its flag.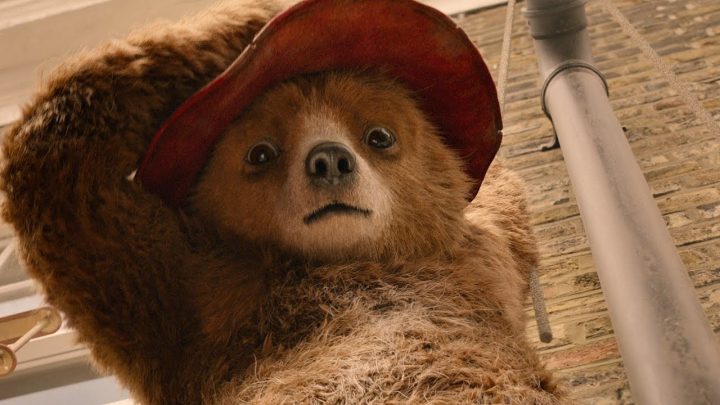 Now living with the Browns, Paddington (voice of Ben Wishaw) has picked up several odd jobs around his community, whilst trying to earn enough money to purchase an old pop-up book from local antique dealer Mr Gruber (Jim Broadbent) to give to his Aunt Lucy (voice of Imelda Staunton) for her 100th birthday. However, local famous actor Phoenix Buchanan (Hugh Grant) learns of the book's existence, and steals it, inadvertently framing Paddington for the crime, for which the young bear is sent to prison. While in prison, Paddington befriends lowlife types such as Nuckles McGinty (Brendan Gleeson), and hatches a plan to escape, while Mr Brown (Hugh Bonneville), Mrs Brown (Sally Hawkins), and their children Judy (Madeline Harris) and Jonathan (Samuel Joslin) track down the clues to the real thief and expose him.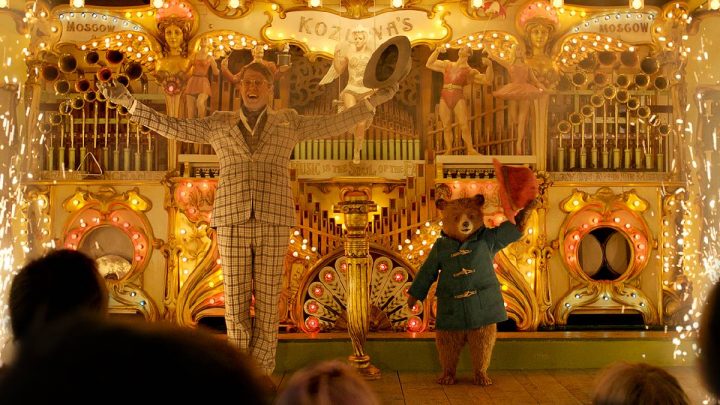 Few children's films transcend the boundary of satisfying entertainment for both the younger and older brigade, and Paddington's sentimental, heart-warming story does just that. Wholly fanciful and touched with a certain joie de vivre, Paddington 2 continues the original film's sense of fun and entertainment that'll have you cheering, laughing and clapping in the cinema. Blessed with a solid villain performance from Hugh Grant (playing a little less hammy than Nicole Kidman in the previous film) and an against-type arc from Brendan Gleeson, this jovial, tear-jerking film (yes, I nearly teared up towards the end) will delight people of all ages and if that's a bad thing in this world then I don't want to live in it.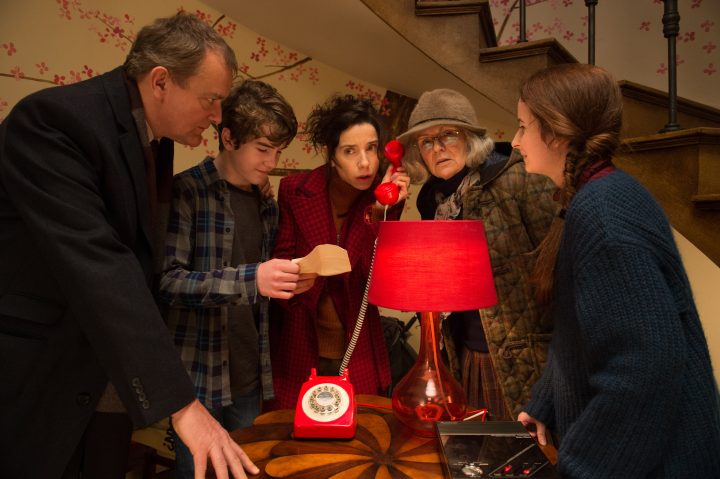 The film knows what it's all about; it doesn't try and be snarky or post-modern pretentious, instead wallowing comfortably in its own unique flavouring and director Paul King recaptures the zest for love and laughs he grabbed in the first film. His script (co-written with Simon Farnaby) sets up the simple premise for Paddinton to bustle through in his own inimitable way, and as is the films wont King provides a Technicolor blast of radiant widescreen photography and Dario Marianelli's music-box score that effortlessly draws us into this world. It's a London we all want to believe in – everyone's friendly and even the lengthy prison sequences (Paddington spends a large portion of the film incarcerated with Gleeson, as well as Noah Taylor and a smattering of other "oh, it's that guy" faces, which is nowhere near as bad as it might sound) contain a playful tone overriding the potential for darker themes. The script does touch on loss, notably Paddington's perceived loss of family through his imprisonment, although through this comes a rejuvenated bond between bear and Browns. There is also an end-title card honouring Paddington creator Michael Bond, who passed away in June of 2017.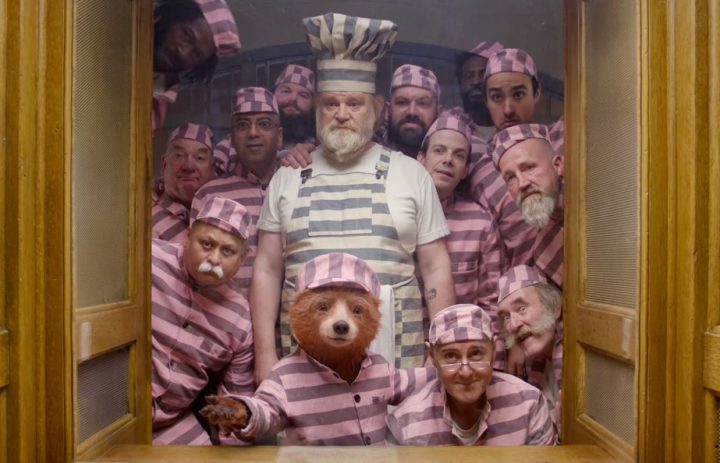 The humour of the film could be described as "genteel". It's neither offensive nor dull-witted, and blessedly has some gorgeously filmed slapstick (a sequence in which Paddington escapes the prison sees him homage Charlie Chaplin's Modern Times by being wrangled through clocktower gears, which I laughed deeply at), all of which will make children squeal with laughter and adults find themselves chuckling at as well. It's harmless kids entertainment dressed up with quality digital effects (you tend to forget Paddington is totally crafted in a computer, and the conceit is remarkably well executed to the point it's seamless) and a gung-ho involvement from the stable of British acting talent – a roster of which almost equals those Harry Potter films for their ubiquity. The cast all get the joke, and without exception appear to be having an absolute blast with the material. This goes a long way to ensuring the audience watching have a blast with it too.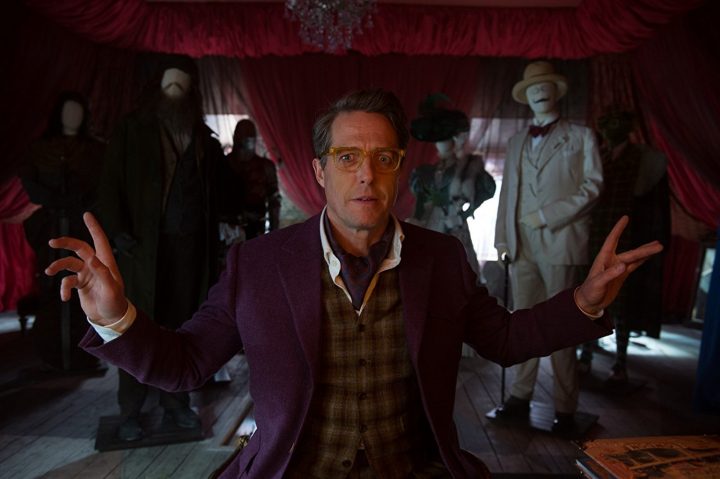 Paddington 2 is unironically British with a capital B. Disarming and enthusiastic to a fault, it's rare a sequel manages to capture the same magic of the original film and yet Paul King and his band of behind-the-camera magicians have crafted a story that, while not quite an Oscar contending drama, will delight and enthral audiences all over the world and make it seem like your cares and worries are washing away. A true cinematic gem.
Related articles
Who wrote this?