Movie Review – Big Sick, The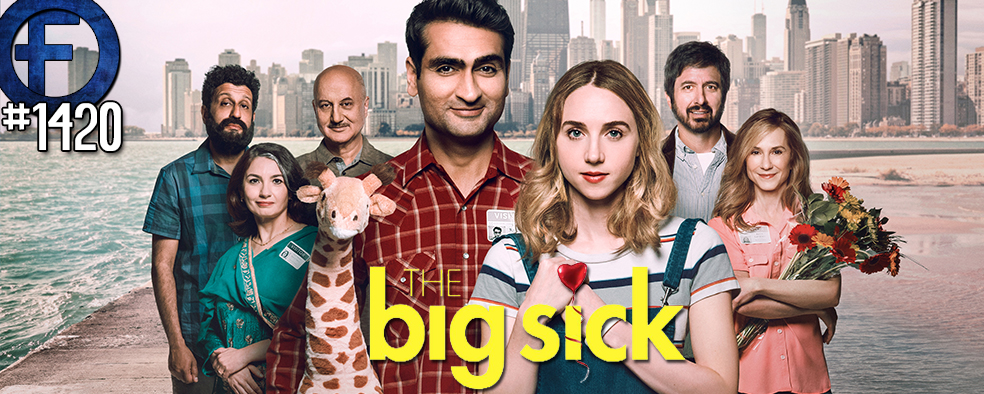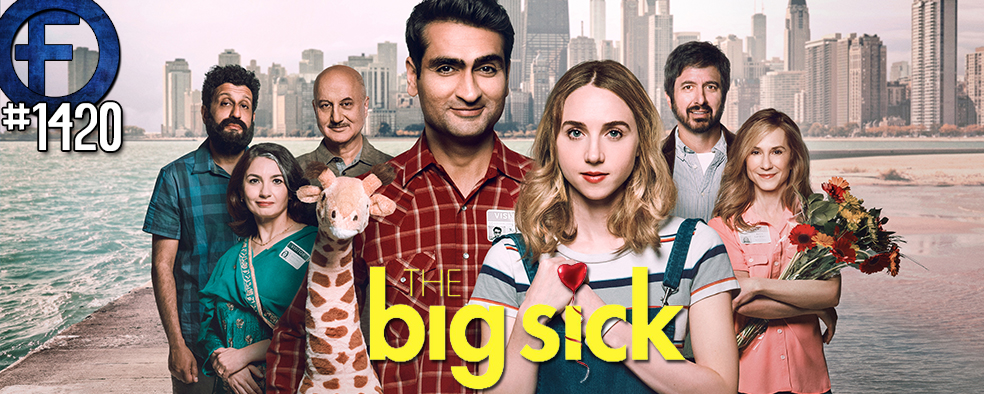 Director :   Michael Showalter
Year Of Release :  2017
Principal Cast :  Kumail Nanjiani, Zoe Kazan, Holly Hunter, Ray Romano, Adeel Akhtar, Anupam Kher, Zenobia Shroff, Bo Burnham, Aidy Bryant, Rebecca Naomi Jones, Kurt Braunohler, David Alan Grier, Linda Emond.
Approx Running Time :  124 Minutes
Synopsis:   Pakistan-born comedian Kumail Nanjiani and grad student Emily Gardner fall in love but struggle as their cultures clash. When Emily contracts a mysterious illness, Kumail finds himself forced to face her feisty parents, his family's expectations, and his true feelings.
******
There's an old adage about the truth often being stranger than fiction, and never has it applied to a film more than it does with The Big Sick, an autobiographical comedy starring stand-up internet star Kumail Nanjiani, who spends the film playing himself, in one of the most off-the-wall films of 2017. Nanjiani, who wrote the film with his wife Emily Gordon, juggles the comedic aspects involving his future wife's sudden illness, how comedy career, and the struggles of being a Muslim man living in a post 9/11 America and the prejudice he faces not only from those around him, but also from within his own family.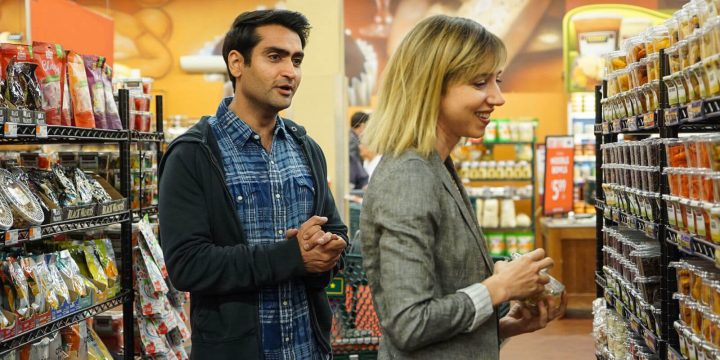 Kumail is a young Chicago-based stand-up comic, plying his trade at a city club hoping to catch a big break from a resident Montreal Comedy Festival scout; his strict Muslim parents continually try to set up an arranged marriage for him, all the white despondent over his career prospects. One evening, Kumail is heckled from the crowd by Emily Gardner (Zoe Kazan), a white atheist with whom he strikes up a budding romance. As their relationship progresses, however, the strain of Kumail's family commitments and Emily's more carefree ways soon put the brakes on things, until Emily is hospitalised after passing out suddenly; Kumail is forced to allow her to be placed into an induced coma while doctors treat her, and Emily's parents, Beth (Holly Hunter) and Terry (Ray Romano) are initially wary of the young man as he tries to "prove his love" for their daughter by persistently staying by her bedside. Eventually, Kumail must confront his parents with the truth of his non-Islamic relationship (gasp!) and try and bridge the resistance between himself and Emily's parents, in order to win back the girl he has fallen for.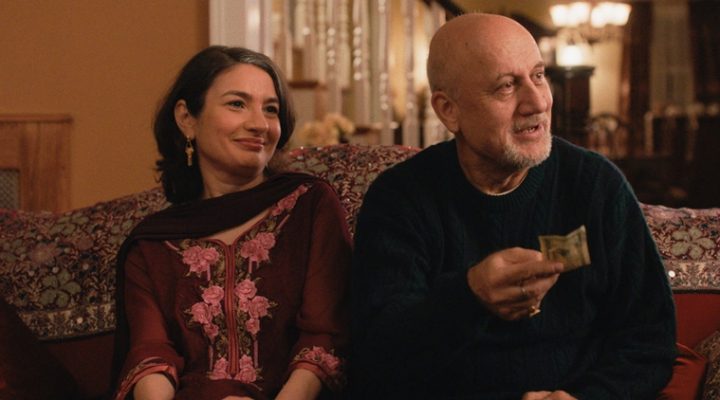 At first, The Big Sick plays like your standard, everyday romantic comedy: girl insults boy, boy finds this attractive, boy hits on girl, they sleep together, cue musical swell. However, it's about midway through The Big Sick's cheery opening act that things suddenly take a turn for the worse, when Emily, Kumail's core love interest, is rendered comatose by some mysterious ailment. And it's here that the nexus of the film traverses some tricky material, often skirting black humour with suddenly serious ruminations on everything from fidelity, family, honour and love, subjects touched upon occasionally by some films in this subgenre but few with as acute a focus as this. A large portion of the film's honesty is its manner of awkward truthfulness, the way Kumail handles his family's pressure to marry anyone who takes his eye, as well as the fractured relationship between Beth and Terry (a wonderful Holly Hunter and Ray Romano), and at no stage does the film even attempt to take the easy way out.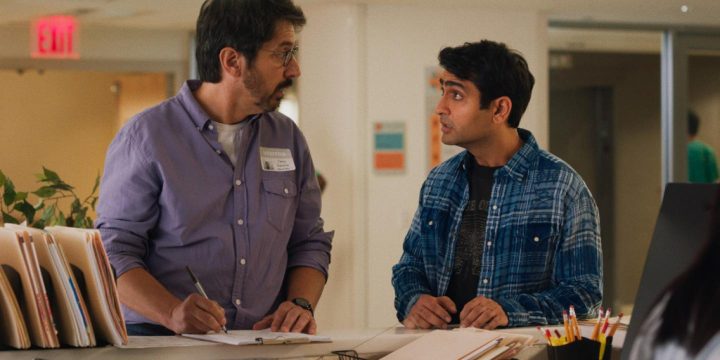 The script spends the majority of its opening act setting up the relationship between Kumail and Emily, which is sweet and modern and occasionally bizarre, as well as the dynamic between his parents (Anupam Kher, bizarrely reprising a similar role to that from Bend It Like Beckham, and acclaimed actress Zenobia Schroff), and the film bubbles along nicely. Supporting roles to Anidy Bryant and Kurt Braunhohler as fellow comics in Kumail's club, as well as David Alan Grier as the club's owner, are pleasant enough, but it's when Emily effectively vanishes from the film for the last half that things take a more serious turn. That's not to say that The Big Sick is dark and depressing, because it isn't that at all, but the comedy is derived largely from less fluffy places as Beth and terry's treatment of, and disdain for Kumail draws many of the wry laughs. The Big Sick ain't an uproarious chuckle-fest, and if I'm honest I did find some of the film a touch slow, so preparation for a different film than what the box might suggest is in order, but those with an open mind will find much to enjoy here. Knowing it's a true story is probably half the battle.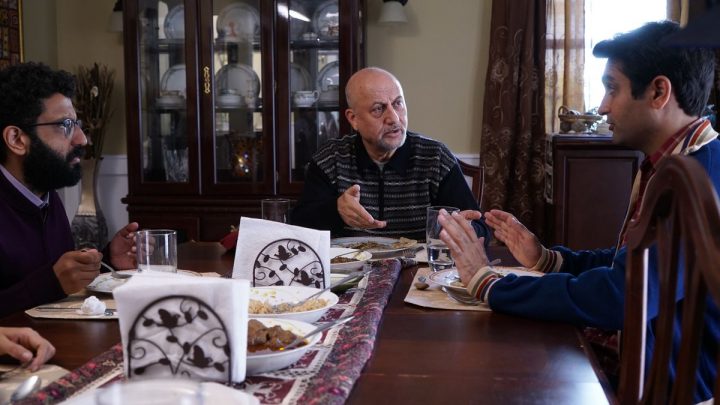 As with many modern American comedies, a lot of the humour comes from insult comedy, or non sequitor-driven material, and the interplay between Kumail and actress Zoe Kazan (known for her work in indie films including Ruby Sparks) is really quite genuine, making the film a bit of a weird thing to get into at first. But the more we come to understand Kumail's family and the pressure of his life – his family would disown him were they to discover he was dating a non-Pakistani girl, and not a stand-up practitioner of the Islamic faith – the more we find his voyage through this darker chapter more intriguing, if not always enlightening. Nanjiani isn't the world's greatest actor, and the film does lack a bit of oomph in this aspect, but the supporting cast do much of the heavier lifting to enable the comic to almost cruise through the film without danger of ruining it.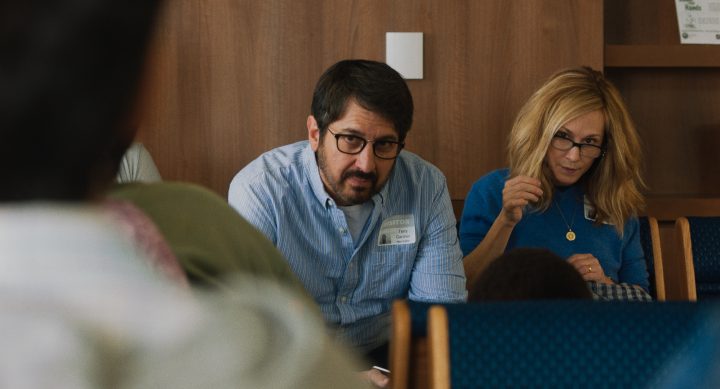 As I said, The Big Sick ain't a laugh riot, and many of the laughs that do eventuate aren't so much situational as they are emotional. A scene in which Kumail berates a fast-food order box is particularly uproarious, but largely the comedy is restrained and self-inflected, never feeling like it's the focus of the film. I'd describe The Big Sick as a genteel, well moulded, quiet rumination on subjects as diverse as race, love, and fidelity in a modern age, and recommend it for those seeking a more intelligent viewing on a rainy day. Definitely well worth a look.
Related articles
Who wrote this?