Movie Review – Foreign Correspondent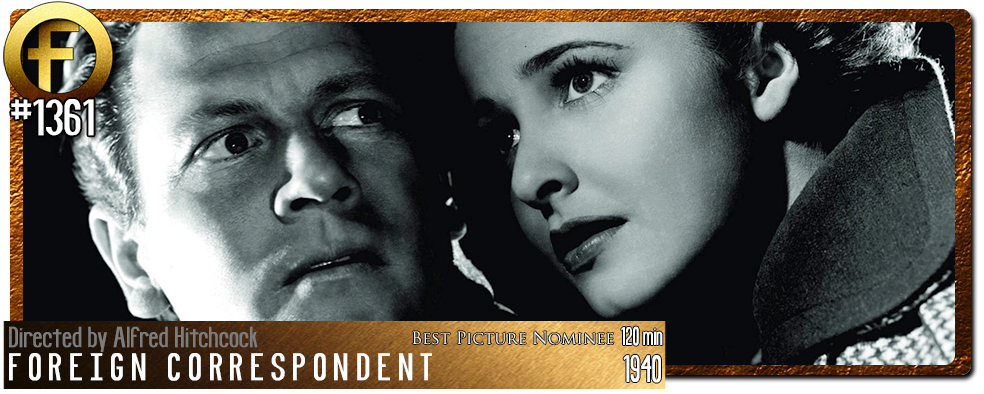 Principal Cast :  Joel McCrea, Laraine Day, Herbert Marshall, George Sanders, Albert Bassermann, Robert Benchley, Edmund Gwenn, Eduardo Ciannelli, Harry Davenport, Martin Kosleck, Frances Carson, Ian Wolfe, Edward Conrad, Charles Halton, Barbara Pepper. 
Synopsis:  On the eve of World War II, a young American reporter tries to expose enemy agents in London.
******
A hugely entertaining wartime caper, Foreign Correspondent is superbly Hitchcockian in the best of all possible ways. Set on the cusp of World War II, the film's continent-spanning narrative and terrifically flippant dialogue – it sparkles, it truly does – make for evocative and semi-ironic melancholy nostalgia, with Joel McCrea making for a solid leading man, and then teenager Laraine Day a stunning leading lady. The film snagged a Best Picture Oscar nomination, while co-star Albert Bassermann, a highly regarded German actor who spoke nary a word of English, grabbed a Best Supporting Actor nomination for his work here; subterfuge, espionage, old fashioned reporting, and the grey clouds of impending war combine in crisp cinematic thrills.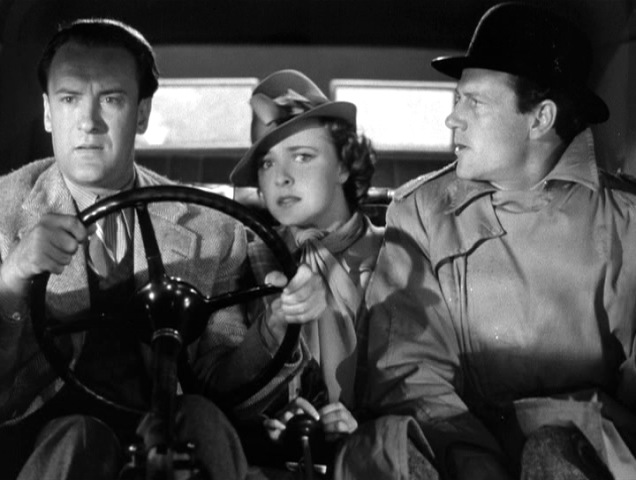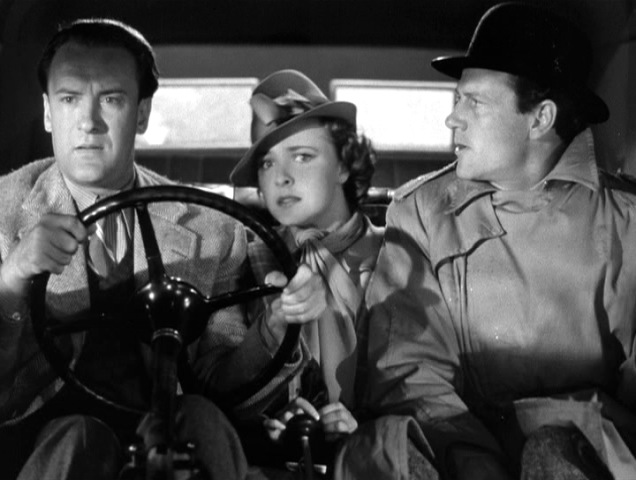 McCrea plays Johnny Jones, an American newspaperman sent to Europe as a foreign correspondent to dig up news of the impending war on the continent. Set up with the pseudonym Huntley Havestock, Jones arrives in England to try and get information from British politician Stephen Fisher (Herbet Marshall), who directs him to speak with Van Meer (Bassermann), a Dutch diplomat whose opintion is sought over the impending declaration of war. When Van Meer is supposedly assassinated, Jones, together with Fisher's beautiful daughter Carol (Laraine Day), and British reporter Scott ffolliott (George Sanders), begin to unravel the clues between Fisher and a gang of creepy kidnappers, whose plans for Van Meer seem to include information known only to him and one other.
From its New York cityscape opening to the fields of Holland, the misty streets of London, and eventually the torrential waves of the North Atlantic, Foreign Correspondent is magnificent. The film is big-budget, performed with aplomb, and features one of the most scintillating scripts I've heard in many a long year. The story itself isn't particularly unique, and if I was truthful the romantic elements of the plot get in the way of the more salacious elements of Hitch's love-letter to both his new home and his hold (the film features both Rule Britannia and the Star-Spangled Banner in its soundtrack), but the film is undeniably magical in the very best way Hollywood could produce.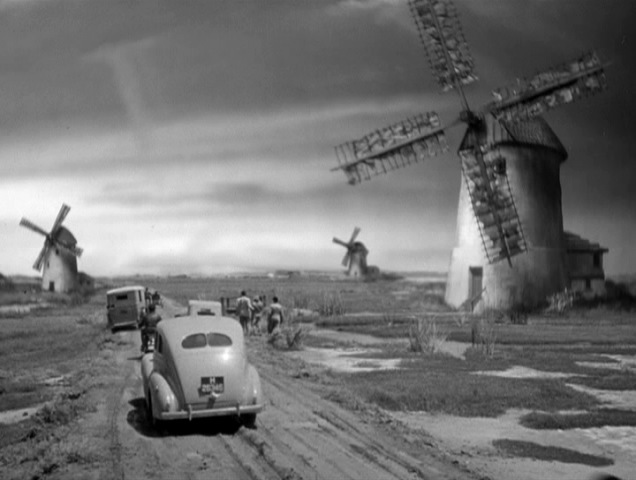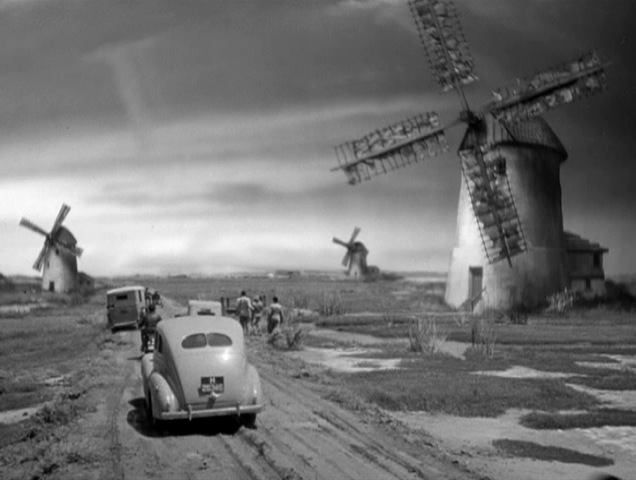 The script was purportedly overseen by no less than ten people, of whom only four are given screen credit; Charles Bennett and Joan Harrison serving as story architects, while Robert Benchley (who also co-stars, and delivers one of the film's funnier lines) and James Hilton crafted the sparkling dialogue. Whomever was responsible, the film's conversational approach is filled with dynamic patter and some tremendously witty asides, many of which are used by Hitch to segue between scenes by leaving the audience in stitches. There's little entendre, however, with the script content to use the devilishly fluid English accent (many a "chum" and "old boy" come to play here, and it's fabulous!) to terrific effect. Juxtaposing McCrea's Yankee journalist with the best of British (and several Dutch and German) is key to the film's transcontinental allure, and Hitch's fabulous location and set photography – particularly a hotel in the midst of Amsterdam – absolutely nails the lustre of the era.
With McCrea solid as Jones, and the stunning Laraine Day (who was only 19 when she filmed this) as his glowing romantic interest, Hitchcock's crisp, nuanced direction honed from years of silents and British-funded projects is in full flight here. He uses literally every trick in the book to accomplish his task of making Foreign Correspondent the masterpiece it is: rear projection, matte paintings, models, and a smattering of location photography; the film's most astonishing sequence comes at the finale (spoilers), with a plane being shot down over the ocean and it plunging into the waves, only to sink leaving stranded survivors clinging to a wing, and in this post-Titanic age it absolutely stands out as a momentous moment on the silver screen. A number of vintage Hitchcock techniques are used here, not the least includes some nice POV shots, several nice car-driving scenes that are appropriately kitschy, and plenty of sinister activities in the shadows.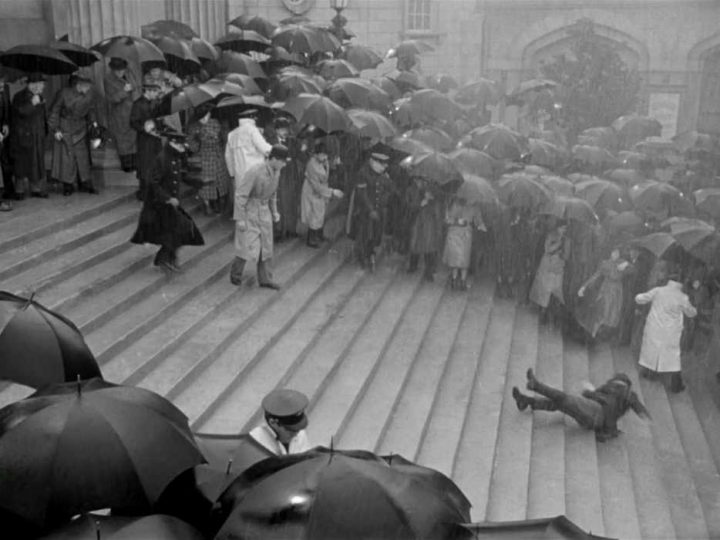 Despite its overt tragic backdrop, and the nostalgic manner in which Hitch approaches impending war, the film never glamorises or hamms it up in any way. In a unique way for a film of this vintage, much of the conflict between Britain and Germany is only ever alluded to obliquely, although there are distinct references to "war with Germany" and "Hitler" at moments in the story. One suspects that perhaps the film was intended less as a categorical statement on real events and more as an analogous tale, perhaps with different "enemies" to fight against than that which the world would soon plunge into. There's almost a tinge of hope threaded throughout the film, as if the stiff-upper-lip British stoicism would inevitably march towards victory unbowed – never mind the Blitz would begin barely a week or two after Foreign Correspondent's actual debut.
The supporting cast around McCrea and Day are superb – a standout for me is Herbert Marshall's patriotically torn Stephen Fisher – and nobody puts a foot wrong. George Sanders' foppish Brit journo Scott ffolliott (yes, that's two lower-case f's, in case you were wondering) is both hilariously taciturn and decidedly dashing in parts, with Albert Bassermann's unfortunate Danish diplomat, Van Meer, provoking both sorrow and empathy at his plight. Bit-parts to Edmund Gwen, as a henchman of Fisher's who tries to push Jones out the top of Westminster Cathedral, and Gunga Din actor Eduardo Ciannelli, as an apparent German spy on British soil, add both tension and sinister overtones to the story, while a small role to Harry Davenport goes all Perry White as Jones' editor back in New York City.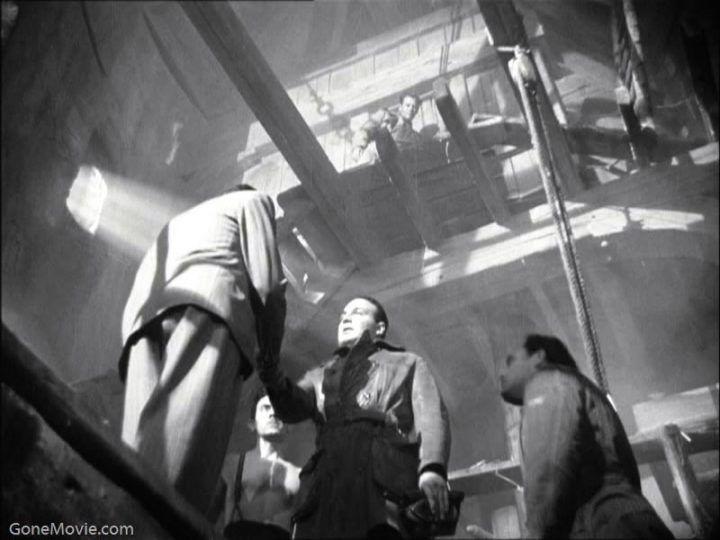 And as much as I can proclaim the strength of the supporting cast, the two leads do solid work as well. Joel McCrea's performance is typically effusive, almost effervescent in his approach to both character and delivery, and while this can tend to become annoying in many films, here it seems to work, especially paired with headstrong Laraine Day. Day, for her part, works her part in the story well as the conflicted daughter of the film's central antagonist, who finds herself in love with McCrea's reporter but trying to remain loyal to her father. There's some angst there, at least served up in a 1940's dish of furrowed brows and concerned musical accompaniment, but it isn't the strongest element of the film – and perhaps it should have been. In any case, both McCrea and Day acquit themselves superbly well and make Foreign Correspondent a far better film for them being in it.
This film is… to use a common modern phrase, the shit. It's brilliantly written, and directed with the full force of Hitch's skills as a showman and storyteller. Not a frame of this thing doesn't deliver an element of narrative, be it emotion, tension, character or simply evoking the period of the movie, and for both comedic, dramatic and emotional impact there's few films I've seen from the period to match what Hitch accomplishes here. For every up-beat laugh line, there's a showstopping moment or three of sheer skin-prickling tension: the scene above the Cathedral, where Edmund Gwen plans to pitch McCrea over the (frankly surprisingly un-maintained) edge of the bell tower, had similarities of a similar scene in Sabotage, in which a character unwittingly carried a bomb aboard a bus. Foreign Correspondent is Hitchcock at his masterful best; solid story, compelling characters and taut, razor-wire direction elevate this to not just a piece of great cinema, but work of artistic genius.
****
Check out our slideshow of some stills from Foreign Correspondent.
Related articles
Who wrote this?