Landmark Films Of The 20th Century – 1970-1979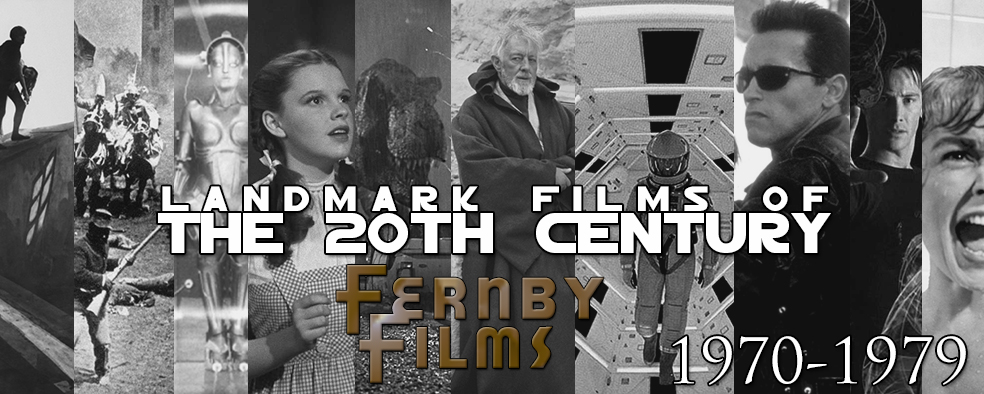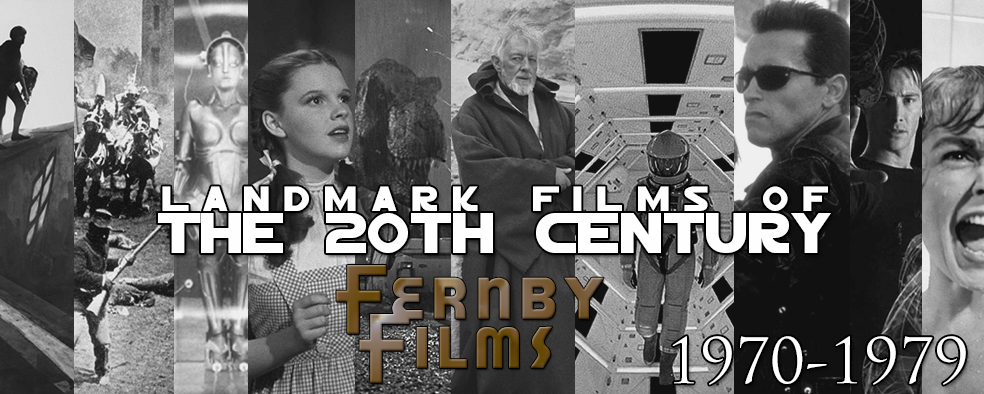 In this, the eighth of our ten-part series on landmark films of the 20th Century, we identify films that set new benchmarks and new ways for film-makers to tell their stories – from editing, to sound, to visual effects, the 100 films we've unearthed are considered either classics (or should be) that changed the landscape of film forever. The films listed herein represent annual landmark achievements in cinema – they may not be the "best" films of that year, but they represent a leap forward in cinematic technique or technology that is worth considerable attention.
The period of the 1970's was arguably one of the most fractious of all in the 20th Century. The Vietnam War continued until 1975, counter-cultures such as the gay community, the black power movement, punks and the rise of neo-Nazism pervaded both society and mainstream news, and feminism reached its peak thanks to mouthpieces such as Germaine Greer. An undercurrent of middle and lower classes gave rise to political upheavals across all continents – in America, Richard Nixon gave way to Gerald Ford and Jimmy Carter, while the United Kingdom's ructions permeated with the eventual election of that country's first female Prime Minister, Margaret Thatcher, in 1979. Drug culture thrived, the rise of cocaine and other hard drugs began entering the United States and a resurgence of the infamous gangsters and street gangs of Chicago, New York City and Los Angeles became notable criminal elements. A serial killer known as Zodiac captured the attention of folks in New York City in 1977, whilst the Munich Olympics in 1972 were marred by a terrorist attack. By the late 70's, the "personal computer" had become a buzzword with the founding of Apple Computers, and the first portable music player, the Walkman, arrived courtesy of Sony in 1979. Technology was exploding into the public arena at an alarming rate, and more and more social taboos were breaking down thanks to the rise of television and cinema as central entertainment and news dissemination across the globe.
Part VIII – 1970-1979
1970. Absolute Disaster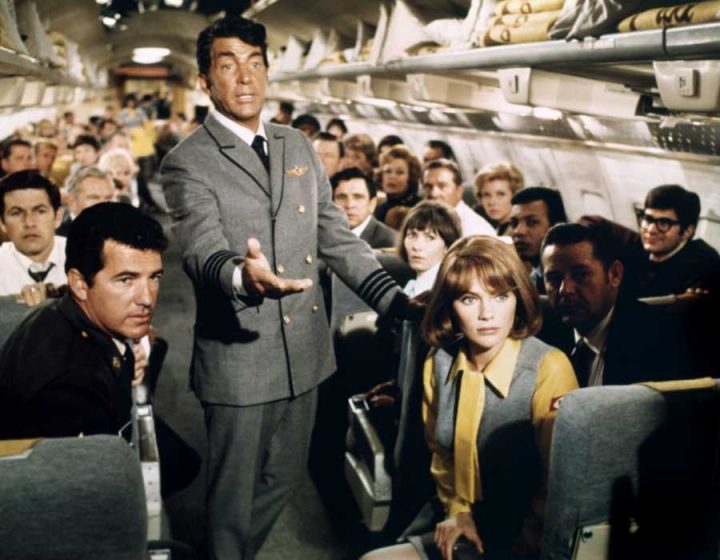 If a decade could be boiled down into one single film genre, it would be the disaster epic. Throughout the 70's, disaster films of bigger and badder proportions would become a staple of audiences looking for the Next Big Thrill. The one that started it all, Airport, starred the expected roll-call of A-list talent, including Burt Lancaster, Dean Martin, Jaqueline Bisset, George Kennedy and Academy Award-winning actor Van Heflin (in his final film role). Utilising its large ensemble to tell multiple sidebar stories about a snowed-in Chicago airport, also threatened by a terrorist, the film would become the second-highest earner of 1970 and spawn a multitude of imitators and sequels, among them The Poseidon Adventure, The Towering Inferno, and Earthquake. Using state-of-the-art visual effects to achieve crowd-pleasing levels of destruction, as well as simplistic stories and characters to keep things easy for audiences to associate with, the template for the modern disaster movie was born during the 1970's, with Airport (which generated three other sequels during the decade – Airport 1975, Airport '77 and The Concorde…Airport '79) being the genre's resurgent… er, Big Bang (pun intended).
Also in 1970: War and romance dominated the awards season of 1970. Patton, starring George C Scott and directed by Franklin Schaffner, would snag Best Picture, Actor and Director at the Oscars, with Scott declining to appear and collect his Best Actor award. Arthur Hiller's Love Story scooped the Best Drama at the Golden Globes, while MASH would snag Best Comedy or Musical that year. The first public appearance of IMAX technology came at Japanese EXPO '70, with a specially shot short film, Tiger Child, exposing people to the new 70mm giant film technology. The first feature made following the death of Walt Disney, entitled The Aristocats, was released by the Disney Studio, and became the 7th highest earner of the year in the US. Mike Nichols' Catch-22, Blake Edwards' Darling Lilli, Ken Russell's Tchaikovsky bio-pic, The Music Lovers, and musical documentary Woodstock all released in 1970. Among those passing away were Ed Begley (Hang 'Em High), musician Jimi Hendrix, and Destry actress Mari Blanchard.
1971.  Make My Day.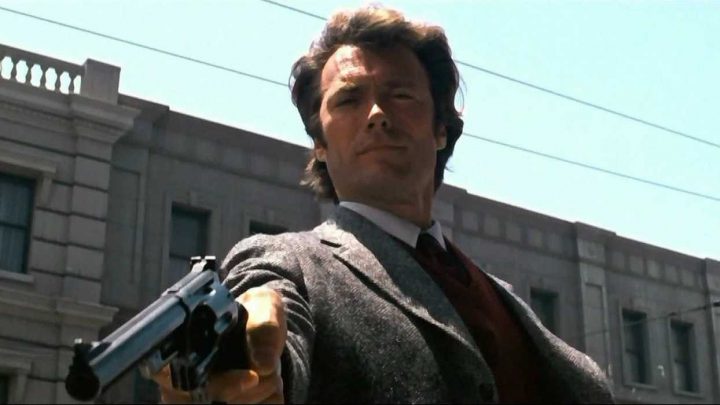 Violence erupted in cinemas across the globe in 1971, as realistic crime dramas became the popular form of cinematic entertainment. None moreso than the Clint Eastwood vehicle Dirty Harry, a violent and masochistic cop film that would de-glamorise crime and give Clint Eastwood another iconic character to inhabit. Dirty Harry's violent aesthetic, in which Detective Harry Callahan was prone to shooting first and asking questions later, dirtied-up (for want of a better phrase) the cop film genre and made brutality and visceral death a new form of cinema. Alongside Get Carter, and William Friedkin's Oscar-winning The French Connection, Don Siegel's Dirty Harry was successful enough it spawned four sequels – Magnum Force, The Enforcer, Sudden Impact and The Dead Pool – and paved the way for more revenge-themed police films such as Death Wish and Walking Tall. Harry Callahan's tough, no-nonsense style and immediately quotable lines – "Go ahead, make my day" have since entered pop-culture mythology and have been endlessly quoted since – have become synonymous with tough-guy masculinity and justified violence for the sake of justice, and although perhaps less PC now than in 1971, remain as enduring touchstone in American cinema.
Also in 1971:  The French Connection swung into the Oscars and took off with Best Picture, Best Director and Best Actor (Gene Hackman), while Jewish musical film Fiddler On The Roof topped the box-office charts of 1971, also winning Best Comedy or Musical at the Golden Globes. Kubrick released his controversial A Clockwork Orange, a look at juvenile violence and a film which would provoke copycat attacks in the UK leading to the director pulling the film from circulation in that country. Clockwork Orange was also noted as the first film to make user of Dolby Laboratories patented Dolby Stereo technology (giving theatres a Right-Center-Left channel mix). Jane Fonda would win Best Actress at the Oscars for Klute, while The Last Picture Show's success saw Ben Johnson and Cloris Leachman snag Best Supporting Actor and Actress respectively at the same ceremony. Robert Wise's The Andromeda Strain (based on Michael Crighton's novel) gave us a glimpse at the first use of computerised visual effects in a film, while Shaft, starring Richard Roundtree as the eponymous black hero, would become a mainstream hit and pave the way for the "blaxploitation" sub-genre, in which mainly black casts took on cheaply made genre projects such as western and crime thrillers. Sean Connery saddled up as James Bond again for Diamonds Are Forever, Clint Eastwood's Play Misty For Me landed, and George Lucas' directorial debut, THX1138, arrived in cinemas. Passing away in 1971 were actors Roy Glenn (Guess Who's Coming To Dinner), Chester Conklin (Chaplin's Modern Times and The Great Dictator) and Van Heflin (Shane, 3:10 To Yuma), while we noted the screen debuts of F Murray Abraham, Kathy Bates and Daniel Day Lewis.
1972. Deep Throat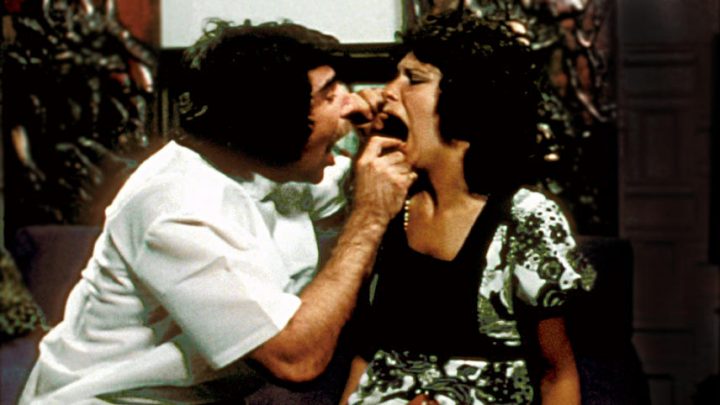 If violence on-screen exploded in 1971, then sex on screen reached it's zenith in 1972, with the controversial release of Deep Throat, the world's first mainstream pornographic film to find a wide audience. Explicit sex had never been seen outside the dingy X-rated theatres of the seedy side of town, so to find low-budget pornography being given a "blockbuster" style release to considerable acclaim was not only controversial (even today it'd be unheard of to have porn playing at your local cineplex) but revolutionary. Boundary pushing, Deep Throat saw Linda Lovelace's clitorally challenged leading lady become the pin-up girl of mainstream porn and gave rise to the burgeoning porn industry – an industry which exploded following the success of Deep Throat. Incidentally, another explicit porn film was released in 1972: Behind The Green Door helped legitimise porn as an art-form of a sort, with both it and Deep Throat being shown in mainstream theatres across America. With the controversy came the film's censorship (naturally), the added promotion of the film being banned in many places leading to it becoming one of the most successful independent films of all time – not, I'd posit, the thing the censors would have wanted. As a sidebar, Marlon Brando's sexually explicit film, Last Tango In Paris, directed by Bernardo Bertolucci and depicting a sequence involving anal sex, was also released to considerable controversy in 1972.
Also in 1972:  Culturally iconic film The Godfather, directed by Francis Ford Coppola, debuted in cinemas and would snag Best Picture, Best Actor and Best Adapted Screenplay at the Academy Awards. Cabaret would be the other big winner at the Oscars, taking home Best Director, Best Actress (Liza Minnelli), and Best Supporting Actor (Joel Grey), while The Poseidon Adventure became the year's second-highest earner at the box-office for 20th Century Fox. Other notable releases this year include the dramatic powerhouse Deliverance, Steve McQueen in The Getaway, John Waters' cult hit Pink Flamingos, the first ever X-rated animated film in Fritz The Cat (directed by Ralph Bakshi), and Conquest Of The Planet Of The Apes, in the long running franchise. Home entertainment was beginning to come into focus, with the AVCO Cartridgevision system allowing people to record and rewatch television programming, and also purchase commercially available films in limited supply. AVCO would only last for a few years (until Sony's BETAmax technology arrived, anyway), before sliding into obsolescence. HBO began providing service to select regions of the US, and Charlie Chaplin returned to America following a 20-year exile to accept an honorary Oscar for his legacy to cinema. Passing away in 1972 were Brandon de Wilde, the young kid from iconic Western film Shane (car accident, aged 30), directors Walter Lang (The King And I), William Dieterle (Best Picture winner The Life Of Emile Zola), and actors Bruce Cabot (King Kong), George Sanders (All About Eve), Miriam Hopkins (Dr Jekyll & Mr Hyde), and Janet Munro (Swiss Family Robinson).
1973.  Your Mother Sucks Cocks in Hell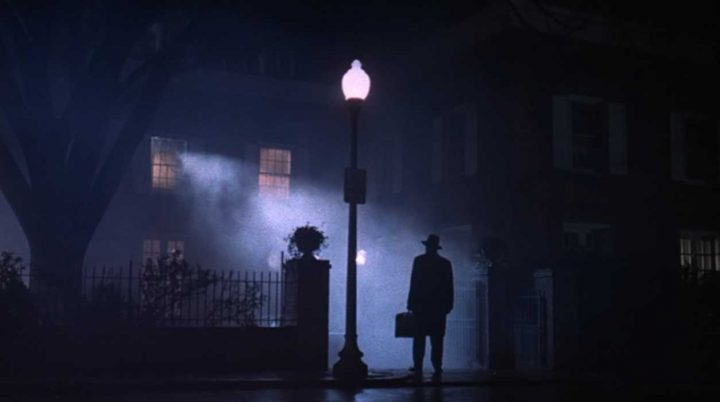 If 1971 was noted for its violence, and 1972 noted for an explosion of sexual freedom, 1973 was the year we all shat ourselves watching a little girl's head spin around and spew green soup across a pair of Catholic priests. William Freidkin, noted for The French Connection and Sorcerer, delivered the mother of all supernatural horror films in The Exorcist, based on William Blatty's book of the same name, and brought with it considerable controversy from both Church leaders and society watchdogs, all of whom deplored the depiction of a little girl afflicted with demonic possession as its central story. One of the only horror films to be nominated for Best Picture at the Oscars, and becoming the most successful film of all time financially (to that point), The Exorcist was initially rated X before finding a relatively audience-friendlier NC17 rating, and was also noted as one of the first films to legitimise the phrase "blockbuster". The film's popularity found new life in the late 90's, with the re-release of a Director's Cut, reinstating several creepy moments of horror (including a spine-tingling spider-walk sequence) and continuing its dominance as the granddaddy of all horror films.
Also in 1973:  Tatum O'Neal would create history as the youngest actor ever to win an Academy Award (disregarding the now defunct juvenile awards handed to Mickey Rooney, Shirley Temple and Hayley Mills et al) – Best Supporting Actress in Paper Moon. George Hill would win Best Director for The Sting, with the Paul Newman/Robert Redford caper film snagging Best Picture alongside being the year's highest earner. Westworld, a futuristic sci-fi film would mark the first use of 2D digital image processing – the forerunner of modern computer visual effects – while Roger Moore took up the mantle of James Bond, appearing in the first of seven films as the superspy in Live And Let Die. Notable films released in 1973 also include Charlotte's Web, John Frankenheimer's The Iceman Cometh, Disney's animated Robin Hood, and John Wayne's The Train Robbers. 1973 also marked the passing of several Hollywood icons, including legendary director John Ford (Stagecoach, The Searchers, How Green Was My Valley), noted Gangster-film actor Edward G Robinson (Little Caesar), Betty Grable (Mother Wore Tights), and martial art superstar Bruce Lee (Enter The Dragon).
1974: Sensurround Explosion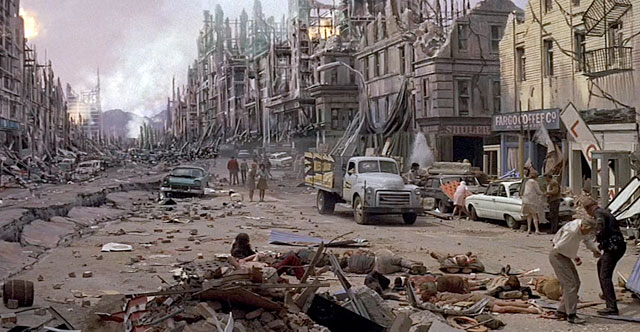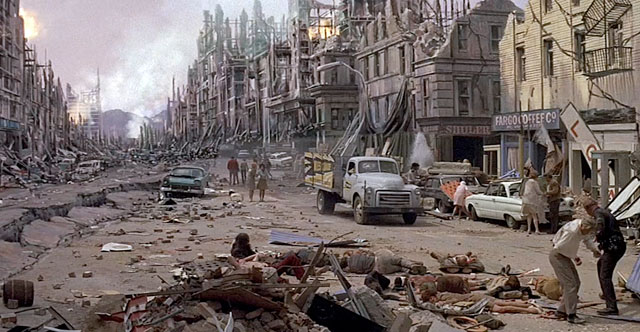 With the ongoing disaster film genre trying to one-up itself each year, 1974's Earthquake featured perhaps the most enticing technological breakthrough of the day. A sound technology called "Sensurround", producing high decibel low frequency audio through an auditorium, replicated the earth-shaking experience of a collapsing Los Angeles in all its devastating glory. Sensurround would be used in a grand total of four films (war film Midway (1976), Rollercoaster (1977), Battlestar Galactica (1978) and 1981's Zoot Suit), before the technology was sent to the scrap heap. Sensurround was expensive to install – the technology used massive speakers around an auditorium to produce the massive wall of sound synchronised to the on-screen action, and supposedly was so destructive to older cinema's infrastructure, it couldn't be used. Also problematic was the sound bleed into other auditoriums in multiplexes, meaning volume on the Sensurround films had to be reduced for patron comfort. Earthquake, the first film to use the technology, also garnered an Academy Award in Sound.
Also in 1974:  The sequel to the Best Picture winning film The Godfather landed, becoming the first sequel to win Best Picture, with Robert DeNiro picking up an acting gong, and Francis Ford Coppola snagging Best Director. Mel Brooks' classic Western comedy, Blazing Saddles, became the biggest earner of the year, while Brooks' second released film this year, Young Frankenstein, came in 4th. 3 major disaster films released in what would become the high-point of the genre's popularity – Airport '75, Earthquake and The Towering Inferno – and all would be major box-office successes. Roman Polanski's classic Chinatown released, starring Jack Nicholson and Faye Dunaway, while the first Death Wish film, starring Charles Brosnon as a bereaved vigilante, landed to much controversy. John Carpenter's film debut, Dark Star, arrived, as did low-budget slasher classic The Texas Chainsaw Massacre, directed by Tobe Hooper. Closed Mondays, the world's first claymation film, would snag the Best Animated Short Film Oscar. Disney would release Herbie Rides Again, Albert Finney would attempt to solve The Murder On The Orient Express (directed by Sidney Lumet), while Japanese cinema gave in to the lure of Godzilla Vs Mechagodzilla. Passing away in 1974 were comedian Jack Benny, MGM Co-founder Samuel Goldwyn, country music star Tex Ritter, actor Edward Platt (Rebel Without A Cause), composer Duke Ellington, and Rio Bravo actor Walter Brennan.
1975:  Da dum. Da dum. Da dum da dum da dum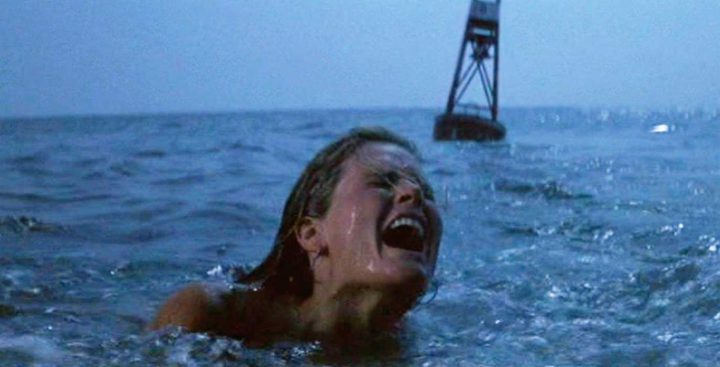 The arrival of the modern blockbuster came in 1975, with the release of Steven Spielberg's Jaws, based on Peter Benchley's novel of the same name. Set on the fictional Amity Island, somewhere around Martha's Vineyard, Jaws set the template for what would become tentpole flagship franchise film production, the perfect summer movie which audiences flocked to see. Although the production was noted for its problematic genesis, including a robotic shark that simply refused to work more often than not, Spielberg's career took off (he'd previously directed made-for-television thriller Duel) after Jaws' success. The film has become a landmark of both 1970's cinematic vitality but also spawned countless imitators (not to mention several increasingly ordinary sequels of its own) and clones; the film also made superstars of Richard Dreyfuss and Rob Scheider, and brought Robert Shaw back into the spotlight as a surly ship captain hoping to bag the film's titular shark for his mantelpiece. The film's huge marketing campaign and then-record-breaking screen release figure (Jaws opened on around 460 screens across the country for its opening weekend) and subsequent success prompted studios to find more crowd-pleasing big-budget event films to drag ticket sales in an upwards direction.
Also in 1975:  One Flew Over The Cuckoo's Nest became only the second film to win the Big Five Academy Awards – Picture, Director, Actor, Actress and Screenplay – following It Happened One Night in 1934. It remains one of only three to have achieved the feat (Silence Of The Lambs being the third). George Burns became the oldest performer to win an Academy Award, for Best Supporting Actor, in The Sunshine Boys. Stanley Kubrick would win a Best Director BAFTA for Barry Lyndon. Musical film The Rocky Horror Picture Show slid in behind Jaws as the 2nd highest earner of the year, while Al Pacino vehicle Dog Day Afternoon also did big business. Pioneering director George Lucas, together with producer Gary Kurtz and effects guru John Dykstra formed Industrial Light And Magic, paving the way for the game-changing effects in Star Wars a few years later; ILM would become the preeminent effects house in Hollywood for several decades. HBO became the first successful satellite distributed Pay-TV company in the US when it broadcast the famous Ali-Foreman fight – the "thriller in Manilla", Ken Russell's Lisztomania became the first to feature Dolby Stereo's new optical soundtrack (as opposed to the previous analogue version available). Passing away in 1975 were Giant director George Stevens, actor Larry Fine (It's A Mad, Mad, Mad, Mad World), screenwriter Rod Serling (Planet of The Apes) and film composer Bernard Hermann (Psycho).
1976.  Punching Above His Weight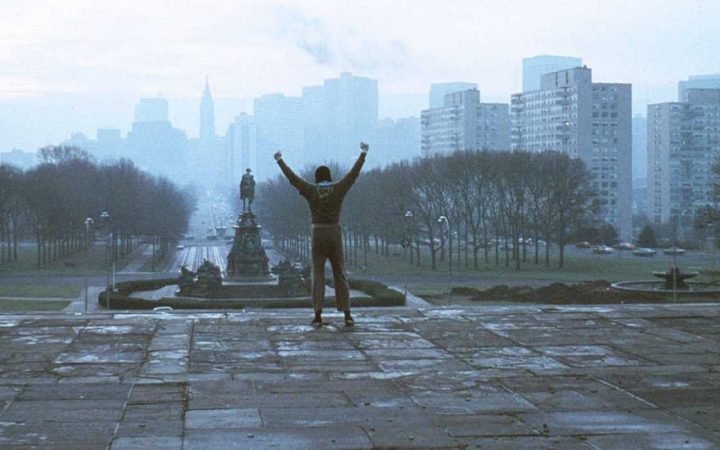 The underdog film that delivered: Rocky, written by and starring Sylvester Stallone, swept all before it at the Academy Awards and stood out amongst "prestige" pictures such as All The President's Men and Network, films widely considered to be front-runners come awards season. Rocky, directed by John Avildsen, was an independent film about a working class boxer who gets his shot at a title fight, mirroring the American Dream and personifying the underdog story it told by actually being an underdog film itself. The film would win Oscars for Best Picture, Director, and Best Editing, while stars Stallone and Talia Shire were nominated for Acting categories. Rocky would spawn several sequels, as well as a soft reboot (Rocky Balboa) and a full-blooded sidequel, Creed, and become one of the most iconic sporting films ever made.
Also in 1976:  Technology company JVC began marketing and manufacturing the VHS tape format, to compete with Sony's BETAMax system, a home video format that would transform the entertainment industry. Initially sceptical than "home entertainment" would see the end of cinemas as a viable platform, the nascent technology would prove to be a financial boon to studios who saw profit from selling their catalogue films to the public, and it would change the game forever. Although VHS would give way to DVD (and eventually BluRay, HD Streaming and 4K), it was the tape-based format war of the 70's (similar to the BluRay/HD-DVD war of the new millennium) that provided fans of studio classics easier access to their favourite titles. Peter Finch became the first actor to posthumously win an Academy Award – for his performance in Network – with the Australian actor passing away suddenly mere weeks before the ceremony. Supernatural horror film The Omen arrived and creeped audiences out, A Star Is Born sang and danced its way into being one of the year's big box-office successes, All The President's Men recreated the Watergate scandal, while the Dino De Laurentiis-produced King Kong remake, in which the titular ape arrives in 1970's New York City and clambers atop the World Trade Center instead of the Empire State Building, was a financial success. Martin Scorsese's Taxi Driver, starring Robert De Niro as psychologically disturbed Travis Bickle, wins the Palm d'Or at Cannes. Other notable films released in 1976 include The Outlaw Josey Wales (starring Clint Eastwood), Logan's Run, Australian comedy classic Don's Party, Brian DePalma's immediately iconic film version of Stephen King's debut novel, Carrie, starring Sissy Spacek, John Wayne's final film The Shootist, and Freaky Friday, starring a young Jodie Foster. Passing away in 1976 were legendary director Busby Berkeley (42nd Street), director Howard Hughes (Hell's Angels), Metropolis director Fritz Lang, blacklisted screenwriter and actor Dalton Trumbo (Roman Holiday, Spartacus), and actor Saul Mineo (Rebel Without A Cause).
1977.  The Skywalkers Arrive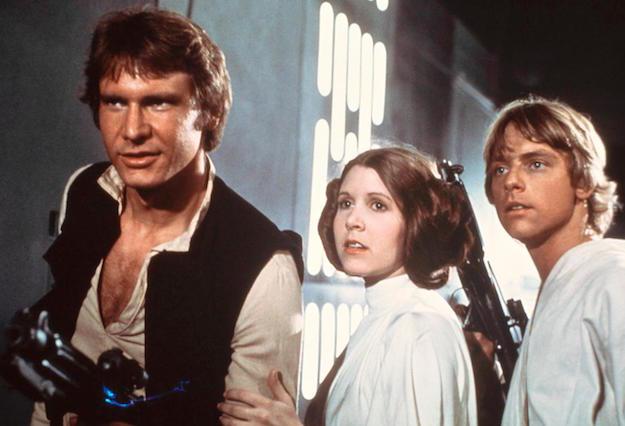 If Jaws heralded the arrival of the cinema blockbuster, then Star Wars delivered the coup-de-grace. George Lucas' sci-fi space opera, modelled after the pulp serials of the 30's and 40's, became a pop-culture phenomenon, signalled the arrival of effects-driven spectacle cinema, and catapulted America's summer cinema season to the forefront of studio marketing and commercialisation. Made for a now-paltry $11m, the film jagged over $200m in its initial run, a phenomenal amount second only to Gone With The Wind. After inflation, re-releases, sequels and spin-offs, the Star Wars franchise would become one of the most successful in film history, and make Lucas an instant multi-millionaire. Famously, George Lucas took a cut of his director fee for Star Wars to obtain the merchandising rights, a gamble which payed of handsomely since the Star Wars toy line would become even more popular than the films themselves. The success of Star Wars would give us all kinds of technological innovation – THX sound, Industrial Light And Magic, Pixar and countless subsidiary film identities – and was among the first to make full use of Dolby Laboratories' nascent Dolby Stereo sound capability.
Also in 1977:  Disco became the success of the year with the release of John Badham's Saturday Night Fever, which starred a young John Travolta and saw a surge in popularity of the musical genre. The success of the film also saw the rise in popularity of film soundtracks, with the Bee Gee's song list for the film giving the soundtrack tremendous chat success as well. Director Steven Spielberg dropped Close Encounters Of The Third Kind into cinemas, with the film's success cementing him as a mega-hit director to watch, while Woody Allen's Annie Hall, starring the director and Diane Keaton, snatched the Best Picture Oscar (as well as Director and Actress) that year. Richard Dreyfuss picked up Best Actor, while Jason Robards and Vanessa Redgrave won supporting Oscars for Julia. The Airport disaster films continued with Airport '77 crash-landing into cinemas, Peter Yates' thriller The Deep, with Robert Shaw and Jaqueline Bisset, debuted, John Boorman's The Exorcist II met mediocre reviews, while the first animated film version of a Tolkien book, Rankin/Bass' production of The Hobbit, aired on NBC in November. Director Roman Polanski was accused of having sex with an underage girl in a Los Angeles spa, before fleeing to Europe to escape prosecution, while the world mourned the passing of industry luminaries Charlie Chaplin (The Kid, The Great Dictator), Groucho Marx, director William Castle (House On Haunted Hill) and Joan Crawford (Grand Hotel, Whatever Happened To Baby Jane?). 1977 also saw the death of Elvis Presley, one of the entertainment world's biggest stars.
1978. Slash 'n Burn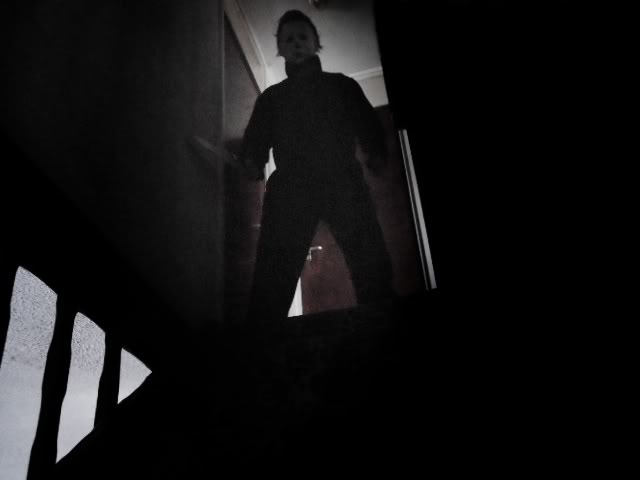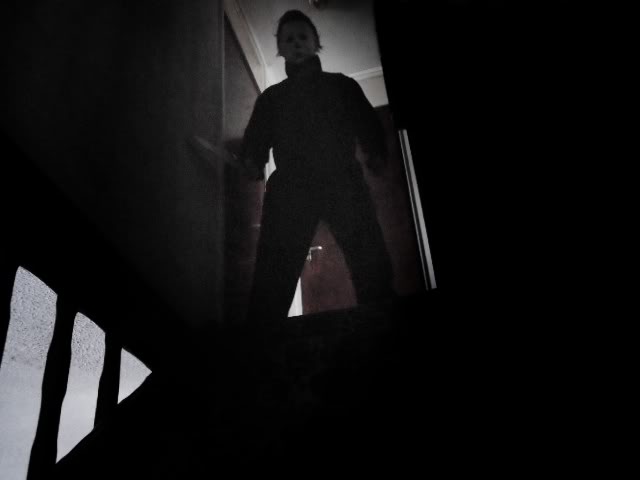 The 70's also saw the arrival of yet another influential cinematic genre – the slasher film – with John Carpenter's low-budget juggernaut Halloween. Not only did Halloween provide the template for all teen-horror films to come, with its terrifying masked/anonymous/unkillable killer, its innocent heroine, and the slash-hack editing techniques now familiar to audiences globally, the film also gave Hollywood a low-budget, high-return idea for filling in slow weeks of its calendar year. Like many of the iconic 70's films of its time, Halloween would give birth to countless sequels, remakes and reboots, not to mention many, many imitators, including Friday the 13th and the Nightmare On Elm Street saga. Halloween was the debut role for Jamie Lee Curtis, who became the 70's "scream queen" much like Fay Wray had back when King Kong stomped into cinemas, and Carpenter's revolutionary directorial style would become imitated for its acuity and calculated frisson.
Also in 1978: Musical sensation Grease, starring white-hot John Travolta and Aussie talent Olivia Newton-John, and based on the popular stage production, became the year's biggest earner and spawned a mini-genre of rock-music imitators (including Newton-John's own Xanadu a few years later). Richard Donner's Superman gave the world a big-budget big-screen version of DC's popular superhero, turning Christopher Reeve into a major star, while Jaws 2, Universal's sequel to Steven Spielberg's 1975 blockbuster, met uneven reviews in spite of its financial success. Jaws 2 would be directed by Jeannot Szwarc, who would go on to helm Superman side-quel film Supergirl. Robert DeNiro would star in The Deer Hunter, picking up Best Actor at the Oscars, while the film would also score Best Picture, Director and Supporting Actor (Christopher Walken). Midnight Express picked up Best Actor and Best Actress Golden Globes for Jon Voight and Jane Fonda, while Warren Beatty would snag Best Actor Golden Globe in a Comedy for Heaven Can Wait. In tech news, electronic giant Philips introduced the LaserDisc to the public, allowing digital quality film reproduction at home, often featuring theatre-quality sound. The LP-sized discs could only house up to 60 minutes of video per side, meaning longer films were often spread over multiple discs, and the technology would eventually be supplanted by DVD 20 years later in 1997. Animal House became the first $100m+ comedy film, while bizarrely, the recently deceased Charlie Chaplin's coffin is stolen from a grave and only found some two months later. Passing away in 1978 were schlock director Ed Wood (Plan 9 From Outer Space), comedic actor Jack Oakie (The Great Dictator), Al Pacino's Dog Day Afternoon co-star John Cazale, studio executive Jack L Warner, and Empire Strikes Back screenwriter Leigh Brackett. In pop culture, Jim Davis' Garfield comic strip also debuted in 1978.
1979. A Filmmakers Apocalypse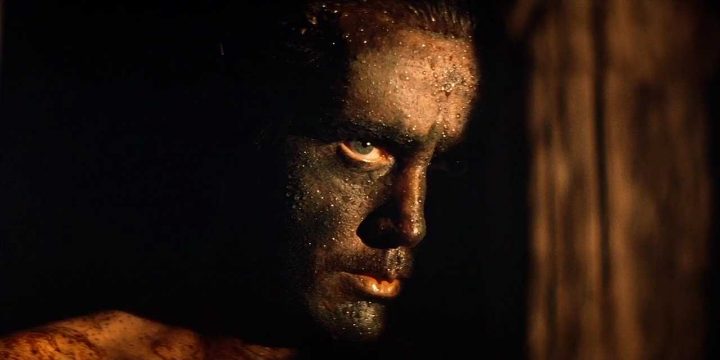 Given its proximity to the end of the Vietnam War, it's understandably probable much of Francis Ford Coppola's epochal war film, Apocalypse Now, became not only a cultural touchstone but a poignant reminder of the horrors of modern warfare, specifically the psychological toll it took on those involved in the conflict, due to its immediacy. More famous on release for its lengthy production and staggering difficulties with both cast and crew (headliner Marlon Brando, who appears as Colonel Kurtz in the film's bizarre final act, apparently refused to use Coppola's dialogue and ad-libbed the vast bulk of his performance), Apocalypse Now has since become a defining example of the modern war film and a staggering, masterful cinematic experience in its own right. The film used Joseph Conrad's acclaimed novel Heart Of Darkness as the basis for its story, sending Martin Sheen's Captain Willard up a Vietnamese river in search of a rogue US commander (Kurtz) to kill him. Apocalypse Now would almost destroy Coppola (who suffered a breakdown during production), Martin Sheen (who also suffered a breakdown during production) and backing studio United Artists, but would receive enormous critical acclaim both then and ever since, winning the Palm d'Or at Cannes and receiving Oscar nominations in 8 categories (winning two, for Sound and Cinematography). A "Redux Cut" – Coppola's Directors Version – was released in the new millennium, reinserting almost an hour of footage and expanding the film's psychedelic narrative and compounding its horrific power.
Also in 1979:  10 years after the end of the television series that spawned it, Robert Wise's big-budget film production of Star Trek landed in cinemas, to considerable success. Star Trek's massive windfall gave Paramount Pictures the confidence to commence production of a sequel. Divorce drama Kramer Vs Kramer, starring Dustin Hoffman and Meryl Streep, became the year's biggest box-office earner and doubled-down by winning just about everything at the awards season, including Best Picture, Director, Actor and Actress Oscars, as well as the Best Drama Golden Globe. Sally Field won her Academy Award for Norma Rae (uttering the now famous line "You really like me" in the process). Dudley Moore and Bo Derek steamed up the screen in 10, Mickey Rooney starred in The Black Stallion, comedian Steve Martin made his feature film headline debut in The Jerk, Ivan Reitman bowed Meatballs, Sylvester Stallone and Carl Weathers returned for Rocky II, while Volker Schlindorff's The Tin Drum would pick up not only the Palm d'Or but also the Best Foreign Language Film Academy Award. Ridley Scott's Alien landed in cinemas, a film noted for its scares and attention to detail, paving the way for "darker" sci-fi films throughout the 80's. Nuclear disaster film The China Syndrome had the best possible publicity for any film ever by opening mere days before the real-life nuclear power plant disaster at Three Mile Island. Jim Henson gave his famous creations their big-screen debut in The Muppet Movie, while former Disney animator Don Bluth, together with several other animators, depart the powerhouse studio to set up their own animation company. They would go on to make films such as The Secret of NIMH and An American Tale, for Steven Spielberg. Passing away in 1979 were silent film star, "America's Sweetheart" Mary Pickford, actor John Wayne, Paint Your Wagon co-star Jean Seberg, actor Jack Haley (The Wizard of Oz), King Kong cinematographer Ernest Schoedsack, and stuntman Dick Crockett (Dirty Harry).
Related articles
Who wrote this?