Movie Review – Nice Guys, The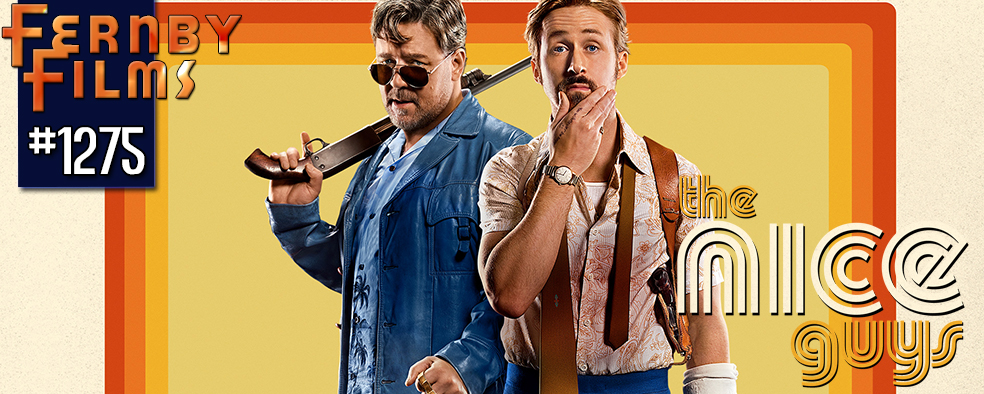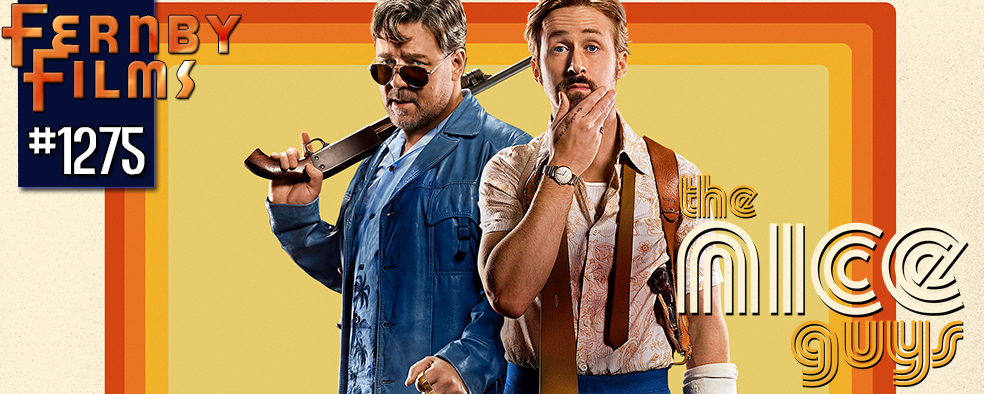 Director :  Shane Black
Year Of Release :   2016
Principal Cast :  Russell Crowe, Ryan Gosling, Angourie Rice, Matt Bomer, Margaret Qualley, Yaya DaCosta, Keith David, Beau Knapp, Lois Smith, Murielle Telio, Kim Basinger, Ty Simpkins.
Approx Running Time :   116 Minutes
Synopsis:   A mismatched pair of private eyes investigate the apparent suicide of a porn star in 1970s Los Angeles.
******
It's kinda hard to know where The Nice Guys sits in Shane Black's oeuvre: one part detective story, one part black comedy, and a dazzling period piece depicting the excess of 1970's Los Angeles, the film is not only one of the funniest I've seen in a long while, but also the cleverest. Black, writer on such films as Lethal Weapon, The Last Boy Scout and even The Long Kiss Goodnight, before turning to directing, has a crafty knack for generating brilliant characters out of ripe, deliciously subversive dialogue, infusing his pulp aesthetic with a gritty earthiness and winning chemistry that elicit smiles from even the hardest viewer. The Nice Guys sees Black pair up a craggy Russel Crowe and a whip-crazy Ryan Gosling as a couple of unlikely private investigators, a throwback to a bygone era of buddy comedies and grindhouse cinematic detectivising that just works.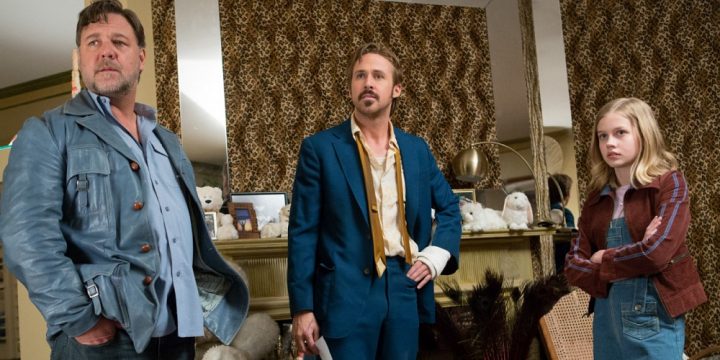 Crowe plays LA enforcer Jackson Healy, taking money to beat up lowlifes and scumbags. He comes into contact with PI Holland March (Gosling), who, along with his happenstance daughter Holly (Aussie actress Angourie Rice) attempt to uncover the whereabouts of young Amelia Kutler (Margaret Qualley), whose association with a pornographic producer puts her into the circle of some very bad people. Amelia's Aunt (Lois Smith) pays March to find Amelia, while Amelia's mother, DOJ honcho Judith Kutler (Kim Basinger) pays both of them; Amelia, however, might not want to be found for one very good reason.
One of the fun things about film is watching consummate professionals deliver the kind of entertainment they should be paid for. The Nice Guys is a hell of a great film, to say the least. Watching Crowe and Gosling swagger about 70's period Los Angeles with Black's fantastic writing and crafty sense of humour is just delightful. Sure, the film works on violence and sex, adult themes from which the basest of laughs might be drawn, but Black's canny direction and staging, which reminds me of an early Robert Zemeckis in many ways, works an absolute treat. A lot of the fun is in the performances of Crowe, Gosling, and Angourie Rice, playing Gosling's wise-beyond-her-years daughter Holly. Rice's starring role in the film is unexpected but, in the end, entirely welcome, in that she humanises the two male leads somewhat, and juxtaposes the innocence of youth with the slimy world in which her perpetually drunk father resides.
The plot, such as it is, plays up the modern eye with which the film will be viewed: the 70's were a simpler time, a more innocent world (if that's possible in LA) and Black's writing wrings a large amount of irony from its situational comedic structure. Non-sequiturs and a sense of the sublime make the film crackle with a crazy, anything-is-possible vibrancy, with several creepy villains – Keith David's Older Gent, Beau Knapp's Blue Face, and Matt Bomer's John Boy providing the nasty – making me think about that Goldie Hawn movie where she's chased by an albino. I know, it makes no sense, but there you have it. This film is a writer's paradise, a collection of dripping dialogue and character byplay that leaps off the screen and thuds you across the intellect. It's pulp nonsense, sure, but handled in a way many "serious" filmmakers could never achieve. It's like a Scorsese gangster noir film without the bitter aftertaste.
The Nice Guys is a terrific film, the cinematic equivalent of stonewashed jeans and casual passive smoking. Hugely fun, often laugh-out-loud funny, devilishly plotted and astutely directed, this is one film that disproves the old adage: The Nice Guys most definitely does not finish last.
Related articles
Who wrote this?