Movie Review – Band Wagon, The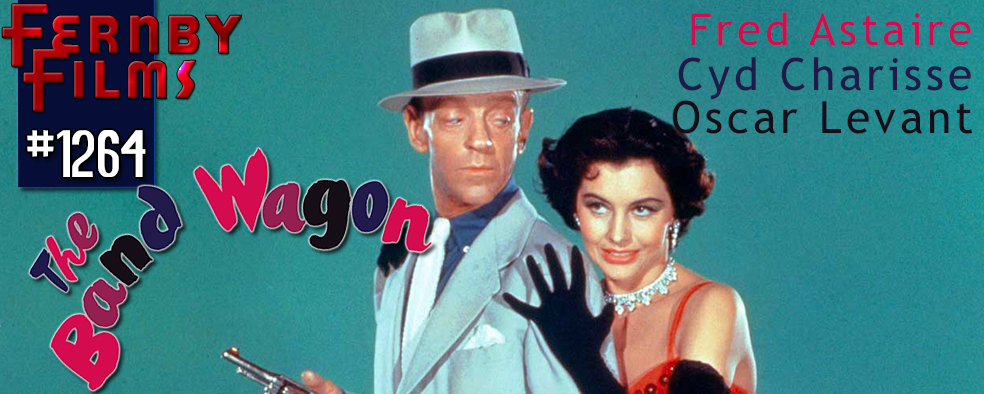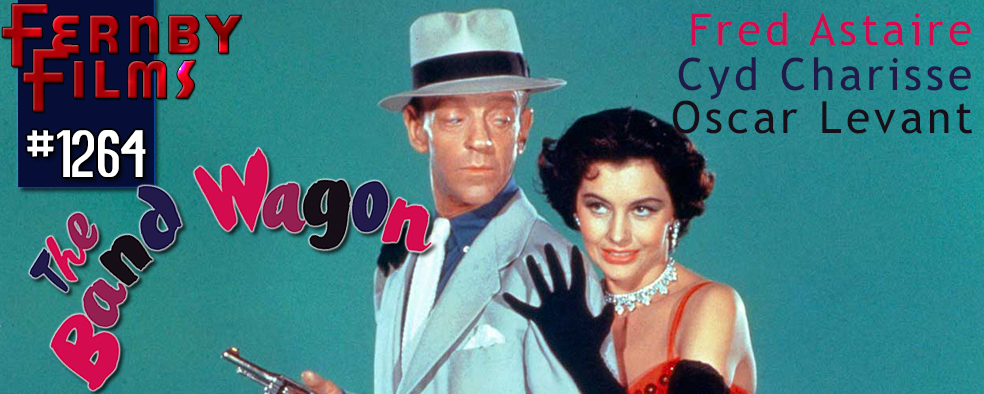 Director :   Vincente Minnelli
Year Of Release :   1953
Principal Cast :  Fred Astaire, Cyd Charisse, Oscar Levant, Nanette Fabray, Jack Buchanan, James Mitchell.
Approx Running Time :   111 Minutes
Synopsis:   A pretentiously artistic director is hired for a new Broadway musical and changes it beyond recognition.
*****
Yes, that is entertainment!
Uplifting, totally saccharine MGM musical from the genre's heyday comes replete with any amount of cheery musical numbers, some terrific dance routines, hugely effective "stage" productions and a charismatic pairing between stars Fred Astaire and Cyd Charisse. Touted by fans as one of the studio's best alongside Singin' In The Rain (which, incidentally, also co-starred Cyd Charisse), The Band Wagon is certainly a definitive movie musical in every sense, not the least thanks to veteran director Vincente Minnelli (father of Hollywood icon Liza Minnelli) and a terrific soundtrack by Arthur Schwartz and Howard Deitz. Bouncy, souffle cinema doesn't get much shinier than this and when it clicks into gear, this film sings.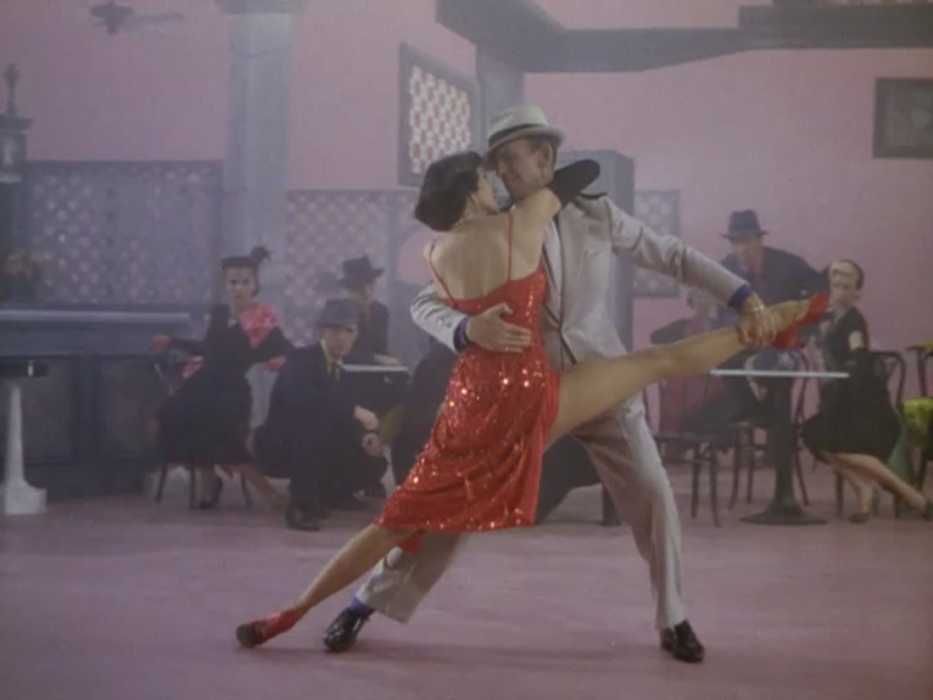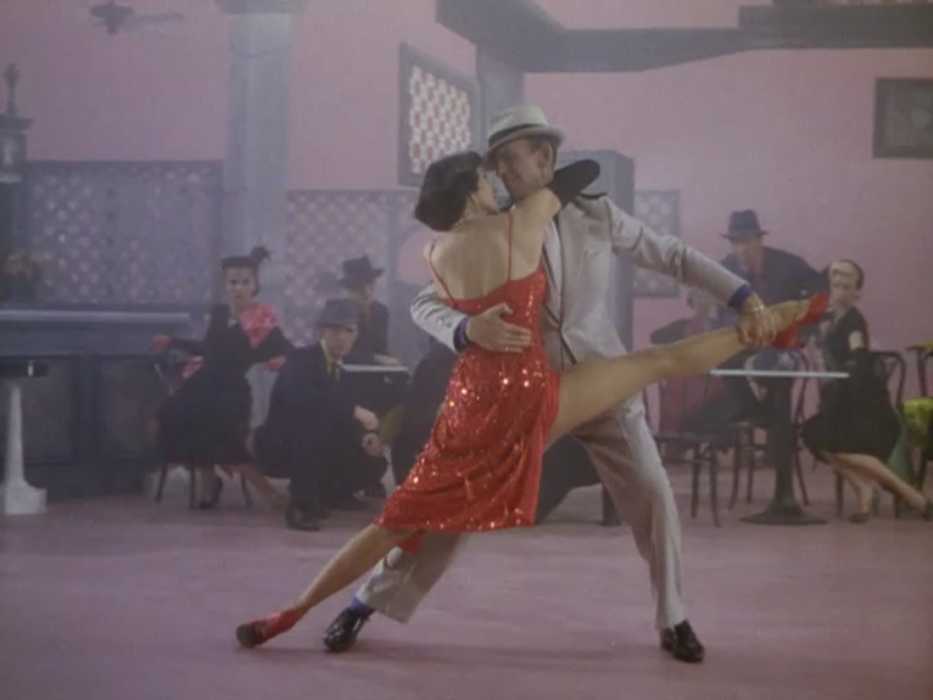 Astaire plays veteran film actor Tony Hunter, who is called across country to star in a new theatrical production written by his friends Lester and Lily Marton (Oscar Levant and Nanette Fabray), and directed by pretentious (yet hugely successful) stage wunderkind Jeffrey Cordova (Jack Buchanan). Up-and-coming ballet star Gabrielle Gerard (Cyd Charisse) is set to co-star in the production, with her boyfriend Paul Byrd (James Mitchell) hired as choreographer. While Gabrielle and Tony initially have an icy relationship, as the situation cools and the production's antics spiral into farce, the stage is set (so to speak) for a show unlike any other.
Sometimes, a great film doesn't need to be particularly deep or dramatic in order to be entertaining, and MGM's movie musical The Band Wagon could never be described as particularly deep, or dramatic. Primarily created as a platform for the talents of Astaire and Charisse, both of whom get to do their special brand of screen magic in spades, the film's "show within a show" narrative, clumsy dot-point plotting and cheery, brightly-lit technicolor pizzazz encapsulate the sheer joy that comes from watching it. Featuring the notably popular songs "That's Entertainment", "Louisiana Hayride", and the wonderfully comic "Triplets", the film's musical accomplishments stack up well, while the nighttime New York City-set Astaire-Charisse dance number is a showcase for the pair's athleticism and screen chemistry.
Astaire's role as a washed-up screen star was rather self-deprecating – the man himself was a huge star even at this point – while Charisse, whose fabulously long legs and stunning physique earn her a special mention in any form of discussion about screen dancing, steals every scene she's in for all the right reasons. Although the disparity in age between them is noticeable (there's a gap of 22 years here folks…. Astaire was about 54, Charisse around 31… which is kinda creepy), and the romantic chemistry somewhat lacking when they're supposed to be desperately in love with each other towards the end, the film doesn't hinge on it specifically, meaning the viewer can either accept it, or not, and get on with enjoying the movie.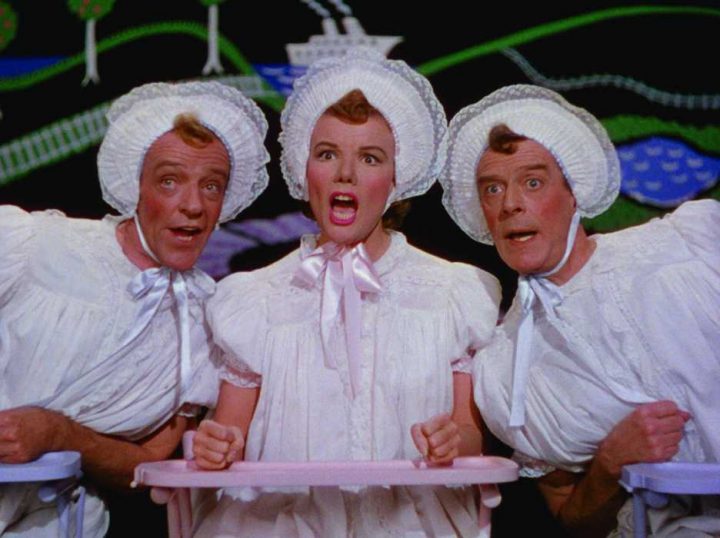 Backed up by a wonderfully over-the-top Jack Buchanan, who revels in his charismatic, yet tone-deaf directorial position within the story, an effervescent Nanette Fabray (who surely must be a walking, talking approximation of a bottle of soda-pop, she's so bubbly) and somewhat surly Oscar Levant (whose role isn't as insightful as his screen credit might indicate), The Band Wagon's sugary-sweet story of theatre-folk overcoming all obstacles so the show-must-go-on remains intact is largely predictable, and often cloying in its simplicity. But the film works foremost as a fairy-floss accompaniment to Astaire's warm screen persona, a billion-watt smile and dazzling physical comedic timing washing away thoughts of problematic characterisation or clunky dialogue.
The Band Wagon doesn't make much sense, has a confused focus (is it about Astaire's lack of fame, Charisse's newfound fame, or the hubris of Buchanan's ideas about Faustian theatricality? Who knows!) and flips between farce, parody (note Astaire's brief flirtation with Dick Tracy iconography at one point) and uplifting musical vivaciousness, but in spite of its spitfire pacing and hysterically overcooked acting the film is just a joy to watch. I'm loathe to say a bad word about it, really. There's probably a reason it's held in such high regard among musical aficionados: it's great all-round entertainment that offers enjoyment for the whole family.
Who wrote this?