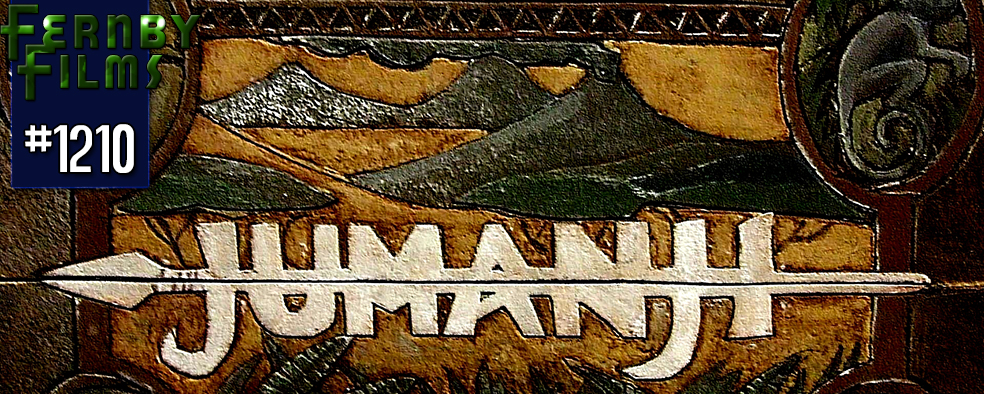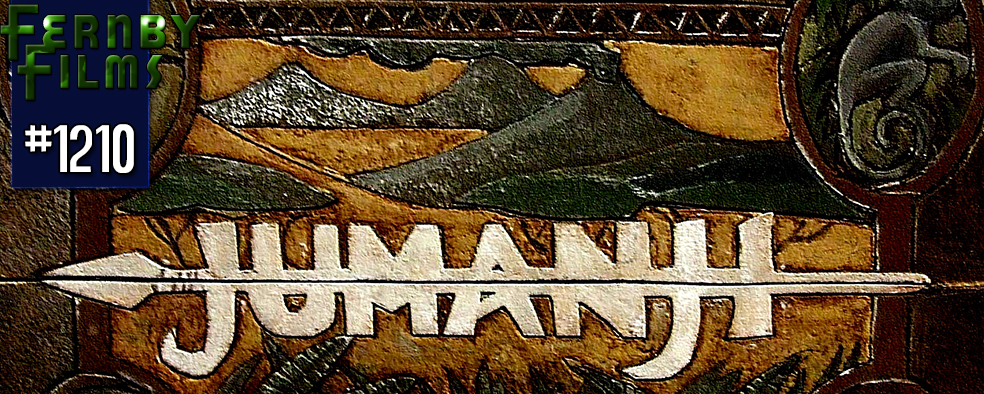 Director :  Joe Johnston
Year Of Release :   1995
Principal Cast :  Robin Williams, Bonnie Hunt, Kirsten Dunst, Bradley Pierce, David Alan Grier, Jonathan Hyde, Bebe Neuwirth, Adam Hann-Byrd, Malcolm Stewart, Patricia Clarkson, Laura Bell Bundy.
Approx Running Time :   104 Minutes
Synopsis:   When two kids find and play a magical board game, they release a man trapped for decades in it and a host of dangers that can only be stopped by finishing the game.
*****
Following the "birth" of modern Cg visual effects in 1993's Jurassic Park (and to an extent Terminator 2 the year before), the mid-90's saw a boom crash opera of computerised visual effects supplanting traditional film-making techniques, often to the detriment of the film. Jumanji, released in the middle of our white-hot fascination with the then-nascent digital artform, has not aged terribly well, no sir. In terms of its story and characters, sure, the film remains an enjoyable romp and a largely monotonous essaying of Robin Williams' less obnoxious personalities, but with its over-use of digital effects through the film's effect-heavy latter half the movie kinda crumbles into a pixel-laden heap.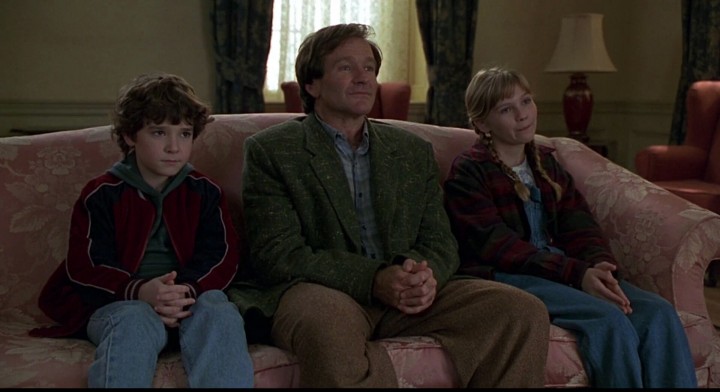 Robin Williams plays an adult Alan Parrish, who as a young boy (Adam Hann-Byrd) is sucked into a magical board game discovered in the newly dug foundations of his father's company back in the 60's. When two young children arrive at his family home to live, they accidentally release Parrish into modern day, alongside the animals and dangers of the game, Jumanji. Only by completing the game begun by Parrish all those years ago can Judy (Kirsten Dunst), Peter (Bradley Pierce) and Alan's young friend Sarah Whittle (Bonnie Hunt) put a stop to the mounting destruction.
Jumanji is one of three film adaptations of the books of author Chris Van Allsburg, the other two being Zathura and Robert Zemeckis' The Polar Express. Jumanji was Von Allsburg's second published work, in 1981, and has remained a perennial favorite of children around the world since – it was only natural, I guess, that Hollywood would come calling to turn it into a film. Directed by Spielberg protege Joe Johnston from a screenplay by Greg Taylor, Jonathan Hensleigh and Jim Strain, Jumanji is an exceptionally sweet-natured fantasy adventure film that taps into the childhood in all of us – it's a variant of the Goonies-slash-Explorers motif of innocence lost and children transitioning into adulthood via shared experience, only in this instance it's shellacked by a smorgasbord of CG and terrific production design.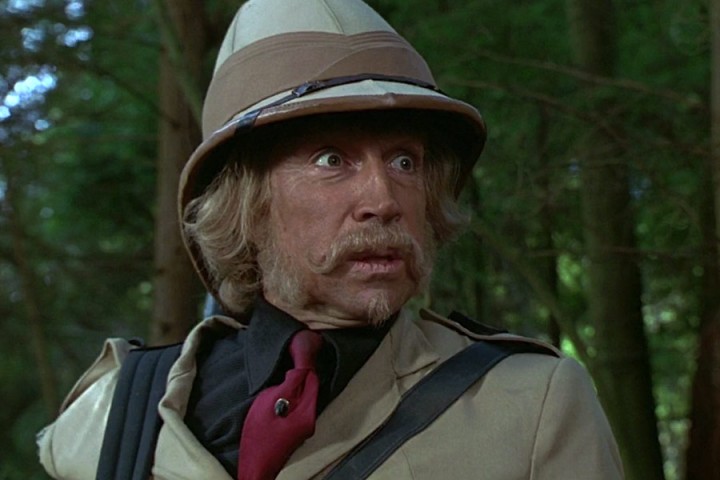 At the time I first watched Jumanji I was utterly swept up in Alan Parrish's adventures in both the 1960's and "present day", what with the magical board game spewing forth its assortment of creepies and crawlies – from pernicious monkeys and table-dwelling lions, to giant spiders and the inevitable deluge of elephants, rhinoceros and hippos as the jungle is unleashed upon the small town of Brantford, New Hampshire. The cinematic viewing in 1995 was, unfortunately, nothing compared to my recent revisit to the film on DVD [sidebar: Jumanji was one of the first DVD's released in Australia, coming complete with the soon-to-wither-and-die MPEG audio codec, a 5.1 codec that most modern systems will fail to decode!] after many years idle on the shelf; Jumanji is not a film that's aged well at all. I mean… at. all. A product of its time, the film's antiquated CG rendering and overuse of green screen has dated it badly, terribly even, and aside from being a curiosity among the fans who want to revisit a mid-Robin Williams there's little to recommend it beyond a cheap babysitting tool when Netflix goes offline.
That's not to say Jumanji isn't without it's strong points. Robin Williams' effusive personality shines through in an entirely monochromatic performance as Alan Parrish, whose resentment of being trapped inside the game for forty years bubbles away beneath the surface of his joy at being back. Kirsten Dunst is porcelain-like as Judy, a strong-willed yet fragile (?) girl who doesn't like being in a new place away from her friends. Then there's Peter, played by Bradley Pierce, who gets one of the film's biggest laughs in a fourth-wall-breaking moment of comedy that (if I recall correctly) brought the house down in the cinema, but not so much now. Jonathan Hyde pulls double duty as the younger Alan's crusty dictatorial father, as well as the game's resident safari hunter Van Pelt (a personification of Alan's troubled relationship with his father) who persues Alan throughout the game, and the movie. Bonnie Hunt, as Alan's poor potential girlfriend is also a hoot, with Hunt's sardonic performance as winning as the film allows.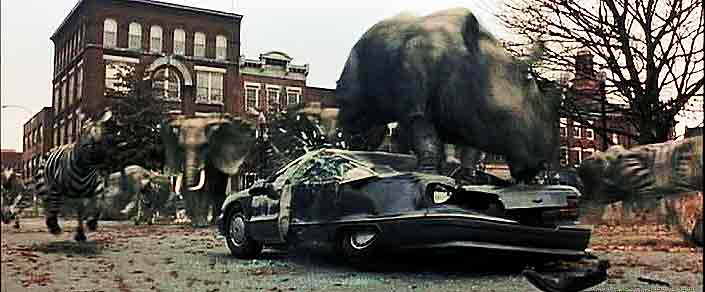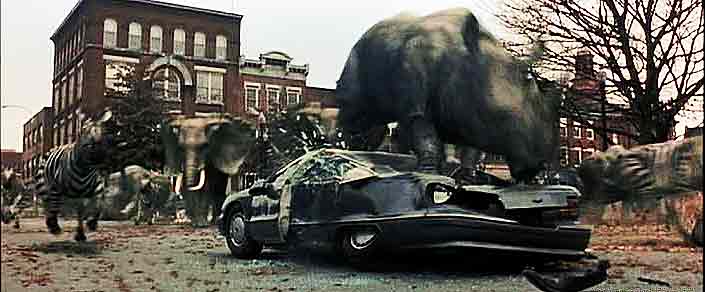 From a live-action standpoint Jumanji certainly ticks all the boxes. Alan's house comes apart literally at the seams as it slowly succumbs to becoming a jungle throughout the film's journey towards completion, and the film spares no expense achieving this effect as vines, flowers and rivers take hold of every nook and cranny. The broader scale effects, such as a giant animal stampede through the town itself, are less reliably achieved through CG, a miasma of misplaced pixels and poorly rendered (state-of-the-art-1994) computer avatars representing well known jungle and savannah animals that draws laughs now not for what they do, so much as how bad they look. Most of the obvious CG now looks awful, but there's some redemption to be found in the practical effects on display – the lion, in particular, still looks stunning, while the giant spiders are creepy as f@ck – but they're overridden by the copious over-use of CG when sparing it might have made for a better end result.
Jumanji retains it's 90's charm for the majority of its running time through sheer energetic audacity and the cast's willingness to go along with the insanity of the plot. Although a product of its time in every possible worst way, there's enough zany adventure to be mined here that it's no longer a total loss. Fun, bright, and featuring a solid cast delivering well above the genre's expectations, Jumanji is a faulty, flimsy roller-coaster ride that will deliver minor thrills among the flat-footed misfortune.
Related articles
Who wrote this?