Movie Review – Woman In Gold, The (Mini Review)


Director :  Simon Curtis
Year Of Release :   2015
Principal Cast :  Helen Mirren, Ryan Reynolds, Daniel Bruhl, Katie Holmes, Tatiana Maslany, Max Irons, Charles Dance, Elizabeth McGovern, Jonathan Pryce, Moritz Bleibtreu, Antje Trau.
Approx Running Time :   109 Minutes
Synopsis:   Maria Altmann, an octogenarian Jewish refugee, takes on the Austrian government to recover artwork she believes rightfully belongs to her family.
******
While the Second World War took a godawful human toll that cannot be forgotten, it should also be mentioned that the Nazi regime confiscated, stole, destroyed and pilfered not only property and land, but works of art of both cultural and personal interest. Over time, much has been done to repatriate stolen art during the war back to the rightful owners, although often this cannot be accommodated due to little things like statutes of limitations, geography, frailty of an artefact or whatever. In the 90's, with Austria under pressure to recognise its Nazi past (the German Anschluss wasn't exactly the polarising event The Sound Of Music would have you believe – many Austrian's welcomed the Nazi forces into their country), former citizen Maria Altmann (Helen Mirren), now residing in the United States, takes Austria to court in order that they might surrender a famous family portrait of her Aunt, which was forcibly obtained by the invading force upon her family's flight to America.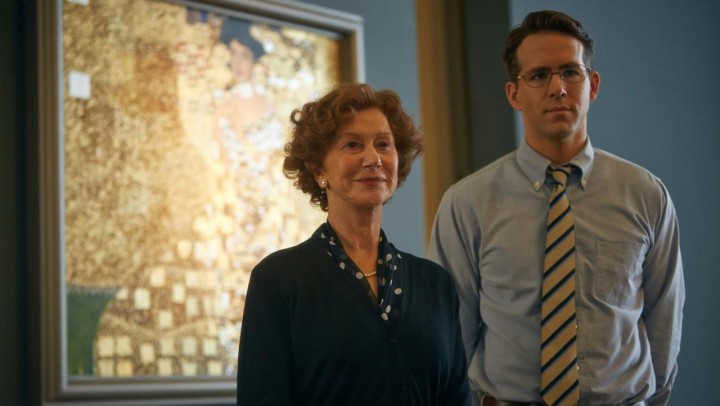 Maria obtains the services of junior attorney Randy Schoenberg (Ryan Reynolds), and together they wage a years-long battle with both the Austrian Government, the US Supreme Court, and eventually the Belvedere Museum and the Austrian arbitration panel, in order to have the painting, a fabulous "woman in gold", returned to Ms Altmann's possession. Woman In Gold is fairly obviously an underdog story, even thought it aught not be. Based on the actual true story of Maria Altmann (who passed in 2011), Woman in Gold's melancholic approach to not only the war but to Maria's insistence, then rejection, of the case as it progresses through numerous hurdles, is enlightening if not altogether infuriating. Pedant bureaucracy by Austrian officials in needlessly protracting a case that's so obvious in its malingerancy rankles the nose at times, an oft-used device in these legal-drama films as a method of throwing the main characters into precariously emotional situations. Reynolds' character is steadfast and dedicated to the cause, and the actor provides solid work alongside a powerhouse actress of Mirren's stature. Indeed, Mirren's haughty glare and softened demeanour alternate throughout the film, as she stares down the Austrian's who flat-out refuse to give her back her family's painting, even though it's obviously stolen.
Woman In Gold has a parallel narrative too, that of a young Maria (played by Tatiana Maslany) and her fiancée (Max Irons) as they flee Austria during the Anschluss, and attempt to escape to America, where they can start a new life. Although I understood why the film needed to depict Mrs Altmann's escape from Nazi occupation, I don't think this aspect of the film did much to further the "present day" side of things, other than stretch out the film's length a little. One might argue that context is needed for Altmann's emotional fixation on re-obtaining the painting, but the film's balance between the horror of Nazi oppression and the relative calm of countless judicial hearings and courtrooms can't escape imperfection. Simon Curtis (My Week With Marilyn) is stately, effusive in its adoration of its subject matter, and is perfectly entertaining, acceptable fare. You'll watch it, be satisfied by it, and then never need watch it again. The Viennese cinematography is gorgeous, Helen Mirren's performance is solid, as is Reynolds', but you get the sense that no matter how long it takes, the outcome of this film is assured from the word go.
Related articles
Who wrote this?