Road To The Oscars – BAFTA Winners Announced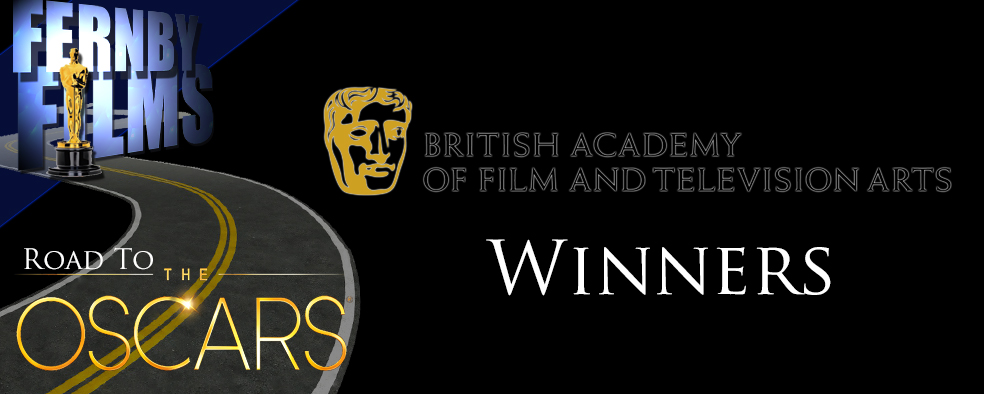 This morning (Australian time) the winners of the 2015 BAFTA's were announced in the UK. As the final major awards show before the Oscars, they're a good indicator of where Academy love might land this year! Click for the full results after the jump!
Best Film
Best Director
The Revenant – Steve Golin, Alejandro G. Iñárritu, Arnon Milchan, Mary Parent, and Keith Redmon
Alejandro G. Iñárritu – The Revenant
Best Actor in a Leading Role
Best Actress in a Leading Role
Leonardo DiCaprio – The Revenant as Hugh Glass
Brie Larson – Room as Joy "Ma" Newsome
Best Actor in a Supporting Role
Best Actress in a Supporting Role
Mark Rylance – Bridge of Spies as Rudolf Abel
Kate Winslet – Steve Jobs as Joanna Hoffman
Best Original Screenplay
Best Adapted Screenplay
Tom McCarthy and Josh Singer – Spotlight
Adam McKay and Charles Randolph – The Big Short
Best Cinematography
Outstanding Debut by a British Writer, Director or Producer
Emmanuel Lubezki – The Revenant
Naji Abu Nowar (Writer/Director) and Rupert Lloyd (Producer) – Theeb
Outstanding British Film
Best Documentary
Brooklyn – John Crowley, Finola Dwyer, Nick Hornby, and Amanda Posey
Amy – James Gay-Rees and Asif Kapadia
Best Original Music
Best Sound
The Hateful Eight – Ennio Morricone
The Revenant – Lon Bender, Chris Duesterdiek, Martin Hernández, Frank A. Montaño, Jon Taylor, andRandy Thom
Best Production Design
Best Special Visual Effects
Mad Max: Fury Road – Colin Gibson and Lisa Thompson
Star Wars: The Force Awakens – Chris Corbould, Roger Guyett, Paul Kavanagh, and Neal Scanlan
Best Costume Design
Best Makeup and Hair
Mad Max: Fury Road – Jenny Beavan
Mad Max: Fury Road – Damian Martin and Lesley Vanderwalt
Best Editing
Best Film Not in the English Language
Mad Max: Fury Road – Margaret Sixel
Wild Tales
Best Animated Film
Best Short Animation
Inside Out – Pete Docter
Edmond – Nina Gantz and Emilie Jouffroy

Manoman – Simon Cartwright and Kamilla Kristiane Hodol

Best Short Film
EE Rising Star Award
Operator – Caroline Bartleet and Rebecca Morgan

Elephant – Nick Helm, Alex Moody, and Esther Smith
Mining Poems of Odes – Jack Cocker and Callum Rice
Over – Jeremy Bannister and Jörn Threlfall
Samuel-613 – Cheyenne Conway and Billy Lumby

John Boyega
Who wrote this?