Movie Review – West Side Story

– Summary –
Director :   Robert Wise + Jerome Robbins
Year Of Release :   1961
Principal Cast :  Natalie Wood, Richard Beymer, Russ Tamblyn, Rita Moreno, George Chakiris, Simon Oakland, Ned Glass, William Bramley, John Astin, Penny Santon, Tucker Smith, Tony Mordente, David Winters, Eliot Field, Jose DeVega, Jay Norman, Gus Trikonis, Eddie Verso, Jamie Rogers, Susan Oakes, Gina Trikonis, Carol D'Angela, Yvonne Othon, Suzie Kaye, Joanna Miya.
Approx Running Time :  152 Minutes
Synopsis:   Two youngsters from rival New York City gangs fall in love, but tensions between their respective friends build toward tragedy.
************
The definitive Hollywood musical.
If only all gang wars could be solved with singing and dancing. West Side Story is based on the stage production of the same name, first performed on Broadway in 1957 and becoming an instant classic. At its core, the story is a reworking of Shakespeare's Romeo & Juliet, with two lovers from opposing "families", or gangs, falling in love and finding their way to happily-ever-after marred by continued antagonism and competing ideologies. Co-directed by Robert Wise and Jerome Robbins, the latter of whom was fired mid-shoot after production overruns sent the financiers scurrying, the film would snag ten Academy Awards (including Best Picture) and cement itself as one of the genuinely classic musical movies to spring from the genre's 50's and 60's heyday in Hollywood. Famously, the two stars – Natalie Wood and Richard Beymer – despised each other vehemently, although you can't tell as their on-screen chemistry is effective and compelling.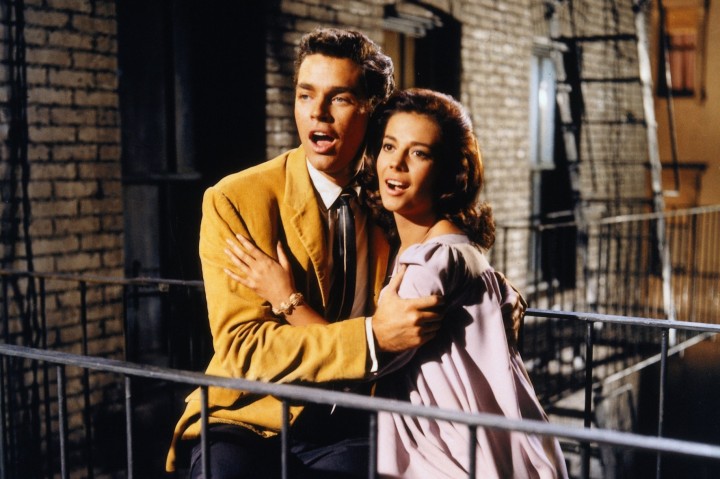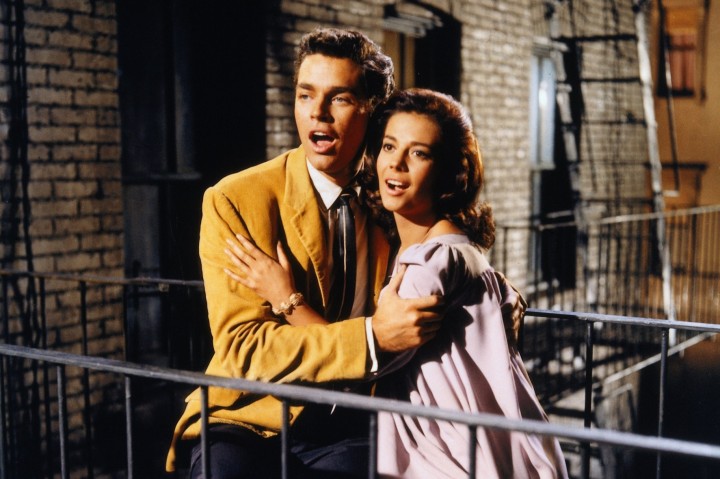 It's New York City, the West side (to the left of Central Park, if you're looking at it on a map), and two rival gangs, the Jets and the Sharks are out for blood. The Jets, and Anglo gang led by Riff (Russ Tamblyn) challenge the Sharks, a Puerto Rican gang led by Bernardo (George Chakiris) to a rumble, loser leaves town for good. However, a former Jet, Tony (Richard Beymer) and the sister of Bernardo, Maria (Natalie Wood), have found themselves falling in love – their mutual associations will inevitably lead them on a collision course in which death and rage will send both gangs spiralling out of control.
The creative DNA involved in West Side Story is, and I'll be frank, the stuff of legend. The people involved in the original production of the story, which was initially a Broadway production before it came to Hollywood, have become legitimate industry icons – names like Jerome Robbins, Stephen Sondheim and Leonard Bernstein, as an example, tower over modern musical and theatrical production like leviathans – and so it stands to reason that West Side Story's transition to the big screen was almost a certainty from the get-go. Throw in Hollywood heavyweight director Robert Wise (The Sound Of Music, The Day The Earth Stood Still, Star Trek: The Motion Picture) and this film boasts some of the finest creative talent ever to grace the silver screen.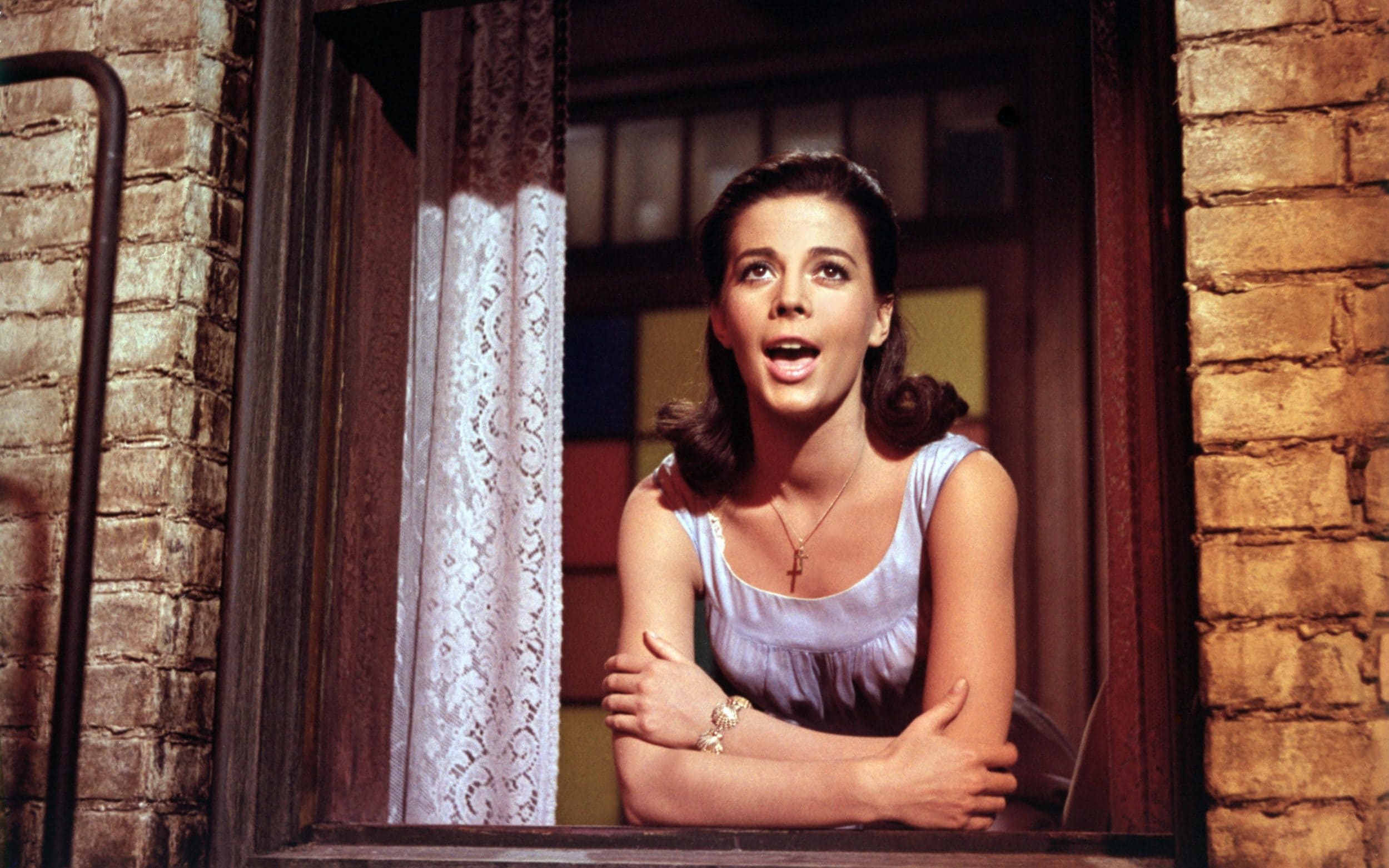 The end product of West Side Story's singing-and-dancing juggernaut was ten Academy Awards (which is no small feat, really), particularly for technical elements but also for two members of the supporting cast: George Chakiris, who plays Sharks leader Bernardo, and Rita Moreno, playing Bernardo's girlfriend Anita. Although one might ask where the nomination for Natalie Wood is, since her performance anchors much of the film's final half. Still, West Side Story's acclaim and status as one of the best musical films ever crafted on the soundstages of Hollywood (and the streets of New York) is unwavering: by today's pop-culture standards the film has a clunky, old-timey feel to it that youngsters will probably find hard to watch, but as a product of time, place, and cinematic sensibility, there's no denying the film's cultural standing is much deserved.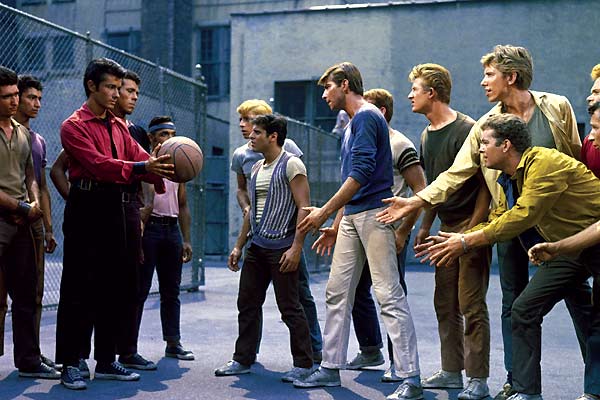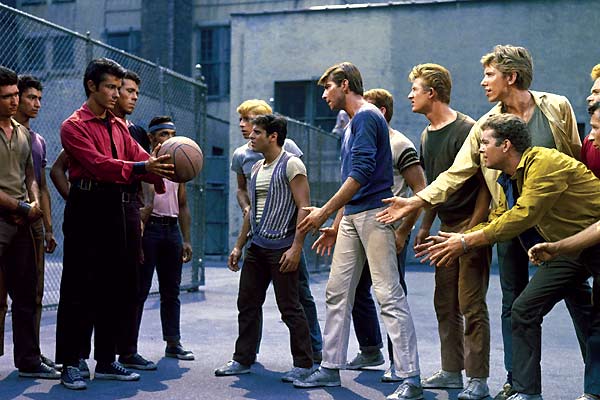 As mentioned, the film's story is a reworking of Romeo & Juliet, so if you're going to go with the tragic love narrative I guess there's none more iconic. Tony and Maria's love transcends both racism (the film hinges on specific racist problems encountered by the Puerto Ricans, established perfectly in the rant-song "America"), cultural boundaries, and even the murder of Maria's brother by the man she loves (yeah, talk about a hurdle to overcome!), so the core relationship between the two leads needs to be strong to encapsulate this. By and large, Beymer and Wood perform wonderfully, although it's easy to see why Wood was the star of the show – she's utterly luminous – and Beymer reduced to prototypical leading man archetype. They look like they're in love, which is magnificent considering they had a fairly frosty off-screen relationship (Beymer is more restrained in his statements to this in many interviews I've seen).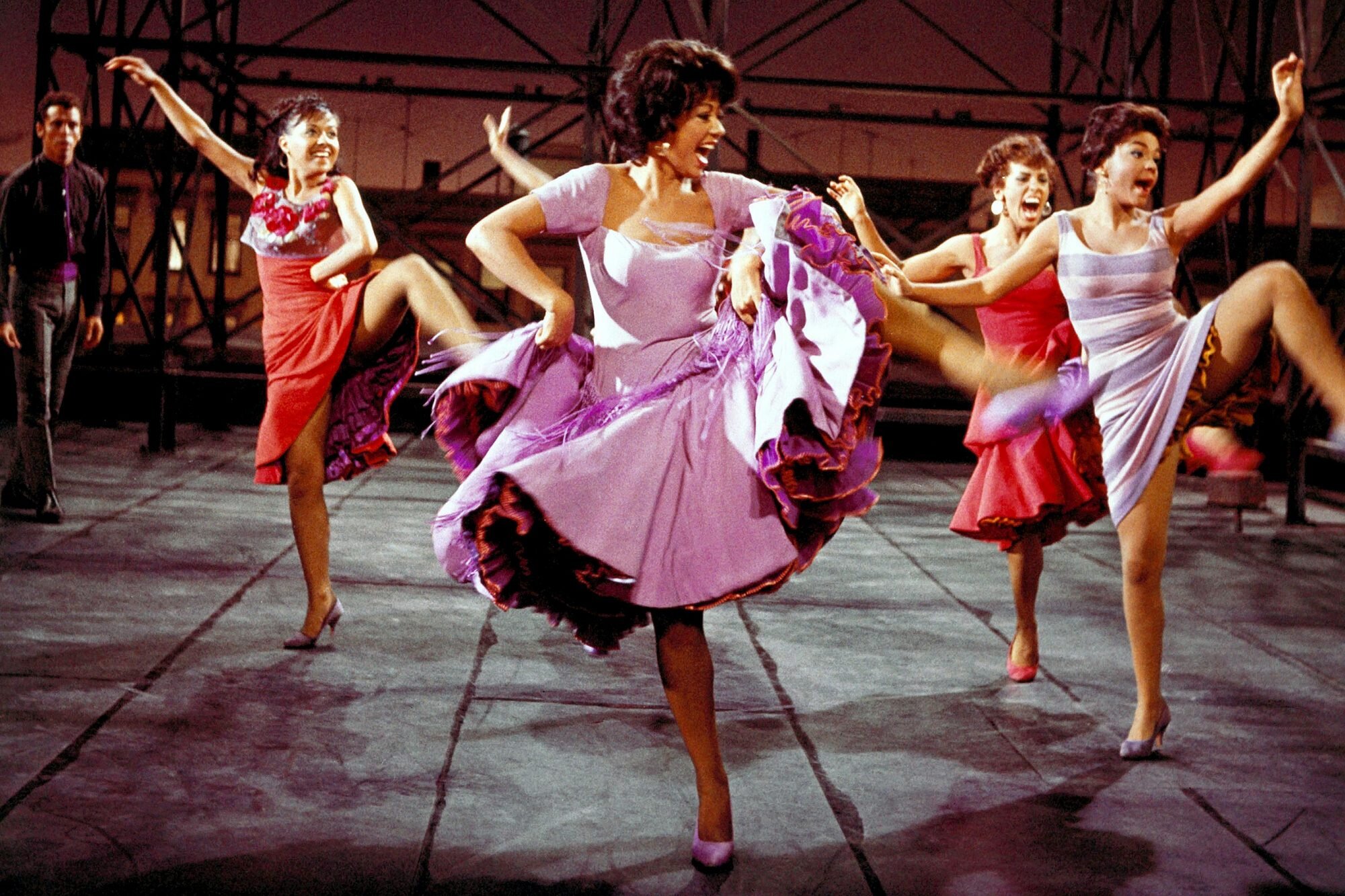 Wood and Beymer aside, the film's supporting cast are dead-on good, especially Russ Tamblyn's Riff, and Chakiris' Bernardo. Chakiris brings a masculine strength to the role of Bernardo that is hypnotic on-screen, and every time he's on screen you can tell he's the best actor on it. His portrayal just oozes sexualized anger; his relationship with Anita is that love-hate-love kind that burns with a fiery passion, and Chakiris absolutely delivers. He's helped by Moreno's firebrand portrayal of Anita, a feminist before feminism, a strong, independent woman who loves hard, plays hard, and dances hard. Tamblyn's Riff is cocky, arrogant, often angry and decidedly manipulative (his cajoling of Tony early in the film to return to the Jets is sly and pernicious) and he plays the part well.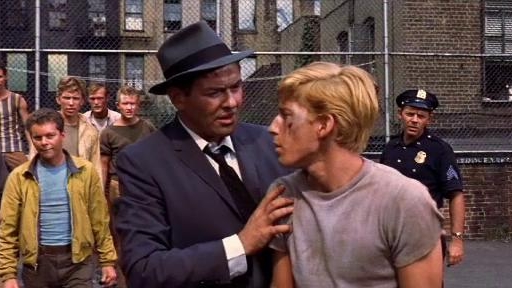 As with most musicals, the strength of the film lies in its singing and dance numbers – and it's here that West Side Story really soars. From it's opening gang-set-up prologue, through the love song "Maria", to the affirmation of "Tonight" and the hymnal "One Hand, One Heart", culminating in the Moreno/Wood duet "A Boy Like That", West Side Story's songs are utterly superb, a combination of jazz and rhythm infused Bernstein melodic masterpiecery, with Sondheim's speak-easy lyrics. Robert Wise's direction, coupled with Jerome Robbins' often scintillating choreography (Robbins was given a Special Achievement Oscar as well for his work here, for "Achievements In The Art of Choreography on Film", to accompany his competitive Oscar win for Best Directing) is solid, albeit unfettered by extravagance. Wise, whose work is something I consider perfunctory more than flamboyant, provides a beautiful canvas of real-world sets and soundstage production numbers (the dancehall sequence early in the film is one of my favourites – see if you can spot an uncredited John Astin as the dance master!) and his use of the film's 2.20:1 aspect is similarly brilliant to that which he'd use in The Sound Of Music a few years later.
Indeed, this film is astonishingly beautiful, in a pure visual sense. Colours pop, the stylised elements of the film are gorgeous (the rumble beneath the highway interchange is starkly lit and utterly beautiful), and the use of focus, while more often flatter than a squashed jackrabbit, is cleverly done when needed. The moment Maria and Tony glimpse each other across the dance floor, Wise uses a pinhole focus method that establishes the "tunnel vision" motif for the young lovers' at-first-sight bond, and it's just great. Daniel Fapp rightly won an Oscar for his lensing on this film. His use of shadows in the "Officer Krupke" number, as well as the sequences where Tony and Maria meet on the balcony of her tenement building, are just sublime, while the grim streets of New York City circa 1960 have never felt more alienating and grey. Drab, even. Yes, West Side Story is a visual cineast's delight.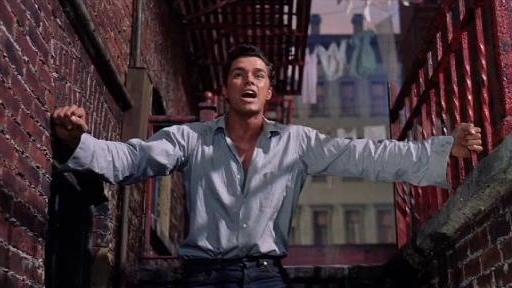 However, and this is a big however, West Side Story is a product of its time, and almost a direct transposition of story from stage to screen. The film's highly stylised sense of dance and musical intertwining, in particular the physical aspects of the story (such as the rumble, and any fight sequence) kinda feel a bit too unnatural, which isn't a negative as much as an admission that I'm so unaccustomed to this style I found it hard to engage with. New cinema fans may very well find this the case as well – your mileage with Robbins' choreography and it's use within the framework of even casual dialogue and action, will vary.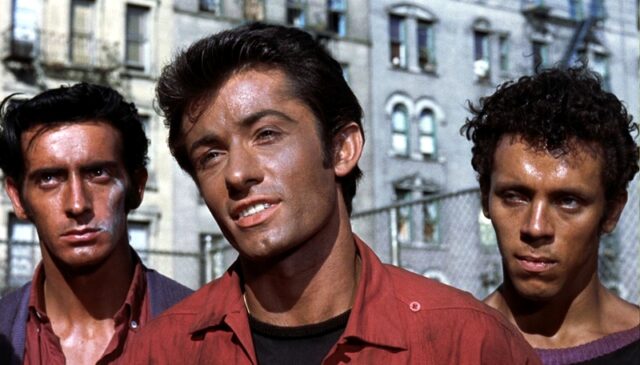 There's little denying West Side Story is one hell of a great film. Considering the architects behind it, that to be expected. Lyrical, tragic, prescient even now, and perhaps even moreso, West Side Story's subtext of acceptance and forgiveness (something it takes the two warring gangs three dead bodies to achieve) remains as tantalisingly potent now as then. Led by some solid performances, terrific dance numbers ("America" is still the best) and equally terrific direction, West Side Story is an American classic that truly does deserve the title.
Who wrote this?