Movie Review – Bone Tomahawk

– Summary –
Director :   S Craig Zahler
Year Of Release :   2015
Principal Cast :  Kurt Russell, Patrick Wilson, Matthew Fox, Richard Jenkins, Lilli Simmons, David Arquette, Sid Haig, Geno Segers, Fred Melamed, Kathryn Morris, Sean Young, Evan Jonigkeit, Eddie Spears, James Tolkan, Raw Leiba, Jamison Newlander, Zahn McLarnon.
Approx Running Time :   132 Minutes
Synopsis:   Four men set out in the Wild West to rescue a group of captives from cannibalistic cave dwellers.
***********
This is the film Cowboys Vs Aliens should have been.
Typically, when you see a film poster bearing the visage of Kurt Russell in full cowboy garb, you expect a certain kind of Western. Even though he's only appeared in a handful of films to qualify in the genre, Russell appears to epitomise the hard-bitten archetypal modern frontiersman, and it's a delight to see him return the Wyatt Earp tough-guy role he nailed in Tombstone. Once again he saddles up into the role of a straight-up sheriff of a small town, a town bearing the brunt of a tribe of cannibalistic Indians, and must track down a couple of abducted townsfolk – Searchers style. Bone Tomahawk is anything but a straight-up Western, in the sense that it's less about lynch mobs and riding the great trails of America, and more about bloody, ritualistic horror and hard-ass trudging acrioss. Does this make the film a horror film, or a horror-western? Don't know, don't care. All I know, this film is The Shit.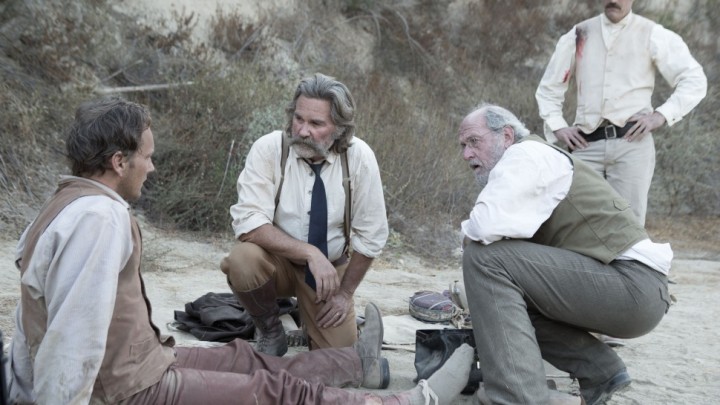 Director S Craig Zahler, a prolific creative type involved in novels, music, photography, directs his own screenplay in Bone Tomahawk; obviously, it's a labour of love for the guy, because the film sparkles with a sense of minute development and articulate subtext, the kind of story which has been brewing in somebody's imagination for quite some time. Zahler's direction is exemplary, the kind of taut, melancholy, piercing narrative that captivates through what it doesn't do, or doesn't say, specifically. There's restraint here, a refusal to acquiesce to the niceties of the western genre's typical poetic flavourings. Bone Tomahawk is closer to a Coen Brothers film (a la True Grit) than, say, a Ford or Eastwood production.
Having said that, Bone Tomahawk's visceral horror tones and wry, taciturn sense of humour maintains its own kind of style, a kind of blending of genres that is brutally skilful and utterly entertaining. Russell plays Sheriff Hunt, who, along with three other men – Arthur O'Dwyer (Patrick Wilson), aristocratic John Brooder (Matthew Fox) and Backup Deputy Sheriff Chickory (Richard Jenkins), go off in search of three kidnapped townsfolk; O'Dwyer's wife, Samantha (Lilly Simmons), another deputy sheriff, Nick (Evan Jonigkeit), and a local drifter, Purvis (David Arquette), all of whom have been taken by a tribe of nameless savages deep in the wilderness to suffer goodness knows what terror.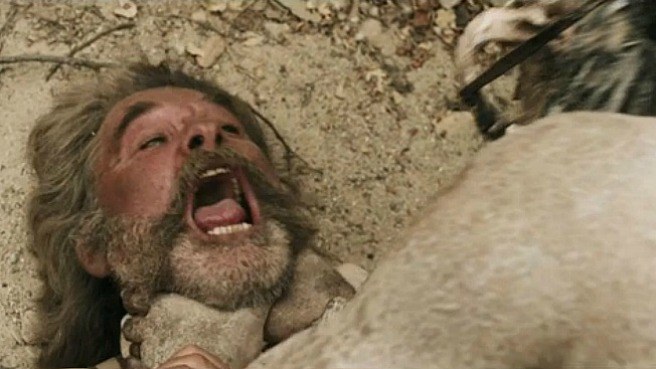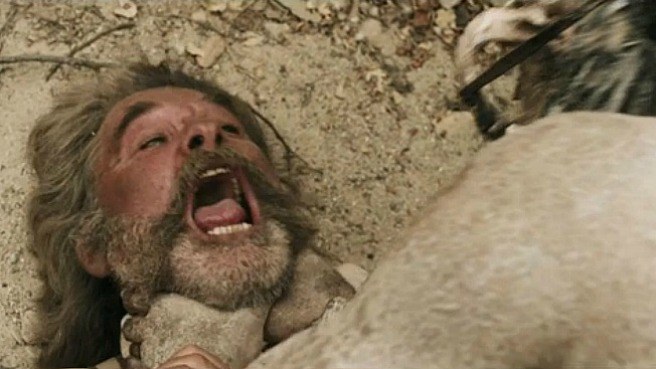 Any good horror film works on two key indicators: the strength of the casting, and the savagery afforded to the… well, bloody stuff, if you will. The film's casting is just terrific – led by Kurt Russell, watching pros like Richard Jenkins, Matthew Fox and Patrick Wilson actin' all tough and stuff makes for cinematic gold. It helps enormously that their characters are really well developed, interesting and flawed, like most real human beings, and it makes the impact of their varied plights all that much more associative to the viewing audience. The film's true horror moments come at the very end of the film (although there's one scene early on that indicates Bone Tomahawk's ability to delve into the horror genre, laying the groundwork for the body-shock to come) meaning the majority of the film's two-hour running time is spent getting to know the quartet as they ride, and then walk, through the American undergrowth.
Russell's bearded sheriff is the man's stock-in-trade character; he's rigidly moral, devoid of almost any sense of self-preservation in light of the things he encounters, and is the spiritual leader of the group as well as it's actual leader. Richard Jenkins' magnificent portrayal of the "backup sheriff", which wavers between diffidence and elderly inscrutability, provides much of the film's low-key humour, although Jenkins' throwaway delivery is mannered enough to never become too flippant. Matthew Fox plays the dilettante asshole well, the edjumacated shooter looking perhaps for a good time than for any kind of vengeance. Although he has less to do than the three others in the film, Fox gives the role the kind of textured assurance of a leading man. Then there's Patrick Wilson, who plays the husband out to rescue his wife. Mr O'Dwyer starts the film wounded – he's suffered a leg injury falling from his roof as the film opens – which automatically puts him in a precarious situation and you get that while he's desperate to provide his wife with some kind of hope, eventually the ragged terrain and increasing agony become too much.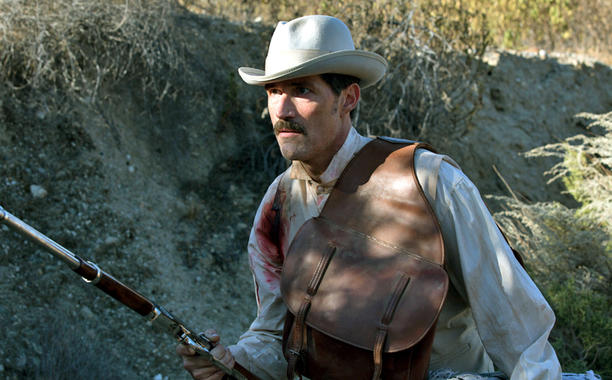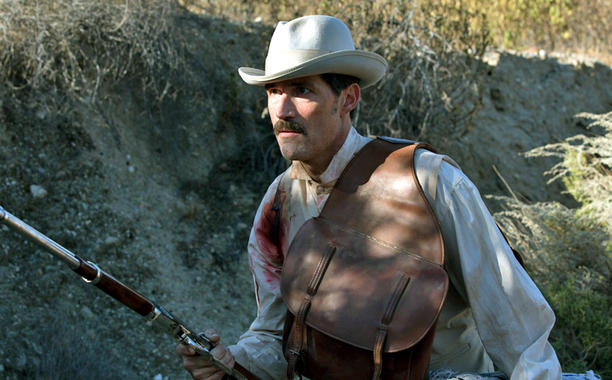 Bone Tomahawk is the kind of film that takes you by surprise. The film starts of relatively benignly (for a horror movie), but by the end of it all, you'll be climbing walls looking to escape its hypnotic clutches. The final half hour is magnificently terrifying, the kind of shock-and-gore attack on the senses (it's never a good sign when one of the characters has their insides plop out onto the ground after being ripped in twain) a nerve-shredding procurement of gradual attrition of the main cast, the kind of "who will be next" trope that, in spite of being as old as time itself, works well in delivering the kind of menace and unholy, implacable force-of-nature villainy a good horror film needs. Folks going into this expecting a shoot-n-ride Western will probably be disappointed (or, hopefully, shocked), although for the majority of its time it is a Western, albeit one with a dark streak within its DNA.
With its bizarre mash-up of competing genre entrails, one might be forgiven for thinking Bone Tomahawk's dusty bloodhound mentality would bring it undone. Far from it; it's a rock-out, cock-out kinda film, the masculinity of quiet and restraint echoing amid the hills of the frontier's desert landscape. There's a pressurised calm here, the kind of momentary cascade of violence betwixt dialogue that builds upon itself before the desperate lunge of release is allowed. Evocative, quirky without being weird, and powered by some great central performances, Bone Tomahawk is a surprise package that is most definitely worth unwrapping.
Related articles
Who wrote this?