– Summary –
Director :  Antoine Fuqua
Year Of Release :    2015
Principal Cast :  Jake Gyllenhaal, Forest Whitaker, Rachel McAdams, Naomie Harris, Victor Ortiz, Curtis "50 Cent" Jackson, Miguel Gomez, Oona Lawrence, Beau Knapp, Rita Ora, Clare Foley.
Approx Running Time :  123 Minutes
Synopsis:   Boxer Billy Hope turns to trainer Tick Willis to help him get his life back on track after losing his wife in a tragic accident and his daughter to child protection services.
*********
Against the ropes. Again.
Journeyman actor Jake Gyllenhaal, who has carved a career of late appearing in interesting, unique, controversial and mind-bending film projects, traverses the boxing ring in this film about a broken-down former champ having to rebuild his shattered life. Southpaw's pugilistic narrative gives Gyllenhaal yet another opportunity to transform himself physically for a role – he bulked up considerably for the part, coming off the weedy, white-worm appearance in Nightcrawler – and yet again deliver a performance that cements him inside the upper echelon of actors working today. The film is directed by fellow journeyman Antoine Fuqua, a director I've found a bit hit and miss in years past – Shooter was okay, Tears Of The Sun was wretched, Training Day and King Arthur were awful, while The Replacement Killers remains one of my favorite 90's action flicks, so go figure – so I hold out hope he'll strike the right balance of tone and modern verisimilitude as he works with one hell of a great cast.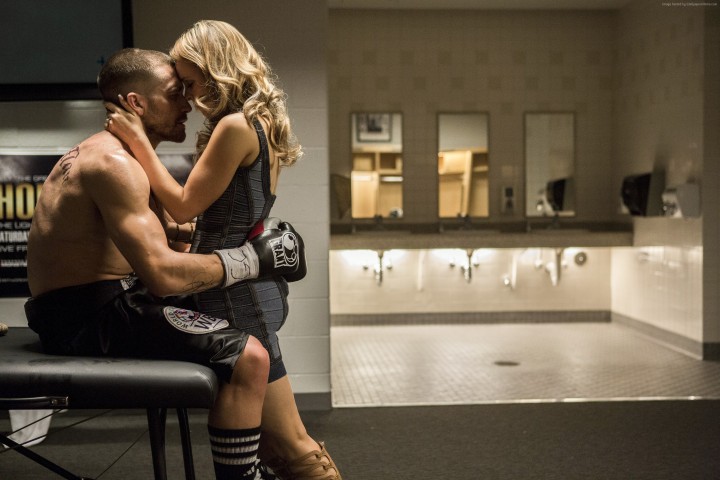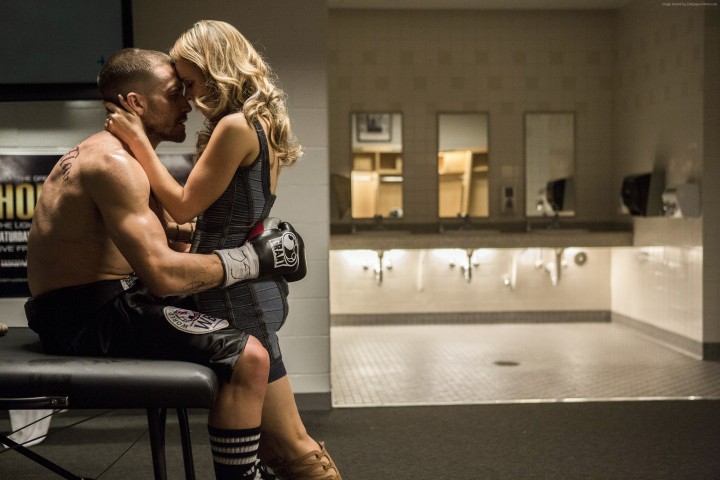 Gyllenhall plays boxer Billy Hope, who, following a successful defense of his world Light Heavyweight Title, finds his life torn apart following the accidental death of his wife, Maureen (Rachel McAdams) by the brother of a rival, Miguel (Miguel Gomez). Losing custody of his daughter, Leila (Oona Lawrence), Billy spirals into a depression of drugs and booze, before returning to a run-down boxing club to regain his sense of self worth. He meets the owner, trainer Tick Wills (Forest Whitaker), and decides to get his life back by regaining his form and taking on the man who was responsible for his wife's death.
Nothing beats a triumph over personal tragedy. Billy Hope's journey from the top, to the bottom, and back up high again, is about as predictably sweaty as you'd imagine for a modern boxing film, especially one with Gyllenhaal as the lead. As with every film he's been in over the last decade, Gyllenhaal's committed performance here is excellent, a magnetic, growling, punch-drunk fight for personal and public redemption as this story winds its way towards the inevitable closing clash; Kurt Sutter's screenplay injects a paternal arc of loss and blame, as Billy and Leila are forced apart by circumstance and grief. It's a tough journey, and Sutter's script successfully avoids excessive character cliche – hey, it's a boxing movie, so there's hints and echoes of previous stories hidden in the darkness of Southpaw's barrel-scraping grime – in the end, though, it's Gyllenhaal's aching performance holding this one together.
Indeed, Gyllenhaal is the only one holding this together. For as much as it tries to offer things new to witness, new character arcs or some manner of interest aside from the rock-bottom-boxer motif (if there any other? Exactly why do people put themselves through this again?), Southpaw's story really levels out once the opening fight sequence concludes. Fuqua brings some nice character moments, and an edgy, modern style, but Rocky this ain't, no matter how much Jake gives it his all. If you took Gyllenhall out of the film, this would be a B-movie at best, a has-been, seen-before film cliche wallowing in post-modern angst that never achieves the high aim it sets out for. Not for lack of trying, but Fuqua seems to find himself mired in the echoes of superior, got-there-first genre flicks to come before. It's not his fault, really, because there's only so much the screenplay can achieve, but Southpaw's urban grit merely wallpapers over some substantial cracks.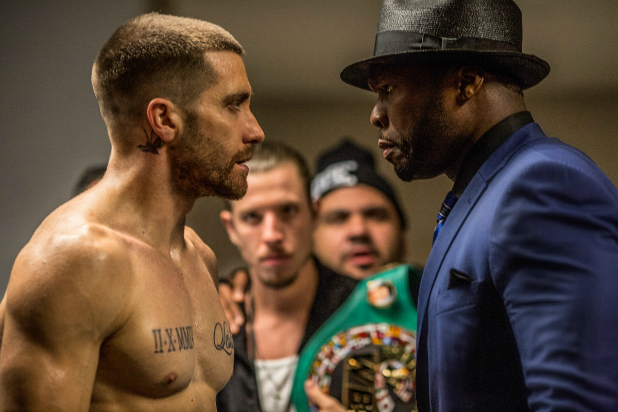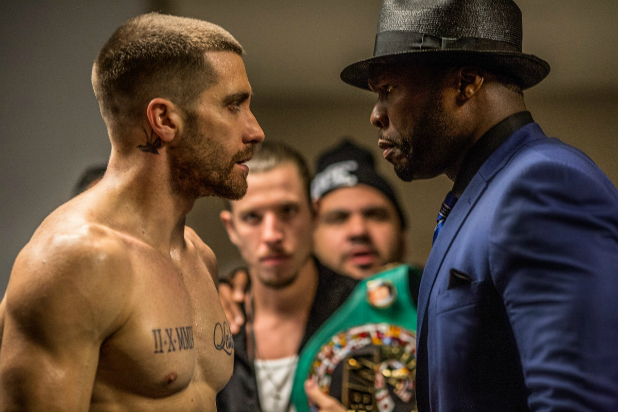 Gyllenhaal aside, Southpaw throws up some interesting performances. Curtis Jackson, old Fiddy himself, plays Billy's manager, Jordan Mains, and while the rapper does stumble over the lines and crunchy dialogue, he's warm enough to watch as he matches Gyllenhall's mumbling, grit-teethed performance. Rachel McAdams is the typical "sporting wife", driven for her husband to succeed but now warily circling retirement as Billy's body starts to crumble under the stress of continued bouts; both characters are written as former foster kids made good, and the connection between both her and Gyllenhaal is sweet, albeit all-too-brief. Forest Whitaker, who doesn't appear in the film until nearly an hour in, is typically understated as Tick, Billy's eventual white knight and personal road to redemption. Whitaker's tic-laden style and subtle intensity is a nice match for Gyllenhaal's masculine ferocity, with both actors performing solid work in their scenes together. With few exceptions, Southpaw's cast don't let the side down.
But we keep circling the drain to Gyllenhall. Honestly, he makes this film. If it weren't for him, I'd have barely made it through this one. Because he's in it, there's at least a thespian legacy to maintain, and the man delivers yet another Oscar caliber performance that, most likely, won't see the light come the awards season. In many ways, he becomes lost within the film's middling story, an actor deserving of better material than what's dished up through much of the angsty, plot-heavy dramatics. If the story was better, or the overarching plot perhaps a little less predictable, I'd call the film "towering" or some other pedestal superlative. Unfortunately, Southpaw isn't the towering dramatic film I was expecting. It's a good film, sure, but the sum of its parts don't equal the collective power it needed to.
Southpaw's unfortunate trip-hazard plotting and riff on everything from Rocky, Million Dollar Baby, and a little of Raging Bull limits what Fuqua and Gyllenhaal are able to achieve; honest, as I was watching I was thinking of too many other films, and without an identity of its own Southpaw collapses. It gains an extra rating mark for Gyllenhaal's commanding performance (and the film is worth a look for that alone), but that's all.
Related articles
Who wrote this?