Breaking News! – Wyrmwood and Starting From Now news!

Lesbians and zombie fans, pay attention. I mean, really, pay attention. We have some deliciously awesome news on several fronts to discuss! As you may know, we've been covering news on two local Aussie fronts over the last six months or so, particularly involving the lesbian-themed web series Starting From Now, and the zombie-apocalypse film Wyrmwood: Road Of The Dead, which has become a monster cult-hit since it debuted last year (and was conspicuously one of the most pirated films in the world at one point). So, if you're a fan of either (or both, for that matter) I suggest you click the button marked "continue reading" down below and continue reading!

Starting From Now!
If you're unaware about this Aussie made web series, but love a good drama about people without the burden of cliches or preconcieved ideas about characters, can I suggest you check out Starting From Now!, which has currently three seasons online to watch from their website. SFN centers around four women – Darcy (Rosie Lourde), Steph (Sarah de Possesse), Kristen (Lauren Orrell) and Emily (Bianca Bradey) – who live in inner-city Sydney, and who become involved romantically throughout this series. Raw, uncompromising, and told with truth, Starting From Now is one of those series that creeps under your skin and stays there; compelling characters, terrific writing, and some touching performances make this series a "must watch" on my rotation of viewing.
The problem is, there's only been three seasons made (6 episodes per season, approximately 10 minutes per ep, so catching up will take around 3 hours or so) and the team, led by series creator and director Julie Kalceff, have just commenced shooting a new season (filming commenced October 19th), set to screen in 2016. Well, that's a small fib: Kalceff and her team are shooting season 4 and 5 back-to-back, Peter Jackson style!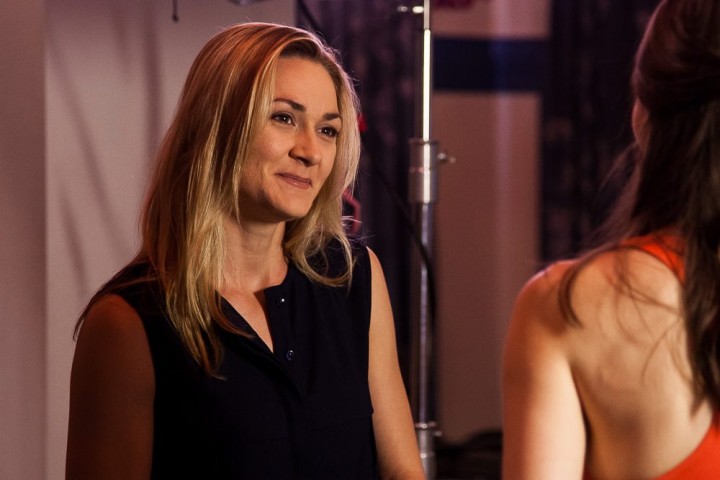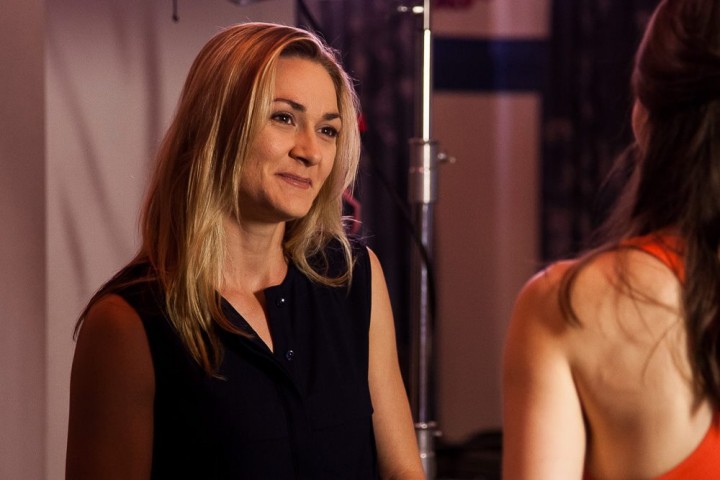 In following the team's Facebook and Twitter feeds, some hints about the next few seasons have come to light. First the guest cast is starting to come together. Aussie actress Julia Billington is involved, as is popular Aussie television presenter, raconteur and all-round awesome lady Gretel Killeen, who was spotted on set with Rosie Lourde and Lauren Orrell during week 1 of filming. Although plot details are pretty scarce (in fact, there's nothing I can find to even give a glimpse into what's in store for the women in the upcoming seasons), there's a fair chance we'll find Billington as a new love interest for shattered Kristen (she was devastated at Darcy's dumping/betrayal in Seasons 2 and 3, becoming quite self destructive) and hopefully some resolution to Darcy's hate-hate relationship with her mother (although that's just speculation on my part). Anyway, some sweet pics from filming can be found at the official SFN Facebook page here.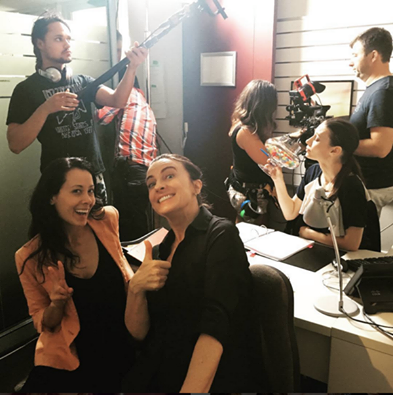 Exactly what Gretel Killeen is doing in the series, we're not privy to – but based purely on one image I saw during the week, she's either Darcy's publisher (Darcy is a writer, who spends her day drinking around the apartment trying hard to overcome the worlds greatest bout of writer's block) or Kristen's new boss (given that Kristen told her last boss to go f@ck himself, she kinda needs employment right now) but I'm not sure what that might be.
Then there's this pic (below) from today (as of writing), which sees Sarah de Possesse on set with Bianca Bradey (image taken from Sarah de Possesse's Instagram account – yeah, I'm a stalker!) in a rather jovial mood. If you know the series, you'll know Steph and Emily weren't exactly on speaking terms when we last saw them; it's hugely likely that this is simply a shot captured between takes, because I can't imagine either would be sitting grinning at each other in character, but I hope the outcome of their conversation is a little better than their last one.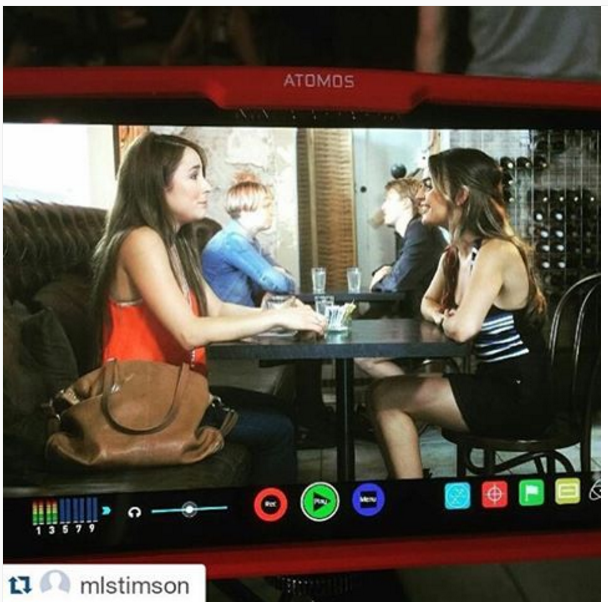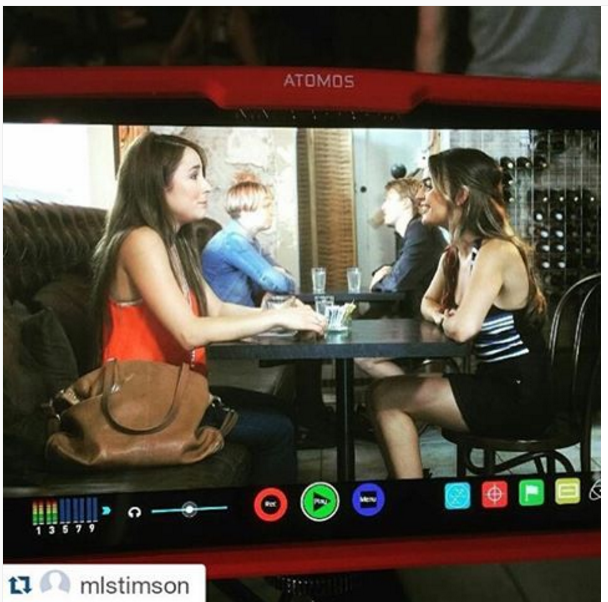 Personally, I'm so happy to see filming occurring, it's gonna be an interminable wait until 2016 when the next season premiers. Gah! So long! I'll console myself with going to see Star Wars, though, so I suspect I'll be fine.

WYRMWOOD: Road Of The Dead
Please note: I have sent a message to the Wyrmwood team seeking clarification and/or info on the below, and at the time of publication have not received a response, but I will update any erroneous information once I have one.
Okay, so there's possibly a few of you who still haven't seen one of the better best Aussie films of 2015, Wyrmwood, which does for zombie films what Mad Max Fury Road did for… well, Mad Max. I spent a week doing interviews and reviews of the film a while back – you can read my review here, and go to our interview page and locate our chats with cast and crew – and have been tracking the film's success over the intervening time. As mentioned, it was criminally pirated by all-and-sundry on release (the BluRay is currently on the shelf at your local video dispensary, globally, so go buy the shit out of it, you thieving bastards!) and the film barely made back any money, which is stupid considering the movie was made for around $160,000.
Well, the film-makers (Kiah and Tristan Roache-Turner) seem to have foregone the idea of a film sequel, instead opting for an R-rated television series to film in 2016. The official Wyrmwood Facebook page is scattered with comments to this effect.


Although details are sketchy (actually, with Bianca Bradey involved in both Wyrmwood and Starting From Now, we kinda hoped she'd let something slip!) about what the Roache-Turner brothers are planning for Wyrmwood, a 10 part series makes a hell of a lot of sense. The original film's bonkers premise and solid, low-budget execution absolutely nailed the best elements of a genre almost tapped dry on The Walking Dead and Co, and although a protracted narrative might seem counter-intuitive to the Roache-Turner's style by way of having to slow down the story to fit into 10 episodes (no word on length of episodes yet, or whether the series would be an anthology of side-stories, a sequel, a prequel – my campaign to bring back Frank, played by Keith Agius, begins now! – or some alternative dimension!), the simple fact that we're seeing the brothers' success translate into further funded projects, more specifically any project with the word "Wyrmwood" in the title, is something for horror and zombie fans to be ecstatic about.
Currently, the brothers have finished the screenplay for their next feature project (as yet, untitled and almost zero information either) and hope to shoot the Wyrmwood series in 2016, which makes sense if they're opting to shoot a feature between now and then. Okay, so it's gonna be a year or two before we see more Wyrmwood, but having another bonkers Roache-Turner brothers film in the meantime isn't something to sniff at.
Who wrote this?