– Summary –
Director :  Various
Year Of Release :  1940
Principal Cast :  Deems Taylor (Live action)
Approx Running Time :   126 Minutes
Synopsis:   A collection of animated interpretations of great works of Western classical music.
What we think :  An early example of what you'd call an "experimental film", or perhaps a "concept album" for Disney, Fantasia holds up even today, in spite of its amorphous anthology aspects, with thunderous music accompanying some of the studio's most beautiful animation. Controversy around racism aside, the film remains a beautiful work of moving art, a powerful example of the ability or animation to bring life to the lifeless, to let animator's imaginations soar, and to enthrall the audience purely with music and sound.
************
The Apprentice takes off!
Fantasia began life as a single experimental short for Walt Disney, the famed Sorcerer's Apprentice segment, which the studio had hoped would give its star, Mickey Mouse, a popularity boost in light of flagging interest. As Walt began to see the potential for unique, high-quality animated sequences, he devised the idea for a film built around individual animated mini-stories, calling it Fantasia. It would be presented as a premium product, in roadshow format, and in then-revolutionary multi-track stereophonic sound, replicating the experience of an orchestra's spatial expansiveness. While expensive, Disney envisioned the Fantasia project would move forward and evolve, as new animated segments were created, meaning each time you saw it, you saw something new and different. Although subsequent development on Fantasia's "evolution" would be stalled due to World War II, the initial presentation of the film is such a beautiful example of music and animation it stands the test of time regardless.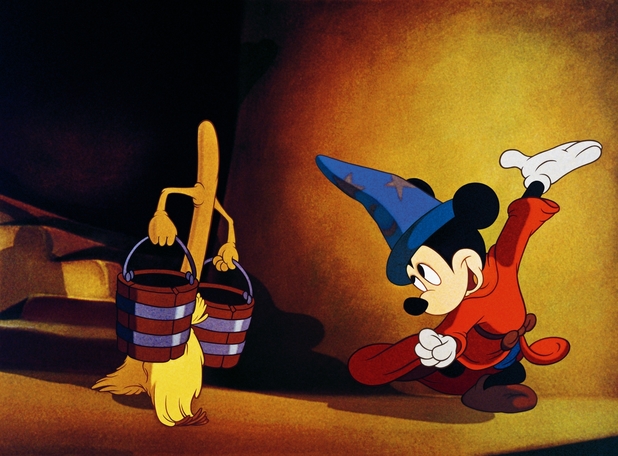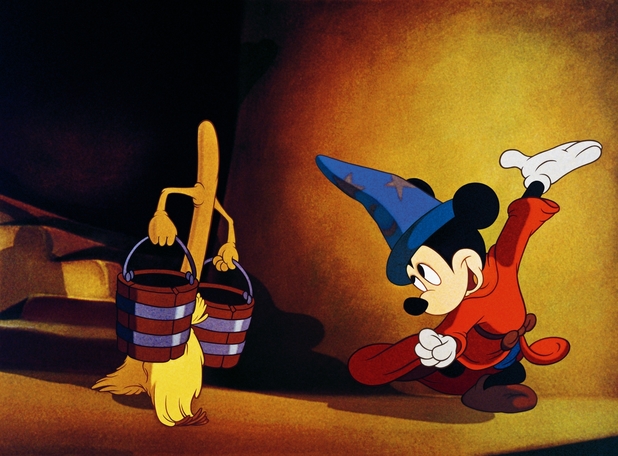 Fantasia consists of seven individual short animated films, linked by a narrative from Master of Ceremonies Deems Taylor, while the Philadelphia Symphony Orchestra is conduced by Leopold Stokowski. The segments are named after the music accompaniment, and in order are: Tocata And Fugue in D Minor by Bach, Nutcracker Suite by Tchaikovsky, The Sorcerer's Apprentice by Dukas, Rite Of Spring by Stravinsky, The Pastoral Symphony by Beethoven, Dance Of The Hours by Ponchielli, and Mussorgsky's Night On Bald Mountain.
Newcomers to Fantasia will find the film's anthology style a bit of a stark contrast to the more familiar narrative work of Disney's other films. Using all kinds of differing styles, from abstract, fantastical, lyrical and, in the case of the film's most famous moment, The Sorcerer's Apprentice, a mini-toon narrative of the more traditional type, Fantasia is a smorgasbord petri-dish of the studio's abilities in mastering animation as a genre. As a "prestige" format film, each segment is hugely detailed and superbly rendered. Nothing is left to the imagination in terms of quality of animation, although the opening Tocata segment's abstract shapes-and-figures mandate is meant to open the intellectual palette to any number of intriguing thoughts and imaginative prognostications.
Leaving The Sorcerer's Apprentice aside for a moment, the rest of the film is just gorgeous. Night On Bald Mountain, a thunderously dark, ominous work of shadow and black, is probably the best way to close out the film with timpani and brass working discordantly as an enormous devil mountain visage writhes across the screen in an orgy of "evil". The lyrical Nutcracker Suite segment, appropriating the themes of Tchaikovsky's racial evocations, is whimsical and fantastical, while Ponchielli's Dance Of The Hours is accompanied by a troupe of dancing hippopotamuses, ostriches, and alligators. Stravinski's bastardized Rite Of Spring (the composer was famously angered at the fact the orchestra cherry-picked the best moments from the the work, and simplified many difficult bits during the arrangement) is used to capture a vague "history" of Earth, to wonderful effect, while the film's most controversial segment, set to Beethoven's Pastoral Symphony, depicts a classic world of Greco-Roman mythology – centaurs, nymphs and other creatures working in a harmonious world vaguely anthropomorphized to approximate our own. It's this segment that came in for some judicial editing – in the original theatrical release, there was a shot of a black centaurette polishing the hooves of a white centaurette, which in the context of the day was probably okay, but considering racial subtext in years to come, the studio "edited" this moment to remove possibly offensive content.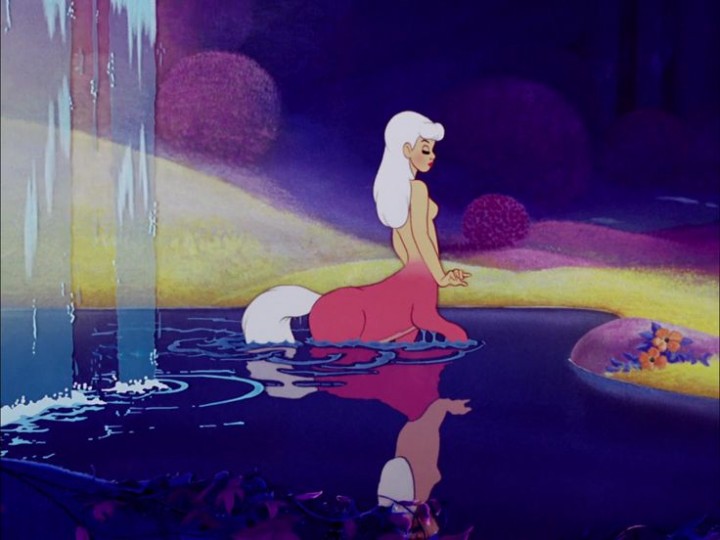 But the film's most famous segment remains its most visually striking, not due to any wonderment of animated brilliance, but just as a simple, wordless, story of a young apprentice having the worst day of his life set to Paul Dukas' evocative symphonic poem. The segment was directed by James Algar (most segments had different directors) and had music performed by Los Angeles musicians, and is as dramatic and iconic as any of Walt's earlier or later films. The deft animation, resonating with films such as Pinocchio, and the dynamic visual elements (the film depicts Mickey chopping at that unstoppable broom with an axe off-screen, the brutality on display referenced but not outright shown, and ensuring the underplayed visuals remained etched in the memory) as well as the fantasy allegory of the film, remain as strong now as they did in 1940, and it's little wonder that the iconic Sorcerer Mickey became the company's logo for years during its later period. If anything, the film is worth watching just for this.
And if nothing else, the film's use of sound and music works as a lesson for newbies – the intermission, where the "soundtrack" becomes an animated character examining how music works to affect an animators imagination, is one of my favorite animated moments in any film, ever – and as a school of visual depiction, it's hard to top. Fantasia's legacy remained incomplete until 2000, when the studio released a sequel, Fantasia 2000, and although a critically lesser film, Walt's idea of an ongoing, evolving work of imagination remains as prescient now as it did back then. Fantasia is a towering work of artistry, a true animated "concept album" from a studio working at the peak of its powers, and a must-have for any fan of the film medium.
Related articles
Who wrote this?