Movie Review – Backcountry (2014)

– Summary –
Director : Adam MacDonald
Year Of Release :   2014
Principal Cast :  Jeff Roop, Missy Peregrym, Eric Balfour, Nicholas Campbell, Melanie Mullen.
Approx Running Time :   91 Minutes
Synopsis:   An urban couple go camping in the woods and find themselves lost in the territory of a predatory black bear.
What we think : Effective B-movie about survival against the odds, makes the most of its tiny cast and access to a real bear, so camping fans and animal lovers should probably avoid this one. It's got some good moments, plenty of illogical thought processes, and a slew of crunching bones and rending flesh: Backcountry makes my trip to the local playground all that much more appealing as an alternative.

**********************
When you go into the woods today, prepare for a big surprise.
So, the rules of camping in the woods include not inviting some random Irish tour guide to come eat with you? I didn't read that in my Baden Powell guidebook. Backcountry, an isolationist survival movie, has mountains of charm, forests of creepy, eerie, "don't turn around" stuff, and a central villain who ain't even a human being. If this kind of thing that makes me really trepidatious about saddling up with a backpack and getting "back to nature" anytime soon. Although, I will add, it does make for a nice little B-movie thrill ride similar to equally tension-fueled projects in recent times, such as A Lonely Place To Die, only without the guns. Films such as this, where the lead actor or actors, are put into isolated, lonely locations to fend for themselves, usually go one of two ways. The first, they know what they're doing in these situation and so can normally escape whatever pitfalls await them, or, as is half the case with this, they don't know what they're doing and thus have to rely on their wits, or what they learned watching Bear Grylls.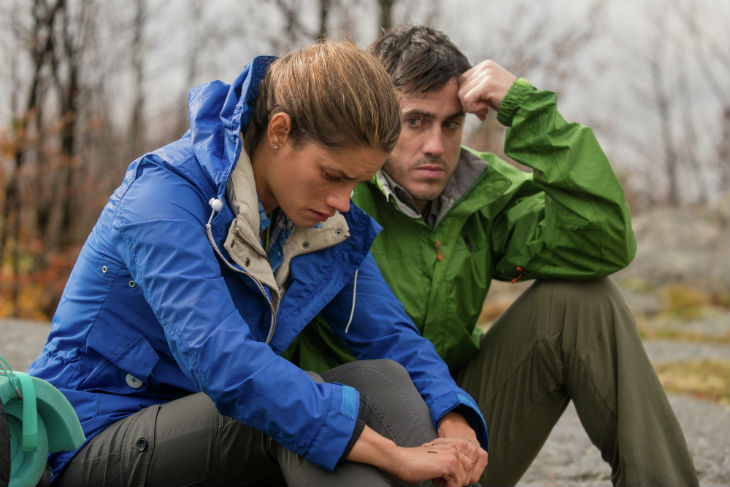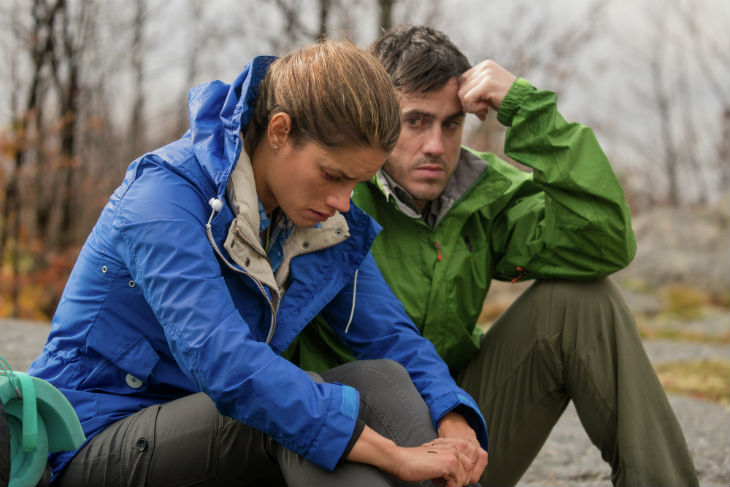 A young couple, Alex (Jeff Roop) and Jenn (Missy Peregrym) escape their city lives for a while on a camping trip together into the Canadian wilderness. Alex's decision to take them up the closed off Blackfoot Trail, against the advice of the local park ranger, leads to all manner of problems. First, they encounter the creepy Irish tour guide Brad (Eric Balfour), who rubs Alex the wrong way and has eyes for Jenn. Then, after not reaching a beautiful lake at the top of a mountain because Alex is too stupid to bring a map, they find themselves hopelessly lost. Not only that, but they are also within the territory of a large, predatory black bear, who doesn't want them in his forest. Thus begins a deadly pursuit to escape the wilderness and keep their fractured relationship intact.
The real plus of this film is the two leads, Jeff Roop and Missy Peregrym (the latter of whom looks entirely like a budget Hilary Swank), who do a solid job of convincing us they're a real couple. They have flaws, they're not perfect, but they seem to love each other; it's all good for them until the bear shows up to wreck things. Their development over the first half of the film allows us to really go into shock when the bear attacks. Then, well, you'll just have to watch. Suffice to say, only one of them is getting out of this alive, and that's not counting the bear.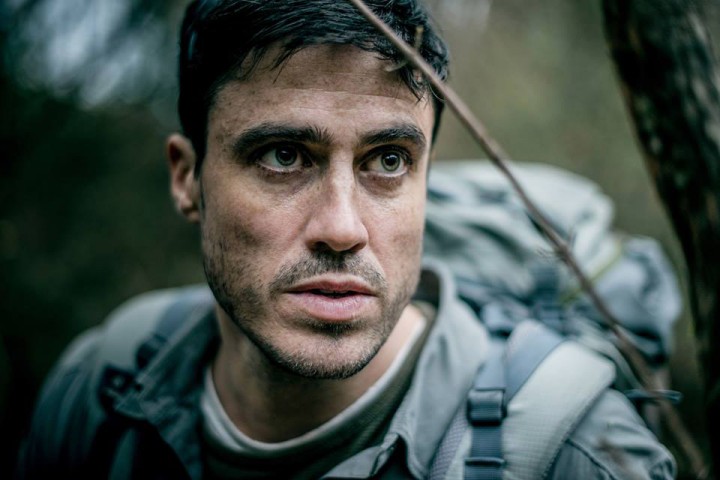 Because the film takes its time developing Alex and Jenn's relationship, there's plenty of quiet beats in order to lull you into a false sense of security. As the "we're lost" tension mounts into "a bear just ate my partner" terror, the film kicks into high gear, as the surviving human has to drag themselves through the forest dealing with not only witnessing their lover being torn to shreds, but the fact they're still lost! Yup, this is why I don't go camping. Adam MacDonald, who wrote the script, brings the genuine isolation of the scenario to a heightened degree as his frantic camerawork post-bear attack generates both momentum and a sense of shock. The lush woodland the film is shot in looks amazing, and it adds to the story's impact; this kind of thing happens so easily, as anyone who's ever watched the news could tell you, and the way so many small things done wrong amount to such a traumatic experience is believable.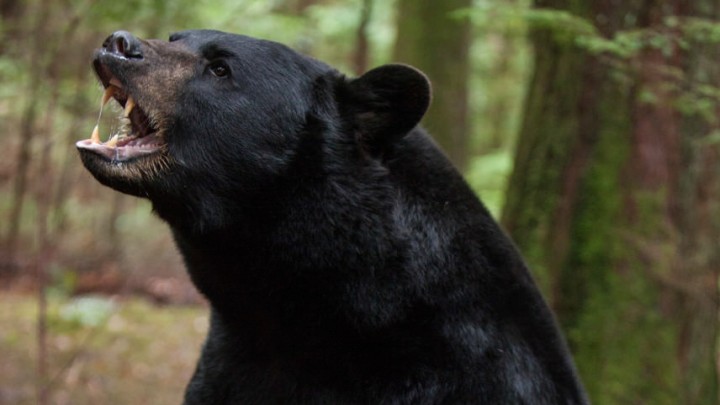 Backcountry doesn't really delve too deeply into morals, ethics or the meaning of life, not with a giant bear on the prowl. Nope, its latter half becomes a survival film, and a compelling one at that. Mind you, I had to laugh when the survivor of the bear attack climbs a tree to sleep off the night. A tree. Obviously they never watched much Discovery Channel. Backcountry's never gonna win Oscars or even find popular acclaim within a large audience, but as a cautionary tale about taking a goddam map with you on a hike, this is a must-see. Backcountry has some great chills, a couple of moments of outright horror, and plenty of nice sequences with the bear.
Related articles
Who wrote this?