Movie Review – Immortal Beloved

– Summary –
Director :  Bernard Rose
Year Of Release :  1994
Principal Cast :  Gary Oldman, Isabella Rossellini, Jeroen Krabbe, Johanna ter Steege, Christopher Fulford, Marco Hofschneider, Miriam Margolyes, Barry Humphries, Valeria Golino, Alexandra Pigg.
Approx Running Time :  121 Minutes
Synopsis:   The life of Ludwig Van Beethoven, from his life as a child to the final years, before a letter written to his "immortal beloved" set in motion a search of the mysterious woman the composer adored.
What we think :  Gary Oldman's iconic portrayal of the famous composer will never be equaled. The film's fantasy romance elements make for compelling impetus as we traverse Beethoven's life, accompanied by his most bravura musical works; this is a film I adore in spite of its cavalier approach to reality, and the assemblage of production values and terrific key performances make Immortal Beloved a genuine classic.
**********************
Ode to Misery. Ode to Love.
The musical biography film – of which Immortal Beloved is a fine example, if not among the finest – is a bit of a hit-n-miss genre to tackle. Particularly if the subject is several centuries in the ground, as is the case with Beethoven and his musical contemporaries. While films such as Amadeus captured the zeitgeist for their large scale humanity, lesser-known works such as The Music Lovers, Lisztomania and Mahler (all directed by Ken Russell) were left aside by audiences favoring sweeping Bavarian landscapes and opulent Viennese panoramas. Even recent films to tackle classical composers, such as The Devil's Violinist (which admittedly lacked the screenplay wherewithal to try something different) haven't found favor outside the cultural elite to whom this music resounds. Immortal Beloved transcends them all; led by a magnetic Gary Oldman in fierce firebrand form, and accompanied by a staggeringly brave supporting cast, Bernard Rose's love-letter (ha!) to Beethoven not only hits all the cultural and musical marks to make it a gem, but its sheer ferocity sear it into the memory long after it's been viewed.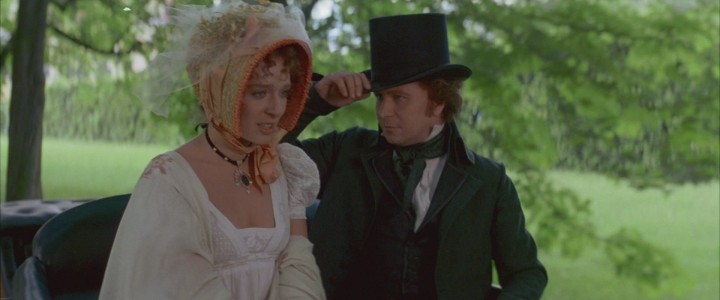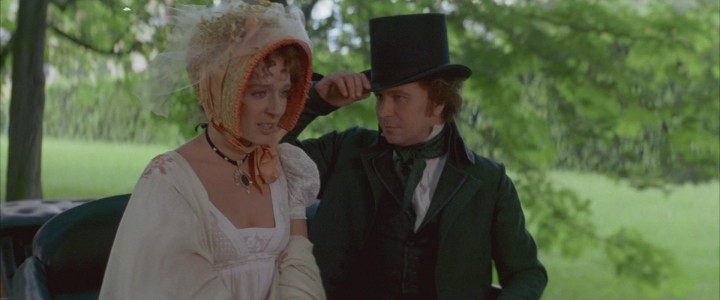 Oldman plays Ludwig van Beethoven, a temperamental and passionate composer working in Europe during the early 1790's to his death in 1827. Beethoven's career and personal life is explored in flashback, as, following the composer's passing, letters are found bequeathing his entire estate to a woman known only as Unsterbliche Geliebte, or "immortal beloved". His executor, Anton Schindler (Jeroen Crabbe), sets about location the various women Beethoven was involved with, in order to determine the identity of this mysterious lover. As he does so, the film extrapolates events from Beethoven's life and interweaves this with his own personal tragedy – his brutal father (Marco Hofschneider), his son (Christopher Fulford) and his fractured relationships with them as he strove to carve a niche as a composer of note within Vienna's society.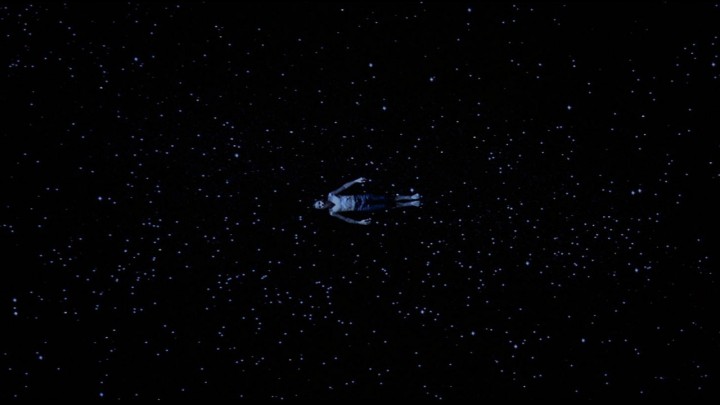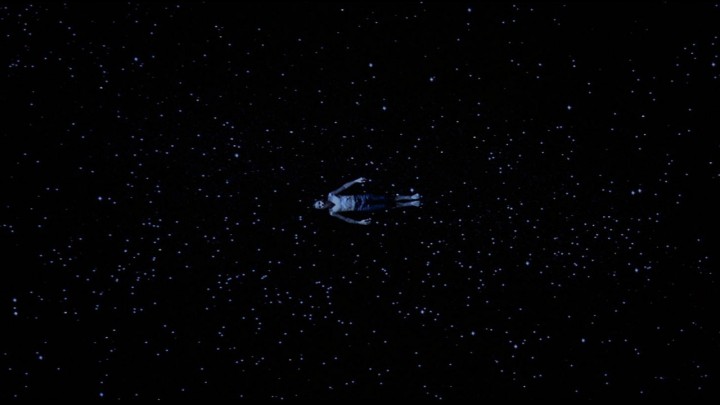 Utterly romantic and tragic in equal amounts, Immortal Beloved's almost Shakespearean overtones make for compelling viewing. Oldman's portrayal of Beethoven, from his passionate love of the women in his life to his passion for his music, is indelibly iconic, a towering achievement in acting that went utterly unrewarded with even a nomination for an Academy Award in 1994. Travesty as that is, Oldman's spittle-chewing performance is only enabled by the quality of his fellow cast, and Beloved has one hell of fine supporting roster. Jeroen Krabbe's Anton Schindler, a man to whom the value of Ludwig's last testament is sacrosanct thanks to his loyalty to the man even in death, is the bedrock the film is built on – as the key to locating the identity of the immortal beloved, it's as much his story as it is Beethoven's. Throw in Isabella Rossellini as one of Ludwig's lovers, Miriam Margolyes as a hotelier Schindler meets, and Johanna ter Steege as the wife of one of Ludwig's brothers whom he despises, and Immortal Beloved is indeed a classy film.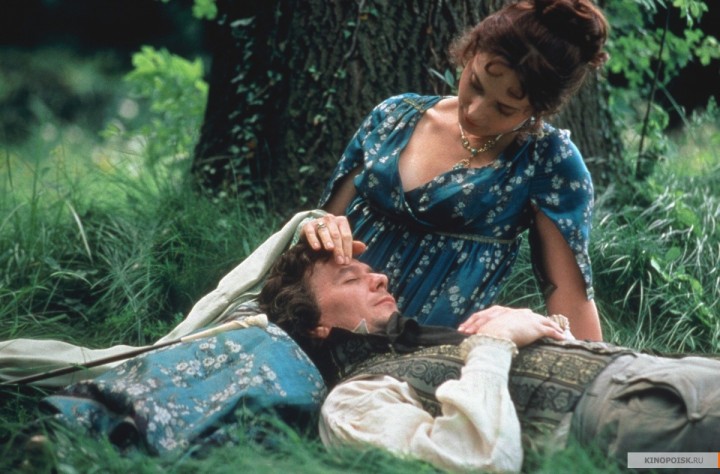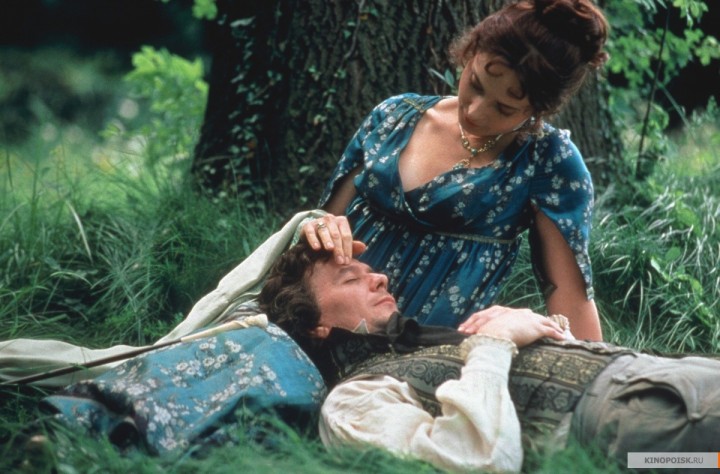 Directed by Bernard Rose, who only two years prior had given everyone a reason not to stand in front of a mirror repeating words five times in Candyman, Immortal Beloved has a sumptuous, lavish style going for it. Although I couldn't find a definitive figure on the film's budget, it looks huge, ranging from superb location filming across Europe (including Prague and Austria) and enjoying an aesthetic one could only describe as "lavish". Rose's cinematographer on this film, Peter Suschitzky, deserved an Oscar for his lensing of this movie, with its glorious soft-focus work and resonant darkness as we get closer to the maestro's passing, a relative pauper and recluse, in 1827. The screenplay, by Rose himself, is a fascinating – if intemperate – look at Beethoven's legendary temper, a fury for suffering no fools gladly, which often led to people seeing him as antagonistic and oafish, although in truth (or at least the truth as perceived by Rose's fanciful writing) derived largely from passion. The film is told in flashback form, as Anton's search leads the various women to recount their interactions with the maestro, giving punctuation between protestations as to the identity of the mystery woman.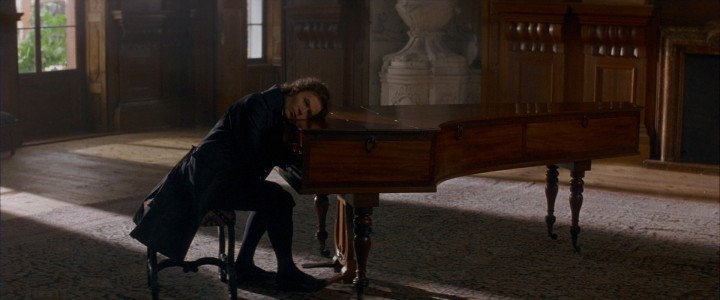 The film's gushing finale, a heartbreaking mixture of tragic misinformation and dreadful timing, works as it should; fans of romantic tragedy will enjoy this movie for the way it derives the bait-and-switch reveal (and it's genuinely moving, at the end), but those of a more cynical nature will likely scoff at Rose's assumptions. The reality is, nobody has definitively proven who the real Unsterbliche Geliebte actually was: she was a real woman, and the film takes some liberties with the truth of the investigation and wraps it all in a nice, neat little bow at the end, so take from that what you will. Fanciful as it might be, Immortal Beloved is purely a fantasy of love and death, a melancholy, breathless invitation to take a trip into the life and madness that was Beethoven's world.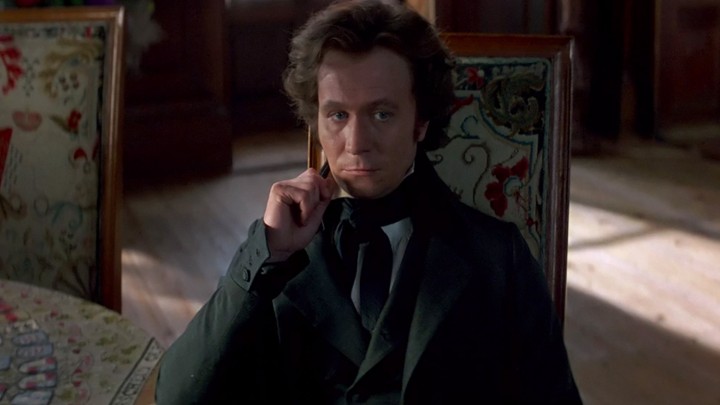 For fans of classical music as a pure artform, you'll probably be left wanting when it comes to the actual technicalities of Beethoven's composing. The film's focus on Beethoven's personal life allows the film to make use of some of his most iconic melodies – the famous 9th Symphony is given spine-chilling treatment late in the game, as a once despised Ludwig reasserts himself as the preeminent composer of his time – but the aspects of his composing them is largely superficial. That said, I think even fans will enjoy what is, essentially, a "poetic license" take on the great composer's life, told through the eyes of those who knew him best. Immortal Beloved is involving, passionate storytelling, and whether or not it's true, there's no denying the sheer musical genius we lost way too early.
Related articles
Who wrote this?