– Summary –
Director :  Bennett Miller
Year Of Release :   2014
Principal Cast : Steve Carell, Channing Tatum, Vanessa Redgrave, Mark Ruffalo, Sienna Miller, Anthony Michael Hall, Guy Boyd, Brett Rice.
Approx Running Time :   134 Minutes
Synopsis: The heir to the duPont family fortune hires a down-on-his-luck former Olympic wrestler to train potential Olympians to compete on a private team.
What we think :  Coolly directed by Miller, and led by three convincing performances, Foxcatcher is top-notch filmmaking. An undercurrent of tension, of confrontation and of expectation unmet, enthrall and strip bare the compelling true story of relationships gone wrong. This isn't so much a sport movie as it is a human tragedy, the kind you can't stop watching no matter how horrible the wreck will be. A worthy contender for a top 10 film of 2014.

So that's what wrestling does to a man.
True crime is always vastly more thrilling than fictional crime. Okay there's exceptions to that statement, but I'm not far from the truth here. Foxcatcher is a true crime story, a "Can you believe this" tale involving money, the love of money, and wrestling. If Foxcatcher were a completely fictional story, you'd think it pretty mediocre by Hollywood standards. Thankfully, Foxcatcher is outstanding, led by a trio of terrific performances, including a particularly effective one from Steve Carell. It centers around two wrestling champions, played by Channing Tatum and Mark Ruffalo, who are seconded to John E duPont's "Foxcatcher Farm" to train athletes to become Olympic level wrestlers. Tatum and Ruffalo are low-key and excellent in their respective roles, with Tatum especially reining in his usual glint-in-the-eye deadpan comedy schtick to provide the film's core emotional arc.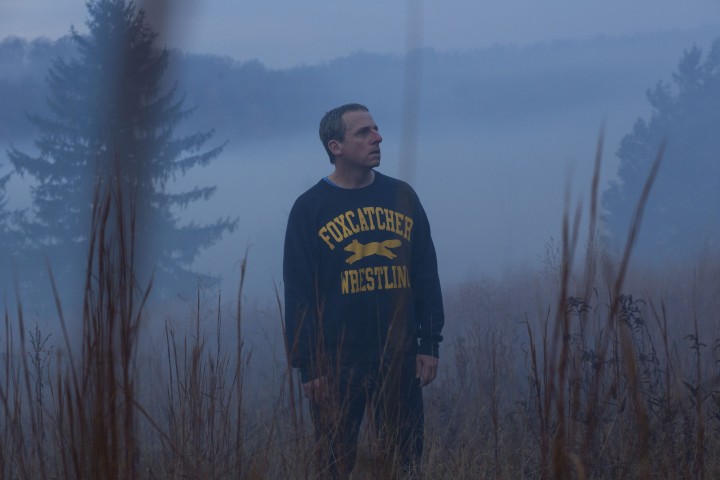 Foxcatcher is best appreciated by folks who know nothing about the events the film depicts if they approach it cold. I hadn't ever heard of Mark and Dave Schultz before, and even the duPont name rang only the faintest of bells, so foreknowledge of the tragic events of Foxcatcher was least of my concerns. In this, it allowed the film to unspool with methodical precision, a whammy of personality and technical craft that belies the tension and angst to follow. Foxcatcher plays like a David Fincher film; it's a cool, technically crisp film-making style from Bennett Miller, who gave us both Moneyball and the Philip Seymour Hoffman film Capote, and this unflattering tone, together with the restrained, utterly un-flamboyant acting from the three male leads make Foxcatcher less a movie and more a work of true story-telling art.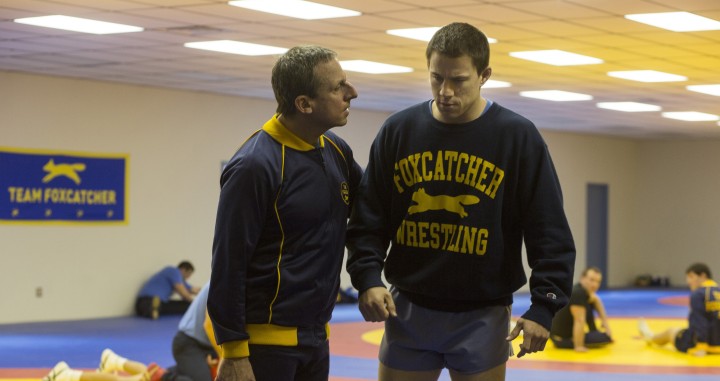 Crafting his film from a script by E Max Frye and Dan Futterman, Miller's ability to create tension and mood through silence and stillness is fascinating. The Foxcatcher Farm, where most of the film takes place, is a quiet, beautiful location west of Philadelphia, the rolling hills and deciduous trees belying the personality clashes occurring within the borders of the property. Miller gives the film a certain grace, a languid charm that actually adds a malevolence to the movie so intangible it's tantalizing. The script doesn't really pull any punches with narrative trickery; the film is as straightforward in the telling as it gets, allowing the characters and their intensity to marinate inside the framing of Miller's steady camerawork.The film builds, builds, develops the characters, pitches the story as some weird sporting drama, before plunging into the netherworld of anger and bitterness.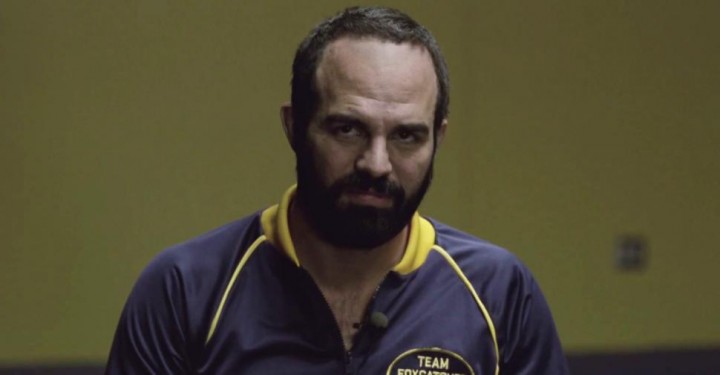 Channing Tatum delivers a great performance as Mark Shultz, a quiet, introverted, almost skeptical younger brother looking for a break in his life. Tatum plays Mark almost through clenched teeth, a lot like Heath Ledger's cowboy character in Brokeback Mountain – Mark feels like he's suppressing some hidden rage half the time, like he's bitter with his success not bringing him the acclaim and fame his brother, Dave, seems to have in abundance. It's a nice departure for Tatum, whose most recent roles in the Jump Street franchise, and Magic Mike, have him cast in a predominantly comedic and musclebound light.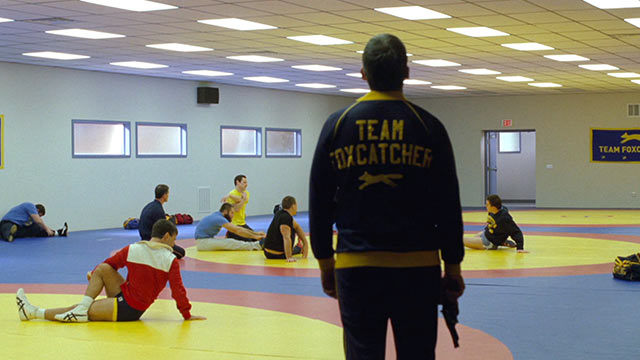 Tatum is abetted by a superb Steve Carell, who sports a prosthesis here that transforms him utterly. Hard as it is to imagine, but a new nose and a different vocal intonation turn Carell from his typically nasal comedic self, into a quiet, creepy, flawed John E duPont. Then there's Mark Ruffalo, sporting a full faced beard and a bit of brutish paunch, who can play roles like this with his eyes closed (something similar to In The Cut, perhaps); as a trio of performers, I was inclined to think somehow Miller might not have had his head screwed on right, but he's proven me wrong, and happily.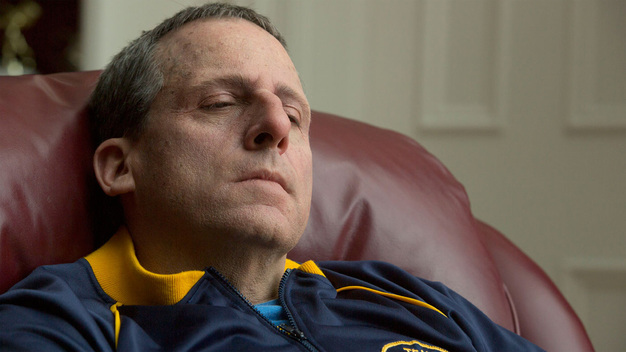 Foxcatcher is incredibly mood-motivated, albeit lit by a lot of flat looking lighting, and a muted 70's color palette evoking the era superbly. Greig Fraser's delightful cinematography lacks the punch of many modern films, as he blends the color tones of the Farm into greys, blues and soft hues of comfort. It's disingenuous to call this anything other than warranted, since the story's restrained style would predicate an equally restrained visual style, yet as an effective accompaniment to both direction and performance, Fraser's keen eye (he gave us work on Zero Dark Thirty, Snow White & The Huntsman and The Boys Are Back, among others) offers a hugely effective look to the film.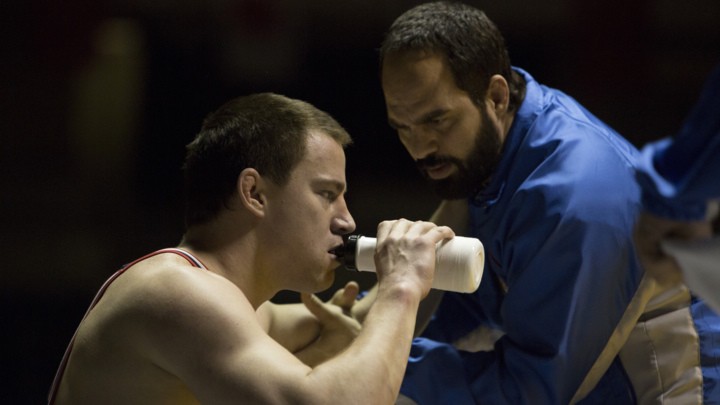 At times, Foxcatcher feels mournful, as if it's a film sad to show us the story it depicts. Miller's restraining style probably has a lot to do with this, but you kinda get the sense that this is yet another one of those "American Dream Unmet" films, a failed human tragedy that unwinds in only one direction – onwards to tragedy. And Foxcatcher is tragic, make no mistake. It's a film with a somber, decidedly incomplete conclusion, a film that withers the spirit with its fragility and complexity in equal parts. As the spiral begins to wind in, as John duPont effectively usurps the Shultz brothers' lives, Foxcatcher's chilling sense of dread escalates in glacial power.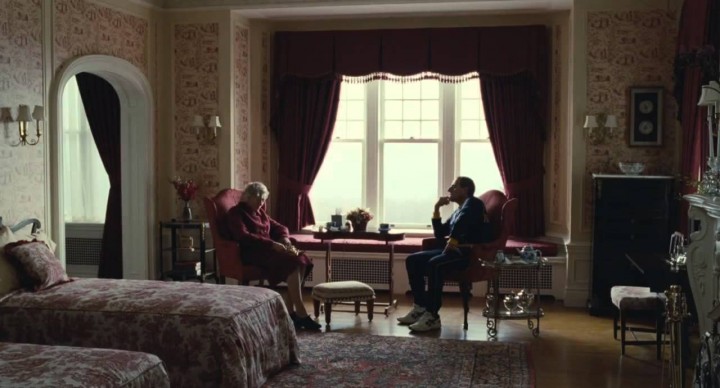 Foxcatcher is the kind of film David Fincher would make if he wasn't making movies like Gone Girl. That's not to impugn Bennett Miller's work here, it's remarkably solid work and I mean any comparison as a compliment. Foxcatcher is a terrific film, yessiree, made all the more effective with the fact that it's rooted in real events, and on real people. Paced with precision, performed with power, and painted with brushstrokes of both broad and detailed craftsmanship, Foxcatcher is a magnetic cinematic treat that rewards viewers with both compelling characters and a compelling story.
Related articles