Movie Review – Horns
Moody, atmospheric, occasionally gory, and altogether enthralling, Horns is a clever, melancholy descent into madness. Give it a whirl, I think it's a good one.

– Summary –
Director :  Alexandre Aja
Year Of Release :   2014
Principal Cast :  Daniel Radcliffe, Max Minghella, Joe Anderson, Juno Temple, Kelli Garner, James Remar, Kathleen Quinlan, Heather Graham, David Morse, Sabrina Carpenter.
Approx Running Time :   120 Minutes
Synopsis:   After being accused of raping and killing his girlfriend, a man uses his supernatural powers to trace the real killer.
What we think : Moody, atmospheric, occasionally gory, and altogether enthralling, Horns is a clever, melancholy descent into madness. Give it a whirl, I think it's a good one.

**********************
Harry's Horny Problem.
Daniel Radcliffe appears to be one of the most successful graduates from the school of Harry Potter's younger brigade; aside from Emma "I'm gonna study" Watson, who has had a foray into independent films amidst her decision to go to university, Radcliffe appears to be more comfortable parlaying his blockbuster success into smaller, less "popular" films. December Boys in 2007, then The Woman in Black in 2013, followed by Kill Your Darlings in 2013, have not only drawn Radcliffe some favorable reviews, but also considerable appreciation for choosing films that have tried to avoid his Potter persona as much as possible. Guess it's better than doing drugs to escape your fame, right Drew Barrymore? Horns, directed by Alexandre Aja (who gave us Piranha 3D…. yeah) is based on a successful novel by Joe Hill, about a young man accused of a horrendous crime who suddenly sprouts devil horns to solve the mystery behind his girlfriend's murder. One part Stand By Me, one part horror festival, and entirely entertaining, Horns is a one-of-a-kind film that is just cray-cray enough to be really, really fun.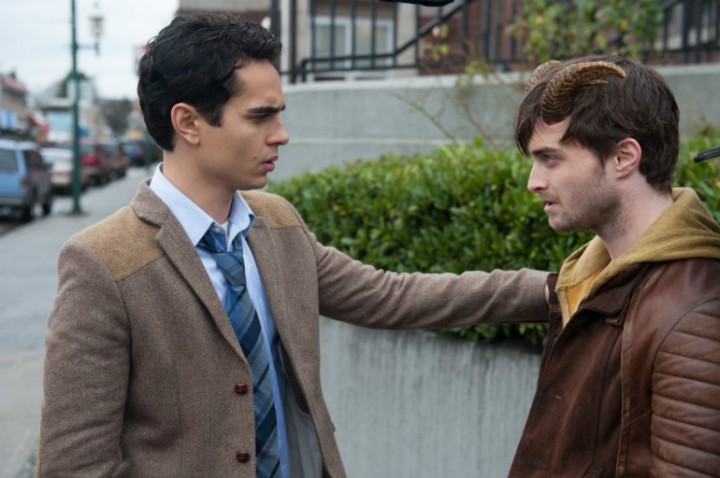 Ignatius Perrish (Daniel Radcliffe) wakes up after a drunken night to discover he has begun to grow horns on his head. Accused of killing his girlfriend Merrin (Juno Temple), and finding himself ostracized from his community, Ig learns he has powers that allow him to manipulate people into telling him their darkest secrets. As he grows into this power, Ig decides to use it to his advantage, to uncover the person who really killed Merrin, in spite of the protestations of his lawyer friend Lee (Max Minghella), and his coked-up DJ brother Terry (Joe Anderson).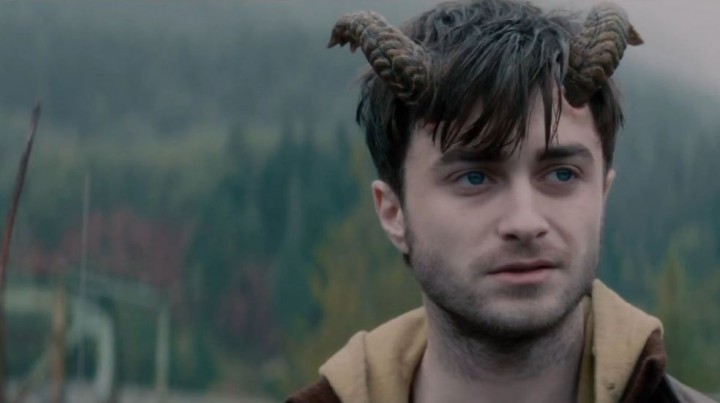 Horns runs the gamut of satire, horror and outright comedy, with a splash of heartfelt youthful angst thrown in. Radcliffe's Ig, who grows a pair of sweet horns on his head, is a likeable enough dude, who's just wrongly accused of killing the love of his life. Ig's problems stem from the fact that he's almost straight-up guilty aside from the fact that he's not – the people around him, including his parents (a terrific Kathleen Quinlan and a solid James Remar), believe he's guilty, and throughout the film it's only Ig's persistent belief that he didn't do it (although he has no memory of the time he supposedly did the deed, which makes him question himself) which keeps us from siding with his accusers. The film's tone wavers between comedic and the horrific, a balance that IMO works well, although it does tend to stray too far into comedic when it shouldn't, if there's any real fault to it. Ig's predicament would have most of us reaching for the prozac if it were us, but as impartial observers, we can sit back and smile at the improbable nature of it all.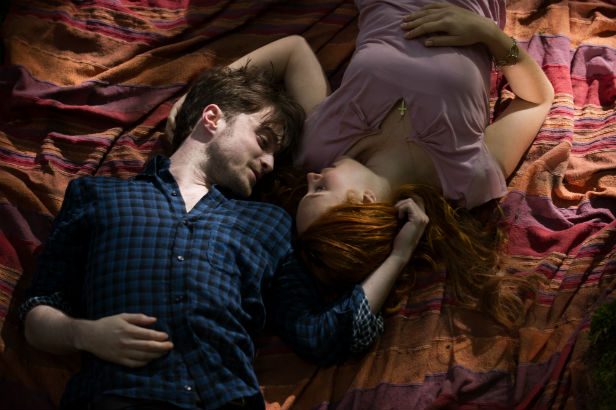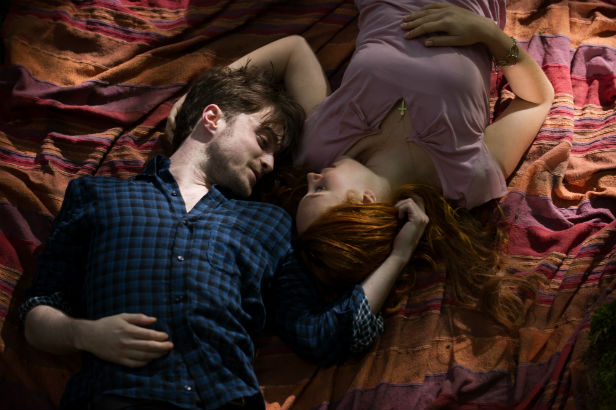 One of the nice parts of Horns' narrative is the way it weaves the backstory of the major characters into flashback form, fleshing out the history of Ig, Merrin, Lee and Terry as they grow from children into adults. Initially, there's no real hint of supernatural, until the film switches into "present day", as Ig's horns take hold and his powers kick in. The way Horns deviates from dramatic mystery to outright horror show is convincing, evocative and, often, quite humorous. I think Aja nailed the balance between the fun and the fear, as he blends supernatural devil-genre film cliches with a murder mystery in a small town to great effect. The mystery element of the story is handled well, with Aja keeping the "reveals" hidden until they're most shocking or revelatory to the plot, and given his previous film exploits with bloody gore and carnage, the horror elements of the story also provide a strong visual kick. A particularly gruesome shotgun blast in the final act reveals that the film isn't afraid to go to some bizarrely bloody moments.

Radcliffe's portrayal of Ig is convincing – his American accent seems flawless (please advise me if you think otherwise), and he stretches himself far beyond his Harry Potter performance level. Whoever he's been talking to in the background about acting, it's certainly paying off. Radcliffe's Ig is a tormented soul who is determined to see the right thing done, even if it means doing bad, bad things. This weird contradiction in character is both horrific and somewhat euphoric, a dichotomy Aja allows to pay off as the film winds to its gangbuster conclusion. The rest of the cast, from Joe Johnson's cowardly brother Terry, to Max Minghella's secretive public defender character, to Juno Temple's angelic Merrin, are all solid in their respective parts, bringing this low-down-town story to life in a manner that's fitting for the subtext. Aja's low-key approach to religious and devilish iconography throughout the film is subtle, and balances off the humor with ease. Fun bit-parts to James Remar and Katherine Quinlan brought a smile to my face.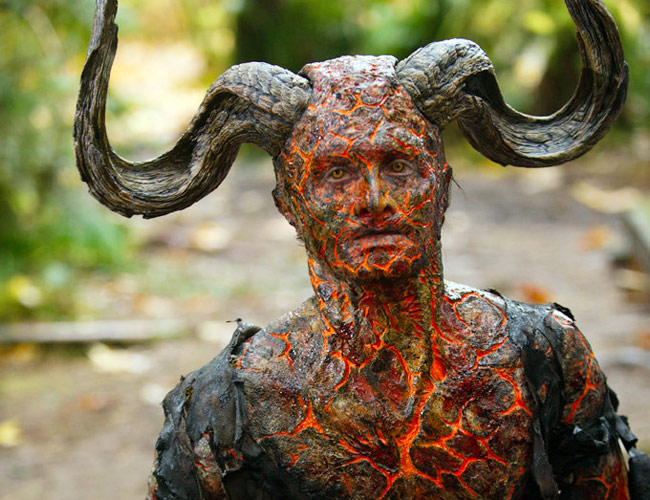 As the film moves along, it transitions from a somewhat lightweight comedic horror entry into an outright dark, horrific story of redemption and descent into hell. Some might baulk at this tonal shift, but I think it's a nice sucker-punch that grabs the audience and takes them on a journey – perhaps a journey they weren't expecting. Personally, I liked this shadowy element to the film, and it makes for a great horror movie to pull something out of the bag. The thing about Horns is that it's a character piece, rather than a slasher/satanistic/freakshow. The horns Ig grows aren't so much an effect as they are an aspect of his personality, as he begins to fight back against the persecution he's undergoing. The film is driven largely by Ig's relationship between the rest of the cast, and mainly through Merrin, who provides the film's powerful twist late in the game, which brings the emotional arc full circle.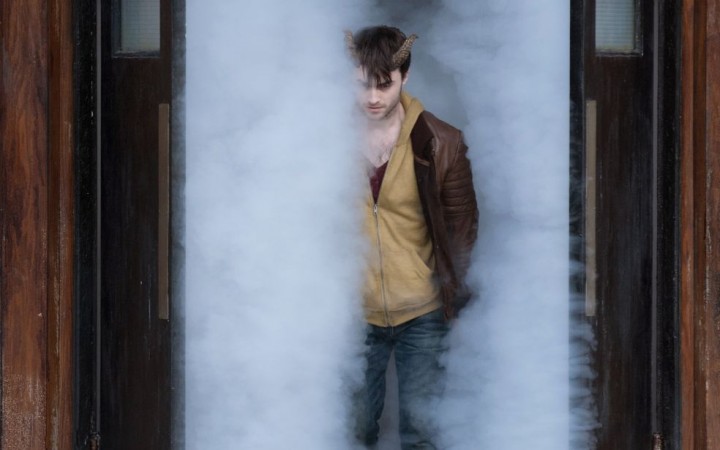 As I said, Horns is a layer cake of horror, drama, black comedy and some tips-o-the-hat to the genre. Some might find the film's nuanced narrative and sl0w-moving pace a little hard to go with, especially as those people might have been expecting a more straight-up horror, but for those adventurous film fans with a taste for the slinky, the weird, and the oh-so-off-center, you'll find Horns a surprisingly good watch. Radcliffe's acting isn't bad, the story is an onion of a mystery, and the direction from Aja (unlike Piranha) is really really good. Horns? Definitely.
Related articles
Who wrote this?