– Summary –
Director :  Scott Frank
Year Of Release :   2014
Principal Cast :   Liam Neeson, Dan Stevens, Boyd Holbrook, Maurice Compte, Brian "Astro" Bradley, Sebastian Roche, Olafur Darri Olafsson, David Harbour, Adam David Thompson, Laura Birn, Razane Jammal, Danielle Rose Russell, Natia Dune, Marielle Heller, Eric Nelsen.
Approx Running Time :   113 Minutes
Synopsis:   A former NY Detective and recovering alcoholic becomes involved with locating the identity and whereabouts of two lunatics who are hunting, kidnapping and extorting the city's drug bosses and their families.
What we think :  Stylish, malevolent thriller delivers one of Neeson's more commendable roles in recent years, and has vastly eerie echoes of David Fincher's Zodiac, a film Scott Frank obviously has a lot of love for. …Tombstones is sl0w-burn chills, a few minor scares, and plenty of Neeson's haggard, haunted visage scoping the dark underbelly of New York City. Filled with unlikeable characters, a oppressive tone and a decidedly low-key approach from Frank and DP Mihai Malaimaire Jr, A Walk Among The Tombstones is definitively dark and haunting, and a much better film for it.
**********************
Throughout its long, often dark history, the city of New York has remained a magnet for writers and film-makers hoping to carve a little piece of that mosaic of human existence for themselves; a city not all that long ago was wracked with crime and hostility, something now thankfully on the wane (at least since 9/11, I think), New York's instant-genre-icon status, for either cataclysmic blockbuster, bubbly romantic comedy, or – as is with A Walk Among The Tombstones – a seedy, oily crime kill-thriller, makes it the perfect setting for almost any story people want to tell. Set during the Y2K era, the hard-nosed detective story I was expecting soon gives way for a more bloody, messy, violence-fueled story of personal redemption and emerging from the darkness. Based on Lawrence Block's novel of the same name, A Walk Among The Tombstones sees everyone's favorite aging action star, Liam Neeson, step into the gun-totin' shoes of our eponymous hero (or anti-hero), who is forced to take a personal journey through his own guilt and moral ambiguity as he seeks a redemptive conclusion to his "retirement" from the Force (yeah, he's an ex cop) after a botched takedown of a trio of killers back in the 80's.While Neeson's carved himself a decent career path since Taken made him a bona fide screen action hero, a few of his efforts of late have met with a fair amount of critical savagery – Taken 2, in particular, deserved it – so it remained to be seen if the Irishman's lucky turn as an aging heroic figurehead would continue or collapse as he stepped out among the "tombstones" of New York, the massive skyscrapers and rain-soaked streets of urban decay. Is this Walk one to savor, or would you be best served sticking Taken back in the DVD player instead?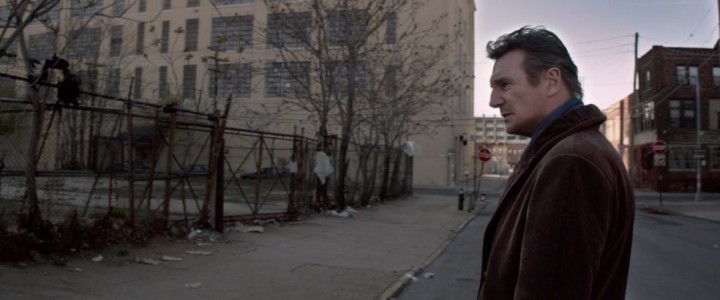 In 1999, former New York City detective Matt Scudder (Liam Neeson) is both an unlicensed private investigator and a recovering alcoholic. After being approached by one of his AA meeting associates, drug-addicted Peter Cristo (Boyd Holbrook), Scudder takes the case of Peter's brother, Kenny (Dan Stevens), whose wife Carrie (Razana Jammal) has been kidnapped and executed by a pair of sociopaths – David Harbour and Adam David Thompson – who lurk in the darkened city streets with a vendetta against drug-runner's families. Scudder, who turns a blind eye to Kenny's drug dealings, begins to investigate, uncovering a trail of clues leading to the death of former DEA Agent which in turn leads Scudder to determine that this kidnap/ransom/kill routine has occurred before. As the trail turns cold, Scudder tries to conclude his part in the case, until the young daughter (Danielle Rose Russell) of another drug kingpin (Sebastian Roche) is kidnapped by the same two men, at which point a play is made for her safe return.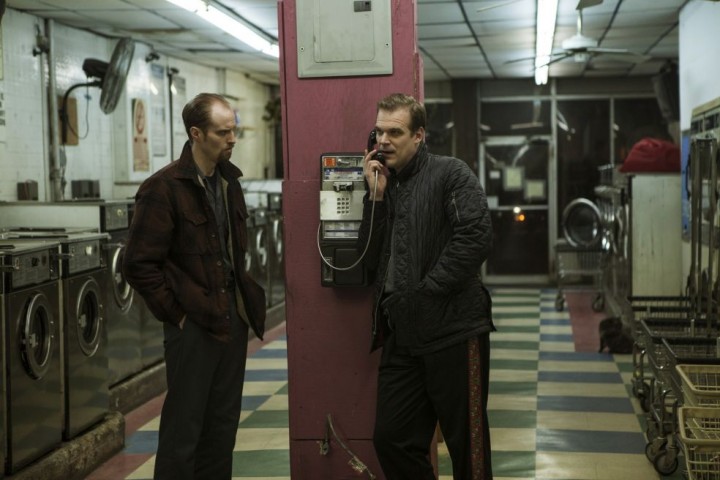 I'll be brutally honest – A Walk Among The Tombstones feels like a love-letter to David Fincher's Zodiac. In terms of tone, basic premise, visual style and almost unflinching sense of depression and melancholy, A Walk Among The Tombstones is so clearly an echo of Fincher's work it's hard to see past where this film might be in any way original. I guess as a jaded, cynical film reviewer I could bask in my superiority and acknowledge that based purely on it's lack of originality, Tombstones must surely be a disaster, and there will be many who are convinced early that the film's similarly haggard aesthetic is too much of a coincidence to not be a badly handled homage; to some extent those folks have a valid argument. What I would say, however, is that where Zodiac's enthusiastically evocative color palette and downtrodden character roster seem ported across to Tombstones' identical oppressive style, there's an underlying sense of redemption within Scott Frank's film that Fincher never quite achieved with his.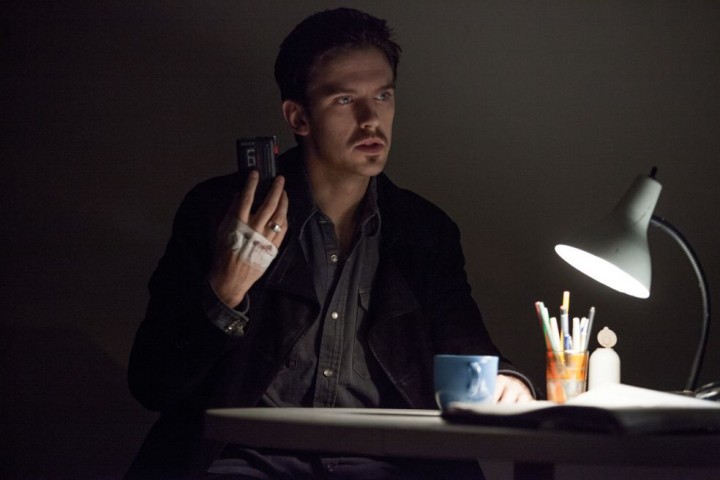 The key to Tombstones' accessibility as a character drama (unlike Zodiac's more crime-centric plot) is Liam Neeson's central performance as Matt Scudder. We've seen broken, flawed heroes before, and Scudder is no different, yet in spite of all life has thrown against him, you get the sense that Scudder isn't a man for whom there is no hope – he attends AA meetings, so has recognized within himself the ability to overcome his mistakes, meaning his inevitable retribution for a past wrong is always within frame (a bookending flashback sequence involving Scudder 8 years earlier, taking down three gangland thieves, is central to Scudder's malaise and downcast personality); Scudder's association with a young black homeless kid, TJ (a charming and personable Brian Bradley), taps into his humanity (until now, lost beneath a haze of disenchanted regret and angst) and allows us to follow his journey towards the light. Unfortunately, that journey must take Scudder into some really dark places, and it would be an accurate description to say that the journey itself perhaps isn't as captivating as the film thinks it is. Neeson makes the role his own, and turns in a fairly empathetic performance while surrounded by the best of human scum; the cast is populated by drug runners, drug addicts, homelessness, and a smothering of evil sadism, making Scudder's arc all that much more impressive.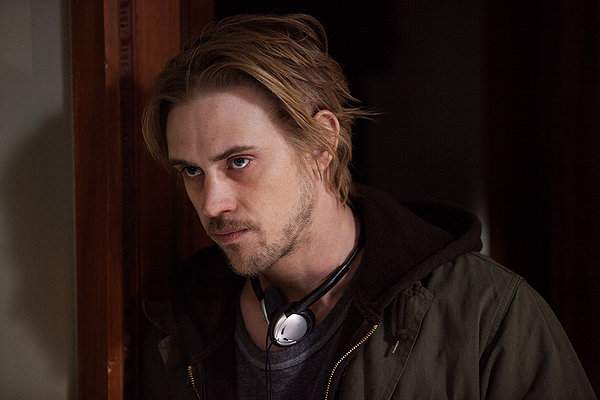 Where Neeson is solid as Scudder, the supporting cast bring their own unique set of skills to the story. Of note, Brian Bradley's TJ is a winning combination of street smarts and immaturity – in particular a last-act moment of stupid bravery that might make some people throw their popcorn at the screen (really, he just had to get into the back of the killers' truck?) – while Olafur Darri Olafsson's Jonas is the kinda creepy loner these films use to make your skin crawl. David Harbor and Adam Thompson make a convincing pair of evil, sadistic, horrible psychopaths, and although their identities are revealed early, I felt they played their minimal roles with precision and incisiveness. Tombstones' does lack the impact of a decent killer reveal, I'll grant you, but I think having Harbor and Tompson matching wits early with Scudder counteracts that. Boyd Holbrook has a nothing role as a junkie who connects Scudder with the case, and although Scott Frank does his best to give the role some throughput, it's too little of a good thing to warrant the extra time involved.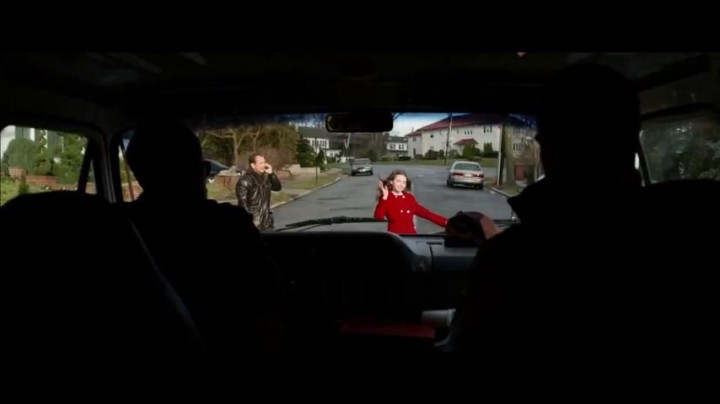 A Walk Among The Tombstones is solidly made, shot in and around New York (except for a bizarre and ill-executed green-screen shot at the very end of the film, that jars the eyes and really pulls you out of the experience!) and has enough mystery, thrills and chills to keep the average viewer enthralled. The film doesn't linger in the execution, yet it's a fairly steady, unhurried story that might have casual viewers checking their watches from time to time (especially in the mid-section, which does slow to a crawl at times), but the mixture of violence, redemption and darkness make for a potent combination that cannot be ignored. I found A Walk Among The Tombstones to be a really decent mystery thriller, even though I was constantly reminded of a similar, if not altogether better movie. If imitation is the sincerest form of flattery, then David Fincher must be hoping for a royalty cheque for this, because Tombstone's monochromatic narrative and deadpan, serious tones make it a perfect pickpocket for Zodiac's technically masterful sense of dread. In saying that, audiences should approach Tombstones with the expectation of a solidly made, well acted and effective chiller that has more than its share of surprises.
Related articles