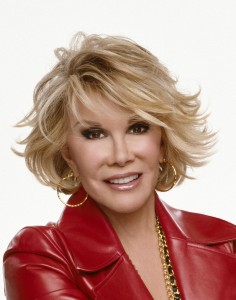 Comedienne, actress, producer, writer and commentator Joan Rivers has passed away.
Ms Rivers, who hosted the television show Fashion Police with her daughter Melissa, appeared in a number of films – mainly cameos – throughout her lengthy career. A major role in Mel Brooks' Spaceballs, voicing the C3PO-spoof android Dot Matrix, as well as the documentary on her life – A Piece of Work, were acoompanied by a string of minor roles in films such as The Muppets Take Manhattan, Shrek 2, First Daughter, Smurfs 2, and Iron Man 3.
While more broadly known for her comedic work in stand-up and television, we pay our respects to this icon of the entertainment industry, whose acerbic and controversial comments, at the very least, provoked discussion.
Joan Rivers passed away after suffering a heart attack during surgery, on September 4th. She was 81.
Who wrote this?