– Summary –
Director :   Stuart Blumberg
Year Of Release :  2012
Principal Cast :  Mark Ruffalo, Tim Robbins, Josh Gad, Gwyneth Paltrow, Patrick Fugit, Joely Richardson, Alecia Moore, Emily Meade.
Approx Running Time :   112 Minutes
Synopsis:   Three men, each trying to confront and control their sex addictions, find that their physical desires don't always match their mental ones – every day they are tempted by our oversexualised society, making recovery from sex addiction extremely difficult.
What we think :   This conceptually interesting comedy-drama starts well, stumbles badly in the middle, and slides right over the edge in its latter stages, but ultimately rewards viewers with an insight – as timidly portrayed as it might be – to another side to sexual addiction. While there might not be much sex here (although there's a couple of scenes that get the blood pumping) the conversations tend to become layered in awkwardness and frankness that, at least for me, becomes almost unbearable to watch. Worth a look for the curious, but otherwise it's largely forgettable.
**********************
 The Hulk Snags Pepper Potts.
The whole time I was watching this film, I couldn't get the fact that I was watching The Hulk bone Pepper Potts, and wondering what Tony Stark would have to say. Yeah, I know, I don't have much else to think about, do I. Thanks For Sharing is an understated (waaaay understated) dramatic comedy (which skews heavily to the drama, it must be said) about sex addiction. A lot like Steve McQueen's Shame, only without the depressive photography or searing performance of Michael Fassbender. The fact that it stars two of The Avengers notwithstanding, Thanks For Sharing attempts to lift the veil on the most misunderstood addictions facing our modern society, an addiction with just as many far reaching consequences as either drug, gambling or alcohol addiction – sex addiction wrecks lives and livelihoods. It features a great cast, some nice dialogue, and plenty of witty observational comedic moments that provide a few laughs amongst the tears; yet, for all its dramaturgical allegory, I found the film to be too dry, too wrapped up in its multi-tangent narrative, to cohese well enough to succeed where it should.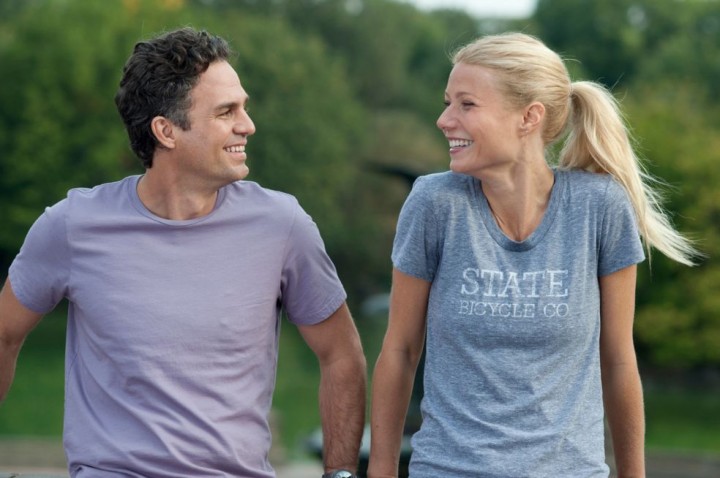 Adam (Mark Ruffalo) is a recovering sex addict. He spends his life trying desperately to avoid the temptation of sex, from advertising, online pornography, even television broadcasts which could allow him to go back to being a deviant who relied on sex for gratification in life. He regularly attends 12-step meetings, where his sponsor, Mike (Tim Robbins), is also a recovering addict. Mike, however, is married to Katie (Joely Richardson), and their son, Danny (Patrick Fugit) has recently come back into their lives after a previous blow-up some years earlier. Danny is also a recovering drug addict. Adam is led to sponsor Neil (Josh Gad), a doctor recently fired from his hospital for trying to film upskirts on one of his associates. At a party, Adam meets Phoebe (Gwenyth Paltrow), a cancer survivor who stipulates that future boyfriends mustn't be addicts – a past boyfriend's addiction to drugs led to a breakdown – meaning Adam must either lie to keep their relationship going, or tell her the truth and hope it all works out. At one of the meetings, Neil meets Dede (Alecia Moore), a feisty woman battling her own sex addiction, and the two hit it off almost immediately. As Adam and Phoebe's relationship is tested as cracks begin to show, Adam finds himself staring back into the abyss of a spiral of lust, sexual gratification and emotional abandonment.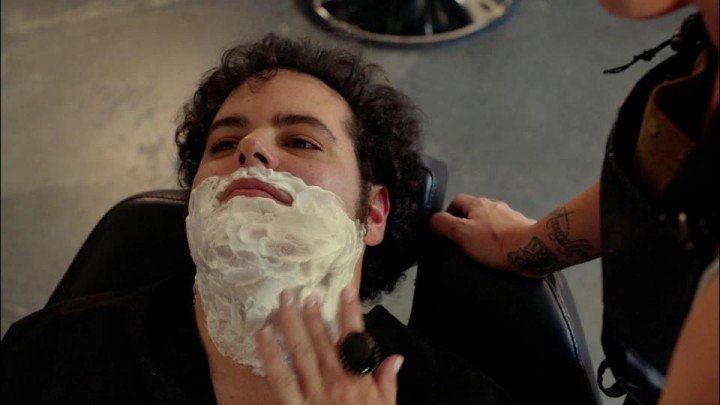 Thanks For Sharing is one of those films that starts well, begins to stumble with itself around the half-way point, and comes to a crashing, crushing conclusion having wrecked itself before the end even starts. The opening, with Ruffalo's bombardment by sexual advertising as he walks down a street in New York City, trying to avoid reverting back to his "bad old days", as well as Josh Gad's rather un-serruptitious molestation of a woman on a Subway train, kick things off with a bang (so to speak), and provide plenty of trajectory for where this film might go. It's a pity, then, that it wastes so much of itself trying to tell other stories that just aren't that interesting. Tim Robbins' character, Mike, seems to have it together, with his wife and recalcitrant son orbiting his inner turmoils that aren't as well developed as either Ruffalo's or Gad's, but his pathway in this film is unclear and poorly delineated.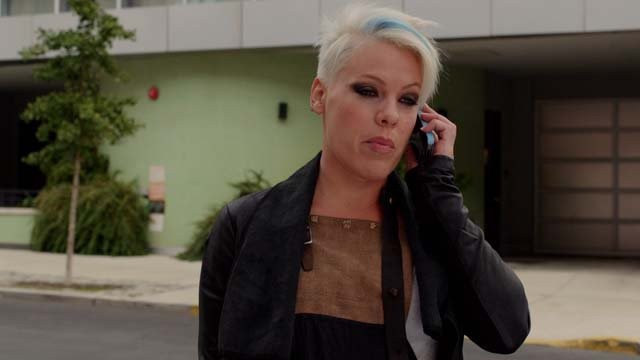 The film bubbles through introductions, with Alecia Moore (that's pop-star P!nk, for those of you over 30), the luscious Gwenyth Paltrow, and Almost Famous' all-growed-up Patrick Fugit (looking like he's gradually morphing into a bulldog) providing secondary characters on which this film's story can pivot. Paltrow is particularly good, as a flawed echo of Ruffalo's Adam, albeit instead of sexual addiction, she's a cancer survivor (and, in an unrelated note, somebody with an undiagnosed eating disorder, according to my wife). In every instance, the film is made up entirely of people who are, in one form or another, broken. Everyone here is fractured, wounded in some way, and throughout the narrative the focus seems to be not on repairing oneself, but simply surviving day-to-day. There's a lived-in feel to these people, a reality that cannot be mitigated no matter how malignant their problems, and its' pleasing that, regardless of the films' success or failure, somebody out there is willing to take a journey at bringing these kinds of characters to the screen.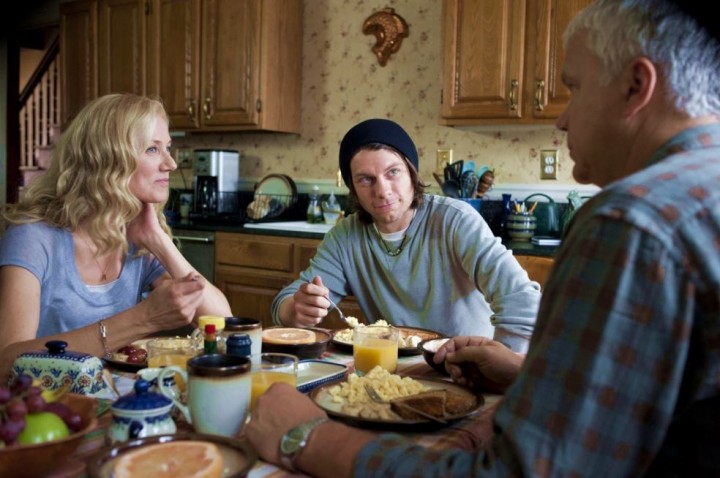 Where I found Thanks For Sharing lacking is in my inherent disinterest in one of the key narrative arcs. Namely, the Tim Robbins/Patrick Fugit family problems, a subplot I felt could have been excised completely to rid extra fat from a fairly inadequate storyline. Honestly, every time Robbins came on, talking about Danny's past problems with drugs and theft, all I wanted was to get back to Ruffalo or Gad, because their characters and story points were more interesting. That's not to malign Robbins or Fugit at all, because their performances were excellent, but ultimately the father/son bonding thing struck me as indifferent to the overall theme of the film.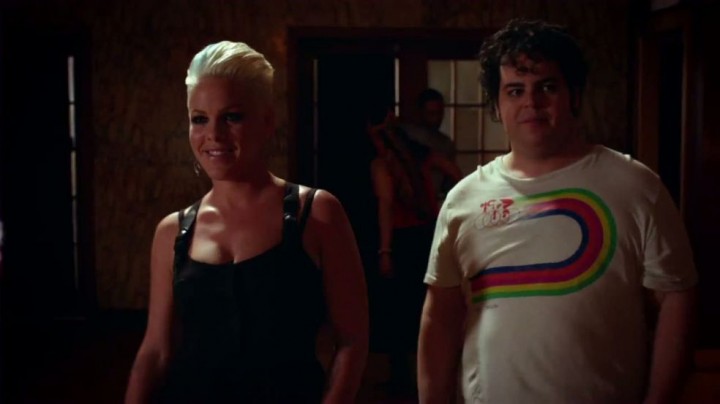 The movie also felt a little flat, a factor I put down to director Stuart Blumberg's charisma-free direction. Thanks For Sharing felt like a made-for-television movie, instead of a full blown cinematic work, with blank, monotone camera angles and a sanguine editing style by chopper Anne McCabe. The film lacked spark where it needed it, and when things did become angsty or tense, it was due to the performances and not the directorial style, which I guess is probably a good thing but it still made the film feel a tad dull in spots. It doesn't help that the focus of the story leaves Ruffalo's Adam for lengthy periods, engages in too many subplots of its own, and eventually careens through that plate glass barrier of "stupid humor" – Neil's mother, played by Carol Kane, is a particular moment of gag for me, as she awkwardly tries to be motherly and weirdly incestuous towards her son in equal moments.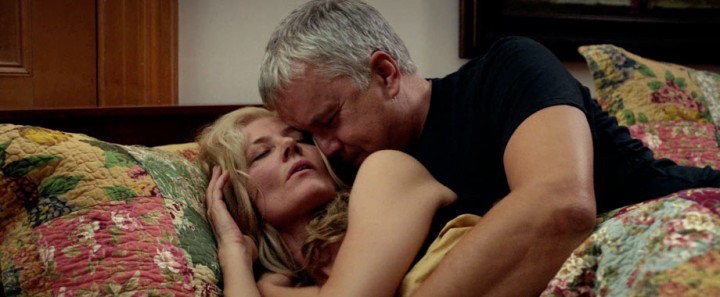 And the finale, a strange, almost antithetic conclusion where Adam gives in to his lustful urges and engages in sexual liaison with an ex-girlfriend, Emily (Amily Meade, who looks a lot like model Miranda Kerr), tries to wrap up the weird emotional journey for both he and us with a brash, slap-in-the-face moment of clarity; the film never earned this moment of angst, nor did it sufficiently develop Emily enough to generate the right amount of shock when this scene plays out – it's a graphic breakdown of a sexual nature, and it does seem to come out of the blue, really, leaving me wondering exactly what Blumberg's point to it might have been.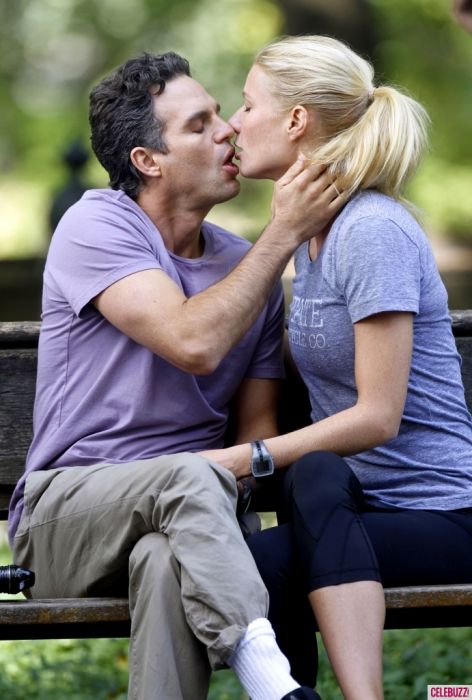 Thanks For Sharing opens all manner of conversation starters; the sexual society we live in, our inability to disconnect from it, and the fact that sometimes our physical need for sexual experiences can overtake us like the need to gamble, take drugs, or drink heavily. Personally, I don't think the film connected or resonated with me all that well, but I suspect others may draw more out of it than I could and did. The cast all do a solid job (even P!nk, who manages to give her character, Dede, some real depth in one emotionally charged scene!) and were it not for an extravagance of story, and a tepid direction style from Blumberg, there might have been a better film in here somewhere.
Related articles