Movie Review – Fast & The Furious, The: Tokyo Drift

Principal Cast :  Lucas Black, Sung Kang, Bow Wow, Nathalie Kelley, Brian Tee, Brian Goodman, Sonny Chiba, Zachary Ty Bryan, Nikki Griffin, Leonardo Nam, Lynda Boyd, Jason Tobin, Keika Kitagawa. Satoshi Tsumabuki, Vin Diesel.
Synopsis:  After he's sent to Japan to live with his Navy Lieutenant father, after numerous traffic offenses in the US, Sean Boswell becomes involved in the underground world of illegal drift racing through the streets of Tokyo.
**************
The one where Han buys the farm.
Retrospectively, there's little doubt Justin Lin knew exactly what he was doing, directing this. At the time Tokyo Drift came out, a Fast & Furious film with none of the original stars (Diesel shows up in a small cameo right at the end, tipping the hat to what events probably due to transpire in the upcoming Fast 7) and in a completely different country (Japan, instead of the good ol' USA), it was the least commercially successful entry in the franchise to that point, a fact which no doubt helped spur producer Neal Moritz to chase down the original cast for the eventual fourth movie. In terms of its outcome with regards to the overall franchise, Tokyo Drift was largely inconsequential – again, due to a lack of original cast familiarity for the audience – and aside from Diesel's late-notice appearance at the end, offered little real reason to even continue the saga beyond that point. However, a few sprinkles of hints at a larger plan (one which would come full circle in Fast 6, and thus provide a springboard into Fast 7) make watching Tokyo Drift something of a prelude to bigger and better things to come.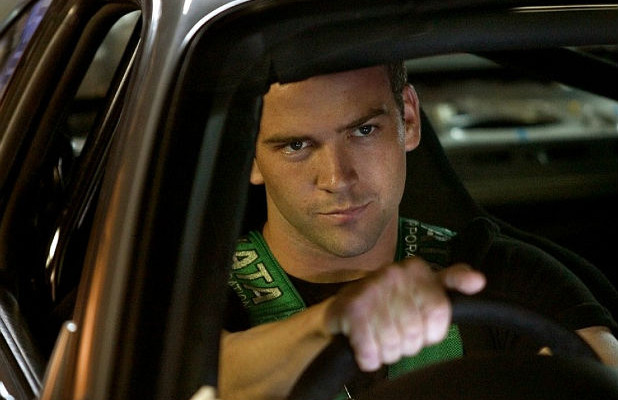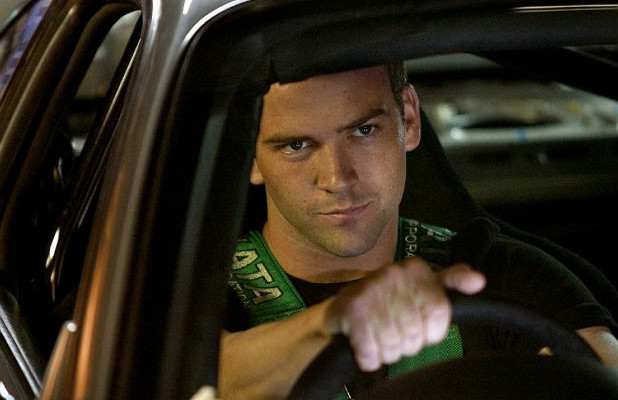 Sean Boswell (Lucas Black), a high-school student in Alabama, has a history of vehicle-related criminal activity, most of which has seen him being kicked out of schools, moving towns, and, after a destructive car chase against local bully Clay (Home Improvement's Zachary Ty Bryan), shipped off to Tokyo, Japan, to live with his father (Brian Goodwin), a Lieutenant in the US Navy. It's his "last chance", either giving up the cars or returning the America to face potential prison time. Naturally, Sean being a teenage, and with a disenchantment for authority, refuses to acquiesce to his father's demands, and becomes involved in the local Japanese underground drift-racing community, thanks to a classmate in Twinkie (Bow Wow). Twinkie introduces him to Han (Sung Kang), as well as local bully-boy Takashi – aka DK, or "Drift King" (Brian Tee) – whose girlfriend, Neela (Aussie actress Nathalie Kelley) Sean begins to romance. Naturally, DK's reaction is to go after Sean, leading to a number of confrontations of both a physical and vehicular nature, which draws the ire of DK's Triad Boss uncle, Kamata (the great Sonny Chiba, no less!) and leads to the ultimate showdown between a nationalities – DK's Japanese supercar, and Sean's souped-up muscle car from the US.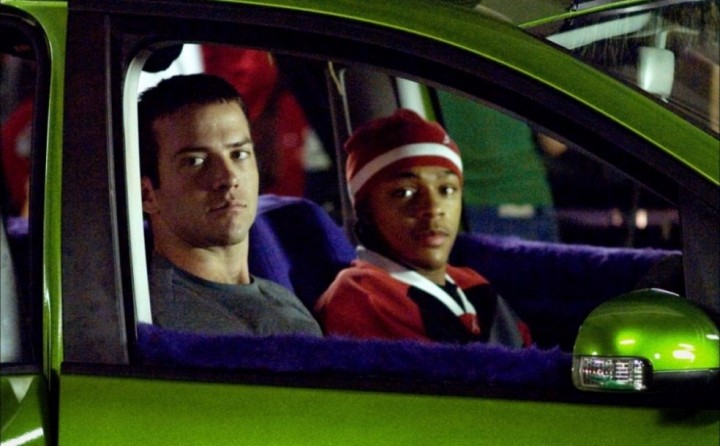 Justin Lin, that sneaky bugger, must have planned it all from the start. In a weird twist, Tokyo Drift becomes the sixth film chronologically in the franchise, since the setting is immediately prior to – or parallel with – events in Fast 6. The main twist is the fact that Han, played by Sung Kang, returned after being killed in Tokyo Drift to play a role in the films following this one, and the reprise of his death in Tokyo Drift is expanded by the reveal of the cause (not just a car accident, but a purposeful car accident) in the closing credit sting in Fast 6's shocking conclusion. Which means that Diesel's appearance in Tokyo Drift, at the very end, will no doubt also be reprized sometime within Fast 7, following Han's death. Tokyo Drift's retroactive focus on Lucas Black's character, Sean, will come full circle since he's due to appear in Fast 7, and no doubt will become a central figure in the franchise in the wake of Paul Walker's passing.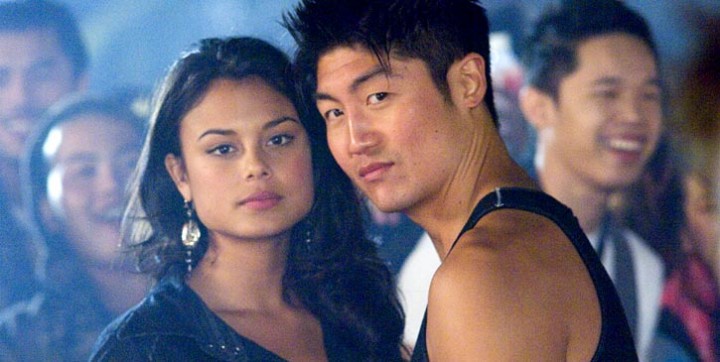 On its own, though, Tokyo Drift is a fairly nonsensical affair, much like the rest of the Furious films, offering plenty of cool car action, some nice moments of female objectification, and a thunderous soundtrack to go with it. As with the previous films, Tokyo Drift has only the most marginal character development, a 2nd-rate villain and motivation, and exists purely to service the action, of which there's plenty to enjoy in this installment. Whereas the previous films focused on straight-line racing and high-speed chases, Tokyo Drift (as its title would indicate) features a large amount of cars going sideways, "drifting" around the winding streets of Tokyo and the car-parks, mountain roads and other winding, steep roadways throughout the country. Anyone expecting high art or quality storytelling in this series by now should have their head examined. It's not rocket science, it's fast cars and babes!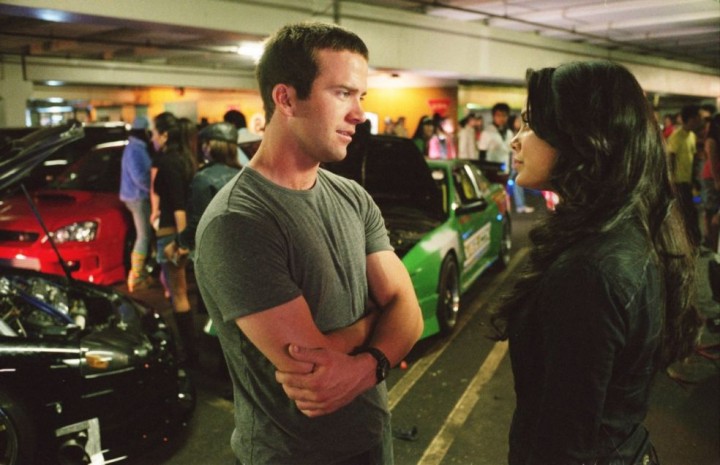 Lucas Black stars as a character in desperate need of an attitude adjustment; Sean is set up as a major douche at the beginning, and any reasonable viewer might expect that to change over the course of the film, but disappointingly, it does not. Sean's just as big a knob at the end as he is at the start, so I'm not quite sure what his "arc" might have been in the script, but it never translated to the screen. Again, though, expecting something creative in a character for a Furious film is probably asking too much anyway. Black's backed by Furious team-mate Sung Kang, as Han, who is a lot more believable here than he ended up being in the follow-up films, perhaps because he's in "his element", if I can use the term in a non-racist way. Han's hint that he "has money" obviously plays out in Fast 5, where Dom's team end up stealing millions from a South American drug-lord, but at the time, this wasn't known. Also hinted at, thanks to a line late in the film by Bow Wow's Twinkie, is Han's friendship with Dom, about how Han is "family", which would come into play in the subsequent films as well. Kang isn't a great actor, but he provides a level of Asian cool that cannot be understated within the framework of this movie.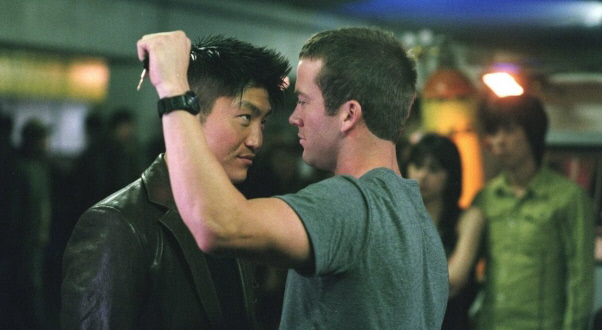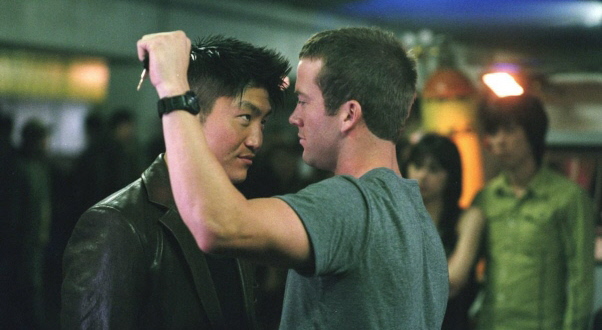 Aussie actress Nathalie Kelley plays the central female character of Neela, the girlfriend of villain DK and potential love interest for Sean. Kelley's performance is limited by both a terribly contrived script, and a complete lack of screen time in which to develop her character, but she's easy on the eye so I guess that makes her this films' Jordana Brewster. Bow Wow (seriously, this is Lil' Bow Wow all groweded up!) is this film's equivalent of 2 Fast's Chris "Ludacris" Bridges, although without the street-smart attitude to go with it; he offers some mild funny moments, but nothing memorable. Although his Hulk-inspired car is worth a chuckle. Brian Tee plays nasty-dude DK with a complete sense of overkill, with his snarling, grimacing, squinting performance utterly laughable as "menacing" or "bad-ass". Frankly, he's a means to an end, justifying the several sequences of car racing and chasing that are the prime reason for you to even watch this movie.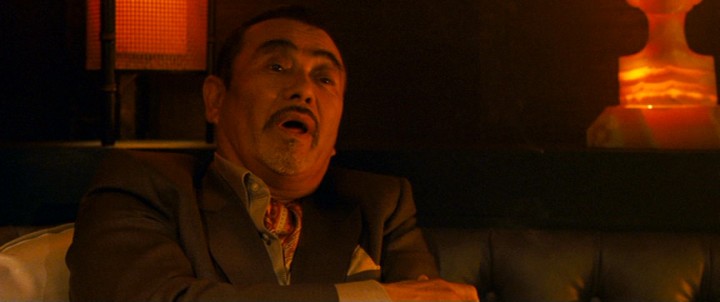 And Lin's keen eye for action is on song from the word go. Tokyo Drift begins with a massive car chase through an under construction suburb, giving the film an energetic kick-off. While the film limps through its dramatic moments (and I use the term "dramatic" with a great sense of irony for this franchise) and squanders the use of Tokyo's amazing skyline and setting thanks to a frantic visual style that minimizes the locale's impact, Tokyo Drift thunders into its action sequences with dexterity and energy. At times, it's extremely exciting stuff, while Lin's camerawork elicits a heightened, almost Moulin Rouge-esque fantasy style about it, bringing the subtle art of drifting to life as cars squeal around corners and between obstacles by the barest of margins. The cars look amazing, which is one of the main features of these movies, and the soundtrack is a ripper, with pounding music and electronic scoring working in tandem with the noises of engines, gunfire, tyres and exciting directional ambiance to envelop the viewer within this crazy, amped-up world. It's not realistic, by any stretch, but it's a hell of a lot of fun.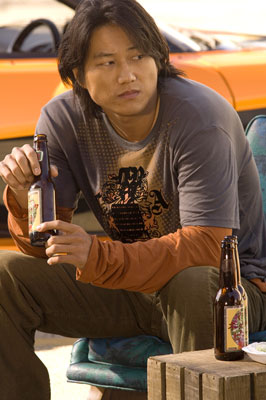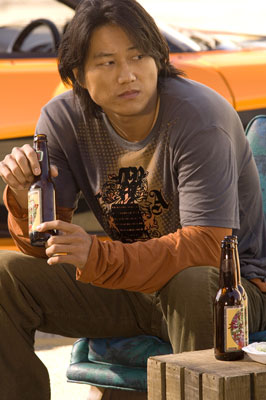 And that's the point, I think, in not only Toyko Drift but the entire Furious franchise; to have fun, to entertain in the most simplistic way possible, and to deliver crazier and crazier stunts to the board each time you flick one of these in the BluRay player. From the original film's supercharged race-n-crash ending, to Fast Five's safe-towing carnage and Fast 6's airplane-bound explosive conclusion, the Furious franchise constantly reinvents itself to deliver the most impossible vehicular acrobatics it can, and Tokyo Drift delivers plenty of that. While it's inherently stupid, and certainly poorly acted (even Sonny Chiba can't elevate his scenes to any semblance of quality), the free-wheeling spirit of the franchise lives on in this film; while the sequels to follow would greatly improve on Lin's debut here, Tokyo Drift is still a great deal of silly, brainless, harmless fun.
Who wrote this?