From The Editor – September 8th, 2013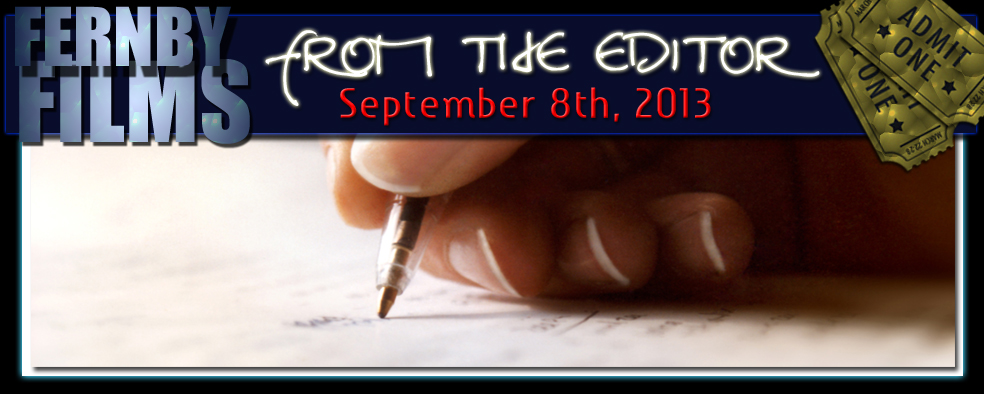 Morning folks! Sorry to break into your usual coffee-and-pancakes over breakfast perusal of whatever is the latest thing about on the Web, but we thought now might be a good time to announce a change to our publishing schedule. Since May we've been uploading new reviews three days a week, and it's been great having more things for you to visit here at fernbyfilms.com. However, the time has come to pull back a little, so commencing this week, we're going back to 2 reviews per week, on Monday and Thursday. This week also marks the official 650th review here at the site, so check back tomorrow to find out what it is. Then, a whole raft of top-tier films are reviewed over the next few months, as we lead up to Christmas.
Regular attendees of this site should also take note that we're going to be transitioning the site to a new US-based server over the coming weeks, so if you notice any irregularities with the site, please do not fear – things are being worked on behind the scenes. We hope to make the transition as seamless as possible, but as with all things in life, there's a chance for human error to occur, so please be patient with us while this is all worked out! Hopefully, though, it will improve performance for our many visitors, and make breezing through our reviews just that little bit sweeter.
As a bit of a tease, I should also let you know that we have a massive event planned for the month of November, something we've never attempted to do here at the site, and it's going to be awesome! I hope! It kicks off on Halloween and continues on all through November, and it's going to be a blast. No, I'm not going to give you any more information – suffice to say, there'll be hints and advertising spread around the site in the lead up to November's action as we get a little close.
Finally today, if you haven't already noticed, we're now highlighting films we've reviewed in the past for our special 100% Satisfaction Guarantee label. In our sidebar will be a link to a page highlighting the best films we've reviewed, and over the coming months we'll be revisiting these reviews and re-badging them with our blue ribbon of quality. To be clear: our reviews aren't 100% satisfying (especially some of the older ones!), rather it's the films themselves which we class as some of the very best we've seen. If you're scouting our older reviews and come across a logo with the blue ribbon of quality on it, it's a film you can be assured will entertain you to the very highest quality. Of course, if you don't think it does, then you can feel perfectly free to let us know in the comments of said review! Just another service for your discerning cinematic tastes!
As a bit of context to everything going around here at the moment, it's probably as good a time as any to explain some of the behind-the-scenes stuff that's been occurring while you're all enjoying our content. The last few months have been quite challenging for me here at fernbyfilms.com – the site's had some security issues (which is partially why the server change was needed) and there's been some considerable non-film related family things taking place that have prevented me from being as focused on film reviews and this site as I should have. My good wife, the gorgeous Lisa T, has recently started up her own small business, as a personal trainer, which has severely eaten into the time I used to spend watching films and writing reviews. This isn't a bad thing, because I've been spending a lot more time with the kids, but it has brought my priorities into sharp focus. With the added cost (something I'm okay with, considering the end gain of all this is considerably larger than anything we could ever spend) of this start-up and the lack of time to be able to do what I love with regards to this site, I was seriously considering hitting "pause" on Fernby Films and spending some time not worrying about running a site, and just writing reviews, stepping away from things for a while.
If I'm honest, I could probably have done this anyway and you'd never have noticed – I have reviews scheduled right through until February 2014 at the moment – so a six month sabbatical could have been achieved without too much fuss or attention, but other things were conspiring to make this difficult to manage. In any case, I'm pleased to say that things will remain on track for the foreseeable future; a new server, some great reviews and a shiny new outlook will keep us going right through until the new year at least. At this juncture, I should give a big, hearty shout-out to Will over at Silver Emulsions, who was kind enough to accept my initial proposal to write some stuff for him in my "time off". Will's a top bloke, and if you're interested in film at all, you should check out his site, because he's a cracking good writer and covers some obscure material that you might just enjoy.
As always, I'd like to thank all our regular readers and commenters for their valuable input to all that we do here at the site, and we ask that you continue to enjoy our work and let us know what you think!
Rodney T – EIC, fernbyfilms.com
Who wrote this?