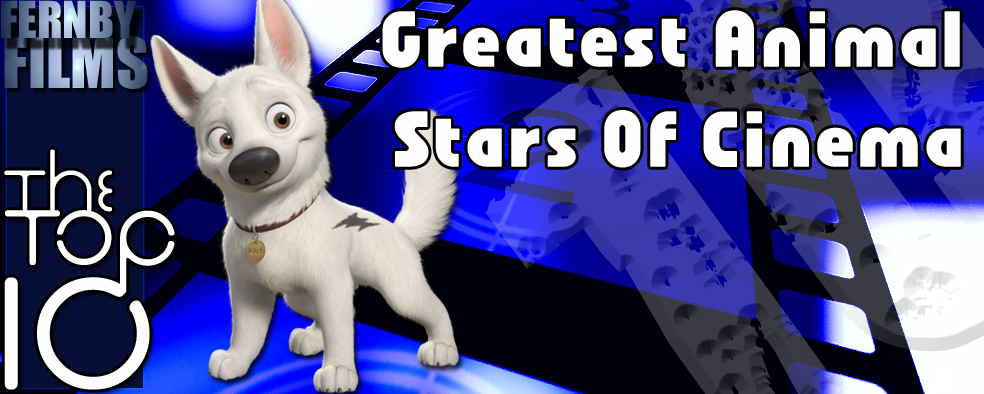 Here at fernbyfilms.com, it's not often we stop and pay our respects to those other cinema stars of years gone by – the animals. Animals have become stars of the Big Screen since the format was invented – early animal stars like Rin Tin Tin and The Lone Ranger's Silver (Hi-ho Silver, awaaaaay!!) have led the charge of the cute, cuddly, slimy, fishy, and downright dangerous animal brigade to have graced our screens down the years. Today, we pay homage to the ten greatest animal stars of cinema.

Entering into this top 10 with an enormous pedigree is Black Beauty, a horse who lives and long and interesting life under numerous owners – based on the book by Anna Sewell, the original film version of Beauty's story came out in 1921, and more popular adaptions would surface in 1946 and 1971. The original publication was a runaway literary success for the time, and remains a popular children's novel to this day. Inspiring many a young girl to ask for a pony on her birthday, Black Beauty remains the definitive horse creation.

Voiced perfectly by Ellen Degeneres, Dory has since become an iconic animated brand alongside Mickey, Bugs, Buzz & Woody, and even Donald Duck. This forgetful fish helped Nemo's father, Marlin, in his quest to find the kidnapped little fella, even if Marlin didn't appreciate it most of the time. Of all Pixar's animated creations, Dory's easily the most emotionally complex, and resonates with audiences long after they've seen the film. Clever writing and a terrific vocal performance helped as well, no doubt.

Every child's worst nightmare comes true in this classic Disney tear-jerker (I mean, c'mon, doesn't everyone know what happens?). Family raises a dog from a pup, dog gets rabies, dog goes crazy, father has to (reluctantly) put dog to sleep with both barrels of a shotgun. Classic. Will have your kids crying to sleep for a week afterwards.

Three characters in at 7? How is this so? The story of The Horse That Could has been done a few times in cinema, none more heartwarming than the three horsey options here. Phar Lap, an Australian horse who broke racing records in his home country before dying (or was killed by jealous rivals) remains a cultural touchstone to this day; Seabiscuit captured the hearts and minds of the USA during the Great Depression for doing a similar thing, and in the 70's, Secretariat became the first horse in a generation to win the Triple Crown of racing – a feat which has only been achieved eleven times in US history (most recently in 1978). The appeal of horse racing mystifies me, I'll admit, but I know great animal talent when I see it, and I see it in these three indistinguishable greats.

Tom Hanks' irrepressibly messy canine partner in the 80's turned cop-buddy-comedy on it's ear – Hooch slobbered, gnawed and chewed his way into audience's hearts and has remained there ever since. Think of him as a doggy version of Curly Sue. Without being as irritating.

The journey of one young penguin who loved to dance instead of sing, traversing the vast expanse of Antarctica and the oceans to Australia to tell us to stop overfishing their food supply became a world-wide smash. Mumble, the tap-dancing penguin, did more for the cause of those little flapper birds than any amount of March Of The Penguins screenings could.

That'll do, Pig. That'll do. The little porker who won a sheep herding contest snuffled his way into our hearts with guile, love and a close bond with his owner, Farmer Hoggett.

A lovably pooch goes completely batshit crazy and traps a woman and her son in their car – and it's a hot day. This ultimate savage animal story caused terror in both the original Stephen King novel, and in the subsequent Hollywood film version – and set the template going forward.

Spielberg's inimitable shark film had a star that was completely mechanical. The legacy of Jaws, and the superstar shark, has been that generations of film-goers have found themselves double-checking the water at the beach ever since. For a cultural impact this large, it's only fitting that the shark from Jaws finds its way onto out list – mechanical or not.

Arguably the greatest screen animal in history, Lassie first appeared on film in the 1940 MGM adaption of the novel Lassie Come Home. Unlike Old Yeller, Lassie survived her first film outing, and went on to make several more, as well as a television series. Lassie's amazing ability to understand her human owners ("Lassie, is somebody trapped down the well?") and come to the rescue each time became a genre unto itself, with copycat formats cropping up (Australia's own variant, Skippy The Bush Kangaroo swapped a border collie for a kangaroo, with pretty much the same results) here and there. Still, if this was Family Feud, and you were asked who the most famous animal in film might be, I dare say Lassie would be right at the top of the heap every single time.
Think we picked the wrong beast? Wanna vent your spleen about Benji not making the cut? Those cute critters of Homeward Bound should be here instead? Leave a comment down below and see how much we don't care about your thoughts!!
Related articles