Movie Review – O Brother Where Art Thou?

– Summary –
Director :  Joel Coen & Ethan Coen
Year Of Release :   2000
Principal Cast :  George Clooney, John Turturro, Tim Blake Nelson, John Goodman, Chris Thomas King, Holly Hunter, Charles Durning, Michael Badalucco, Stephen Root, Wayne Duvall, Daniel von Bargen.
Approx Running Time :   120 Minutes
Synopsis:  Three escaped felons take off across the country to find a treasure – and for one to get his wife back. Along the way they encounter a number of obstacles and adventures, and must use the little brains they have to overcome them.
What we think :  Hilarious, witty, slyly directed film is one of the Coen's best – if not their most popular – and has a truly brilliant comedic turn from George Clooney at its core. Featuring a terrifically memorable soundtrack and a startling use of digital grading to create a dusty, grimy world of Depression-era USA, O Brother Where Art Thou? delivers typical Coen irreverence with side-splittingly funny scenarios.
**********************
While they may have snagged the Best Directing Oscar for their later work, No Country For Old Men, my personal favorite Coen film remains O Brother For Art Thou. Hilariously funny, exquisitely scripted and performed by the entire cast, O Brother remains one of their most enduring, popular works, alongside cult favorites like Fargo and The Big Lebowski. Typically for the Coens, though, O Brother offers more subtext and second-viewing attraction than one might initially think about – aside from the fact that the film is based on Homer's ancient Greek text, The Odyssey, the Coens are able to bring a modern comedy styling to proceedings with something of a Naked Gun flavoring to the humor; one can re-watch this film a number of times and still find new and amusing things to take away from it, and that, dear readers, is one of the highest compliments I can make about a film.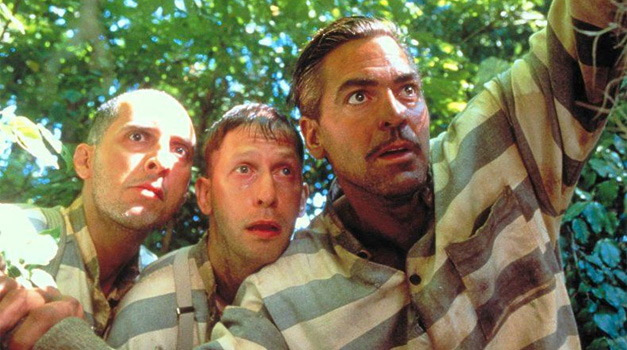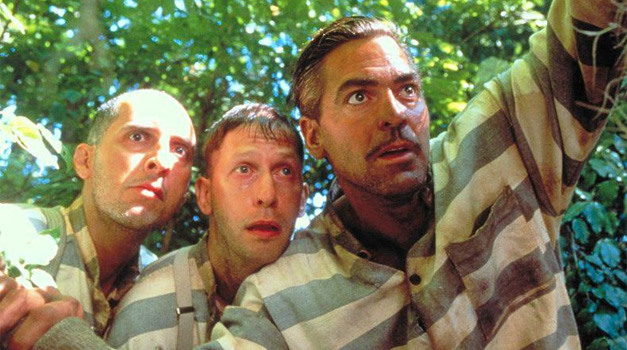 It's the late 30's in the USA, and the Great Depression is in full swing – escaped convicts Ulysses (George Clooney), Pete (John Turturro) and Delmar (Tim Blake Nelson) embark upon a journey across the country to retrieve a treasure Ulysses claims to have buried in a valley before his capture and incarceration. With a time frame established due to the valley about to be flooded to provide hydroelectric power, the trio encounter traitorous family members, three sirens who bewitch them with their singing, and a one-eyed Bible salesman (John Goodman) who has more on his mind than the good Lord might intend. They're also pursued by a nasty Federal Agent (Daniel von Bargen) hell bent on capturing them, while at the same time releasing a hit single as a fake Olde Timey band called The Soggy Bottom Boys – Ulysses even finds time to try and patch things up with his estranged wife (Holly Hunter) and rescue a black man (Chris Thomas King) from execution by the Ku Klux Klan.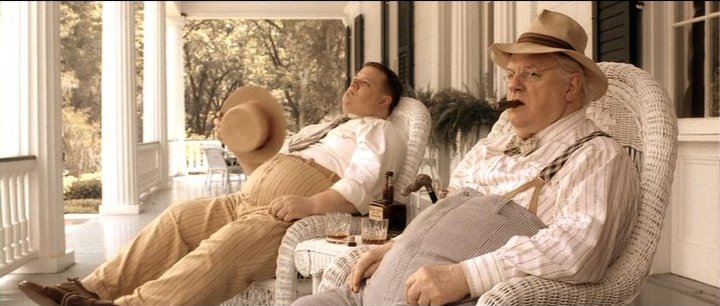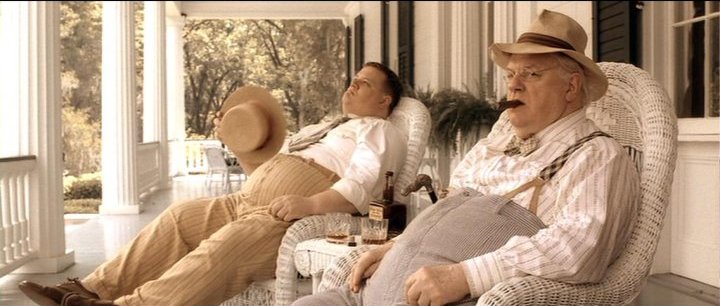 Every time you sit down to watch a new Coen Brothers film, one thing is almost always guaranteed – a unique cinematic experience that seems to rise above mere convention and contrivance, a storytelling method devoid of cliche and a strange Indie-charm that permeates almost every frame of their work. Having now seen 12 of their 15 feature releases, I'm confident in my appreciation of their body of work to say that O Brother is easily one of their most mainstream ventures – perhaps aside from Intolerable Cruelty – yet it retains their "alternative" sensibility. The dialogue is absolutely delicious to hear, with Clooney's role especially driving much of the humor with his intellectual-speak vastly outwitting his companions. Clooney's the straight man to Turturro and Blake Nelson, the latter of whom is a genuine delight as the dimwitted Delmar. The Coens script derives a lot of its humor from the back-woods speak of the locals of Mississippi, and the colloquial nature of the inhabitants behavior. The words "damn, we're in a tight spot" resonate throughout this film, with Clooney's lip-smacking deadpan delivery just a gut-busting guffaw away from being an outright steal from Leslie Nielsen. Indeed, this is my favorite of the Coen's screenplays, and perhaps the most deserving of its inevitable Oscar nomination. It's the type of script that an actor would love getting their teeth into, and you get the sense that every single performer in this movie relished the opportunity.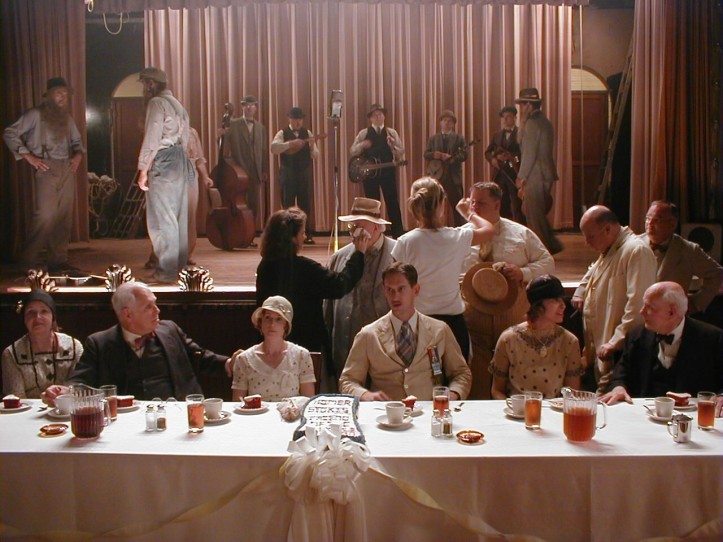 It would be remiss of me not to stop at this point and mention the second most important aspect of the film – the music. O Brother is essentially a musical, although not in the stage-show kinda way you'd think; the bluegrass and folksy soundtrack just slides through this film like blood through a body, and it's hard to imagine this film without it. From the iconic "Man of Constant Sorrow" performance by the Soggy Bottom Boys, to the soulful sound of Alison Krausse's rendition of "Down To The River To Pray", and the more pop-culture friendly "Keep On The Sunny Side" among many, many other hummable tunes, O Brother Where Art Thou is a smorgasbord of terrific tunes of the time and place. The Coens use the music to perfectly fit into each scene, imbuing the context of the song within the equally important context of the story, as an allegorical base for the story to progress, and aside from Moulin Rouge's equally amazing soundtrack, I don't think I've heard a better marriage between sight and sound.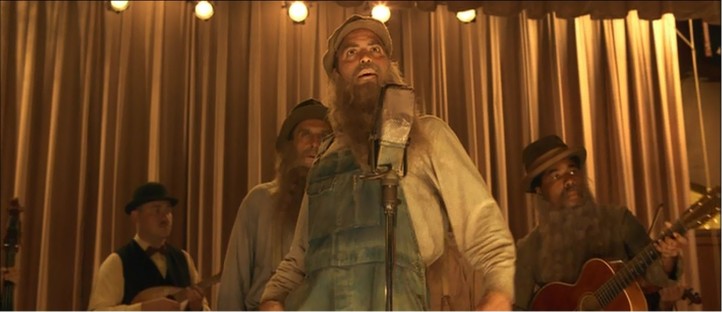 Another thing that strikes you about this film is the superb cinematography, thanks largely to the legendary Roger Deakins. Deakins, who has lensed almost all the Coen's projects as well as others like Courage Under Fire, The Shawshank Redemption, Kundun, The Village, and Revolutionary Road, evokes the dry, dusty landscape of the Depression Era Deep South perfectly. The film was also one of the first to make extensive use of the then-new technology of color grading, a post processing aspect that allows the directors and DOP's greater control over the final look of their movie. Almost all films made today make use of this technology, but back in 2000 it was a relatively new and still expensive method of providing a unique look to a movie. The Coens eschew their traditional 1.85 aspect (used on the majority of their films) for the pristine width of a glorious scope aspect, something the "epic" nature of the narrative requires to a certain degree – the film's widescreen scope allows the Coens to bring a sense of grandeur to the movie.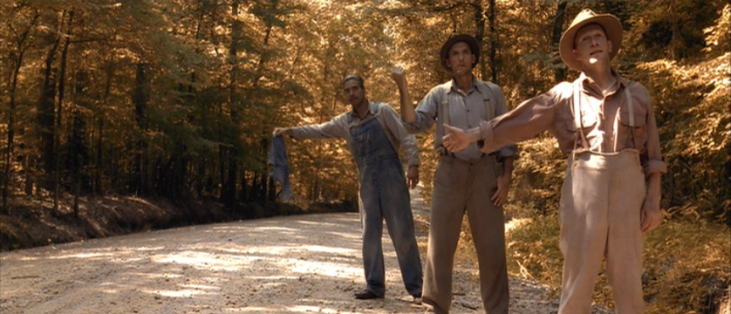 The Coen's don't always make the most "mainstream" films going around, and it's fair to say that a lot of their stuff often leaves non-cinephiles a little perplexed at their success, but I dare anyone not to at least have half a smile on their faces watching this one. Clooney delivers a great comedy performance, ably assisted by his cohorts in Turturro and Nelson, while bit-roles to Holly Hunter, Charles Durning, Stephen Root and John Goodman are almost master-classes in how to play a supporting role. Everyone's in on the joke, it seems, and that's half the fun to be had with this movie. I may be biased considering it's one of my favorite Coen film, but I can never speak more highly of a film than I do about this one. A true delight, a genuine movie in the true sense of the word, O Brother Where Art Thou should belong in every serious film fan's collection, and should be seen by even those who might not normally give it a second glance.


Related articles
Who wrote this?