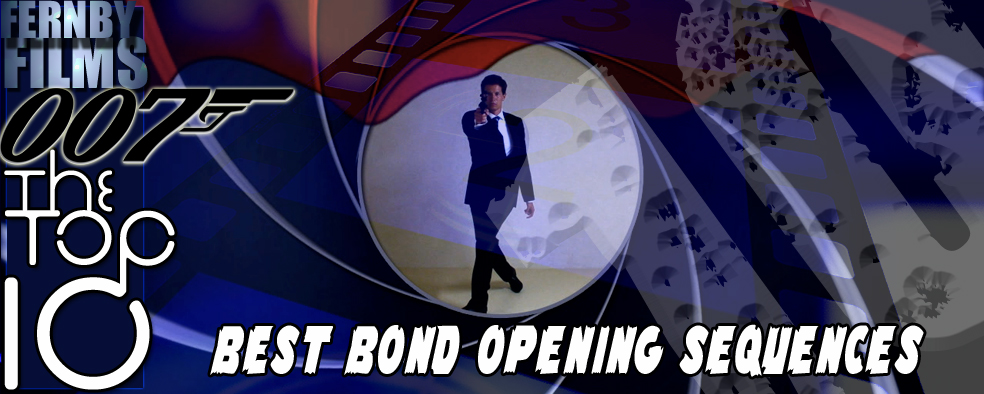 While many folks spend a great deal of time focusing on Bond's gadgets, his girls and the title theme song, not enough consideration if put into the opening credits sequences, many of which are fabulous examples of artistry and cinematography. With the opening credits typically coming immediately after the famous "gun barrel shot" moment, we've gone back to review each one and decided – finally – which one is the best. This is a choice based on artistry, significance to the film and overall uniqueness – as well as the quality of the theme song.

I'm gonna cop all kinds of crap for this, but the final Brosnan Bond had a dynamite title sequence, hindered only with the inclusion of a horrendously dance-friendly "song" by Madonna. If you mute the audio on the title sequence for Die Another Day, and simply watch the stunning, stunning visuals, then you'll see why I've included it in at number 10. Had the song been better – or, had it actually been a song – it's likely to have placed higher.

Depending on your tolerance for sexy belly-dancers, the title sequence used in From Russia With Love features illuminated torch-lit text flashed onto the skin of our aforementioned belly-dancer. Coupled with a flirty, sexy theme track (sans vocals), this title sequence is elegantly simple, eye-catchingly memorable, and a real star of the early era Bond.

Unlike Die Another Day, which had a crap song over some stunning visuals, Diamonds Are Forever had a terrific song over frankly lamentable visuals. Shirley Bassey, the only person to have sung on more than one Bond title sequence, hardly captures the same spirit as her iconic Goldfinger effort, although comparing this to that is like comparing apples and eggs. Diamonds Are Forever feels huskier, more high-class than Goldfinger's middle-class bombast, ensuring it earns a place within our top ten.

Rita Coolidge's All Time High remains the best part of Octopussy's opening titles, although Bond legend Maurice Binder (who created the majority – and set the bar – of the early Bond opening title sequences) remained auspiciously at the top of his game with this one. Underwater diving sequences, set in single-tone color with high contrast and a fluorescent aftertaste, making this one of the better Roger Moore Bond titles. From the period, it's hardly ever been better.

Not only did The World Is Not Enough's title sequence contain one of the more epic of Bond songs (sung by Garbage frontwoman Shirley Manson), but the stylish oil-slick nude-lady motif was really, really cool. Although it features in what is arguably Brosnan's worst outing as the super spy, the title sequence is utterly, completely fabulous.

The first Daniel Craig Bond flick saw the title sequence reflect the gambling motif so present within the movie; playing cards feature prominently, while the nude-lady mantra went missing leaving room for brawling male avatars who explode into more playing cards. Chris Cornell, frontman to Soundgarden, bellows out "You Know My Name" like he's trying to chew sand at the same time, creating a raw, roughed up Bond – which ties in beautifully with this franchise reboot's more realistic visual style.

The digital age was ushered in with this technological-themed sequence, including Cheryl Crow's warbling song, as models and electronica combined to provide a lavish, high-energy opening title sequence that really capitalized on what GoldenEye did a few years earlier. While today it might seem a tad overblown – perhaps with too much happening on screen at any one time – you can't deny just how cool all those wonderful visual effects look (even today, many years later) and really capture the essence of what Tomorrow Never Dies is all about. Such a shame the film wasn't that great!

While I'm not a huge fan of Roger Moore's turn as Bond (seriously, the dude's like a hundred years old while bedding all these women!) his title sequences are among the best of the pre-digital age. I'm not sure which facet of The Spy Who Loved Me's titles are better – the song, written by Marvin Hamlisch and sung by Carly Simon, or the stunning silhouette-and-single-color-scheme visual palette, but whichever you favor there's no denying this one's a classic.

While the cinematography and concepts behind Goldfinger's visual style may feel a little "been there, done that" – naked silhouette ladies and blinding technicolor lighting, but the whole sequence is built on Shirley Bassey's enormous theme song. Without Bassey, this sequence would have sunk quickly to the bottom of the pile, but the combo of Bond-usual semi-nudity and guns, as well as a throaty vocal performance ensure its place near the top of the Bond-title heap.

If Shirley Bassey's theme song remains perhaps the most iconic, then Tina Turner's Bassey-esque rendition of GoldenEye's main theme song hit the concept out the park. Turner was born to sing a Bond song, and while the first film in the Brosnan era remains the most fondly remembered (at least by me), it's the song that remains the best of the entire Brosnan – and Bond – bunch. The nude-lady motif continued, with smoke and guns protruding salaciously from the models mouths, a sexual innuendo if there was one, and the golden hue all add up to create Bond's most memorable opening sequence.
Related articles