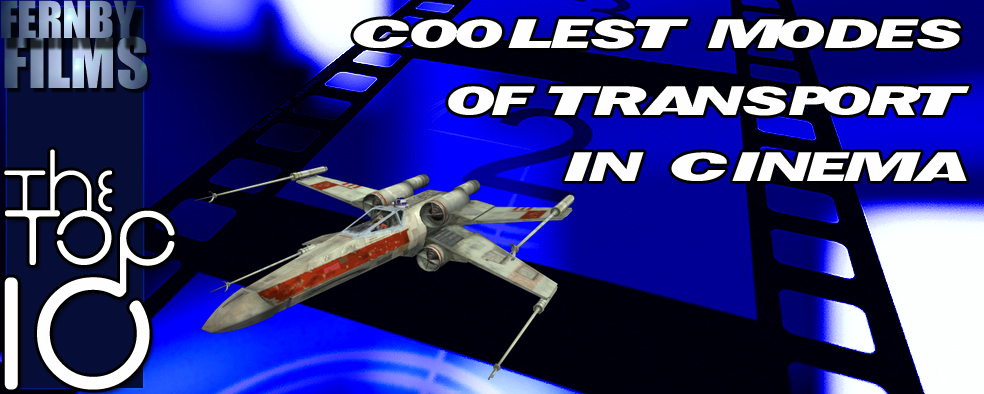 Any good action, adventure or sci-fi film worth its salt has some kind of cool transportation device to keep audiences in it. Doctor Who has his TARDIS, The Dukes of Hazzard have their General Lee, and Luke Skywalker has his X-Wing – when it comes to the great modes of transportation, is seems there's no limit to how cool filmmakers are prepared to be to keep audiences engaged. We've narrowed down the one we think represent the 10 best ways of getting about in both time and space, so hang on and prepare to clamber aboard the top 10 best modes of transport in film!!

Yeah, I know, it's a blatant rip-off of the TARDIS, but there's something about Bill & Ted's journey through time in their telephone box that's awesome-cool. While it must have been difficult squeezing all those historical figures into such a confined space, especially if somebody farted, there's no denying it's a stylish way of traveling.

If you're fighting the ghosts of the recently deceased, what better way to get to your hauntings than in an old hearse. The Ecto-1, primary mode of transport for 80's heroes The Ghostbusters, clunks about New York City with that screaming siren blaring, indicating yet another egregious entity is about to bite the big one.

When Harrison Ford punches Gary Oldman in the face and tells him to "get off my plane", it's one of the coolest moments in 90's cinema – right up there with Will Smith bitch-slapping the alien in Independence Day. The President's plane, Air Force One, is not only a cinematic icon, it's a real-world icon to boot, and has become synonymous with the power and prestige of the office of President. Plus, the cool gadgets the plane has on it make you wish all aircraft were built like this.

When you want to cart a bunch of gung-ho marines into space to a distant hostile world, you do it in the Sulaco. Sure, Ridley Scott's mining ship in Alien might have been bigger, but as we all know, bigger isn't necessarily better. The Sulaco, which debuted in James Cameron's sequel to Alien, Aliens, is shaped after some kind of massive weapon – it just looks mean. We never saw it in action other than in transport mode, but had it fired up the weaponry, there's no doubt it'd give Darth Vaders Death Star a run for its money.

When you pick your brother up from a stint in prison, surely doing so in an ex-police car is Alannis Morrisette-ironic. Jake and Elwood Blues set off on their "mission from God" in this souped up, near-indestructible cop car – it's got cop tyres, cop brakes, cop engine, and yet even the cops can't catch it. And when you see it screaming about a shopping mall demolishing everything in its path, you can't help but smile… just a little bit.

Sure, Batman's cinematic vehicles have always been cool, but to us, there's none better than the Christopher Nolan-era's Tumbler – a former army vehicle converted to Batman's needs by his technological adviser, played by Morgan Freeman. It's built just like Batman himself – lean, mean and filled with tricks, whether its escaping capture by driving across the top of Gotham's skyline or battling the Joker in Gotham's underground freeways, the Tumbler is the one car you'd like on your side when road rage takes hold.

You want to dispute this? Go right ahead – decades of history and millions of fans are right there to smash you down.

Everyone's favorite Autobot came into his own in Michael Bay's tech-heavy iteration of Transformers; in the original cartoon series, Bumblebee was a Volkswagen Beetle, and in the modern film versions he arrived on Earth as a beaten-up-then-concept-car-cool Camaro, and his role as protector human lad Sam Witwicky endeared him to kids everywhere. He was like the ultimate toy, the pinnacle of vehicular uber-ness, and remains rightfully one of the coolest of the Autobots. Yes, even more than Optimus Prime – there, I said it.

So the TARDIS and Bill & Ted are away for the weekend? What's a guy to do to go back in time? If you're anything like Marty McFly, you befriend the local scientific nutjob and go back into the past via a souped-up DeLorean – a vehicle using nuclear power to do so! I'm not sure that a real DeLorean would survive being struck by 1.21 gigawatts of electricity like it does in the film, but at least you'd be comfortable. Even when your own mother is trying to seduce you.

The easy winner in this top ten is Han Solo's famous spaceship, one of the coolest modes of transport ever seen in cinema – it can do the Kessel run in less than 12 parsecs, as we all know. We're not sure how it works, or exactly why it's so awesome, it just is. Perhaps it's that forward pointing dual bow, the massive propulsion system at the rear, or the fact that the cockpit looks like it would barely fit two people, let alone four or five, but the Falcon not only keeps the Empire at bay, it also makes a great place for Han to seduce Leia. Yeah, if the Falcon's rockin', don't come knocking.