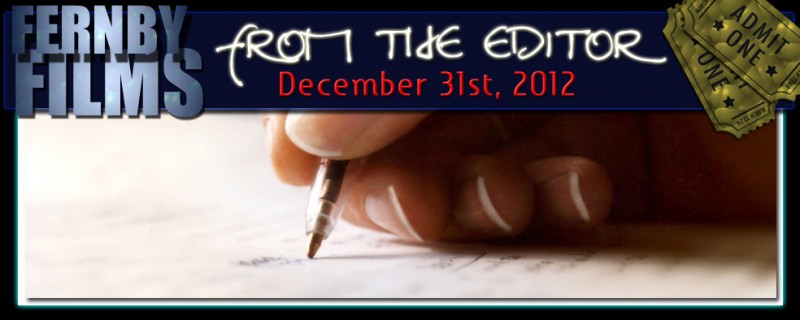 Good morning folks! Well, we're on the cusp of something big here at fernbyfilms.com! We've hinted at it, we've teased you over the last six months or so, and now we can finally reveal our plans! No, it's not world domination (although that would be nice) or any Evil Plan; rather, we're about to give the site a whole new streamlined look – logo-wise. After having the same logo for almost the entire time this site has been active, it will be no more! Instead, commencing tomorrow, you'll notice the brand new logo design take over, and your sneak peek is right here… in the our From The Editor logo above.
The logo comprises of a number of elements that we've incorporated because they're important to us. First, our name. Yeah, our name hasn't changed, that much is obvious, but the style of the "Fernby Films" brand is now different. We've maintained our use of the Impact font in our logo, because we wanted to keep some sense of continuity throughout the site, although instead of the gradient look we've had since about 2009, we've opted for a more cinematic-looking version. Plus, it looks slightly 3D-ish, and although we still don't like the fact that a lot of films make a hash of 3D technology, we recognize the use of it in cinema today.
The second element of our masthead is the blue boundary box, which we've made to somewhat represent a blue ribbon. We believe in our quality of work, here at fernbyfilms.com, and pride ourselves on being a "blue ribbon" site everyone can enjoy, hence our stylized blue ribbon effects. Lastly, our ticket-stub icons, which represents our love of films. That's a pretty simple concept. The Blue Ribbon Design, as we're calling it, will appear on all our upcoming review logos and will work its way into all the articles and video projects we have on the go, going forward.
You'll also notice a number of changes taking place over the next 24 hours or so, as we re-brand our site's sidebar, and other online pages, with this new look. We think it looks quite slick and professional, and makes a nice change from the frankly boring old logo we've had for the last five years (in one form or another). We hope to have all this work completed by the end of the year, ready for tomorrows New Years Celebrations. We won't be around the place for the next week or so, behind the scenes, but we have plenty of great stuff coming up this week to kick off 2013. Hard to believe we made it past 2012, right? Guess the Mayans didn't know what they were doing in the end, did they?
For a bit of a laugh, we've included a picture of the logo we were toying with before we came up with the one we've chosen. It's terrible, but shows where we were heading before the "keep it simple, stupid" philosophy decided to kick in. Click here to view the abomination! Also hidden around the site somewhere is a link to A History Of Our Logo, which will bring new readers up to speed on where we've come from. See if you can find it – yes, I've hidden it so you'll have to stumble across it….
Finally, as we close out on 2012, there's a number of folks we need to thank for keeping us going. First, my wife Lisa T, who's constant complaining that I spend more time on the computer or in front of the TV instead of paying attention to her is a bit of a worry, but also keeps me honest. Then there's Mick K, our trusty website administrator, who managed to speed up the site earlier in the year when things had begun to slow to a dead stop. A new server comes in handy to keep folks happy with the speed around here!
Finally, while there's too many to mention individually, I'd like to thank all our readers and commenters, especially (but not exclusively) Dan from Top 10 Films, and Scott over at Front Room Cinema, who hold the honor of being our two highest commenters for 2012! Special mention to Fitz over at Nevermind Pop Film for coming in a valiant third! Thanks for keeping things ticking around here lads! We really do appreciate every hit and comment, so keep them coming!
So, we hope you have a wonderful New Years celebration: stay safe, party hard, and we'll see you back here for the bright and shiny new 2013!