– Summary –
Director :   Sarah Smith
Year Of Release :   2011
Principal Cast :  James McAvoy, Hugh Laurie, Jim Broadbent, Imelda Staunton, Bill Nighy, Ashley Jensen, Laura Linney, Eva Longoria, Michael Palin.
Approx Running Time :   97 Minutes
Synopsis:  The son of Santa Claus goes on a trek around the globe to deliver the last present of Christmas to a young girl in Britain.
What we think :  Don't think this film's failure at the box-office is an indication of Arthur Christmas's quality – this film is wonderful. Featuring a terrific voice cast of top-notch British talent, and produced by the team at Aardman (yeah, the guys who made Wallace & Gromit), Arthur Christmas is funny, fun, and highly entertaining. On an even more positive note, the film also remains an atypical "kids film" that has an abundance of jokes aimed at the parents who'll be forced to watch this over and over every holiday season. Arthur Christmas is, in my estimation, destined to be one of those seasonal classics trotted out each and every year when the tinsel appears in the windows, and as far as I'm concerned, that's a great thing.
**********************
If Christmas was an action movie.
I've said it before, and I'll say it again: I'm a bit of a "bah, humbug" around Christmas time. It's supposed to be a happy time, a time for family and relaxing over – depending on which hemisphere you reside in – either a snowy fireplace or a cooling air-conditioner. What Christmas seems to have become, however, is a commercial juggernaut of advertising, "specials" invoking hari-kari amongst shoppers who fail to grab that last [insert currently popular kids toy here] on the shelf, and a general air of harried, frustrated inadequacy driven by the desire to please everyone by doing everything, all with a giant smile on ones dial. Sadly, I'm rather cynical about the "spirit" of Christmas being genuine these days. Christmas movies, by and large, just annoy me – mainly because of the veritable freeway of sewerage spewed out by Hollywood during December that's aimed primarily at two types of people : the kids, who fawn over Christmas themed crap while tripping over themselves to get the plastic toy accompaniment from McDonalds, and the adults who enjoy watching major Hollywood stars try and eke either comedy or drama out of holiday tropes and hoary traditions. Trust me, seeing Tim Allen in Christmas With The Kranks a few years back put me off holiday films almost entirely, and I've no doubt it'd do the same to you. How, then, does Aardman's latest animated feature, a Christmas themed junket presented in 3D theatrically, stack up alongside the hits and misses of years gone by?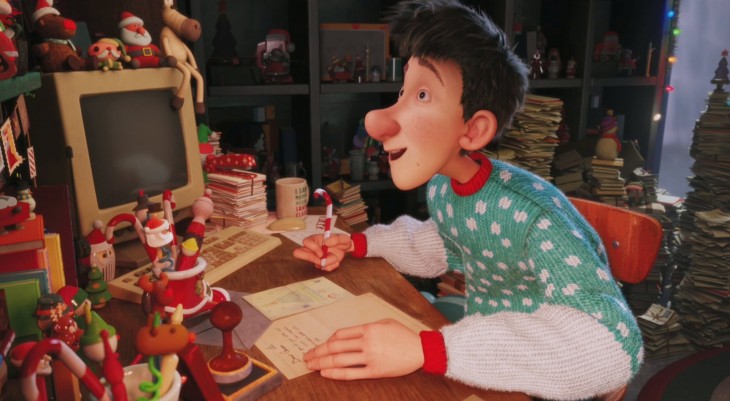 Arthur (voice of James McAvoy) is the younger son of the current Santa (voice of Jim Broadbent), who is currently approaching retirement. Santa's oldest son, Steve (voice of Hugh Laurie) has revolutionized Christmas Eve with the use of thousands of Elves and a massive, ID4-alien sized "sleigh" which looks more like a spaceship, to deliver the presents to all the children of the world. Steve is next in line to become the next Santa, although when the current Santa decides not to retire, this causes friction between father and son. Santa's father, Grand-Santa (Voice of Bill Nighy) sits back at the North Pole, watching the current Christmas Eve's delivery taking place. So when one present is left on board the ship, meaning one child will go without come Christmas morning, the panicky and big-hearted Arthur decides to deliver it himself – to prove his worth to his father. Both Santa and Steve believe the sadness of one child against the happiness of millions is an acceptable failure. So, together with Grand-Santa, and a present-wrapping elf named Bryony (voice of Ashley Jensen), Arthur steals the mothballed original sleigh and takes off on a round-the-world journey to deliver the last present of Christmas.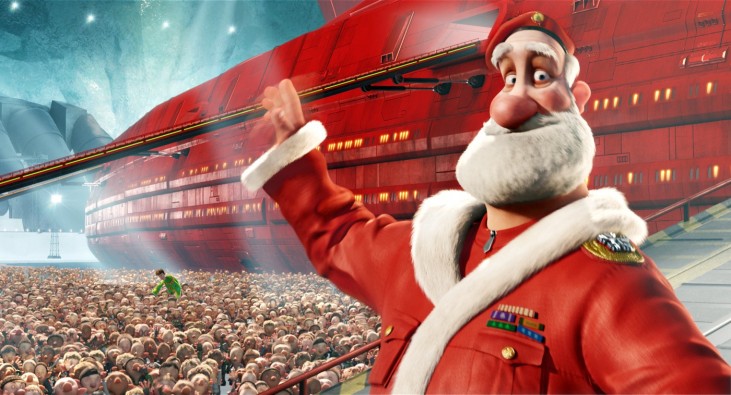 The themes of Arthur Christmas aren't exactly new to modern viewers – Arthur's emotional distance from, and struggle to be accepted by, his father, is central to the plot's driving arc, while the arrogant lack of care about the Christmas season by Steve also factors into things. Arthur is the obvious choice to take over from Santa when he retires – Arthur is loving, caring and above all, dedicated to Christmas in every way Steve isn't, which makes him the better choice over the indifferent Steve. Steve sees the glory in it, while Arthur sees the love. These tropes stick out from the very start of the film, and while many might roll their eyes at this apparent lack of creativity amongst the Aardman crew, Arthur Christmas's verve and snappy scripting more than deliver the animated goodness to viewers. There's one thing you can count on from Aardman – it's the terrific performances and dialogue they put into their movies. Sure, Aardman lacks the prominence of the best of Pixar (but really, this shouldn't be the case, considering much from Aardman is as good as anything to come from Emeryville) but when you boil it down, they still make accessible, always entertaining fare for children and adults of all ages.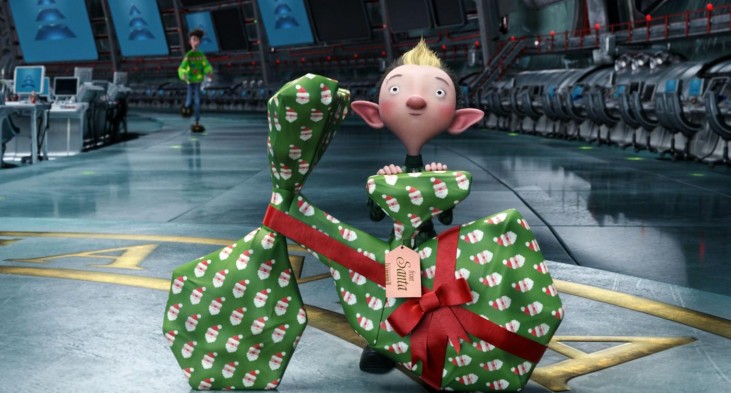 What really makes this film enjoyable – aside from the vocal performances and overall storytelling technique – is the pacing. Arthur Christmas takes place over the course of a single night, Christmas Eve, and as such the race to deliver the last present takes on a relatively realistic presence within the film – chasing the sunrise of Christmas Day as your enemy ensures the film can't cheat at the last minute. The film is definitely fast paced, with the action sequences almost piling in on top of each other they come along so often – there's very little slow dialogue in this film, which you'd think would work against things like "character development" and "nuance", yet Aardman, and director Sarah Smith, ensure we actually feel for the characters involved; it's a terrific combo of vocals, animation and storytelling nouse, and one which – against all the odds of previous attempts at this kind of thing – actually works. And I'm sure those kids with low attention spans will find this a thoroughly entertaining ride.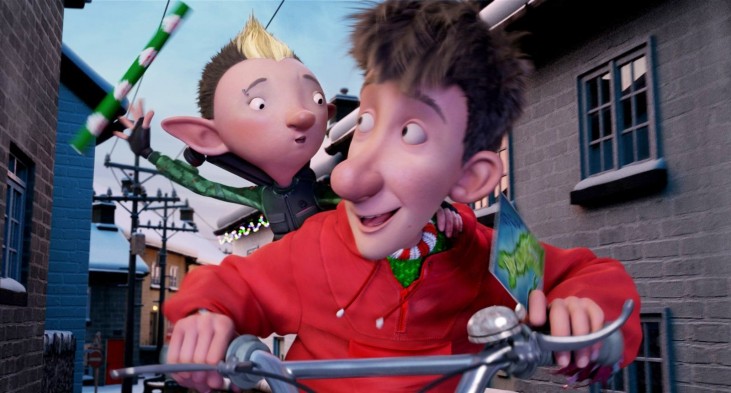 Vocally, the film is delightful. Jim Broadbent and Hugh Laurie would be the most familiar to audiences, with the former appearing in most major British films in the last decade and a half, while Laurie is sill pop-culture aware thanks to the recent conclusion to his long-running drama series, House. Both these acclaimed thespians do solid jobs with their respective roles – Broadbent makes Santa a genuinely daffy Father Figure, while Laurie provides a sense of misunderstood overbearing indifference in Steve. As Arthur, Wanted star James McAvoy delivers a somewhat high-pitched performance, and I admit, he's nearly aurally unrecognizable, but it's genuine enough to really keep the film focused on his plight instead of being overshadowed by the towering Grand-Santa, Bill Nighy. If there's a voice in this cast that steals the show, it's Nighy as the elderly former-Santa. Nighy manages to eschew the majority of his vocal tics to give a more straightforward creation this time, although it must be said that Grand-Santa seems at least several books short of a library. His dialogue is sharper, his character is easily the funniest, and the animation for his work is amongst the best the film has to offer.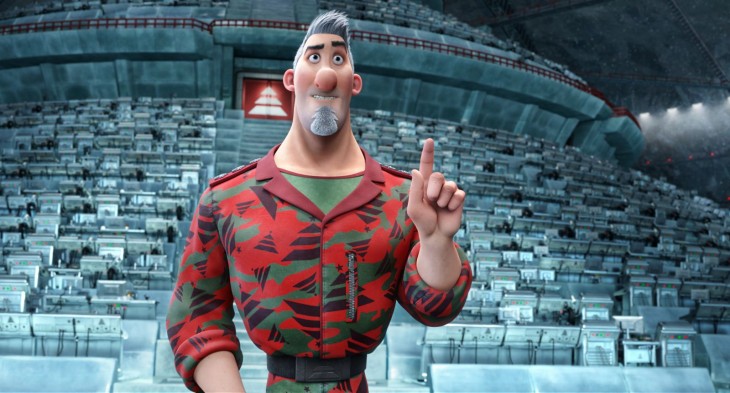 Secondary characters, such as Imelda Staunton's Mrs Claus, and Ashley Jensen's Bryony, the wrapping elf, never stray far from being less-developed creations – Mrs Claus provides an anchor to Santa's retirement-emotional arc, while Bryony gives the female audience members at least a tacit hook by being bold and brassy (and slightly kick-ass) as the requisite ass-kicking female character, but neither of them add any real emotional punch to the central arc. The story's main focus is, of course, on Arthur, although the supporting cast all work hard to minimize any inherent weaknesses in the story itself by dazzling the viewer with bright, shiny animation. Indeed, the animation is spectacular. While it's primary release was in 3D, I only saw this in 2D and was still blown away. Colors are rich and vibrant, the animation is rich and textured, although with a typically seasonal sense of whimsy, and the musical score by Harry Gregson-Williams feels at times more like an action movie than a traditional Christmas flick – and I mean that in a good way.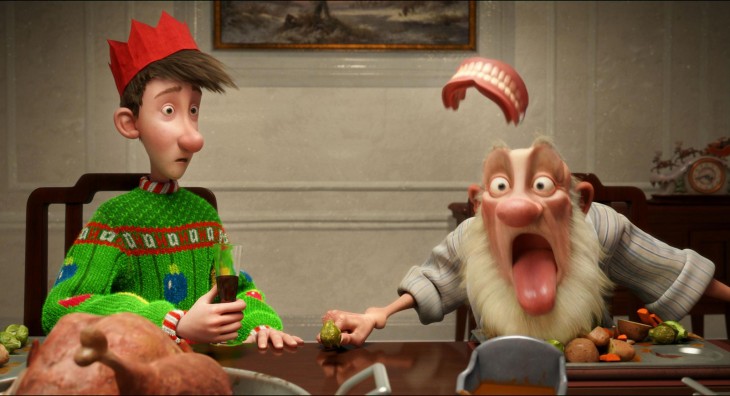 Look, as an affirmed "bah humbug" about Christmas, I'm not going to recommend just any old shit for you to watch around the holidays. Arthur Christmas, however, is a true delight of a film, and one which will entertain the very young and the adults in the room – there's enough subtle humor mixed in with the slapstick to keep all ages happy and excited. Alongside The Muppet Christmas Carol and The Santa Clause, I'm thrilled to have found another seasonal film of a quality I'm prepared to enjoy over, and over, and over again. Arthur Christmas is fantastic.
Related articles