– Summary –
Director :  Scott Prendergast
Year Of Release :  2007
Principal Cast :   Lisa Kudrow, Scott Prendergast, Teri Garr, Christine Taylor, Jeffrey Dean Morgan, Chris Parnell.
Approx Running Time :   86 Minutes
**********************
"The best-laid plans of mice and men often go awry."
These famous words provide a more than apt description of Writer/Director/Actor Scott Prendergast's low-budget, independent feature — KABLUEY. As frequent readers of my reviews know, I love to champion independent cinema and have accorded some of my highest praise to such worthy projects as THE GUATEMALAN HANDSHAKE, BUBBA HO-TEP, LARS AND THE REAL GIRL, and LA TRAGEDIA DE MACARIO. And so with great anticipation I recently screened KABLUEY. For one thing, the artwork on the DVD cover was extremely intriguing; how in the world could this not be a FUN movie? And the endorsement from Stephen Farber of the HOLLYWOOD REPORTER, "This CHARMING, POINTED COMEDY is A GENUINE DISCOVERY," provided further assurance that I was in for a treat.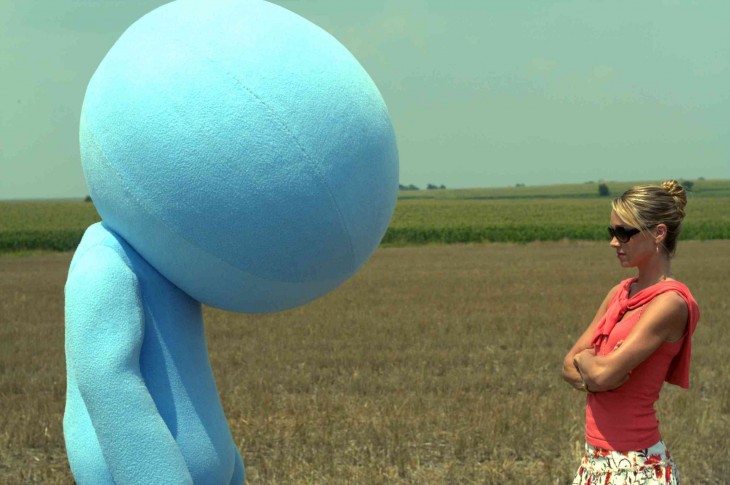 Alas, the viewing experience was as disappointing as finding a Jehovah's Witness at my front door. And as for Mr. Farber's quote, KABLUEY turns out to be pointless — don't take my word for it, even Little Oblio agrees.
Lisa Kudrow (in a surprisingly down-beat role) plays Leslie, the mother of two overly obstreperous young boys left to fend for herself while her husband serves an extended tour in Iraq as a National Guardsman. He's actually the lucky one; Al Qaeda posses less of a constant threat than these Hellish little fellows. Desperate to make ends meet, Leslie reluctantly turns to Salman (Scott Prendergast) her ne're-do-well brother-in-law for help. 
Things do not get better when Salman arrives. In fact, the oldest nephew openly declares, "I'm going to kill you." And, with the aid of his younger brother, he tries. Unfortunately, for movie audiences everywhere, the little bugger did not succeed and the movie drones on endlessly. Like a Croatian peasant's nose hair, KABLUEY could use some judicious trimming.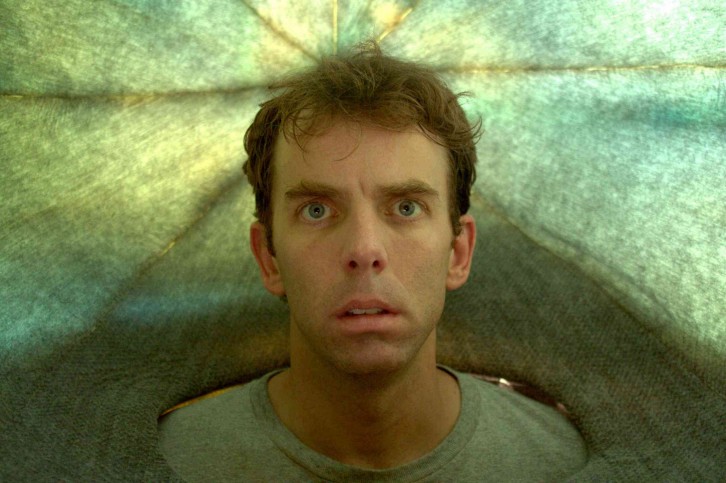 Ultimately Salman gets a job dressing up in a big blue costume as the mascot for a failing dot.com company. Prendergast's screenplay wants to have us believe that underneath this ridiculous outfit he is able to connect with Leslie and her kids, but Prendergast is a poor actor at best and the attempted heartwarming conclusion fails to deliver for a wide variety of reasons. There's even an attempt at some pithy commentary on the domestic repercussions of the Iraq War as well as the current state of the American economy. Yes, the aim was high, but the shots taken were so ill-conceived and off target they reminded me of those fired against the Branch Davidians by the ATF SWAT team in Waco.
There's plenty of blame to go around. Director Prendergast exhibits as much competence as Ben Bernanke, Lawrence Maddox's editing, like a Republican's lovemaking, is perfunctory at best, Production Designer Walter Barnett's sense of style makes a Century 21 Real Estate Agent look haute couture, and the original music by Reddy Bottum scrapes the barrel to be sure.
Bottom Line: Phooey on KABLUEY.