– Summary –
Director :  Alan Rudolph
Year Of Release :  1999
Principal Cast :  Bruce Willis, Albert Finney, Nick Nolte, Barbara Hershey, Glenne Headley, Lukas Haas, Omar Epps, Shawnee Smith, Michael Jai White, Will Patton, Kurt Vonnegut.
Approx Running Time :   110 Minutes
Synopsis:   From Wikipedia: "… a portrait of a fictional town in the Midwest that is home to a group of idiosyncratic and slightly neurotic characters. Dwayne Hoover is a wealthy car dealership owner who is on the brink of suicide and is losing touch with reality."
What we think :   Well, it's in Worst Film Week for a reason.
**********************
I have seen nearly four thousand films in my lifetime and throughout those thousands of films only one has managed to sear itself into my memory. Now, I'm no stranger to horrible movies—Plan Nine from Outer Space, Rattlers, and Jaws: The Revenge have all been watched. Yet only one of these films features a cross-dressing Nick Nolte, or intense debates about Fairyland. Yes, you read that correctly.

Add A-lister Bruce Willis as All-American Dwayne Hoover and this ought to be one of the most interesting satires of white-collar America ever, instead we get a lot of actors not knowing what's going on (thankfully, Nick Nolte did). All of the wit and levity that Vonnegut provides is left on the cutting-room floor.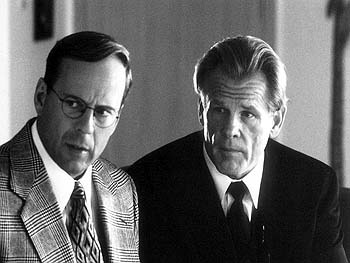 Unfortunately for viewers, no aspect of Breakfast of Champions distracts from what is happening onscreen. The cinematography is lackluster, the music is hardly noticeable and well… there is nothing that the film does well. Yet, much like the infamous car accident in Jean-Luc Godard's Weekend, you cannot look away. The films of John Waters come to mind, but this particular piece of celluloid is completely clueless when it comes to camp. Each bizarre subplot detaches the viewer from seeing anyone as a character. What occurs is so bizarre, most would assume that they were watching a demented QVC bloc at 3am.
The first and last time that I saw this film was at the ripe age of twelve. I thought for sure that among the hundreds of movies watched a year, one would top Breakfast, but not one of them has. No film has left me so bewildered, shocked, and wondering what in the hell was going on. It's an honor, but a dubious one.