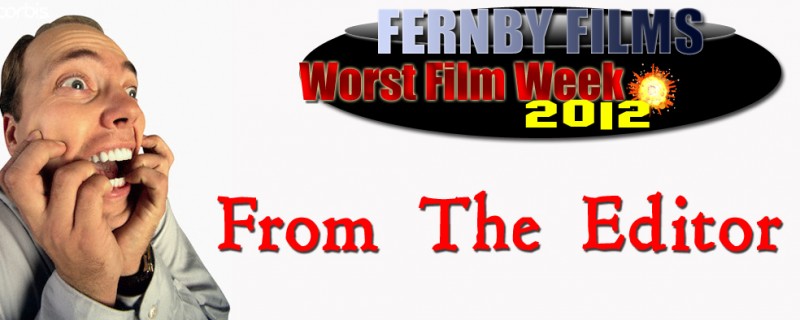 Morning all! Busy week we've had, right? Well, that's nothing compared to what we've got coming this week! Worst Film Week kicks off tomorrow, and boy, have we got some doozies to bring up! Once more, we've delved into the scum-bucket of crappy films and come up with a smorgasbord of trashy rubbish for your delectation, and this year, we've once more spread the word to others in the blogging community for their opinions. A couple of our friends have dipped their toe into the Worst Film Week waters and let fly with their opinions. As usual, we update the Worst Film Posters with the cruddiest advertising for films you're ever likely to see, and we update the most unsuccessful films of all time list – by crikey I hope Jack & Jill makes that list.
 This week is jammed with plenty to read, so return regularly to see what's updated throughout this event. Even better, register or click the RSS feed to make sure you don't miss a thing. And if you're socially mediated, click the "like" button in our facebook widget and that way your feed will be updated each time ours is!
Highlights of the week to come include: Camiele White chimes in with a look at a terrible remake of a classic anime film, regular US correspondent Robert Nowotny delivers his verdict on not one, but two films, while Jess E from the Velvet Cafe delights us all with a to-do list on making a film that she will hate! Vik V will give us his thoughts on a special kind of hatred he has, while Jamie Wright, a newcomer to Fernby Films, delivers his assessment on a particularly terrible Michael Bay film. Good pals Al K Hall and Saint Pauly also tip their hats to the shitty films they see, and you'll see that little tete-a-tete midweek. I, of course, push a few lowly-ranked flicks off my chest this year as well. We'll have a gander at the current rankings of the biggest box office bombs to-date, and another installment of our ever-popular Worst Film Posters series cranks up again. Plus, there might be one or two surprises as well. So keep coming back here for all the latest stuff in this week-of-weeks here at fernbyfilms.com!! Gonna be awesome!
Sharp eyed viewers will also note that our review numbering will suddenly become somewhat erratic. It might seem that we've skipped ahead in our numbering for some reason, but there's a logical explanation for this. The numbering system we've employed for each review indicates the order in which review is published – although this changes for Worst Film Week, where it designates no order whatsoever. Because we work so far in advance here at fernbyfilms.com, many of our reviews (some of which will appear well into 2013) have been written well before you read them, except the majority of our contributor reviews during WFW, which were written relatively recently (some as recently as yesterday!), so we've assigned them a number in accordance with where we are in our review numbering system to-date. Regular numbering will commence immediately following WFW, and you may notice some numbering inconsistencies in late January/early February next year as it all starts to balance out. Rest assured, though, we haven't gone completely mad, although we've gone a little batty thanks to getting this week organized!!
While we're here, now might be the best time to officially thank all those who've contributed to Worst Film Week this year, because it goes without saying (even though I'm saying it) that without their input, this week would be just a bunch of crappy reviews I banged out in a couple of days to fill in space, and would be half as interesting to read. You'll see their names pop up in each review/article logo, and there's a link to their official website or alternative media in the author box at the bottom of each post. Do them a favor and check out their other stuff, they'll love it. So to those who gave their time to contribute this year: many thanks!
We hope you enjoy our Worst Film Week for 2012 as much as we've enjoyed getting it together for you!
Rodney T – EIC, fernbyfilms.com