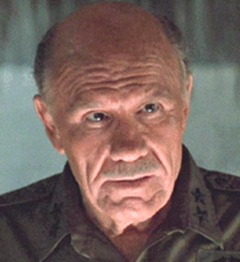 American character actor and playwright, RG Armstrong, has passed away. Mr Armstrong first came to Hollywood's attention when he began appearing in a number of television series, including The Californians, The Riflemen, Bonanza, Gunsmoke, Rawhide and Maverick, among others. While working on the show The Westerner, Armstrong met and befriended then-up and coming director Sam Peckinpah, who would cast Armstrong as the slightly-nutty-fundamentalist Christian in many of his films – the first being Ride The High Country, before he would again appear in Pat Garret & Billy The Kid, becoming an archetypal character in Western films in the process. Armstrong also appeared in Penckinpah's The Ballad Of Cable Hogue.
Outside of his work with Peckinpah, Mr Armstrong appeared in numerous films such as El Dorado, Race With The Devil, Children of The Corn (1984), Predator (as the General who sends Arnie and his men off on their mission), Heaven Can Wait, Reds and Dick Tracy (as Pruneface).
RG Armstrong passed away on July 27th, at his Studio City, California home. He was 95.